11/25
When we first got engaged, my parents asked my fiancé and I what our "must haves" were for our wedding. His criteria included good food, great wine and an outdoor ceremony. But, knowing those were givens, my priorities were (in no particular order):
All of the twinkle lights
Gorgeous, ethereal photographs that left everyone in awe for years to come
With the knowledge that I could buy twinkle lights in all shapes and sizes for a few bucks a box when the holidays rolled around, I was confident that dream was within reach. But the other … I wasn't so sure. I heard time and time again how much of a blur your wedding day is, so I knew that photography is pretty essential to the whole thing. Plus, you know, the Wedding Industrial Complex handbook that requires you to be the Most Beautiful You Will Ever Look in Your Life on your wedding day, the only proof of which must be a soft-focus backlit portrait in a field.
I can definitely call BS on most WIC requirements, but I couldn't let go of this one. I decided that I wanted to allot a decent percentage of my budget to really great photography, but once I started researching packages, I decided right off the bat that I would try and negotiate any included engagement photos out of the price. They seemed superfluous; I felt that "e-sessions" are products of WIC, and thought of them like extended warranties that they try to sell you at Best Buy. As much as I vainly loved the idea of more softly-lit photos of myself in a field, I felt good about this solution for a number of practical reasons. First, I had found a way to get what I wanted within my budget. Second, my friends who hadn't done engagement photos had engagements that continued on normally and happily with no regrets. Third, I always make the same stupid face in photos, so the less time I needed to be front of the camera, the better. I also assumed that because I will be The Most Beautiful I Will Ever Look in My Life on my wedding day that I'd have no problem posing like a pro with my beloved.
When we finally found our awesome photographer, he strongly encouraged that we still do an engagement session, generously offering to work with us on price. He reasoned that it's important for us to get to know each other so the wedding day flows smoothly, and for us to get comfortable with the idea of cameras in our faces for a few hours. We agreed and I spent the next few weeks trying to figure out what outfits were both a perfect blend of casual and fancy, complemented my skin tone and were field-at-sunset-appropriate. (Pro tip: lighter colors against your face, offset by a darker jacket or bold accessory.) And I am now SO GLAD we listened to the photographer and scheduled that session, but not for the reason I expected.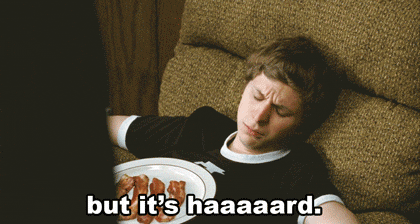 Even if you have to walk around a park for a few hours with your friend who takes really good Instagram photos, DO IT. Seriously. Turns out that even though I had done my makeup up just right, I was still waaaay out of my comfort zone. Get used to PDA, if you're not a PDA person. Chances are the poses you do with your friends on the weekend are not the same ones you want in your wedding photos, so this is a great time to practice! Find out what angles look good on camera, and the ways in which you really don't want your upper arm to be memorialized for all time. This is NOT the big day, these are NOT the photos everyone will ask to see, so use the session as a time to learn how to look natural, but on purpose.
And an added bonus? It's a great time to reconnect with your partner. Wedding planning is stressful, and there may have been times over the last few months that you've fought over some stupid detail. But going to a fun and/or beautiful location, looking into your partner's eyes as they pull you close, and collapsing into laughter at how ridiculous it feels to hold a half-kiss for over two minutes turns out to be a great way to remember why you're getting married.
A few days after the session we got a teaser shot back. My first instinct was to look straight at the hair I'd worked so hard to style – it was windblown and my curls were kinked, and for a minute I dreaded seeing the rest of the photos. But the longer I looked at it, the more I saw the real Most Beautiful thing. No one else was looking at my hair, they were looking at the love that radiated out of the shot. I want my wedding photos to capture feeling, softly back-lit, perfectly coiffed or not. In the end, not only were my engagement photos great practice for the Big Day, they helped me learn how to get over myself. I realize now that weddings aren't about celebrating how you look — they're about celebrating how you love.

Did you take engagement photos? Do you think they helped prepare you for your wedding day, in terms of feeling more relaxed in front of the camera or reconnecting with your person? Tell us in the comments!