We may earn money or products from the companies mentioned in this post. By clicking on the links and making a purchase, you're helping to support the site so we can keep bringing you badass ideas.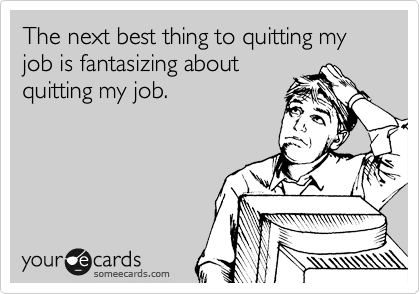 Replace "job" with "wedding planning" and this is me.
After my fiancé and I got engaged in May, I threw myself head-first into wedding planning. I LOVED IT. I'm a project manager by training and I love doing research. Wedding planning was also my excuse to buy all those wedding magazines I love instead of spending an afternoon at Barnes & Noble thumbing through them with a chai latte. I'm not the only person that's done that right? Planning was pretty easy breezy and I was enjoying the experience … emphasis on was.
Y'all … our wedding is less than 60 days away … and I'm officially over it. I'm done. I wanna quit wedding planning so damn bad.
There are plenty of things we have left to do, but I have zero interest or energy to do any of it. I come home each night feeling like I should take care of wedding stuff, but all I want to do is sleep. Originally I was excited to do DIY projects; now I just want to buy something from Etsy and call it a day. I got a guest room full of stuff from Michaels that SHOULD be turning into cute paper flowers and chair signs … but for now it's just collecting dust. Michaels is making a mint off of me buying stuff for this wedding, BTW. I really don't want to make another damn decision, do anymore research or look at a million options. And of course, now is the time when all the little decisions have to be made. Joy.
Shit has gotta get done … so I'm plugging through, but not as enthusiastically as when I started this damn thing. I vented to a coworker who is also a recent bride, and she told me the secret to getting through this period: delegating. I haven't delegated anything, mostly because I didn't want to burden anyone. Whenever you hear wedding stories, you hear about brides who were bridezillas and expected too much from their friends & family.  I vowed that wouldn't be me and now I've got bridal burnout. I hope there's a cure for that.
Since I don't give a damn about things like I once did, I've outsourced planning the rehearsal dinner to my fiancé and his mom. My Twitter timeline has also responded to my random cries of "where are all the cute blue wedding shoes that aren't $800???" with links, resources, and ideas. Who said Twitter wasn't a village? Oh and Twitter also helped me pick a cute dress for my bridal shower too! I'm also counting down to when my day of coordinator takes over all of this madness and I can relax.
Is this normal? Do other brides get this lethargy? Will I ever get my wedding planning mojo back? I hope so cause there's still so much left to do in the next two months.