We may earn money or products from the companies mentioned in this post. By clicking on the links and making a purchase, you're helping to support the site so we can keep bringing you badass ideas.
All right, darlings, it's time for one helluva DIY or DIE sesh up in this bish. Put away the scissors and tape and glue, grab an apron and get your booty in the kitchen to make your own damn wedding cake. Yup, you read that right. We've got Lizzy Pancakes here getting elbow-deep into some confectionary awesomeness to show you how to rock your wedding dessert the broke-ass way: By taking it on yourself. It's no secret wedding cakes are pricey, and you can absolutely go the route of having a "display" cake to slice 'n' smash, with a variety of other desserts for actual consumption or having a big ol' sheet cake hiding in the back. But even those tiny l'il display cakes will cost you a pretty penny, where as these bad boys (if you have most of the basics on hand) should only run you around $27 for the ingredients. UM. HELLO, SAVINGS. Let's do it!

ver. The cakes are for aesthetic and traditional purposes — you know, when I lure my fiance into a false sense of security and smush the cake in his face while our family and friends watch.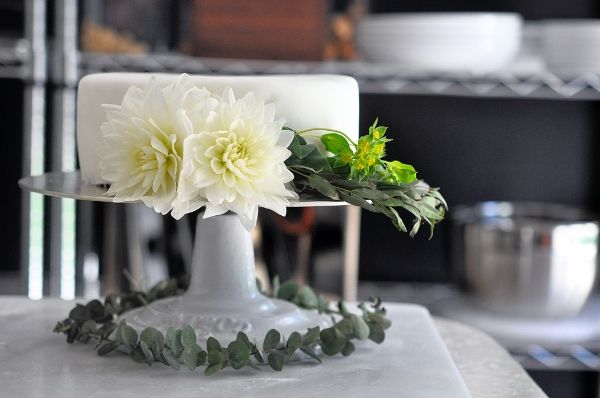 If you're having a small wedding, or if something like this would be a good fit for your party, making your own wedding cake is super easy. You know that smooth, beautiful layer of fondant? Not difficult. You'll breeze through it and spend the rest of the day absorbing compliments.
I made a traditional moist chocolate cake because I knew if it was kept airtight, it could be made up to two days in advance which is essential to maintaining a sane bride. If chocolate isn't your thing, I highly recommend Amanda's white cake recipe.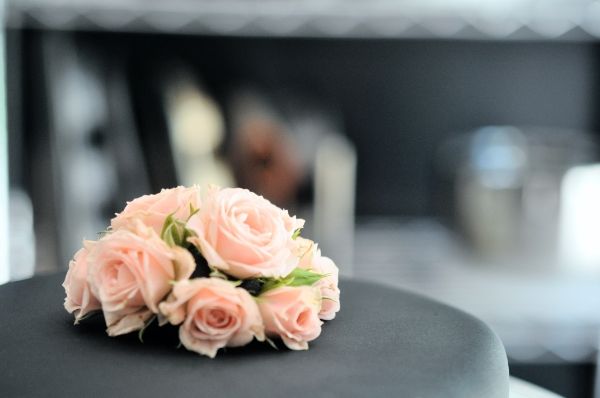 What you'll need:
For the cake
2 cups all-purpose flour
2 cups sugar
¾ cup unsweetened cocoa powder
2 teaspoons baking powder
1½ teaspoons baking soda
1 teaspoon salt
1 teaspoon espresso powder or instant coffee
1 cup milk
½ cup vegetable oil
2 eggs
2 teaspoons vanilla extract
1 cup boiling water
For the frosting
2 cups confectioner's sugar
2 tbsp butter, room temperature
2 tbsp milk
½ tsp vanilla
For the fondant
One 24 oz package of fondant in the color of your choice.
2 Wilton smoothing tools (you can get this at a craft store where you buy your fondant)
*Don't buy pre-rolled fondant. It is difficult to unroll, often cracks, and it's just lazy, you guys.
Preheat oven to 350º F. Prepare two 8-inch cake pans by spraying with baking spray or buttering and lightly flouring.
How you'll do it:
Prepare the cake:
Add flour, sugar, cocoa, baking powder, baking soda, salt and espresso powder to a large bowl or the bowl of a stand mixer. Whisk through to combine or, using your paddle attachment, stir through flour mixture until combined well.
Add milk, vegetable oil, eggs and vanilla to flour mixture and mix together on medium speed until well combined. Reduce speed and carefully add boiling water to the cake batter. Beat on high speed for about 1 minute to add air to the batter.
Distribute cake batter evenly between the two prepared cake pans. Bake for 30-35 minutes, until a toothpick or cake tester inserted in the center comes out clean.
Remove from the oven and allow to cool for about 10 minutes, remove from the pan and cool completely.
Prepare the frosting:
You really want the frosting to be room temperature. You should set it out before you start the cake to make sure. Don't try microwaving it, even on low. You risk making it too soft and messing with the consistency of your frosting.
Mix all of the ingredients together in a bowl and beat with an electric mixer until smooth. Easy peasy!
*If you really want to skip this step and buy frosting from the store (I'm not judging you), simply add ¾ cup confectioners sugar per container because cake decorating frosting should be a little bit stiffer.
Prepare the fondant: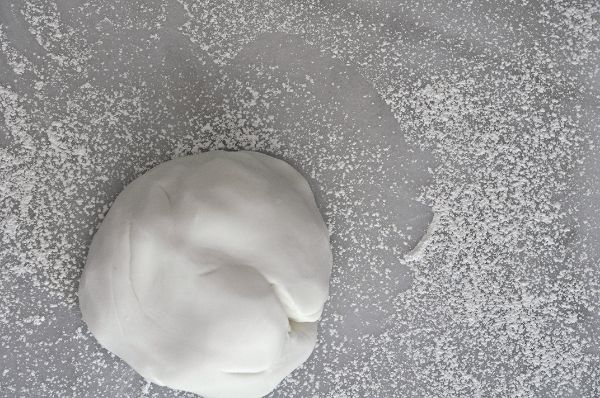 To find out how wide your fondant needs to rolled out to, take a ruler and measure the width of the cake (that's easy! It'll be 8 inches since we're using 8-inch cake pans) and the height after the layers are stacked. Add them together. Your fondant needs to be rolled out so that a circle at least that wide can be covered.
Lightly dust your work surface with confectioners sugar. If you're using using black fondant, pick up your fondant more often during the process because you can't use white confectioners sugar without messing with the color.
Take the fondant out of the box and wrapper. Knead it on the sugared surface until it is soft enough to roll with a rolling pin. This shouldn't take more than a minute or two.
Roll out the dough until it is wide enough and about a ¼ inch thick.
Assemble the cake:
After you have let the cake layers cool completely (I mean it — completely!) take a long serrated knife, place your hand flat on the top of the cake, and cut the natural dome off of the cakes, making them completely flat and even. If you move slowly, this shouldn't be too difficult!
Put a dab of frosting on a cake stand, preferably a rotating one, but it's not essential. Place the first layer smack in the middle of the stand. Take a big scoop of the frosting and plop it right in the middle. Using an offset spatula (you can grab it at the grocery store) spread the frosting at least a ¼ inch and up to ½ inch thick.
Place your second layer carefully directly on top of the first layer. You really only get one real shot at this, so look at it from above and center it before putting it down. Take the remainder of your frosting and spread it around the sides and top of the cake. Though you should try to spread it evenly, this doesn't need to be pretty — it will be covered by the fondant.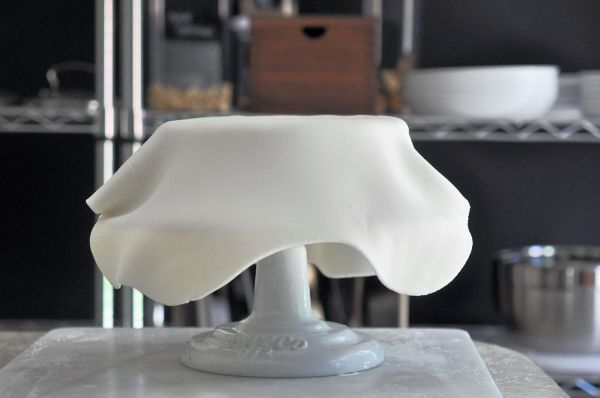 To place the fondant on the cake there are two methods. All of the YouTube videos will show you a draping technique, where you fold the rolled fondant in half over the rolling pin and use that to transfer it to the cake. I'll tell you what, though, I simply picked mine up and placed it carefully over the top. There is just a tiny bit of wiggle room to center the rolled fondant after you've put it on the cake, so don't panic if it's off-center.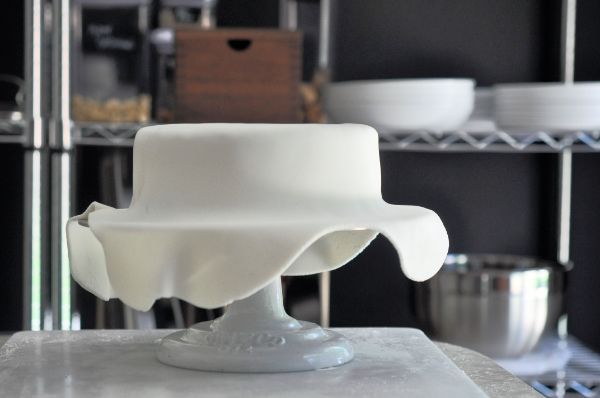 To smooth the fondant down and create sharp edges, use your hands to lightly press the fondant up against the sides of the cake. You may need to keep one hand on the excess fondant spilling over the sides so you can really mold the fondant to the shape of the cake without tearing or stretching it. Once you've used your smoothing tools to mold the fondant, run your pizza cutters around the bottom edge of the cake. Then use the side of the pizza cutter to lightly tuck the edges of fondant under the bottom to create a nice clean look.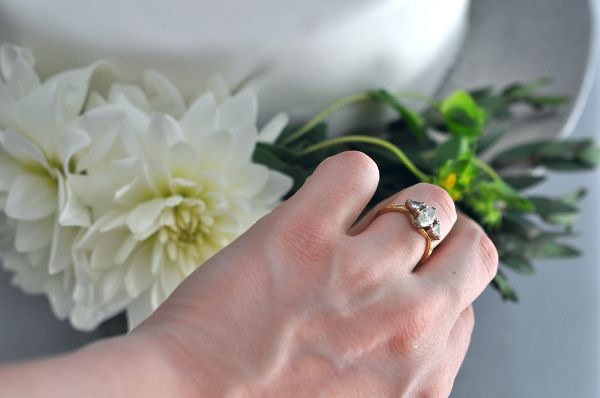 If you want to add flowers, this is really easy. To avoid sticking stems into the actual cake, take some extra fondant and roll it into a ball. Cut your flowers so that they have ¼ inch to ½ inch of stem and arrange them in the ball of fondant as you please. Use extra frosting to stick the ball to the cake in the position you'd like and voila! professional looking cake decorated with fresh flowers!
Storing the cake:
You should make your cake layers up to two days in advance. If at all possible, you should delay assembling the cake until the day before. I say this because once it's on the cake stand, there is no moving it to an airtight cake transporter. One way to avoid this is to use a cake stand with a glass dome on top. As long as it's airtight, you can assemble the entire cake up to two days out.
If you want to give your wedding a homemade feel, this is a great way to achieve that. It ends up being much less expensive than having a professional do it and you can brag ALL. NIGHT. LONG about making it yourself.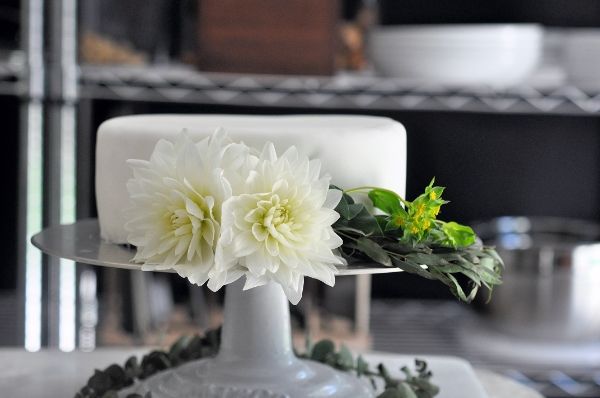 Good luck on your cakes! If you need help or pointers along the way, holler at me at www.lizzypancakes.com or tweet me @lizzypancakes.
LP