We may earn money or products from the companies mentioned in this post. By clicking on the links and making a purchase, you're helping to support the site so we can keep bringing you badass ideas.
Hey, BABs!  Did you miss me? I was off getting my MRS but it's good to be back!  My first order of business is to find Elise a Claire Pettibone look-a-like for a steal.  As we all know our dear Claire likes to hawk her dresses for a pretty penny.  But most of us gals are still  in a paycheck to paycheck , too much month at the end of the money budgetary situation.  Oh, we've graduated from Kool-aid and Cup-O-Noodles.  But spending several grand on a one-time-use dress is out of our realm of thought for a lot of us.
CAN'T AFFORD IT
Clair Pettibone @ Kleinfeldbridal.com ($4,000.00)
GET OVER IT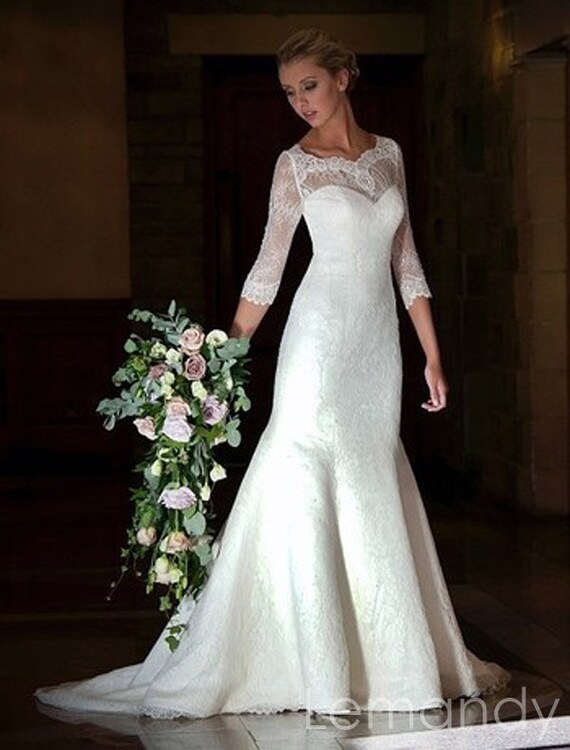 Lemandy Half Sleeve Mermaid Lace Wedding Dress ($285.00 at Etsy)
Watters Encore Wedding Dress Style Coriander 3218E ($396.00 at BestBridalPrices.com)
Lace dress inspired by Jim Hjelm JH8211
BridalBlissDesigns Lace Wedding Dress with Sleeves and Keyhole Back ($849.00 at Etsy)
Casablanca Wedding Dress Style 2119 ($1,550.00 at BestBridalPrices.com)
Birdy James "Lyrica" Vintage-inspired Poet Sleeve Chiffon Wedding Dress ($525.00 at Etsy)
Oleg Cassini Satin Wedding Gown with Beaded Pop Over Jacket ($950.00 at David's Bridal)
 Angelina Faccenda Wedding Dress Style 1260 ($1,757.00 at BestBridalPrices.com)
So, there you go, Elise – a plethora of sleeved beauties with a vintage feel.  From bateau necklines to sweetheart necklines, long sleeves, to 1/2 and 3/4 sleeves, plus lace galore!  I hope one of these gowns tickles your fancy and satisfies you Pettibone cravings.  What do you think, BABs?  Did I hit or miss for Ms. (soon to be Mrs.) Elise?