---
Posts in the 'Wedding planning' Category
Damn. It's hard to find a good sale after being pummeled with them all during Black Friday and Cyber Monday. But, of course, I couldn't leave y'all without a killer Ten for the Weekend, now could I? No. Because that would be not awesome. Below we've got M&M's you can put your face on, hot styles for the fella in your life and more sparkly discounts!
Oh, honey, you're just so sweet! *CHOMP*
3. Hunting for your wedding stationery? Take 30% off site wide at Wedding Paper Divas with code CYBER30 until 12/9
4. Help the dude in your life look a little more dapper this season with 30% off sale items at Bonobos with code FROSTY until 12/7.
5. If you've been wanting to get a big print of your engagement or wedding photos, now's the time. Get 25% Off All Orders at Art.com this month with code CHEER25.
6. Functional design powerhouse Quirky has some of their best-selling designs on sale for between $1 and $10 for a limited time. 
7. If you're going to need extra bakeware for the holidays, head on over to Sur la Table and save 40% off select bakeware until 12/7.
8. Whether its for a holiday party or a wedding shower, get personalized gifts at 25% off from Beau-Coup until 12/6 with code FORYOU.
9. A sale a day, everyday: ModCloth is taking 25% off in their Category of the Day sale! Use the day of the week as the code for items in the specified category until 12/7.
10. If you liked that unicorn rug from this week's gift guide, then go get it from ThinkGeek, where you can save up to 60% on tons of cool shit, like unicorn slippers, soap and rugs. #duh
Happy Shopping!
Two weeks before Thanksgiving, I found out that the current number of Mrs. Coopersmiths would soon be increased by one  – my husband's little brother got engaged. Yay! But then I looked at the calendar again and frowned. Two weeks before Thanksgiving. Seven weeks before New Years.
Here we go.
The best part of the Holiday season is the number of chances you'll have to spend time with your  family and friends. And  if you ever lacked attention from any of them, you are definitely going to get it now that you're engaged:
"Oh my God, congratulations! When are you getting married??"
"You got engaged last Saturday? Did you find a dress, yet?"
"How many guests are you having?"
"My wedding was so stressful. If I had to do it all over again, I'd elope."
"What are your colors? Do you have a Pinterest board?"
"Where are you getting married? All the good places book up fast, so you need to start looking now."
Umm ...
Don't get me wrong, everyone is really happy and excited for you, and you need to remember that once you start contemplating murder. But, all of a sudden, they're heavily invested in your wedding day, offering a stream of unsolicited advice, unsolicited opinions and a ton of questions that you don't have any response to right now.  You're still startled every time your new shiny new ring slides into your peripheral vision, now you're feeling insecure about how you're going to pull this all off, anyway, especially since  all the questions make it obvious that you don't know what you're doing, right?  Weddings cost how much? And how do you start looking for a wedding venue that's not even going to be available when you find it?
Get it done and why haven't you found it and what are you waiting for and NOW. And there's that pressure even if you've been planning for a while, too.  That one question that will be asked over and over — "How's the wedding going?" — can be a killer. Well, how is it going?, you ask yourself, thinking about the open checklist boxes, the invitations you're still trying to choose, the bridesmaid dresses that came in the wrong color, the DJ you haven't booked … yet. Not so great, you're thinking as you reply while smiling bravely, "We're working on it."
Another deep breath. The season of peace, love and joy starts with you, so give yourself a break, first of all! You don't have to know all the answers right now, you don't have to accomplish all the things before your Mom's annual Yuletide bash.  What you do need to do is give yourself credit for everything you've already done, even if that's just finding the person you wanna hang out with for the rest of your life. Enjoy it. Bask, even. When you're asked about the wheres and the whens and the whys? Shake your head, smile, and repeat after me, "We haven't decided any of that, we're going to talk about it next month." Full stop.  And if you're not so new and a wedding check-up is requested, list everything you've already finished (because you are a Rock Star), and the one (choose ONE) thing you want to check off before the end of the year. If they ask about anything else, shrug and repeat after me, "Yeah, we'll get that done after the holidays." Because you will.
So, how are the holidays going so far? Any crazy questions or unreasonable expectations from your nearest and dearest? Let me know in the comments below! And if you'd like to find out more about me and my little part of Wedding World, visit www.silvercharmevents.com.
See you at the end of the aisle,
Ooohhh … y'all! I've got such a treat for you wonderful, amazing BABs today and I'm so excited about it! The amazingly supersweet folks over at Hoopla House Creative reached out and wanted to give YOU, darling Broke-Asses, something in honor of the launch of their wedding paper goods site.
To celebrate their launch, Hoopla House is sharing free printable downloads with you guys — but it's not that simple, because why would it be? Nope. The printables include favor tags, Mr. & Mrs. signs, bridal shower bingo, "Will You Be My Bridesmaid?" cards and blank banners that are awesome for "Thank You!" or "Just Married!" photo props. Because homegirl knows the value of FREE when it comes to wedding land. And for that we thank her.
Oh, and Hoopla House isn't just giving you ONE style. Nope. They're throwing out five gorgeous designs for all five printables. Of course you can find the matching invitation suite on Hooplah House's website, for about $1.88 per card.
But to make this super fun, we'll do one new design every few weeks, so it's like constant presents! Besides, I don't want to overload you too much today … because … and to make your DIY-ing totally worth it …
Our friends over at Comp and Save, a website that sells ink, toner and printer accessories, has a $50 gift card with one lucky BAB's name all over it.
So, how do we get this paper party started? Make sure you have some decent card stock (Michaels or other craft stores are good for this), then click below to download the Southern Belle printables (shown above), then head over to Comp and Save to enter the giveaway!
Download:
"Will You Be My Maid of Honor?" Card
"Will You Be My Bridesmaid?" Card
Now, get thee over to Comp and Save to enter to win a $50 credit toward computer ink, toner or printer accessories.
Good luck, and remember who loves ya, BABs!

Happy Monday, darlings! I hope you all had a great, restful Turkey weekend. As per usual, the holiday shopping has been kicked into high gear, and since finding a killer bargain is essential to any Broke-Ass wedding, I'd be remiss if I neglected to share these awesome Cyber Monday deals with you. Since Black Friday was a mashup of all the things, Cyber Monday's deals are concentrated on Weddingland. From dresses to bridal party gifts to freaking HONEYMOONS, there are deals like whoa in here. Happy shopping!
 

Top Row, from left: Chinese lanterns, table runners, candle holders and more decor: Get $15 off purchases of $99 or more at Luna Bazaar with code 15PERCENT99 || Stationery, Thank-You Notes, Bridal Party Gifts: Save 30% off all gifts at Tiny Prints with code TPGIFTS30 || Designer outfits that you don't have to buy: $40 off orders of $100 or more at Rent the Runway || Neckties, bowties, pocket squares and more: Take 40% off sitewide at Ties.com with code CYBERMONDAY 
Second Row, from left: BHLDN is holding their biggest gown sale yet ||  Canvas prints, frames and other wall displays: Get 45% off + a $50 voucher toward a future order at Canvas on Demand with code JOLLY45AFF || Bridal party gifts, toasting glasses and koozies: Save 20% site wide at Swoozie's || Shapewear and intimates: 20% to 60% off sitewide + free shipping at Hourglass Angel 
Third Row, from left: Honeymoon or destination wedding: Huge sale at Sandals resorts || Dresses, shoes, accessories, decor … pretty much everything: Take 20% off your purchase from ModCloth with code CYBERMONDAY || String lights: Buy two, get one free on all Philips string lights from Target || Bridal party gifts: 30% off + free shipping at A Gift Personalized with a purchase of $30+
Bottom Row: Beautiful, sexy lingerie: 20% off orders $150+ and get a free lingerie wash at Journelle || Bocce ball, cornhole, croquet: Deals on tons of outdoor games at Amazon || Wedding dresses, bridesmaid attire, accessories: Save 50% at Ann Taylor || Necklaces, earrings and accessories: Save 20% off your purchase at BaubleBar with CYBER20
Bonus: Get 35% off any Wedding Stationery order at MagnetStreet. Enter code 
WETHANK35.
The holidays tend to bring out that big, nasty stress monster in nearly everyone I know. Even Metro and Dolly are a little more catty. All of this hustle, bustle, pressure and travel can often lead to taking the ones nearest and dearest to us — who also tend to be our own personal shelters from the storm — for granted. And that's pretty sucky. This article, originally on The Huffington Post, is a rad collection of ways for us to extend little gestures of gratitude during an otherwise chaotic time.
We all want to do more for our significant others, but sometimes we get so caught up in the stress and hustle of everyday life that we don't do as much as we could to let them know that we love them.
To keep your relationship feeling young and spontaneous, try a few of these simple and fulfilling ways to show your spouse how much you care.
1. Pack a surprise lunch
Take a few extra minutes in the morning to pack a sandwich, veggies and some crackers for your significant other's lunch break and leave them a note to help them find it. Not only will they appreciate your effort, but they'll love the fact that they no longer have to throw their lunch together before running out the door.
2. Go on a coffee date
As we get older, we tend to plan most of our "romantic outings" around dinner, wine and occasionally a movie. Reach into your college-years-dating manual and take your spouse out for some coffee. Coffee shops have a great atmosphere for facilitating conversation and the increasingly cold weather makes coffee a perfect treat any day.
3. Set their commute music
If your spouse is the kind to still listen to CDs, go old-school with this tip and make a nostalgic mix for them. Or, simply make a playlist and upload it to their iPod when they're not looking (just make sure you don't wipe any of their other songs from their iPod when doing so).
4. Leave coffee by the bed
If your spouse wakes up slightly after you, get their coffee ready early and have it waiting on their nightstand. Nothing starts a day off on the right foot quite like the smell of fresh coffee and knowing that someone cares about you.
When we first got engaged, my parents asked my fiancé and I what our "must haves" were for our wedding. His criteria included good food, great wine and an outdoor ceremony. But, knowing those were givens, my priorities were (in no particular order):
All of the twinkle lights
Gorgeous, ethereal photographs that left everyone in awe for years to come
With the knowledge that I could buy twinkle lights in all shapes and sizes for a few bucks a box when the holidays rolled around, I was confident that dream was within reach. But the other … I wasn't so sure. I heard time and time again how much of a blur your wedding day is, so I knew that photography is pretty essential to the whole thing. Plus, you know, the Wedding Industrial Complex handbook that requires you to be the Most Beautiful You Will Ever Look in Your Life on your wedding day, the only proof of which must be a soft-focus backlit portrait in a field.
I can definitely call BS on most WIC requirements, but I couldn't let go of this one. I decided that I wanted to allot a decent percentage of my budget to really great photography, but once I started researching packages, I decided right off the bat that I would try and negotiate any included engagement photos out of the price. They seemed superfluous; I felt that "e-sessions" are products of WIC, and thought of them like extended warranties that they try to sell you at Best Buy. As much as I vainly loved the idea of more softly-lit photos of myself in a field, I felt good about this solution for a number of practical reasons. First, I had found a way to get what I wanted within my budget. Second, my friends who hadn't done engagement photos had engagements that continued on normally and happily with no regrets. Third, I always make the same stupid face in photos, so the less time I needed to be front of the camera, the better. I also assumed that because I will be The Most Beautiful I Will Ever Look in My Life on my wedding day that I'd have no problem posing like a pro with my beloved.
When we finally found our awesome photographer, he strongly encouraged that we still do an engagement session, generously offering to work with us on price. He reasoned that it's important for us to get to know each other so the wedding day flows smoothly, and for us to get comfortable with the idea of cameras in our faces for a few hours. We agreed and I spent the next few weeks trying to figure out what outfits were both a perfect blend of casual and fancy, complemented my skin tone and were field-at-sunset-appropriate. (Pro tip: lighter colors against your face, offset by a darker jacket or bold accessory.) And I am now SO GLAD we listened to the photographer and scheduled that session, but not for the reason I expected.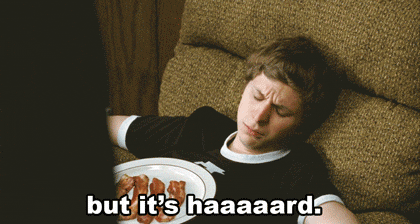 Even if you have to walk around a park for a few hours with your friend who takes really good Instagram photos, DO IT. Seriously. Turns out that even though I had done my makeup up just right, I was still waaaay out of my comfort zone. Get used to PDA, if you're not a PDA person. Chances are the poses you do with your friends on the weekend are not the same ones you want in your wedding photos, so this is a great time to practice! Find out what angles look good on camera, and the ways in which you really don't want your upper arm to be memorialized for all time. This is NOT the big day, these are NOT the photos everyone will ask to see, so use the session as a time to learn how to look natural, but on purpose.
And an added bonus? It's a great time to reconnect with your partner. Wedding planning is stressful, and there may have been times over the last few months that you've fought over some stupid detail. But going to a fun and/or beautiful location, looking into your partner's eyes as they pull you close, and collapsing into laughter at how ridiculous it feels to hold a half-kiss for over two minutes turns out to be a great way to remember why you're getting married.
A few days after the session we got a teaser shot back. My first instinct was to look straight at the hair I'd worked so hard to style – it was windblown and my curls were kinked, and for a minute I dreaded seeing the rest of the photos. But the longer I looked at it, the more I saw the real Most Beautiful thing. No one else was looking at my hair, they were looking at the love that radiated out of the shot. I want my wedding photos to capture feeling, softly back-lit, perfectly coiffed or not. In the end, not only were my engagement photos great practice for the Big Day, they helped me learn how to get over myself. I realize now that weddings aren't about celebrating how you look — they're about celebrating how you love.

Did you take engagement photos? Do you think they helped prepare you for your wedding day, in terms of feeling more relaxed in front of the camera or reconnecting with your person? Tell us in the comments!
There is one wedding-related recurring nightmare that I hear about over and over and over. Yes, more than the one where you look awful, despite hours of hair and make-up. Yes, more often than your groom/bride not showing up. Or the one the one where you can't show up because you've locked your keys in your car. Somewhere in Siberia, which is  even worse because you're afraid of bears … like the one staring at you over the hood of your locked car.  Okay, fine, that was just one bride.
Nope.
The most often recurring wedding nightmare I hear about is where none of your guests are having a good time. Over and over and over. They're going to hate the food, they're not going to dance, they're not going to talk, they're going to ignore the candy buffett/photo booth/chocolate fountain, and stand around and stare at each other, and at you, with deep regret and condemnation.  You wake up in a cold sweat (again) at 4:00 a.m. One thought goes through your head: It's going to be the worst wedding ever.  All the hard work, all your vision, for naught. YOU. WILL. FAIL.
Instead of anticipating the day, you're stuck future-tripping over, dreading all the horrible things that could occur.
This is 10 years of wedding planning experience talking to you right now: Things might go entirely according to plan, or just go wrong, this is true. But all of your guests having a bad time at your wedding? With the one or two exceptions that you can name — because you know how they are —  It's not going to happen.
(yes, it will, you're thinking at me)
No, it won't. Why? Because you have gathered your favorite people, some of whom you haven't seen for years, in one room. As much as you're looking forward to seeing them, they are looking forward to seeing you, and seeing each other. And that's what they are going to do.
(they won't like anything, you mumble in your head)
Not true, but your guests will follow your lead. If you're having fun, they're going to have fun. So, open the photo booth by dragging a couple of bridesmaids into it. Grab your brother and attack the candy buffet. Go up to the bar and order a signature cocktail. Be the first one on the dance floor. Tell everyone you talk to how glad you are that they came. You created this wonderful day, you're marrying the love of your life, while surrounded by everyone you both love. Look forward to it. And when you when you get there, enjoy it, all of it, and your guests will, too. I promise. Repeat this as often as you need to: "I'm going to have fun, so everyone else will have fun."
Seriously, who doesn't turn into a giddy 3-year old at the sight of a candy buffet?
So, what's your other recurring wedding nightmare? Let me know in the comments and I'll share mine with you from my wedding 500 years ago.
See you at the end of the aisle,
Full disclosure: I've been waiting to do this Words to Wed By, and really, it could be FOREVER long. Kids, man, they get all the good shit — toys, clothes, books that have wise and sweet words nestled nicely inside. It must have something to do with the inherent innocence and lack of jadedness. There were many more readings that will be awesome for your wedding ceremony that I wanted to include, but these are just a few of my favorite excerpts pulled from awesome books (that are supposedly for the little ones).
"If you live to be a hundred, I want to live to be a hundred minus one day so I never have to live without you." 

"Piglet sidled up to Pooh from behind. "Pooh?" he whispered.
"Yes, Piglet?"
"Nothing," said Piglet, taking Pooh's hand. "I just wanted to be sure of you." 

"I think we dream so we don't have to be apart for so long. If we're in each other's dreams, we can be together all the time." 

"'Why did you do all this for me?' he asked. 'I don't deserve it. I've never done anything for you.'
'You have been my friend,' replied Charlotte. 'That in itself is a tremendous thing.'"
"You know that place between sleep and awake, the place where you can still remember dreaming? That's where I'll always love you. That's where I'll be waiting."
"You'll get mixed up, of course,
as you already know.
You'll get mixed up
with many strange birds as you go.
So be sure when you step.
Step with great tact
and remember that Life's
a Great Balancing Act.
Just never forget to be dexterous an deft.
And never mix up your right foot with your left."
I like you a lot.
You're funny and kind.
So let me explain
What I have in mind.
I want to be your personal penguin.
I want to walk right by your side.
I want to be your personal penguin.
I want to travel with you far and wide.
From "I Like You," by Sandol Stoddard Warburg
I like you and I know why
I like you because you are a good person to like
I like you because when I tell you something special, you know it's special
And you remember it a long, long time
You say, Remember when you told me something special
And both of us remember
When I think something is important you think it's important too
We have good ideas
When I say something funny, you laugh
I think I'm funny and you think I'm funny too
Hah-hah!
I like you because you know where I'm ticklish
And you don't tickle me there except just a little tiny bit sometimes
But if you do, then I know where to tickle you too
You know how to be silly – that's why I like you
If I am getting ready to pop a paper bag,
then you are getting ready to jump
HOORAY!
I like you because when I am feeling sad
You don't always cheer me up right away
Sometimes it is better to be sad
You can't stand the others being so googly and gaggly every single minute
You want to think about things
It takes time
I like you because if I am mad at you
Then you are mad at me too
It's awful when the other person isn't
They are so nice and oooh you could just about punch them on the nose
I can't remember when I didn't like you
It must have been lonesome then
Even if it was the 999th of July
Even if it was August
Even if it was way down at the bottom of November
I would go on choosing you
And you would go on choosing me
Over and over again
And that's how it would happen every time
What are you reading during your wedding ceremony? What inspired you?
While Real Bride Peach has already been a married lady for a few weeks now, she kindly saved some of her pre-wedding posts to keep us going until she gets all of her pro photos back. Here's the final one before she delves into deets of her big day!

Looking back on this last year, it's been surreal. There were so many wonderful, crazy exciting times. I can reflect back and smile on the bridal gown weekend in January, right along with my amazing bridal shower and bachelorette party weekend and our sweaty, sweaty engagement photo shoot. It's been so much fun! Yes, there have been bumps, aka nights that I drowned my sorrows in wine and chocolate and/or called my MOHs in complete trainwreck mode … but I survived! Yay, me.
Jersey and I also connected in a new, super awesome way that isn't explainable. You think that this person you've promised yourself to can't possible grow closer in your heart, but they do. It's all become so real and our love for each other has taken on a new sheen. Which is really a quite lovely perk that no one tells you about.  Because going through all the trials and meltdowns and craziness of wedding planning? Well, in my mind, it's just a sneak preview into how the two of you are going to deal with the much bigger, scarier curveballs that life is going to throw your way. Jersey and I have a new appreciation and understanding of one another after over a year of planning, coordinating, communicating (often times long distance while he and I traveled for work), moving into a new home and dealing with the emotional typhoon of family/friends/people involved with our wedding.  He is my person. 100%. I can't wait to marry him!
… which is rapidly approaching. Tomorrow brings the arrival of the first of our out-of-town guests, then the following day my parents arrived. The Jersey/Peach Inn will be full for a few days, until we all head to the hotel near our venue on Friday.  But honestly, I'm relieved to have the emotional support arriving soon, along with the fact that I've taken off of work starting on Thursday. There will be a fair amount of running around left to do and it will be nice to not have to do it all alone!
The LAST of our to-dos! *gulp*
Mama Peach's Veil, from 1972.
Take my mom's veil to the florist. I'm using the pearls and pieces of the tulle for the wrap on my bouquet. This made my mama a little leaky, but it means the world to me to have a part of her big day with me on mine. My parents have been married for 42 years (!!!) and their devotion and love are what I waited so long to find for myself. I can't think of a better good luck charm.
Final touches on our welcome bags.  Since 90% of our guests are flying in from out of town, we made the choice to forego favors and instead have welcome bags waiting for them when they check into the hotel. Included in each bag will be: a personal thank you note, a MoonPie, Georgia Peanuts, a bag of chips, a few caramels, bottled water and Advil.  We really felt the welcome bags would be both a really appreciated gesture and far more useful than a token trinket/favor at the wedding.
Make the seating chart. I'm not procrastinating on this, I swear. But even this morning I woke up to an email from a friend who is no longer able to attend. Seating plans are truly a moving target and I am doing everything I can to only do this thing ONCE!
Haul everything to the venue. Luckily our venue allows us to bring our personal items a few days in advance, so we don't have to worry about trucking over pictures, table numbers, exit favors, guest books, etc., etc., etc., on the day of.  Whew. That'll get done Thursday.
Pack for the weekend + honeymoon.  Considering packing for a 2-day trip takes me 4-5 hours, I better get going on this one. I am the type that is super-paranoid about forgetting something and I have to have every possible clothing option thought of and packed for just in case. I know. I drive my own self crazy!  But honestly, I'm more worried I'll forget some key component for our actual wedding. Like, I dunno … the DRESS?!? That would be typical of me.
Take good care of myself. This may sound silly, but I DO NOT want to get sick, hurt myself, or be completely exhausted for the big day. For that reason, this week is all about being nice to me. Healthy foods, plenty of sleep and as little stress as possible. That's the plan.
Wish me luck with the final details and see y'all on the other side … AS A MRS.!!!  omgiamsoexcited.
'Til next time,