Posts in the 'Wedding planning' Category
Brides Against Breast Cancer is an amazing charity that we've partnered with–they accept new and used gown donations, which they then send on roadshows across the country to sell to brides like you for an average price of $600! They also do "Run and Renew" 5K events as fundraisers, and every year, they raise around a million dollars for those impacted by cancer. Incredible, no? If they've got an upcoming event in your area, you should definitely check it out! PLUS, our very own Christen will be volunteering at the Jacksonville show, so definitely come and say hi!
The Nationwide Tour of Gowns upcoming schedule:
| | | | |
| --- | --- | --- | --- |
| | Northbrook, IL – Chicago Area | March 15 – 16, 2014 | Renaissance Chicago North Shore Hotel |
| | Lee's Summit, MO – KC Area | March 15 – 16, 2014 | The Pavilion at John Knox Village |
| | Oklahoma City, OK | March 15, 2014 | Hilton Garden Inn – Quail Springs |
| | Altamonte Springs – Orlando Area | March 16, 2014 | Embassy Suites Orlando – North |
| | Tallahassee, FL | March 16, 2014 | Four Points by Sheraton Tallahassee Downtown |
| | Houston, TX | March 21 – 22, 2014 | Hilton Garden Inn Houston Energy Corridor |
| | Albuquerque, NM | March 21 – 22, 2014 | The Hotel Cascada |
| | Denver, CO | March 22 – 23, 2014 | Denver Marriott Tech Center |
| | Sarasota, FL | March 29, 2014 | Westfield Southgate Mall |
| | Temecula, CA | March 30, 2014 | Mount Palomar Winery |
| | Essex, VT – Burlington Area | March 30, 2014 | The Essex Resort & Spa |
| | Hurst, TX – Dallas/Ft. Worth Area | April 4 – 5, 2014 | Feragne Villa Wedding & Event Venue |
| | Boston, MA | April 4 – 5, 2014 | Benjamin Franklin Institute of Technology |
| | Boca Raton, FL | April 4 – 5, 2014 | Embassy Suites Boca Raton |
| | St. Louis, MO | April 4 – 5, 2014 | Holiday Inn St. Louis South County Center |
| | Mobile, AL | April 6, 2014 | The Battle House Hotel & Spa |
| | Columbus, OH | April 6, 2014 | The Fawcett Event Center |
| | Reston, VA – Washington DC Area | April 11 – 12, 2014 | Sheraton Reston Hotel |
| | Wichita, KS | April 12, 2014 | Holiday Inn Wichita East I-35 |
| | San Ramon, CA – SF Area | April 12 – 13, 2014 | Crow Canyon Commons |
| | Austin, TX | April 19, 2014 | Hyatt Regency Austin |
| | San Diego, CA | April 19, 2014 | Hilton Garden Inn San Diego/Del Mar |
| | Cincinnati, OH | April 19, 2014 | Hyatt Regency Cincinnati |
| | Columbia, SC | April 26, 2014 | Hilton Columbia Center |
| | St. Petersburg, FL | May 4, 2014 | NOVA 535 Event Space |
| | New Brunswick, NJ | May 4, 2014 | Hyatt Regency New Brunswick |
| | Philadelphia, PA | May 9 – 10, 2014 | Wyndham Philadelphia Historic District |
| | Richmond, VA | May 10, 2014 | The Westin Richmond |
| | Providence, RI | May 16 – 17, 2014 | Hilton Providence |
| | Charlotte, NC | May 23 – 24, 2014 | Embassy Suites Charlotte |
| | Roanoke, VA | May 24, 2014 | Sheraton Roanoke Hotel & Conference Center |
| | Lombard, IL – Pretty in Pink | June 21 – 22, 2014 | Jasmine Galleria |
| | Weehawken, NJ | June 28, 2014 | Sheraton Lincoln Harbor Hotel |
| | Louisville, KY | July 12 – 13, 2014 | Ramada Plaza Louisville Hotel & Conference Center |
| | Emeryville, CA – San Francisco Area | July 26 – 27, 2014 | Hilton Garden Inn San Francisco/Oakland Bay Bridge |
| | Whittier, CA – LA Area | August 15 – 16, 2014 | Radisson Hotel Whittier |
| | Beachwood, OH – Cleveland Area | September 12 – 13, 2014 | DoubleTree by Hilton Cleveland East – Beachwood |
| | Welches, OR – Mount Hood Area | September 13 – 14, 2014 | The Resort at the Mountain |
| | Jacksonville, FL | September 20 – 21, 2014 | Sheraton Jacksonville |
| | Bridgeville, DE | October 5, 2014 | Heritage Shores Club |
| | York, PA – Lancaster Area | October 17 – 18, 2014 | The Holiday Inn Conference Center of York |
| | Birmingham, AL | October 24 – 25, 2014 | The Harbert Center |
| | Minneapolis, MN | November 1 – 2, 2014 | Millenium Hotel Minneapolis |
| | Riverhead, NY – Long Island | January 30 – 31, 2015 | Atlantis Banquets & Events |
| | Bloomington, MN | February 27 – 28, 2015 | The Park Plaza Hotel Bloomington |
Run and Renew upcoming schedule:
The second I got engaged, I got down to business. I started watching "Say Yes to the Dress," (All 1,000 seasons. Atlanta too. Also, there's spin-off called "Randy to the Rescue." Research is hard.) My pin pinning on Pinterest increased by 600% and I created a secret board to share with only my bridesmaids and an even more super-secret board for my eyes only. I created an account on The Knot, I researched venues, flowers, cakes, shoes, bridesmaids' dresses, photographers, DJ's, etc! The list goes on. All things wedding related bring me joy and I spend hours fantasizing how amazing mine will be. It seems extreme, but it's only natural, right? Wedding planning is so fun!
Photo by Smileham
Until you realize that, since it is all you think about, it is ALL you have to talk about. I went out with one of my bridesmaids and her new boyfriend the other night. She was just back in to town from an interview in Austin, Texas and her new dude was just back from 3 months on a ranch in (only coincidentally) Texas, so I was really excited to hang with them both and catch up with my girl. This was the first time I would really get to hang out with her boyfriend. She really likes him, and if he's gonna be around for a while, I want to like him and for him to like me, too! I invited them to a new, cool, swanky joint that opened up right behind my apartment. It's one of those foodie-type burger joints with signature cocktails. I was sure to impress both my bridesmaid and the boyfriend with my taste and awesome personality! As they arrived, we greeted each other with hugs and grabbed a spot at the bar. Pleasantries were exchanged but as soon as my bridesmaid asked, "So, what's new?" I immediately replied with, "Well, I think I'm going to do a long-sleeved wedding gown because I think it's so different and…" and continued with, "and I think we're going to do signature cocktails named after our cats and…" and continued with, "and each centerpiece will have a succulent because it goes with the desert theme and…" I went on and on. I looked and noticed the boyfriend's eyes completely glazed over after several minutes of this and I began to have an out-of-body experience. It was like I could watch myself as I droned on about vows and shoes, and I could hear how awful and boring I sounded. There was a time and a place for this and it was NOT while you're trying to get to know someone. So, I tried to stop. I tried. 'Change the subject, Andrea' I thought. 'Think of something else! Let's see, current events?? You haven't read the news in weeks! New music? What was the name of that band? Politics?!?! DAMMIT!' I could not think of a single thing to talk about that was not wedding related.
At home with Travis, I realized that I was probably doing the same exact thing. Weddings can really suck you in and take you out of real life! NOW I understand why couples have to cut the wedding talk down to once-a-week. But, with my wedding over a year out, I need to cut my own wedding thoughts down to once-a-week. Otherwise, I might be unbearable to be around! Now, I do think that those who are your good friends will be understanding of this and most will want to talk wedding with you. But I would also like to remain a good friend. Also, I used to be a really interesting person….
So I pledge:
* For every book or article I read about weddings, I will read a real life book or article.
* For every show I watch about weddings, I will watch a real life show.
* And finally, for every blog I write about weddings, I will write a real life blog. (To make this applicable to you, the reader, change "blog" to whatever it is that you create or think about that makes you feel good.)
I can't believe I still have over a year until this wedding and I'm already wrangling in the crazy?? I feel a Bridezilla brewing inside of me and I'm scared.
Here's to hoping the pledge works,
Choosing a venue can be one of the most difficult aspects of wedding planning. And in San Diego, the options are endless. You can get married at the beach, on the bay, at the beach, at a winery, at the beach, on a ranch, at the beach, in the city, and also the beach. Did I mention THE BEACH? If you are sensing snark, your snark-sense is working. We are the furthest from beach-loving people as we could possibly be. Why? SAND. Also, sand fleas. I will not elaborate, lest you spend the rest of the day inadvertently scratching phantom itches.
After our engagement (and maybe a little before because at the end of the day, I am woman) we started browsing venue options. Our search continued until I said, "How about a brewery?" and Justin replied, "This is why I am marrying you." I searched the most popular brewery site in San Diego – I won't give it a name but I will tell you that it rhymes with "phone." The food and beverage minimum for this site was literally more than I ever dreamed one would spend on a wedding which led to yet another WE CANNOT AFFORD ANYTHING emotional breakdown. Actually more like, "I would NEVER spend that much on a wedding WHAT IS WRONG WITH PEOPLE" breakdown.

images via Rachel McFarlin Photography & ABM Photography 
Which led us to look up Karl Strauss Brewery Gardens. We were both very familiar with this site because it is down the street from where we live. One point for convenience! Beyond the uniqueness of the grounds, a few things really set KSBG apart from other venue options – most notably that it is all inclusive. There are no separate charges for parking, cake cutting, chairs, table setups, linens, you name it. Many of the other venues I glanced at made me appalled at the nitpicky, nickel-and-dime charges they come up with. And the bonus? They have their own bakery and DJ contracted already. Which means less work/decision making for us to do. Total score.
BUT WAIT, THERE'S MORE. The grounds and gardens are GORGEOUS. Hello, you are going to give me all of your beer and do half of the work for me AND be completely gorgeous? SOLD. Really, it was a no-brainer. And in the end we are proud to say that we looked at ONE venue. One singular venue that met every single one of our wedding desires. KSBG, our one true wedding venue love. Am I bragging? Yes, yes I am. Because this was a huge decision that we made incredibly simple and are more than confident in our choice. And I also just spent a good two hours looking at return address stamps so I needed to remind myself when the important decisions happened…
The one person who is not happy with our decision is my father. My Bud Light Lime loving father, whom we are forcing to drink "that fancy shit beer," because obviously they only offer Karl Strauss products (which are a DELIGHT). We are trying to acclimate him; so far, we have not succeeded. Stay tuned for updates on our quest to teach my father the ways of fancy beer!
I wanted to make a second post sooner but I actually really hurt my back and have been trying to figure out how to go to both my jobs, make it to class, and even find/buy a wedding dress with about 50% range of motion.
My wedding is just under five months away and I realized a few weeks ago, "Holy crap, I haven't found a dress yet!"  I am not a sample size,  so this is a concern as that means I can't buy off the rack. I went to a bridal shop down here (Southern Oregon) with my future mother in law  and my future sister in law three weeks ago and it was an absolute disaster. The shop was rundown, the consultant had bad breath, and I was feeling really pressured to choose from the "bigger" dresses because apparently they don't order out, just sell what they have in store and alter it for you. My future sister in law bought her dress at this shop for $300 a couple years ago and insisted they had a huge selection. She was right, they do have a huge selection, over 600 dresses, all size 0-10. What happened next was probably one of the most traumatic experiences of my life. The consultant put me in a hideous dress which was about 5 sizes too large for me and insisted it "fit perfectly". I couldn't even look at myself in the mirror before I burst out in tears (not happy tears, very very sad tears) because I felt gigantic and disgusting. She brought me back into the room and said she had some "better" dresses and came back with 3 horrendous dresses at the top of my budget. I shut down completely and told her to help me out of the under garments because I was leaving. It was an awkward ride home, I was holding back massive tears and had it set in my mind that because of this setback, we would have to cancel our wedding. A very dramatic night unfolded in which we came to an agreement for us to travel to Portland (the closest large city) so I could go back to the smaller boutique I had an incredible experience at about 9 months ago.
A few days later I twisted my ankle and sprained something in my lower back. I literally could not stand up straight, dress myself, or bend in any direction and was in agonizing pain. I missed work and school the entire week, setting me back both financially and academically. I  was afraid that my injury might cause me to miss my dress appointment in Portland and thus ruin my chances to get the dress experience I was after. Thankfully, I started to make some progress, and paired with heating/cold packs and medication I made it the 6 hours to Portland.
I got to spend a lot of time with my maid of honor and she even got to come with me to the dress appointment. The experience was completely successful. The shop is beautiful, they carry gorgeous but affordable gowns, and they understand that I might not be a size 10, but I want to see myself in a beautiful dress all the same. I was not shoved into any ill-fitting frocks, but in fact, had my choice of gorgeous organza, silk, lace, and taffeta.
I tried on and fell in love with over 12 dresses, while narrowing them down to just two that I loved: a lace, empire waist, champagne colored Casablanca:
And a ruffled organza mermaid/drop waist Mori Lee ombre gown:
Obviously they are completely different and I loved them for different reasons. I could not take off the Casablanca but I have loved the Mori Lee dress since I first found it online about 7 months ago. I did end up buying the Mori Lee gown because it just felt right and I am so glad for my decision.
Wow: I bought my dress! I do have to go back in late May/early June, cutting it very close to my July 5th wedding for alterations, but I am happy and I feel very relieved. I was told that most brides do the dress thing really soon after getting engaged and leave other things to last minute; I'm not sure why it wasn't a huge priority of mine. I guess I felt like I had so much time with an 18 month engagement but suddenly, time is going really fast!
My back is still messed up and I have to drop a class to make time for physical therapy, but it is what it is. Aside from getting my dress, we also ordered our invitations and rsvp cards because VistaPrint is having a sale!
All in all, I had a really productive week but now I'm heading into midterms and I'm moving next weekend so I think wedding planning will be on the back burner for another week and a half.
x0x0
Just the other day Michael and I were talking about wedding stuff and he said (word for word), "I always saw on tv those guys who didn't help out with their wedding and I was like 'I'd never be one of those guys', but I feel like I am. Should I be doing anything?"
I thought about it, and my honest answer was no. It's not that I think I'm a one-woman show who can do this wedding all by myself, but I also don't need him manning the front lines right now.  After all, he is already working 70 hours a week, so I feel like asking anything more of him at this point might be unreasonable. I still want him to be involved; I ask him what his opinions are about the number of people in our wedding party and what he wants his groomsmen to wear, but we're not at the stage where I need action from him.
Not to mention, let's be honest, I have a vision and I know that 90% of that vision is stuff that he hasn't even thought about, nor does he specifically care and that doesn't bother me.
I know you're all wondering about this photo: Michael and I did a styled shoot with SheWanders Photography and they took this gem. Michael would like you to know that this was all my idea and he participated for my benefit.
Maybe I'll need more from him in the future, but right now, as long as he brings this handsome face on the big day, I'm good to go!
xoxo,
IN CASE YOU MISSED IT…..
On October 17th, this happened…
SO. MUCH. CHEESE. YESSSSSSSSSSSS. ALL THE CHEESE PLEASE!
…and then this happened…
(pardon the blur, but you get the idea.)
…because this happened…
…and then this happened.
Paul's 10 best friends walked in. Then my mom, sisters, and best friend, (all from out of state) walked in too.
And I couldn't be any happier to have this happen, with this man…
…for the rest of my life.
Yes, kids. I've been re-BRIDAL-ized. Wedding 2.0 coming atcha this fall.
Happiness infinity, coming at your forever
After the initial glory of the engagement and the outpouring of love from friends and family comes the first step of wedding planning. Which in my case was DO ALL THE THINGS AT ONCE. Which is bad. Really, really bad for someone like me. My need to create and control and perfect only exacerbates my generalized anxiety disorder. Hi my name is Tiffany, and I trigger my GAD by being a completely unbearable control freak.
Justin and I lightly tip-toed around the risk that wedding planning could be for me. There were polite suggestions of getting someone to help with the wedding and I of course shot that down because I can do it all myself and also do you have ANY idea how much those people cost!?!  With my remedial crafting skills and Pinterest combined, I TOTALLY had this wedding thing under control.
But did I really? I understand that wedding planning is supposed to be joyous and fun and not stressful but please review paragraph one if you still think that option is available for my type. Once I took the first step and admitted that I would need help, I jumped on the internets and started researching wedding coordinators. And then I was not so gently reminded of their cost and curled up in a ball and cried, naturally. And fellow BAB-ers are probably shaking their heads in agreement right now because that is the absolute last thing that your budget needs!
However, I am here today to tell you that it IS possible to find professional wedding help within your budget. I spent an irrational amount of time searching the internet and found exactly what we needed: someone to help us design our space and provide day-of coordination that wasn't going to charge us more than our net worth (Events by Elisa, for you San Diego brides!). I didn't need someone to do it all, but I needed the support and guidance (and amazing creative vision) of a professional that will keep me in line and on budget! She is also planning a "pintervention" soon so I eventually stop gathering thousands of ideas. And while we are still 8-months out and dealing with a venue that is under construction, we are incredibly happy with the service and guidance we have received thus far.
Could I do this? Maybe. Would I lose my mind? Definitely. Photo via Faithfully Focused Photography.
So, fellow control freaks or sufferers from generalized anxiety disorder – the appropriate type of wedding help is out there. Look for coordinators that are more flexible with their services. If you don't need someone to find and book your vendors for you, then you shouldn't be paying someone to do that (trust me, google, yelp, and wedding wire can do all of that handiwork for you). If you just want someone to help you the month or day of, just pay for that. I also found some options that were fairly new in the business therefore they had super low rates compared to everything else we were seeing. They need the experience and if you don't mind being their training wheels, then go for it! Your wedding coordinator angel exists – just keep looking!
My advice to those of you questioning if it is worth splurging on a coordinator: if your sanity is at stake it is ABSOLUTELY worth it.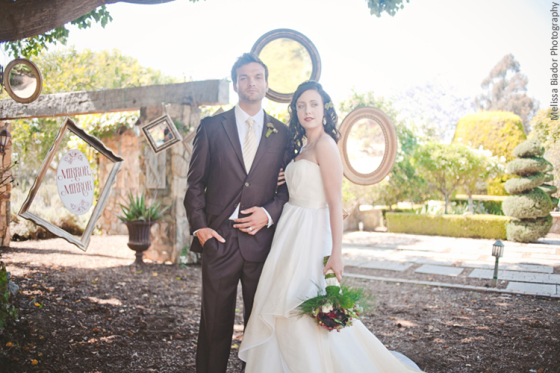 This is not us (clearly). But our wedding will be styled just as awesomely!
You think you know how it will all go down. You've dreamed about this moment since you were a little girl. Notice I said you. Not me. But whatever you have envisioned for the moment you become engaged, rest assured it won't happen exactly as you hoped or dreamed. (SPOILER: It's actually better.)
Lemme s'plain how it has gone down for me by sharing what's been the most surprising so far.
1. The moment.
I thought I would react like you see on TV… the chest-clutching, cover the mouth, face crumpling in tears, all aflutter, oh-really-who-me?
Nope. I was grinning like an idiot the whole time. I mean, sunbeams shooting out of my face, grinning. Overjoyed. Happy. Couldn't wait to say yes. Let a curse word slip. Laughing, smiling, elated. No tears. I mean, why cry?!? I love this man so much it's stupid. Plus? I'm a stress crier, not a happy crier. Or maybe I'm just a weirdo. There's always that.  Good thing he loves my weird.
3. The Questions – Holy sh*tballs, no one prepared me for all the questions!!!
THEM: When is the wedding? Where will it be? What season? What are your colors? Indoor or outdoor, church or no church, what kind of dress do you want?
ME: Ummm… I don't know, soon-ish? Somewhere. Something not cold. Or hot. Salmon and Puce. Depends. None of your business. And something with none of the following: bows, ruffles, feathers, camouflage or poofy sleeves.
Y'all, am I the world's worst bride-to-be because I don't have answers for ANY OF THESE?  Or that Jersey and I have barely even grazed the surface of most of these topics?? So, can someone remind us both to breathe? And tell us how to politely respond with something other than this?
4. The Bling, part two.
It's $$$.  Trust me, the enormity of the financial implication of it is not lost on me. It is not to be taken lightly. Hence why I seriously get sweatypits when I have to leave my house. Or wash my hands. Or pretty much breathe.
5. The Facebook Apocalypse.
Whoa. People come out of the woodwork. High school friends, current coworkers, former coworkers, undergrad and grad school friends, music festival friends, Camp Mighty friends, cousins/aunts/uncles (on both sides), former teachers/mentors, ex-boyfriends, Crossfit friends, holy frijoles. Best to turn off your phone notifications in advance. It's nutso. But also kinda awesome.
6. My New Name.
People referring to me as 'Mrs. HisLastName' was a huge jolt the first few times!  It wasn't that I'd never imagined the phrase – it was that it had never been LEGIT until right now.  Sh*t just got real.
Aside: Not trying to start any controversy with this, because I'm sure some folks might be aghast that people just assumed I would take his name. But in actuality, it doesn't bother me.  And remember too, this is the South.
7. The Parents.
I had no idea how hard it would hit them. My mom, especially. She shared with me that she has been happy-tears weepy, remembering when I was born and how she held me and wished me all the happiness in the world… hoping that one day I'd be as happy and in love as she was. Well jeez, Mom. Thanks for helping me make up for those tears I didn't cry when he proposed. Sniffffffffff.  I'm sure all my mama bear readers are cursing me and reaching for the Kleenex, too. Sorry, y'all. My dad has been a rock. He, of course, mock-threatened Jersey with mention of his shotgun, but that's his love language. Not one of many words, my dad, but he expressed plenty of love and congrats and desire to help us wherever possible in his own calm and quiet way.
I think we spend so much time as single gals NOT wanting the family pressure to get married that when it does happen, we forget how much it affects them, too.  I have no doubt the planning will bring it's share of stress, but that it will also bring us all closer together.
8. The F-word.
He said it to me first, all stretched out. "Hey, guess what? You're my fiannnnccceeeee."
Hey! COOL!!!
It takes some adjusting to make the switch from 'boyfriend' to the F-word, but I think I'll get it eventually.
So there you go. That's what has smacked me upside the head in the first week after I became newly betrothed. How about the rest of you?
What took you by surprise when you became engaged?  If you're my lovely single ladies, what is surprising about this list?
G'Day, fellow broke-ass brides and grooms! My name is Kate, and I am a 21-year-old college student and bride-to-be from the gorgeous state of Kansas. My fiancé, Daniel, is a master's student, born, raised, and living in Brisbane, Australia. Now, I know what you're thinking: how did a small-town Kansas girl and an Aussie meet and fall in love? Well, let me tell you.
In June of 2012, my friend and I bought our tickets to a once-in-a-lifetime comic book convention, MorrisonCon, in Las Vegas. Shortly after committing to this experience, my friend started trolling Twitter to find fellow attendees, and she stumbled upon an Australian: Daniel. Intrigued by his nationality, she struck up a friendship and quickly decided that she and I would be his American hosts for the weekend. When she sent me the text message to warn me that a strange Australian man would be adding me as a friend on Facebook and subsequently following me around for an entire weekend, my first thought was: "Are you crazy?!" After all, I grew up in the age of technology. I know that internet strangers are obviously serial killers and should not be invited into one's personal life.
Despite my reservations, I accepted Daniel's friend request, and we began talking. As the "ice queen" I sometimes am around strangers, I promptly blew him off and did not chat with him again for weeks. However, as the event approached and Daniel and Sam bonded, I was worried about being the third wheel and started talking to him again. It took me one Skype session to know that he would become an important part of my life.
Long story short, Daniel's and my relationship rapidly escalated from friendly conversation to obvious flirtation. When we finally met in person in September, 2012, we had an instant connection. After three short days together in Las Vegas, we decided to give "whatever this was" between us a shot. After five days apart, Daniel officially asked me to be his girlfriend. After three weeks apart, we were shamelessly (although not fearlessly) saying, "I love you."
Since the weekend of MorrisonCon, we have been together in person four times. When I visited Daniel for two weeks in January, 2013, we decided to commit to our relationship for the long haul. When Daniel surprised me in March for my birthday, we knew we could never live without each other. When I visited him for six weeks in July, we selected the engagement ring. And finally, when Daniel visited me for Thanksgiving, we became engaged and lodged our K-1 fiancé visa petition with the U.S. government.
While this whirlwind, international romance has been dreamlike and romantic, it has also left us with a lot of uncertainty. Once Daniel's visa is approved, he has five months to move to the United States, and once he lands on U.S. soil, we only have 90 days to get legally married! Therefore, we intend to conduct our nuptials in a serious of small parts. First, we will have an engagement party in Australia, so that I can meet his extended family and friends, and they can give him a proper send-off. When Daniel moves here, we will have an intimate marriage ceremony with our immediate families, as we will not have time to plan a large celebration, followed by a honeymoon for the two of us. Last, we will have a larger commitment ceremony and/or reception party that is open to both of our extended families to attend, so that we can all celebrate my and Daniel's marriage in a more traditional fashion.
Needless to say, between navigating the visa application process, planning three wedding events (plus a honeymoon), going to university, and working part-time, we have a LOT on our plate. We're not wedding experts, and our several flights between the U.S. and Australia have put us on a very tight budget. However, we are confident that with a little DIY creativity and the support of the Broke-Ass Bride community, we can put together a fabulous string of wedding events (with a vintage travel theme) and kick off our marriage with style, flair, and that unique Broke-Ass-bad-assery.