---
Posts in the 'Wedding planning' Category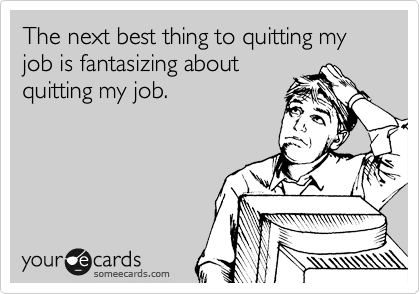 Replace "job" with "wedding planning" and this is me.
After my fiancé and I got engaged in May, I threw myself head-first into wedding planning. I LOVED IT. I'm a project manager by training and I love doing research. Wedding planning was also my excuse to buy all those wedding magazines I love instead of spending an afternoon at Barnes & Noble thumbing through them with a chai latte. I'm not the only person that's done that right? Planning was pretty easy breezy and I was enjoying the experience … emphasis on was.
Y'all … our wedding is less than 60 days away … and I'm officially over it. I'm done. I wanna quit wedding planning so damn bad.
There are plenty of things we have left to do, but I have zero interest or energy to do any of it. I come home each night feeling like I should take care of wedding stuff, but all I want to do is sleep. Originally I was excited to do DIY projects; now I just want to buy something from Etsy and call it a day. I got a guest room full of stuff from Michaels that SHOULD be turning into cute paper flowers and chair signs … but for now it's just collecting dust. Michaels is making a mint off of me buying stuff for this wedding, BTW. I really don't want to make another damn decision, do anymore research or look at a million options. And of course, now is the time when all the little decisions have to be made. Joy.
Shit has gotta get done … so I'm plugging through, but not as enthusiastically as when I started this damn thing. I vented to a coworker who is also a recent bride, and she told me the secret to getting through this period: delegating. I haven't delegated anything, mostly because I didn't want to burden anyone. Whenever you hear wedding stories, you hear about brides who were bridezillas and expected too much from their friends & family.  I vowed that wouldn't be me and now I've got bridal burnout. I hope there's a cure for that.
Since I don't give a damn about things like I once did, I've outsourced planning the rehearsal dinner to my fiancé and his mom. My Twitter timeline has also responded to my random cries of "where are all the cute blue wedding shoes that aren't $800???" with links, resources, and ideas. Who said Twitter wasn't a village? Oh and Twitter also helped me pick a cute dress for my bridal shower too! I'm also counting down to when my day of coordinator takes over all of this madness and I can relax.
Is this normal? Do other brides get this lethargy? Will I ever get my wedding planning mojo back? I hope so cause there's still so much left to do in the next two months.
I believe that it's not enough to simply survive planning your wedding, you should thrive and feel like a Boss while you're doing it.  Here are five wedding planning habits to start practicing now that will help.
Let's start with the money, first:
1.Multiplication. Avoid sticker shock that every couple goes through, and  remember that you are buying in bulk. For example, Chiavari chairs  for  $10 each? Multiply by 100 = $1o00. $2000 if you're getting another set for the reception.
2.Ask about the other STDs – Service, Tax and Delivery. Always. Everyone who is delivering a product – your photographer, your photo booth, your cake – is going to charge tax, plus a delivery or travel fee. Your venue and your caterer will charge tax, plus a service fee. Here in Los Angeles, that's usually adds up to  30% of the bill, on top of the bill, turning your $85 per person dinner into $110.50 per person. Multiply that by 100 …
3. Your last question to any potential vendor needs to be, "Is there anything else I need to know?" There are many unknown unknowns in wedding planning – the stuff that you don't know that you don't know, or need to know.  Asking this question will give the opportunity for your vendor to go over anything they might have missed in their spiel, but are mentioned in the contract, or cover concerns other couples should have had. Things like, late fees, open fire permits, parking, vendor meals. That question might lead to more questions, but there are never too many questions. Or answers, for that matter.
And then there's the mindset:
4. Treat this like any other shopping trip. This past weekend, I walked through Bloomingdales – like an idiot – to get to the rest of the mall, and I was stopped dead by an ankle length full-sweeping silk skirt. If you follow me on Pinterest, you know that's My Style. $598? No. I took a picture of it so I can maybe find it cheaper online, and then skipped over to Banana Republic and bought another ankle-length sweeping skirt for $75. My point is, that with every vendor, every service, you have alternatives. The last thing you look at is not the only option you have. It's not only being able to afford it, maybe you just don't like it. As an ex-bride of mine once said to the hovering bridal salon sales lady, "I know I look good in it, I just don't feel good in it!" Feel good in it, feel good about it, whatever it is. If you don't, move on.
5. Keep reminding yourself that you are not a victim of your wedding.  This wedding isn't something that's happening to you, you're not being forced to pay $110 per person for dinner on a Saturday night. If you start thinking otherwise, or continue thinking that way, you are going to be very, very unhappy through this whole thing.  Throwing a wedding is a choice that you are making. That can be frustrating, or it can be empowering: You get to choose how you're going to do it, what your wedding is  going to look like, or if you're going to do it all. You get to say "Yes," and you also get to say, "No," and your reasons for doing either are perfectly valid, okay? So, stay empowered and don't confuse "want to" with "have to."
You've got this.
What are some habits that you're already starting with your wedding planning? And what do you think of mine? Let me know in the comments below. And if you would like more information about me and my little area of Wedding World, visit www.silvercharmevents.com.
See you at the end of the aisle,
In this new series, we'll be sharing some of our favorite wedding-y things from around the Internetz. From inspiration shoots to style boards to DIY and planning tips, these are the things that catch our eye in other corners of the wedding web.
Our girl over at Kiss My Tulle has a rad state-themed series. This year she's tackling decor, starting with Alabama. #duh
Wedding planning can be complicated. MyWedding has tips to simplify it.
Intimate Weddings has bachelorette party ideas that eschew penis straws.
Meg from A Practical Wedding is writing another book. If you haven't read her first one, you should. It's good.
I'm not the only one with a serious cat addiction. Chelsea from Tidewater and Tulle got her cats to star in an awesome shoot.
This handcrafted Atlanta wedding on Ruffled is so full of color and #sparklez, I just might explode.
The founder of Offbeat Bride is touring the country with Lovesick Expo, a wedding show that likely doesn't suck.
Effortless sophistication is exactly right with this dreamy inspiration shoot on OnceWed.
The bride in this multicultural Boston wedding on Pretty Pear Bride has some legit tips on wedding dresses.
The bride's jacket in this South African wedding featured on 100 Layer cake made me do a double-take. So good.
Don't feel like wearing a veil? Emmaline Bride has some great alternative ideas.
Downton Abbey is back, and The Big Fat Indian Wedding did a killer roundup inspired by the addicting drama.
Figuring out which flowers are in season and when is tricky. Budget Savvy Bride helps you figure it out.
What cool wedding things have you seen lately, BABs?
Photo: Emily Delmater Photography, courtesy Blue-Eyed Boutique
Vintage dresses and accessories are gorgeous, but can seem a little dated. Because, I mean, #duh. They're old. But online retailer Blue-Eyed Boutique, who started out as an Etsy shop (and y'all we love us some Etsy), is here to help … and with a shiny new brick-and-mortar store in Biddeford, Maine, to boot.
Blue-Eyed Boutique is the brainspawn of Hannah, who stumbled onto Etsy, sold her slightly reworked prom dress to a woman in France and had a total lightbulb moment. Which, thank goodness, because homegirl has a way with the old and her prices are uber Broke-Ass friendly.

Photo: Justine Johnson Photography courtesy Blue-Eyed Boutique
Hannah started collecting vintage wedding dresses when she was in college and gave them a little tweak here, a tuck there and breathed new life into the dated frocks, bestowing the classic femininity with some modern sleekness. And she's been having such success with it, that she's decided to expand her online boutique to a real live storefront.
Because the items at Blue-Eyed Boutique are upcycled, they're also eco-friendly (yay, Earth!) and they're totally easy on the wallet (yay, BAB homies!). Most of the designs fall nicely under $500.
Photo: Emily Delmater Photography courtesy Blue-Eyed Boutique
So, Maine brides with a penchant for the nostalgic, get thine booty over to the real, actual Blue-Eyed Boutique in Biddeford to see what Hannah's got available. For the rest of us poor souls, we'll just be over here on the website deciding which dress makes us swoon the hardest.
Heeeyyyoooo! Welcome to 2015, BABs! For those newbie Broke-Ass Brides, welcome to the party! For those of you who've been partying for a minute, yay! You made it through the hols, hopefully with your sanity fully functional.
Regardless, darling, you're engaged. And that means you've got some biiiig things coming your way. And we're here to help!
A great place to start would be here:
- A Budget Cheat Sheet for the Newbie Bride
- A Love Letter to the Newbie Brides
Take your time. Take a look around. There's a Resources button at the top of this page that has some great places where you can find your wedding essentials. We also have a Contact area where you can holler at us with any questions or suggestions you might have. We're here to help, mmmkay?
We also have a number of wonderful inspiration posts on the blog, and many, many more on Pinterest. Oh while you're at it, you should probs follow us on Facebook, Twitter and Instagram, too. We have all sorts of cool shit.
And we're super stoked you're here to play! Congratulations, newbie brides!
Damn. It's hard to find a good sale after being pummeled with them all during Black Friday and Cyber Monday. But, of course, I couldn't leave y'all without a killer Ten for the Weekend, now could I? No. Because that would be not awesome. Below we've got M&M's you can put your face on, hot styles for the fella in your life and more sparkly discounts!
Oh, honey, you're just so sweet! *CHOMP*
3. Hunting for your wedding stationery? Take 30% off site wide at Wedding Paper Divas with code CYBER30 until 12/9
4. Help the dude in your life look a little more dapper this season with 30% off sale items at Bonobos with code FROSTY until 12/7.
5. If you've been wanting to get a big print of your engagement or wedding photos, now's the time. Get 25% Off All Orders at Art.com this month with code CHEER25.
6. Functional design powerhouse Quirky has some of their best-selling designs on sale for between $1 and $10 for a limited time. 
7. If you're going to need extra bakeware for the holidays, head on over to Sur la Table and save 40% off select bakeware until 12/7.
8. Whether its for a holiday party or a wedding shower, get personalized gifts at 25% off from Beau-Coup until 12/6 with code FORYOU.
9. A sale a day, everyday: ModCloth is taking 25% off in their Category of the Day sale! Use the day of the week as the code for items in the specified category until 12/7.
10. If you liked that unicorn rug from this week's gift guide, then go get it from ThinkGeek, where you can save up to 60% on tons of cool shit, like unicorn slippers, soap and rugs. #duh
Happy Shopping!
Two weeks before Thanksgiving, I found out that the current number of Mrs. Coopersmiths would soon be increased by one  – my husband's little brother got engaged. Yay! But then I looked at the calendar again and frowned. Two weeks before Thanksgiving. Seven weeks before New Years.
Here we go.
The best part of the Holiday season is the number of chances you'll have to spend time with your  family and friends. And  if you ever lacked attention from any of them, you are definitely going to get it now that you're engaged:
"Oh my God, congratulations! When are you getting married??"
"You got engaged last Saturday? Did you find a dress, yet?"
"How many guests are you having?"
"My wedding was so stressful. If I had to do it all over again, I'd elope."
"What are your colors? Do you have a Pinterest board?"
"Where are you getting married? All the good places book up fast, so you need to start looking now."
Umm ...
Don't get me wrong, everyone is really happy and excited for you, and you need to remember that once you start contemplating murder. But, all of a sudden, they're heavily invested in your wedding day, offering a stream of unsolicited advice, unsolicited opinions and a ton of questions that you don't have any response to right now.  You're still startled every time your new shiny new ring slides into your peripheral vision, now you're feeling insecure about how you're going to pull this all off, anyway, especially since  all the questions make it obvious that you don't know what you're doing, right?  Weddings cost how much? And how do you start looking for a wedding venue that's not even going to be available when you find it?
Get it done and why haven't you found it and what are you waiting for and NOW. And there's that pressure even if you've been planning for a while, too.  That one question that will be asked over and over — "How's the wedding going?" — can be a killer. Well, how is it going?, you ask yourself, thinking about the open checklist boxes, the invitations you're still trying to choose, the bridesmaid dresses that came in the wrong color, the DJ you haven't booked … yet. Not so great, you're thinking as you reply while smiling bravely, "We're working on it."
Another deep breath. The season of peace, love and joy starts with you, so give yourself a break, first of all! You don't have to know all the answers right now, you don't have to accomplish all the things before your Mom's annual Yuletide bash.  What you do need to do is give yourself credit for everything you've already done, even if that's just finding the person you wanna hang out with for the rest of your life. Enjoy it. Bask, even. When you're asked about the wheres and the whens and the whys? Shake your head, smile, and repeat after me, "We haven't decided any of that, we're going to talk about it next month." Full stop.  And if you're not so new and a wedding check-up is requested, list everything you've already finished (because you are a Rock Star), and the one (choose ONE) thing you want to check off before the end of the year. If they ask about anything else, shrug and repeat after me, "Yeah, we'll get that done after the holidays." Because you will.
So, how are the holidays going so far? Any crazy questions or unreasonable expectations from your nearest and dearest? Let me know in the comments below! And if you'd like to find out more about me and my little part of Wedding World, visit www.silvercharmevents.com.
See you at the end of the aisle,
Ooohhh … y'all! I've got such a treat for you wonderful, amazing BABs today and I'm so excited about it! The amazingly supersweet folks over at Hoopla House Creative reached out and wanted to give YOU, darling Broke-Asses, something in honor of the launch of their wedding paper goods site.
To celebrate their launch, Hoopla House is sharing free printable downloads with you guys — but it's not that simple, because why would it be? Nope. The printables include favor tags, Mr. & Mrs. signs, bridal shower bingo, "Will You Be My Bridesmaid?" cards and blank banners that are awesome for "Thank You!" or "Just Married!" photo props. Because homegirl knows the value of FREE when it comes to wedding land. And for that we thank her.
Oh, and Hoopla House isn't just giving you ONE style. Nope. They're throwing out five gorgeous designs for all five printables. Of course you can find the matching invitation suite on Hooplah House's website, for about $1.88 per card.
But to make this super fun, we'll do one new design every few weeks, so it's like constant presents! Besides, I don't want to overload you too much today … because … and to make your DIY-ing totally worth it …
Our friends over at Comp and Save, a website that sells ink, toner and printer accessories, has a $50 gift card with one lucky BAB's name all over it.
So, how do we get this paper party started? Make sure you have some decent card stock (Michaels or other craft stores are good for this), then click below to download the Southern Belle printables (shown above), then head over to Comp and Save to enter the giveaway!
Download:
"Will You Be My Maid of Honor?" Card
"Will You Be My Bridesmaid?" Card
Now, get thee over to Comp and Save to enter to win a $50 credit toward computer ink, toner or printer accessories.
Good luck, and remember who loves ya, BABs!

Happy Monday, darlings! I hope you all had a great, restful Turkey weekend. As per usual, the holiday shopping has been kicked into high gear, and since finding a killer bargain is essential to any Broke-Ass wedding, I'd be remiss if I neglected to share these awesome Cyber Monday deals with you. Since Black Friday was a mashup of all the things, Cyber Monday's deals are concentrated on Weddingland. From dresses to bridal party gifts to freaking HONEYMOONS, there are deals like whoa in here. Happy shopping!
 

Top Row, from left: Chinese lanterns, table runners, candle holders and more decor: Get $15 off purchases of $99 or more at Luna Bazaar with code 15PERCENT99 || Stationery, Thank-You Notes, Bridal Party Gifts: Save 30% off all gifts at Tiny Prints with code TPGIFTS30 || Designer outfits that you don't have to buy: $40 off orders of $100 or more at Rent the Runway || Neckties, bowties, pocket squares and more: Take 40% off sitewide at Ties.com with code CYBERMONDAY 
Second Row, from left: BHLDN is holding their biggest gown sale yet ||  Canvas prints, frames and other wall displays: Get 45% off + a $50 voucher toward a future order at Canvas on Demand with code JOLLY45AFF || Bridal party gifts, toasting glasses and koozies: Save 20% site wide at Swoozie's || Shapewear and intimates: 20% to 60% off sitewide + free shipping at Hourglass Angel 
Third Row, from left: Honeymoon or destination wedding: Huge sale at Sandals resorts || Dresses, shoes, accessories, decor … pretty much everything: Take 20% off your purchase from ModCloth with code CYBERMONDAY || String lights: Buy two, get one free on all Philips string lights from Target || Bridal party gifts: 30% off + free shipping at A Gift Personalized with a purchase of $30+
Bottom Row: Beautiful, sexy lingerie: 20% off orders $150+ and get a free lingerie wash at Journelle || Bocce ball, cornhole, croquet: Deals on tons of outdoor games at Amazon || Wedding dresses, bridesmaid attire, accessories: Save 50% at Ann Taylor || Necklaces, earrings and accessories: Save 20% off your purchase at BaubleBar with CYBER20
Bonus: Get 35% off any Wedding Stationery order at MagnetStreet. Enter code 
WETHANK35.