---
Posts in the 'wedding jewelry' Category
Happy Friday, darlings! Since you're in the midst of wedding planning, I'm sure you know Etsy is a dearth of amazing handmade goodness, often for fairly broke-ass friendly prices. From a fun guest book to a gorgeous gown to a wine-lover's way to commemorate marriage milestones, this week's Five for Friday is chock-full of great Etsy finds.
 Mix and Match Bridesmaid Dresses, $98+ by RenzRags
I know BABs are into having their brigade choose their own style of dress, because one style doesn't always work for everyone. These gorgeous dresses can come in different lengths and a whole swath of colors, and have a pretty nice price tag to boot.
Heartbeat Necklace, $26 by HalalMill
Your partner makes your heart go pitter-patter, so why not show that on your wedding day? This necklace would make a gorgeous day-of accessory.
DropTop Wedding Guest Book, $145+ by ACFCustoms
Yes, this one is a little spendy, but it's an idea I have yet to see for a wedding guest book. Considering it reminds me of Connect Four (remember that game?) and will make a gorgeous piece of wall art after the big day, I'd say it's worth a bit of a splurge.
Bohemian Lace Wedding Dress, $470 by PolinaIvanova
This dress caught my eye and I'm totally digging it. The lace detail is gorgeous, it looks soft and flowy, it has built-in bra cups and it's under $500. That's a lot of awesome for one dress.
6 Custom Married First Wine Labels, $26.99 by LabelWithLove
Calling all oenophiles! This is such a great idea — even better if the wine comes from friends and family in the form of engagement / wedding presents. Then you have a special bottle from a special person to celebrate those special milestones during your marriage.
What do you think of these Etsy finds BABs?
GUYS. This happens sometimes, but not very often. Our partners at Gloss Jewelry are trying to make way for new stuff and hollered at BAB to see if we wanted to give you guys an exclusive code.
I mean, DUH. Of COURSE we do.
So, today only, head on over to Gloss Jewelry and pick up something, anything, for 80% off. This is not a joke. 80-freaking-percent. That's like thisclose to being free!
I'm loving this multistrand pearl necklace for any wedding or wedding party.
And at $35 – 80% … guys, this is $7. SEVEN. DOLLARS.
So head on over to Gloss and see what you can snag with code JEWEL80!
Then come back and tell us what you got at an amazing deal!
While national chains have made shopping for mass manufactured goods easy, one of best things about the internet age is the unprecedented access to the work of artisans worldwide; artisans like Friedasophie Jewelry.
The jewelry at Friedasophie is balanced beautifully: earthy with polish, chunky with delicate, natural with (wo)man-made, making them wonderful works of art that you can wear; and while Friedasophie Jewelry makes a statement, you always wear it instead of the other way around.
Friedasophie Jewelry is gorgeous enough to want to wear every day, and now you have a perfect excuse to make a purchase: they also makes beautifully delicate hammered wedding bands! Whether you treat yourself or hope to be treated, Friedasophie Jewelry is a gorgeous way to make your life sparkle.
This week, one lucky BAB will win a turquoise and 14k gold rondelle necklace by Friedasophie Jewelry! You must be subscribed to our newsletter to win. Not a subscriber? No problem! Sign up here!
Every girl needs a little bit of bling, right? Today we look at the finishing touches any bride might consider – a little frosting for your hair that adds a sparkle whether it's styled up or down. Adding something shiny doesn't have to come with a huge price tag. Using the $150 Nina 'Cece' Crystal Ribbon Head Wrap as our inspiration, we're going to look for some attractive headband options under $50.
CAN'T AFFORD IT
Nina 'Cece' Crystal Ribbon Head Wrap ($150 at Nordstrom)
GET OVER IT
Rhinestone Bridal Headband ($22 at BeautifulBlossoms via Etsy)
Bridal Rhinestone Headband ($38 at BellaCescaBoutique via Etsy)
LUCY Double Crystal Bridal Headband ($46 at Sun Kiss Bridal via Etsy)
Bridal Headband ($48 at Bella & Beya via Etsy)
Bridal Headband Rhinestone ($38 at ChantelEveleen via Etsy)
Thin Headband with Crystal Embellishment ($34.99 at David's Bridal)
Nothing strikes your fancy here? The great thing about headbands is how easy you can make one yourself. Search out quality fabric stores in your area that feature bridal fabrics and lace. You can buy pieces of lace, different fabrics and some embellishments put together with fabric glue at an even lower cost. Plus, it's a really fun project to do with bridesmaids!
No matter what you wear on your wedding day, you'll radiate love and beauty–that's just how this wedding gig works. With that said, however, there's nothing wrong with stepping up your game with a fabulous hair accessory from Bella & Beya!
Bella & Beya make affordable accessories for the modern bride that don't skimp on the glamour factor, but remain tasteful–the idea is to draw attention to and enhance your beauty, not compete with it. From their jeweled headbands to silk flowers to stunning sashes, Bella & Beya creates every item to order with love and care. You'll also find beautiful bridesmaid accessories and absolutely adorable flower girl headbands at Bella & Beya!
So turn up the charm with a chic accessory (or two!) from Bella & Beya and feel confident in the knowledge that you couldn't possibly be more beautiful! Plus, now through August 15th, save 10% on your order at Bella & Beya with the code BROKEBRIDE2012!

This week, one lucky BAB will win their choice of a Bohemian Bridal Headband or Bridal Hair Flower from Bella & Beya!
Cassie wants some jewelry that makes a statement. She's found the piece she loves but she hates the price.  Here's what Cassie's got to say:
I have a LOVE IT but can't afford it situation. I love the "Break-of- Day" necklace from BHLDN.  I love the twisted, off-white pearls… Plus the enamel brooch accent. It's not too much, but just enough. Unfortunately, it's $675!!!! That's almost as much as my dress cost. Insane in the membrane.  I haven't found a worthy substitute. Help!?
Why Certainly, Cassie! We'll help you out. I'm going to jump right in and give you the straight-up gospel truth about this particular trend.  Are you ready? I'm going to blow your mind here. Can you handle it?  Okay, here goes…..Faux pearls rock!  Every girl should have at least one strand of honest to goodness authentic pearls.  But those little beauties aren't cheap.  So do what any self respecting BAB would do and FAKE IT!
CAN'T AFFORD IT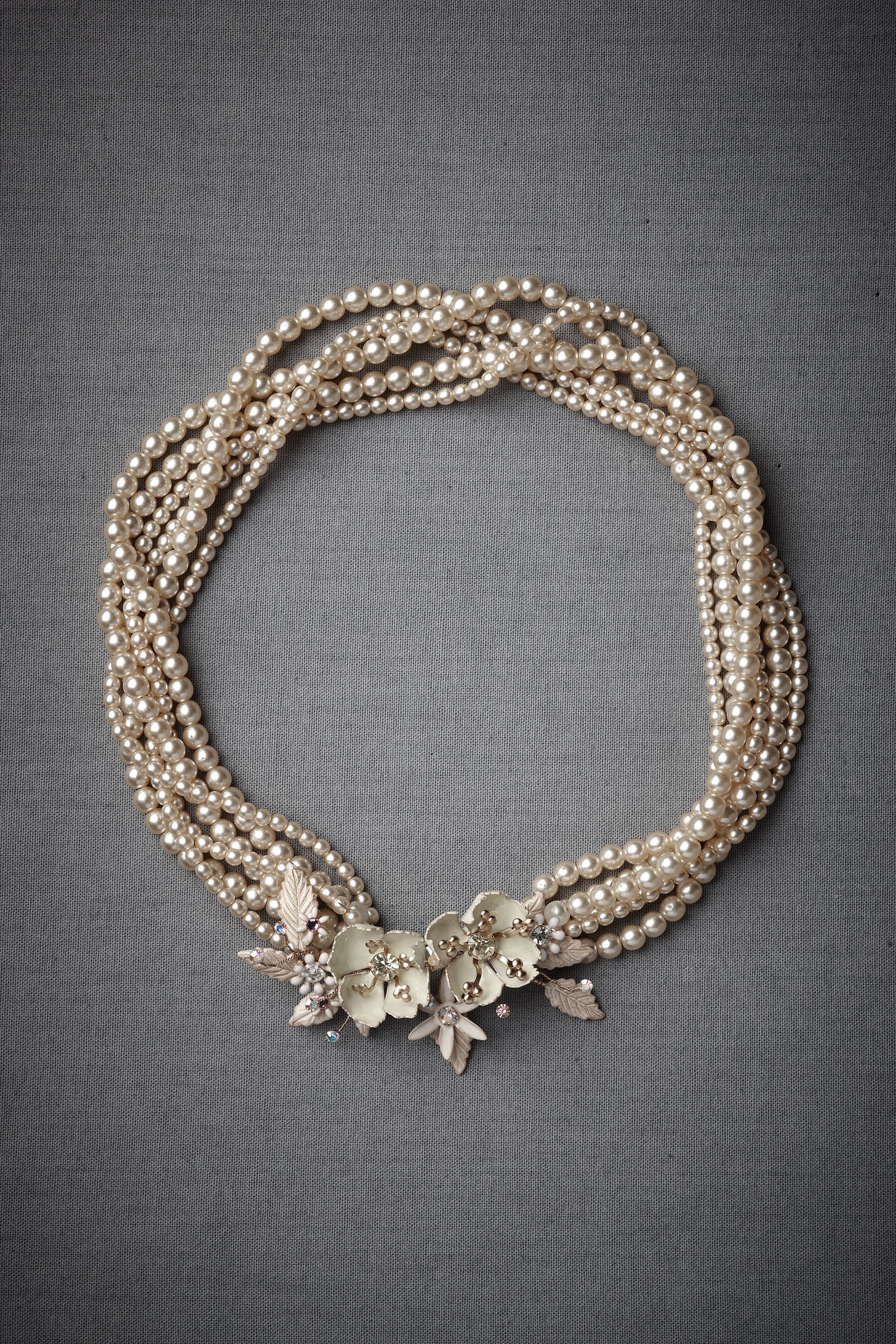 Break-of-Day Necklace ($675 at BHLDN)
GET OVER IT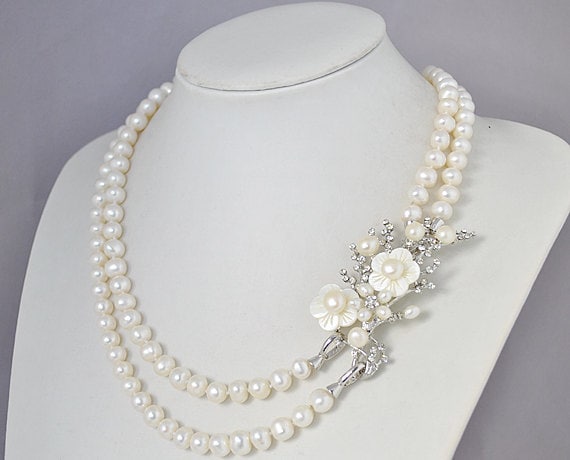 Two strand Pearl Necklace Whit Fresh Water Pearl Brooch ($27 at Etsy)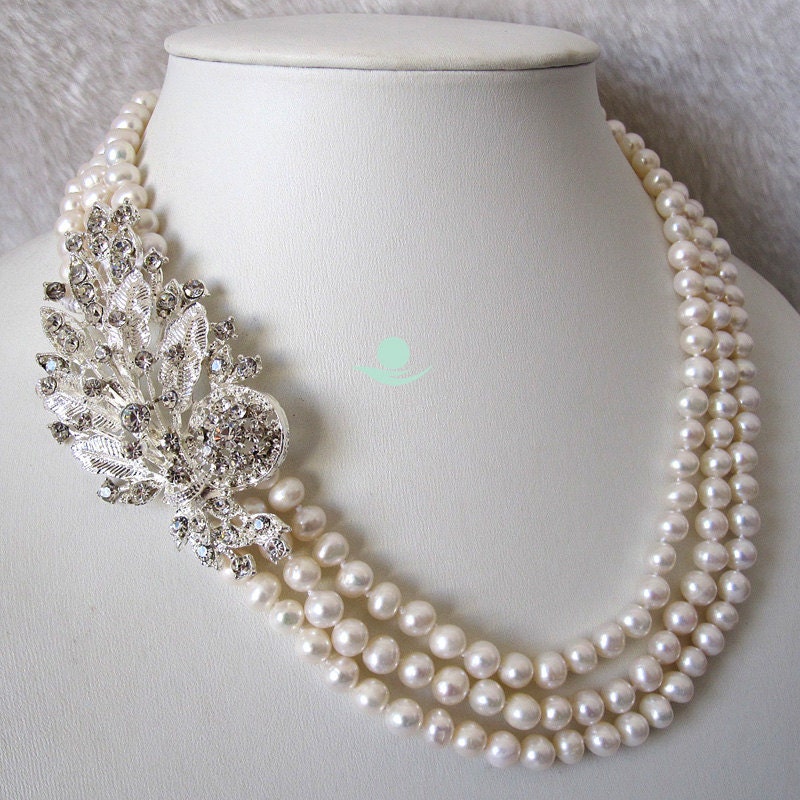 Pearl Necklace 18- 20 inch ($25 at Etsy)
Memory Wire Sakura Flower Pearl & Mother of Pearl Choker ($37.79 at Overstock.com)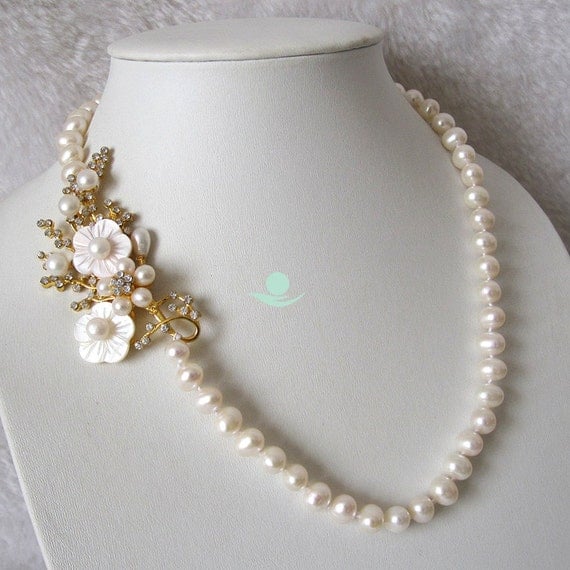 Pearl Necklace 20.5 inches single strand ($25 at Etsy)
Sakura Pearl Flower Necklace ($44.99 at Overstock.com)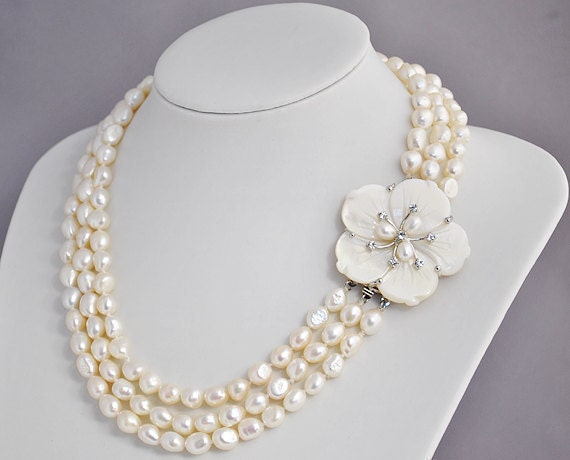 Flower Pearl Necklace ($24 at Etsy)
Tangled Pearls in Peril ($85 rental at Rent The Runway)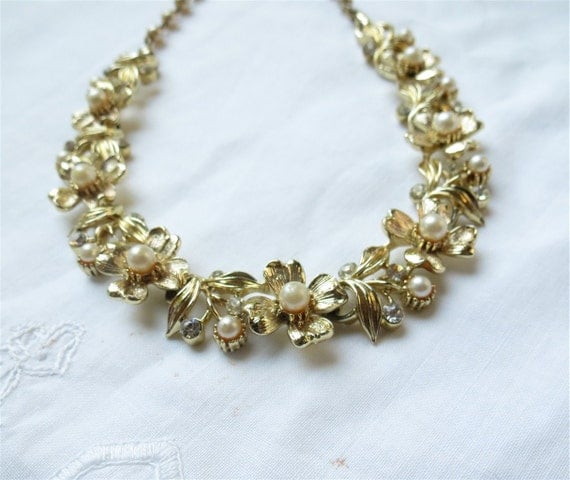 Vintage Lisner Flower and Pearl Necklace ($40 at Etsy)
Cassie, here are nine Get Over It options for you that most certainly won't break the bank.  Pearls are one of the easiest naturally occurring gems to fake.  And the best part about a fake pearl is that most folks can't tell the difference between faux and true pearls on sight.  So, you should opt for the glass or simulated pearl strand.  It will look just as lovely on your neck and in the photos as the real deal but you'll have the satisfaction of knowing that you saved a mini fortune.
I hope one of the options above caught your eye.  But, if not, here's one last option.  Buy one long strand of pearls with our without a clasp.  The value option here is up to you. I suggest something like the set below with the addition of a separate brooch of your choosing.
Charter Club 3 Strand 10 mm White Simulated Pearls ($48 at Macy's)
If you want real pearls, I don't suggest purchasing your strand from a jeweler.  Instead look for a local gem and jewelry show or buy from one of the gem-obsessed shopping networks.  I have bought many fine and high quality pieces of jewelry from these places and the price is unparalleled.   To create a multi-strand look, double or triple your strand (depending on the length) and use a brooch to fasten.  It is much easier to pin the brooch to the jump rings in a clasped necklace.  However, broached closure can be complete on any beaded necklace as long as the beads are a smaller diameter.  If the pearls or beads are too large your brooch clasp won't close or won't stay closed.  And that's just a pain in the butt!
I hope this edition of CAI/GOI has helped!  Good luck.  And remember, no matter what kind of jewelry you wear on your wedding day or any day, you already make a statement just by being your broke-ass self!  Can I get an AMEN?!
I hope you're ready for some serious bling because this week, Rachel B. wrote in with a challenge to find a CAI/GOI engagement ring! Check out what she had to say:
Hey, I'm not actually engaged yet, but my boyfriend and I are saving up for a wedding some time next year. I'm hoping you can help me with a "Can't Afford It/Get Over It" for the engagement ring I'd LOVE to have. I'm head over heels for the "Beloved" ring by Hearts on Fire, but it's way out of our price range.  I'd love something for just hundreds rather than thousands, and I specifically DON'T want real diamonds. (I won't be rockin' any blood diamonds on my finger!)  Can you help me find another ring I can fall in love with – without the $3,500 price tag?
Rachel, you came to the right place.  I actually make jewelry so I have a fair amount of knowledge about this subject.  You have all kinds of options.  So, lets dive right in to a sea of sparkles, shall we?
CAN"T AFFORD IT
"Beloved"  ($3,850, Hearts On Fire)
GET OVER IT
"Karina" ($1,149 CAD, Quorri)
*Lab-created diamonds*
"Magdalynn" ($1,399 CAD, Quorri)
*Lab-created diamonds*
"Adena" ($799 CAD, Quorri)
*Lab-created diamonds*
14K White Sapphire Halo Ring ($808, Rare Earth)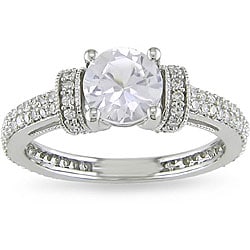 10K Gold Lab Created White Sapphire ($330.39, Overstock.com)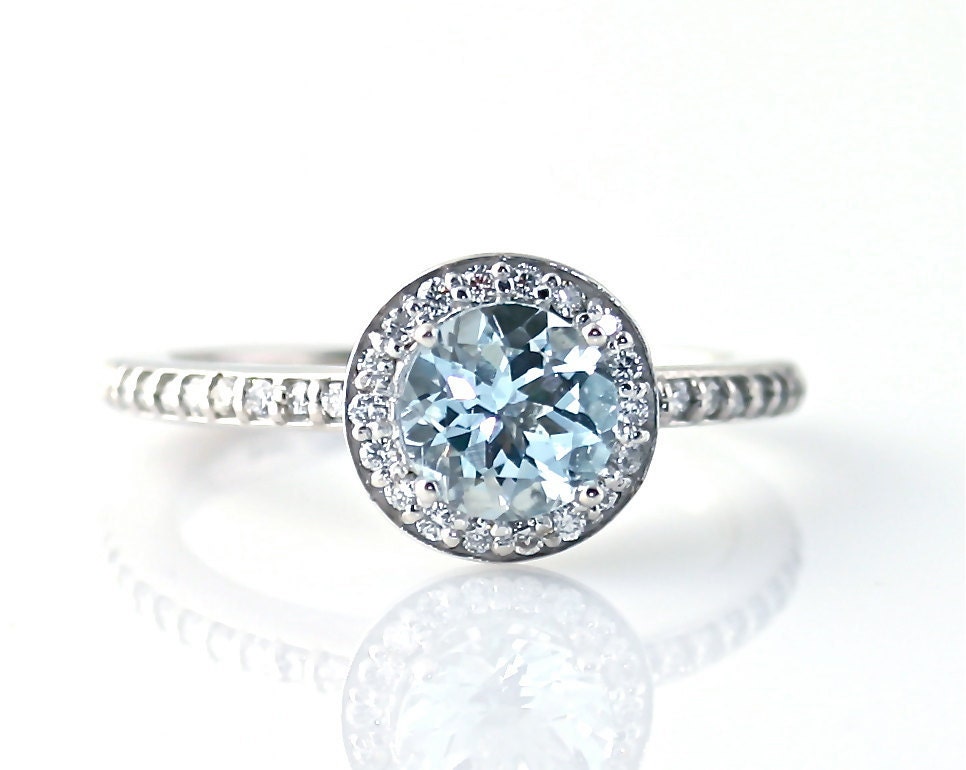 14K Aquamarine Diamond Halo Ring  ($887, Rare Earth)
*Conflict-free diamonds*
Rachel, you sent me a photo of a diamond, which leads me to believe that you enjoy the look of a diamond but you don't want any part of the stigma attached.  I get it.  Diamonds aren't as rare as the jewelry industry would have the consumer believe.  They are however a status symbol like a luxury car or a designer bag.  And we all know that there are plenty of ways around paying designer prices while achieving the designer look.
My best advice to you is to choose a less expensive metal.  Platinum & 18K gold will just boost your price point.  Besides, 18 K gold is softer than 14 Karat gold.  The closer you get to pure gold, the more malleable the jewelry will be. Gold is a soft metal.  The 18 K is better for pendants and earrings that won't endure daily punishment.  I would stick with 14k, or even silver.  You also have the option of choosing steel and titanium or one of the many alternative jewelry metals being used today.  If you decide to go with a natural gemstone like sapphire, morganite, aquamarine etc… you can get a much larger stone than you would be able to have if you were to use a diamond or even an engineered diamond.  The setting you like is a "halo" setting.  However, you might also like the "ballerina" and "skirted" settings. You have a multitude of options!
If I were you and nothing other than the "Beloved" would do,  I would take myself to all the local boutique jewelers in my area with a picture of the ring in hand and ask them to quote a price to recreate the ring with 14k white gold and white sapphires.  You might be pleasantly surprised with the results!  Best of luck and congratulations on your upcoming engagement!
Editor's note: This is the very first post from our brand new contributor Heather! Let's all give her a big ol' broke-ass welcome. Happy to have you aboard, Heather! 
Finishing a look requires paying attention to every detail, especially when it comes to jewelry! Recently, I fell in love with this Vera Wang necklace worn by a bride showcased on Style Me Pretty. First problem: I can't find it! Second, even if I could find it, it's probably way too expensive since similar necklaces by the amazing Miss Wang cost at least $500 — totally out of my price range. Rather than cry about it, let's check out some other amazing options.
CAN'T AFFORD IT:
Vera Wang Statement Necklace, as seen on Style Me Pretty
GET OVER IT:
Multi Flower Statement Necklace ($18.50 at G by Guess)
Medina Bib Necklace ($89 at Stella & Dot)
Field Metal Necklace ($138 at Anthropologie)
Anna & Ava Beaded Statement Necklace ($98 at Dillard's)
Anna & Ava Charlotte Pearl Statement Necklace ($68 at Dillards)
Jessica Simpson Silver Statement Necklace ($75.99 from Zappos.com)
There you go! Six options a broke-ass can afford to consider instead. These necklaces also give me some great DIY ideas. Maybe buying beautiful brooches and putting together my own unique necklace is a better statement to make.What a wonderful way to showcase something old or something borrowed!
Looking to add a fun handmade touch to your wedding? Shopping for sweet gifts for your maids? Look no further: Pulp Sushi has you covered with their wedding-ready, gift-ready jewelry!
Started in 2006 as a hobby, Pulp Sushi has bloomed into a business for creative powerhouse Marilyn Sushi. All of the jewelry sold at Pulp Sushi is handmade by Marilyn, and she caters to ladies who enjoy classic retro looks with a bold, modern twist. While she didn't set out specifically to make bridal jewelry, she's always excited to learn that Pulp Sushi has played a role in someone's special day.
Plus, Pulp Sushi is so close to having 600 sales, they're celebrating by sending a FREE vanilla sakura candle with every order that brings them closer to 600–no promo code required! What better time to treat yourself?
This week,
one lucky
BAB will win a beautiful pearl necklace from Pulp Sushi!
Wear it with pride: it was made with love.