---
Posts in the 'wedding heels' Category
Shoes are a personal weakness of mine. Finding the perfect pair of glittery heels for my own wedding was one of my favorite online searches  – ever. This week, I was once again searching for glittery dancing shoes.
I am in love with the Kate Spade Krysta multi-colored shoes. The $328 dollars is definitely not in my price range so I was hoping you could help me find something similar for less than that. I do love the bow, actually it's basically my favorite part!
Thanks!
Payless Budget
Given your Payless Budget sign-off, I set the budget at $55 and under. What do you think about these sole sisters?
CAN'T AFFORD IT
Kate Spade ($328 at Piperlime)
GET OVER IT
Madden Girl Jassper ($49 at Lulu's)
Love Glitter Pump by Carlos Santana ($49.95 at DSW)
Lulu Townsend Illene Multicolor pump ($49.95 at DSW)
Type Z Darla Multi ($48.99 at Zappos)
Madden Girl Tiarah ($46.99 at Zappos)
Blink's Gold Baileyy ($54.99 from Heels.com)
My Delicious Idol Oatmeal Bow Peep Toe ($28 at Lulus)
Kitsch Couture Gina Glitter Heels (£35 at Bank Fashion)
J. Renee Rosina ($79.95 at Zappos.com)
As you can see, the most similar pair are undoubtedly the  J. Renee Rosina slingbacks. They're a little pricier than the rest of the lot at almost $80, but look the closest in spirit to the Kate Spades you're lusting for. In my self-imposed price range, I had trouble finding both the bow and the right glitter color combination. However, there are a number of options that are definitely inspired by your favorite shoes. Any BABs out there have tips about adding glitter to a pair of heels? Or maybe a bow could be added to shoes that already have the perfect glitter? All crafting tips welcome ladies. Please share.
Reader Request
Hi fellow broke-asses! I've got a cry for help. Basically, I need some shoes for my wedding. Not too hard, but I'm vegan, so I need them to be all man-made materials. Additionally, my groom is not much taller than me, so while I'd like a small heel or wedge, I need it to be 2″ or less. I'd prefer something with a vintage-y flair, but I'm open to just about anything. Can you help? Thank you!
Of course we can help! Here are some low-heeled, animal-friendly shoes for you.
Anthropologie, $68: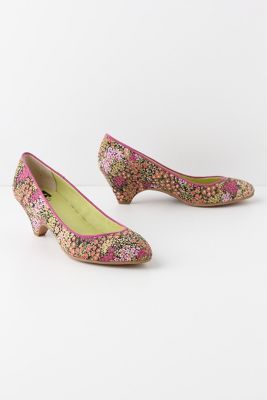 BC, $69:
Alternative Outfitters, $23:
Bouquets, $69:
(also available in white, silver and purple)
Bandolino, $48:
White House Black Market, $40:
Modcloth, $65:
Olsenhaus, $50:
***Hunter, there are details in here about my rehearsal dinner outfit. For the love of surprises, I command you to avert your eyes! Thanks, baby :)****
__________
Um, people, my rehearsal shoes are like whoa. Super cute, unique wedding rehearsal shoes that'll make ya drool!
Has your love for a pair of shoes ever creeped up on you? You know, when you look at a pair, cock your head, and think "um, no" but you can't look away and suddenly you find yourself thinking dirty thoughts about them and realize you luuuuuuve them? Where its almost like a pair of shoes are actively seducing you?
(*crickets*)
Well, maybe its just me. But that's exactly what these babies did to me.


(source)
This one in particular:
It is eversosexy on my foot.
But what's so exciting about them is their innovative design. They're from the brand-spanking new company, Opposites Attract, and all of their designs have a customizable quality.
See the doily-looking business under the ruffle at the back, on the gold shoe? It is a snap-on addition. The shoe came with those, and another tempting alternative.
FRINGE! Oh.ma.ga. Unfortunately they don't have a photo of it on a lighter so its easier to see. My gold shoes came with sort of a darker gold, coppery fringe.
I could also wear them without either snap-on, and let just the ruffle be there. Right now, I'm leaning toward the doily. Its just so very…. bridal! And it matches my rehearsal dress (a hotttt, chalk colored little BCBG number with a feather hem that I got at the outlet mall for $80 down from $460!!!!!) so I think it will tie the outfit together quite nicely.
The thick heel makes them very comfortable, so I'm not worried about being crippled after a night in them, rehearsing, mingling and dining. I know they'll be versatile and useful beyond the wedding too, but I sure can't wait to sport them for that special night! Honestly, y'all, I'm loving these shoes so much, I might run off and have babies with them.
How about you – have you ever been unwittingly seduced by a pair of shoes?
'Memba when I fell in love with the unattainable Pradas?


(potayto)
Well, guess who's knocking them off for $69?!? Piperlime, yo!


(potahto)
Even though I've got my shoes for the big day (these wouldn't go anyway), I still kinda want them because 1) they're cute and 2) just to spite prada.
Yeeeeeeeah, boyyyyyy.