---
Posts in the 'wedding dress' Category
We're all here for the same reason. We all want to find the best ways pinch pennies while planning our weddings, because let's face it: Anything with the word "wedding" tacked onto it is going to cost you a lot more than it normally would. My current favorite instance of this is transportation options. When I hear the words, "These are our wedding rates," it makes me feel sick to my stomach.
Lucky for my wedding budget, I've always been the bargain shopper. When I walk into a store, my first move is to go straight to the clearance rack. The same goes for wedding planning. I held out on a few things hoping a good sale would come along, and I was on point for a few of those things!
Dress Shopping
It didn't take me long to get a clear image of how I wanted to look on my wedding day, and that image included something very specific about the dress I'd wear. Like any new bride-to-be, I started pinning pretty photos of dresses … and then I did some research on prices. The dress that Pinterest made me fall in love with was tens of thousands of dollars. TENS OF THOUSANDS. Back to the drawing board …
Thanks to BAB's "Can't Afford It? Get Over It!" column, I was able to find more affordable bridal lines. I waited and waited for one affordable line to come out with that one specific feature I was looking for, and there it was — The One! After two separate appointments, I bought the first dress I tried on.
At the same time, I found the ideal accessory to go with my dress, and in true bargain hunter fashion, I waited to buy it. About a year later, I got an email about a major sale. 40% off — sign me up!
Disclaimer: this is not "The One."
Suit Shopping
Remember those to-do list items I had missed, and that little Valentine's Day date at Macy's I told you about? It literally paid for us to wait to buy Steve's suit. We could not have lucked out any more with the sales we hit up that weekend!
Macy's has a reputation for having some amazing deals, so Steve and I knew that's where we would go to find his wedding day look. Upon further research, I found out they were having a President's Day sale, their "wear red for women's heart health" promotion (buy a $2 pin, save 20%), AND we opened a Macy's credit card … for another 20% off every purchase that day. What was originally a $550 suit ended up around $200 for my budget-savvy groom. Steve immediately told his groomsmen to head to Macy's that weekend to take advantage of the same offers, and they did! Seriously, perfect.
Ladies, he's taken.
Invitations
Next to cutting the guest list, invitations were my next biggest nightmare. I know, I know. What's the big deal about a few pieces of paper? For starters, it is so gosh. darn. expensive. I had such a hard time justifying the prices of invitations that it got pushed wayyyy back on the to-do list. After about four months of pinning and deleting and pinning again and customizing, I finally found invitations that I could deal with — design and price-wise. How? Like I said, all it takes is some patience. After finding a simple and elegant design, I waited a few days to order them. I wound up coming in about $50 under my invitation budget, thanks to another amazing sale!
My point exactly. Courtesy of someeecards.com
These are just some of the recent examples of how my patience has paid off, but with crunch time in full swing, it's getting harder to wait in order to save. With that said, you can trust that I am fully equipped with coupons when I walk into Michael's for DIY projects, I always inform my 'maids of dress and accessory sales that pop up in my inbox, and I even have my eye on Groupon Getaways for honeymoon destinations (a little late on that one, too).
The moral of the story here is to learn how to love it or leave it. Don't even look at dresses and accessories you know you can't afford! As for the necessities (like invitations, bleh), get a good idea of what you like and keep one eye open for sales. Your wallet will thank you for being patient!
Here's the thing with a lot of wedding dresses: They have labels and big ol' salons touting sweet 'n' simple dresses as wedding specific dresses … and that doesn't have to be the way. A wedding dress is any dress / pant suit / short & cardigan set / whatever you want it to be, as long as you're happy, comfortable and feel amazing in it. Because you do want to feel amazing — it's the day you marry the person you love and throw down some mad skrilla to have your friends and family there to witness. Damn right you're going to look and feel amazing! So when I was browsing through BAB partner Lulu's site and saw some rockin' dresses, most of which are under $100, and two barely breaching that, you best believe I'mma share it with y'all.
Stay Golden Strapless Light Beige Sequin Maxi Dress – $90.00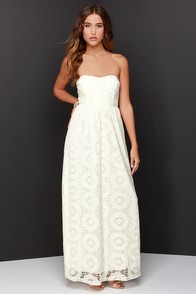 No Less Than Flawless Strapless Cream Lace Maxi Dress – $43.00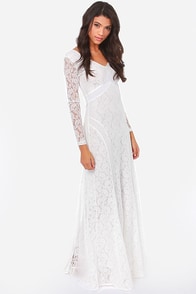 A Moment Like Bliss White Lace Dress- $75.00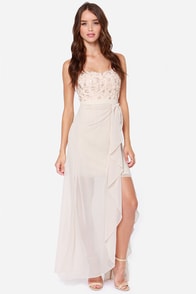 Whole Wide Whirl Beige Sequin Dress – $87.00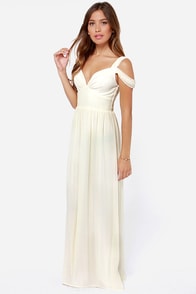 LULUS Exclusive Dreamed to Life Cream Maxi Dress – $81.00

Make My Daydream Cream Lace Maxi Dress – $105.00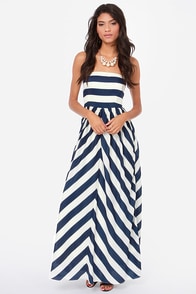 Dreamboat Come True Ivory and Navy Blue Striped Maxi Dress – $54.00
If someone gets married in this, please share it. Because: OMG.
Snowy Meadow Crocheted Ivory Maxi Dress – $107.00
Which one of these gorgeous numbers would you wear on your wedding day?
Happy Friday, BABs! Summer's in session and it's a great time to be a BAB with all these killer deals! From hot kicks to cool swimwear and much more, there's a heap of amazing deals in this week's Ten for the Weekend!
Wanna give a badass boost to your bridal look? Heels.com is having a London Trash sale: Knock 50% off with code LT50.
These London Trash "Cynthia" shoes would be a perfect "something blue" under your gown!
Still need baubles for the big day? Head over to Gloss Jewelry and get 40% off + free shipping on your order using code FREEDOM40.
If your wedding venue still needs a little extra oomph (chair covers? candle holders? crystal beaded curtains for a photobooth backdrop?), then get thee to Event Decor Direct, and save 5% with code DECOR5.
Summer = swimming, and what better way to get your toes wet than in a hot new designer suit? Bluefly is having a 2-day swim sale with up to 50% off some of the hottest names in the biz. Ends 7/13.
Wedding invitations can be so pricey, so it's always super rad to get a deal on them. Our homies at Wedding Paper Divas are skimming a mean 20% off invites and reception stationery with code SUITEJULY20 through 7/15.

Gold confetti AND black-and-white stripes? Count me in. Perfectly Lovely design, starting at $1.89 each.
So Ann Taylor has been having some awesome sales, but this one is KILLER: It includes wedding gowns! Knock 40% off your entire purchase at Ann Taylor with code FASHION40 until  7/14.
The warm weather is the perfect excuse to show off that pretty pedi! If you sign up for a Julep Maven subscription, you can get The Summer Nights Welcome Box for a limited time! Use code SIZZLE to get your own Summer Nights Welcome Box for FREE — you just pay $2.99 for shipping — when you sign up.
Need to get those pretty little underthings for your honeymoon? Journelle's Semi-Annual Sale is going on and you can take 30% to 70% off select sale items through 7/27.
Rockin' workout gear makes getting your sweat on so much more awesome. Double-down on the rad with Athleta's Semi-Annual sale and save up to 60%.
Need some kind of personalized anything? Zazzle's the place to go! And right now you can save 10% off your order with code TENOFFFORYOU. Ends 7/12.
Katrina expressed her love for this Eden Black Label Wedding Dress (STYLE: BL093) and can you blame her? It's stunning! With its lovely tulle and crystallized beading, this dress is sure to make any girl feel like a true Princess Bride. She wrote, "It's beautiful but a bit over my price range." Well, every girl deserves to have her dream dress so let's find it!
CAN'T AFFORD IT
This bad boy rings in at a whopping $2000-$2400. Yikes!
GET OVER IT
A-line Sweetheart Floor-length Tulle Wedding Dress (Style: 00276309) $127.99 at Light in the Box.
A-line Strapless Court Train Tulle Wedding Gown (Style:00276309) $495.99 at Light in the Box.

A-line/Princess Strapless Floor-length Tulle and Satin Wedding Dress (Style: 00916016) $499.99 at Light in the Box.
Strapless Sweetheart Tulle Ballgown featuring Stunning Gold Color Embroidery (Style: 14653) $608 at Best Bridal Prices. 

Metallic Embroidered Ball Gown with Satin Waist (Style: MS251004) $649, Melissa Sweet for David's Bridal.
Strapless Fit and Flare Peplum Gold Lace Gown (Style: CKP556) $749.99 at David's Bridal.
A-line Skirt with Delicate Beaded Waistline and a Beautiful Bodice (Style: 1781) $965 at Best Bridal Prices.
Tulle Ballgown with Ruched bodice, Swarovski Crystals, Rhinestones, and Sequined Beadwork (Style: 2056) $1,190 at Best Bridal Prices.
Now Katrina, GIRL, I know the last dress is cutting it a little close as far as your budget goes but this designer, Casablanca, offers free shoes (value up to $50) and a free veil (value up to $120). Also, remember to leave some wiggle room for alterations, because there are few things worse than thinking it's all good and then realize you still have to slap down some skrilla. UGH. But whatchoo think? Will any of these suffice for that gorgeous Eden gown?
Got a gown that you just can't get off your mind? We're happy to help you get over it! Just tell us in the comments below! 
Guess what, y'all?!?!  I found my dress! Wheeeeeee!
As you saw from my boutique reviews, I didn't find my dress the first round. Or second. Or third or fourth or fifth!  In actuality, I found my dress on the SIXTH round of trying on.  Good grief, right? I think I stopped counting after 50-something dresses. And let me tell you, for a pretty simple, non-girly-girl, that's a LOT of lace and poof to put on her body.
Before I became a BAB Real Bride, I wrote a few posts about my self-imposed guidelines going into the bridal gown shopping experience. You can find them here and here. But the short version is that I knew what I wanted, but I kept an open mind. I remembered to stay under my budget and staunchly ignore the shrunken sizing. I brought along my mom and MOHs for the first three boutiques, and a different set of girlfriends for the next one, and I did two appointments on my own. Through each experience, I learned more about what style flattered me most. And yes, without revealing too much, it WAS slightly different than what I thought would be my final choice.
Bonus points for friends who make these custom t-shirts to wear to the appointments! Because NO BUTT BOWS ALLOWED. EVER. (for me)

The shopping, overall? It was fun. Yes, you can read here about my not-so-pleasant trip to Bridals by Lori of "Say Yes To The Dress Atlanta," but despite that one dark spot, who in their right mind can really and truly hate on getting to try on gowns worth thousands of dollars each that are designed specifically to make you look and feel amazing??? Not this Peach!  I slid my Crossfit booty into ballgowns, sheaths, drop-waists, strappys, backless-down-to-my-butt-crack options, sweethearts and dramatic v-necks in tulle, satin, chiffon and silk of all textures and colors from blush to peach to diamond white.  And it was awesome. Not gonna lie.
Real pic of me right before trying on my first wedding dress ever. Which turned out to be … terrible.
In the end, I found my dress at an appointment I'd made on a whim and I'd gone alone. The night before, I'd found a boutique online that was right around the corner from me. I booked an appointment for the next morning. After I woke up, got dressed and was armed with coffee, I left the fiance sleeping soundly in bed and went to the appointment. It was the 4th of 5 dresses I tried on there. And the minute I slid it on, I was laughing, posing, twirling and grinning ear to ear. Because I just knew. I could see it. The ceremony in the garden. Dancing with him afterward. Boogie-ing down with my friends. And maybe getting a little teary with my mom and dad before the ceremony. No other dress gave me the vision. It was as simple as that.  I said yes. I signed the papers. And I didn't look back.
It's the dress that I want and I found it my own way, which in itself is empowering, that no one has seen me in it (other than in pictures) but me.  I absolutely adore it and I feel amaaaaazing in it. Done and done.
And because this is The Broke-Ass Bride, I'd be remiss in not sharing my budget advice. First and foremost, stick to your guns. Don't even step a pinky toe into a dress that is over your max budget, no matter what you're told by a consultant. Keep in mind the extra costs: taxes, fees, alterations and accessories. I tried to keep those included in my budget to make sure nothing slipped!  And never, ever be afraid to politely ask for discounts. In my case, when it was explained what amount was due today vs. due later, I asked if there was an incentive offer for paying in full right now. Good businesswoman she was, she offered me a 10% discount on the dress, veil and accessory for paying in full.
Peach's final tally for her dress, her veil and an accessory, plus all taxes and fees? $1150.00.   Not too damn shabby, if I do say so myself.
For what it's worth, the dress that I ALMOST bought at a different boutique was $2499.00 just for the dress alone. And I think there's a reason I just couldn't bring myself to get it, despite how gorgeous it was. Not only was it already over my max budget (my MOH said she'd throw a car wash to make up the difference, bless her!), but I know now that it just wasn't THE dress. And I don't regret waiting until I found the one I bought. I love it.  YAY!
What about y'all? Did you find the dress the first time out? Did you have a huge entourage? Or was it more of an intimate solo experience like mine? 
One of the first things I did after getting engaged was find my dress. This was purely by accident. It wasn't on my to-do list to find my dress so early, but I was glad it happened!
First, I have to show some love to The White Flower where I found my dress. It was wonderful! I went twice and both times had great associates who were personable, friendly, and totally awesome. You schedule an appointment so that it's just you, you entourage, and the stylist in the whole place. They were great about my vague "I want to spend as little as possible but get everything I want" budget as well as the fact that I didn't know exactly what I wanted.
The first visit I went with two of my roommates and the second time I went with just my mom.
Another awesome thing about this place: they let you take pictures! It was great to be able to go home and look through the slideshow and pick our favorites.
After I picked the dress, however, there was a whole new type of questioning that I hadn't anticipated. This included:
– Can I see a picture?
– Will it be long enough?
– Is it white or ivory?
– Will it be hard to find a matching veil?
– Are those sleeves?
– How will you wear a bra with that?
– What will do with it after the wedding?
Some of these questions I could answer: Yes it will be long enough, technically it's ivory, yes it has little sleeves, it has a built in bra thing.
The most difficult question by far is "Can I see a picture?". Before I was engaged it was obvious to me- I wouldn't show my dress to anyone but my mom. What I didn't take into consideration was how freaking excited I would be about my dress! I wanted to show everyone! If you asked me if I had found my dress my answer was "Yes, do you want to see a picture?!". What I decided was this:
a. The pictures that were taken at the salon didn't do the dress justice, so it won't really give it away to show them.
b. I'm not sending it to anyone, so the three seconds they see of the dress will probably be soon forgotten.
c. It's fun! Who doesn't love being oohed and awwed over?
That being said, I'm not going to put the pictures of me in my dress online (what if Michael saw them?), but I will give you a tiny peek.
Here we begin the slew of photos of the two of us where I'm looking at the camera and Travis is disinterested.
 Why is it that, as soon as you tell vendors you're inquiring about their services for a "wedding," prices double and sometimes can even triple? It has become very clear over the past month that most hear the word "bride" and only see dollar signs over my head!
This past week I learned a very valuable lesson: I sent an inquiry email to our desired venue, a desert ranch in Joshua Tree, that started with, "We want to have our wedding at your beautiful venue…" Yes, I had already broken a cardinal rule of the Broke-Ass Bride herself! I had shown all my cards up front and mentioned our wedding. Now, it should be known that this ranch can be rented per night for $160, per week for $1,000, and per month for $2,500. These are incredible deals because this place knocked our socks off. How much more could they possibly charge for a little ol' wedding? Well, it turns out that "wedding" was the magic word because, guess what? The owner of the property happily replied, "Weddings at our ranch are $2,500. That includes a 2 night stay and the use of our laser lights!" (Uuuummmm, thanks for the $2,000 laser light show, dude.)  I was shocked! I mean, $2,500 is not that much for a great venue, but what's with offering 2 nights for the price of a month just because we'll be having a wedding while we stay? Yeah, yeah, there are lots of liability issues, I guess. So, lesson learned.  After some sound Broke-Ass advice, I've learned some ways to negotiate my way through future interactions. But this really got me thinking about the "wedding racket."
People pays thousands for cake (flour and sugar) and flowers (freely growing all over the earth) and dresses (white prom dresses) simply because vendors know, we will stop at nothing to have a perfect day.  I know I'm pretty green to the wedding scene, but this seems so cruel to do to couples just starting out. Another example of this: The other day, I went to browse wedding dresses in this cute little boutique in Burbank, CA. There were awesome dresses that were "reasonably" priced between $1,000 and $2,500. I found some I liked. I tried a couple on to get my feet wet and was getting really excited but was still suffering from some sticker shock. Could I justify spending THAT much on a dress I'll wear ONE day? As I left, I decided to browse the "prom" section of the store for fun. I noticed an entire rack of white prom dresses. I as thumbed through these, I noticed some were strikingly similar to the dresses on the bridal side of the store but instead, ranged from $150 – $300. What is the difference? To me, there didn't seem to be any.
Actual quote:
"It is because this bridal gown will be worn on the most important day of your life! Be careful because you get what you pay for."
I'm not encouraging anything here…. I've no experience… but it's not totally out of the question at this point.
This salesperson used two tactics. She placed epic importance on my wedding day and then tried to scare me into spending more money. Yikes. This next year dealing with vendors is gonna be really interesting.
I think I'll be throwing a Junior prom in April of 2015 instead of a wedding.
This. We'll just do this for the wedding, er I mean, prom. Maybe we'll just throw a Bat Mitzvah? Both less expensive than a wedding.
Here's to battling the wedding racket,
YOU GUYS. BHLDN has done it again. If their offerings weren't already completely drool-worthy, they've solidified their reign as the Bringers of Bridal Beauty, the Providers of Pretty, the Sultans of Swoon, the … whoops, I'm getting a little carried away. You get the point. BHLDN's 2014 line — The Heirloom Collection — of dresses and accessories is gorgeous, and some of it is shockingly affordable. Set your sights on pretty mode and ogle along with me:

Those heels, the Tamsin Gown and Sterling Lace Dress kill me. Which are your faves from BHLDN's newest additions?
I found my dress! If there is one part of planning a wedding that makes it feel real, I'd say that is up there. I had never even been dress shopping with anyone before (and I've been in quite a few weddings), so it was definitely a little overwhelming. Having seen far too many episodes of Say Yes the Dress, I planned my entourage very carefully. My mom, littlest sister Ali, and my friend and bridesmaid Cassie all accompanied me. I figured I had a more mature perspective, a teenage hipster's perspective (Ali is 16), and someone who sees me on a day to day basis.
We had appointments at two different shops, a chain store and a small, local boutique. I will admit, I had a lot of preconceived notions about how I thought my experience would go. For the past year I have worked for a small business owner, and have come to appreciate the hard work and detection it takes.  The small shop was also where my other sister got her wedding dress, so I know my mom really wanted me to find something there as well. I had no idea what I was looking for, and was more than willing to put my fate in the consultant's hands.
Our first appointment was at the bridal chain store. We were the first appointment of the day, and my consultant, Heidi, was friendly and knowledgeable. She asked me a lot of questions about my fiancee, my venue, and what kind of look I was going for. I told her that I was getting married in a 1920's theatre, so I was going for a vintage-y, Gatsby-esque look. She pulled three dresses to start, and from there was able to pull more styles that I liked. I tried short dresses, long dresses, sleeveless dresses, and dresses with sleeves. She showed me dresses that I would have never thought to try, and even though she was working another appointment at the same time, I would have never known it with how attentive she was. All the dresses she had me try were all under my $850 dress budget. At the end of the appointment, there was one dress that I was in love with. It was comfortable, beautiful, and very much "me". It was also on sale for $399. Not wanting to make any spur of the moment decisions, we told the shop that we would be back after lunch.
We headed to the small boutique, very optimistic about what we would find. I don't remember my consultant's name (Megan? Molly?), but she was very friendly and made me feel comfortable right away. However, she was not very proactive in what she showed me. She basically walked me around the shop and showed me where the low price, mid-range, and high-price dresses and told me to pull what I wanted. To my dismay, none of the dresses I liked were under my budget, and they were all very similar looking. I only tried on four dresses, and narrowed it down pretty quickly to one that I could see myself in. It was beautiful, but out of my price range and a little poofier than I would have liked (as my mom said, I am not her "poofy" daughter). The consultant did her best to work with my budget, but even with a few discounts, the dress alone would be close to $1,000. Yikes.
We decided to hash it out over lunch, and after sending pictures to my fiancee's family and my sister in Chicago, I made the executive decision to go with the dress from the chain store. When all was said and done, I ordered the dress, undergarments, veil, and headpiece-all for $750! My sister's mother-in-law is a seamstress, so I'll be able to get my alterations done for a reasonable price as well. I felt really good leaving with a dress I loved that fit well with my venue, I knew I would be comfortable wearing, and was under my budget. Such a good feeling!
If I could leave you with any advice, it would be to go with your gut and do what feels right to you, your personal style, and your budget. While I liked the dress from the boutique, I knew there were other parts of my wedding that I would rather spend my money on. Happy shopping!