---
Posts in the 'wedding cake' Category
All right, darlings, it's time for one helluva DIY or DIE sesh up in this bish. Put away the scissors and tape and glue, grab an apron and get your booty in the kitchen to make your own damn wedding cake. Yup, you read that right. We've got Lizzy Pancakes here getting elbow-deep into some confectionary awesomeness to show you how to rock your wedding dessert the broke-ass way: By taking it on yourself. It's no secret wedding cakes are pricey, and you can absolutely go the route of having a "display" cake to slice 'n' smash, with a variety of other desserts for actual consumption or having a big ol' sheet cake hiding in the back. But even those tiny l'il display cakes will cost you a pretty penny, where as these bad boys (if you have most of the basics on hand) should only run you around $27 for the ingredients. UM. HELLO, SAVINGS. Let's do it!
Hello, Broke-Ass Brides, my name is Lizzy and I'm the blogger in chief over at Lizzy Pancakes. I'm getting married in just a few weeks and have committed to make my own cakes. Yes cakes. To save money and to make things way more interesting, the cakes I'll be making are bride and groom cakes, and our main dessert is going to consist of doughnuts from Voodoo Doughnuts here in Denver. The cakes are for aesthetic and traditional purposes — you know, when I lure my fiance into a false sense of security and smush the cake in his face while our family and friends watch.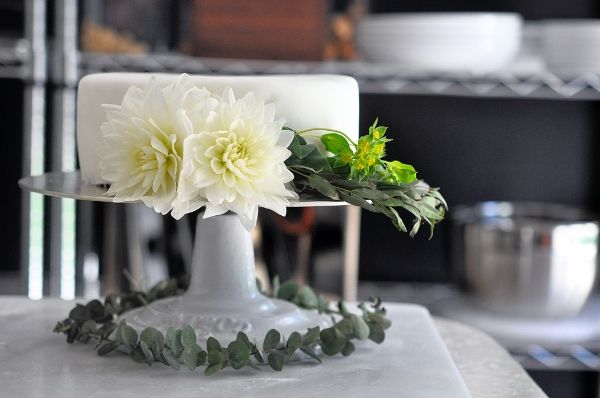 If you're having a small wedding, or if something like this would be a good fit for your party, making your own wedding cake is super easy. You know that smooth, beautiful layer of fondant? Not difficult. You'll breeze through it and spend the rest of the day absorbing compliments.
I made a traditional moist chocolate cake because I knew if it was kept airtight, it could be made up to two days in advance which is essential to maintaining a sane bride. If chocolate isn't your thing, I highly recommend Amanda's white cake recipe.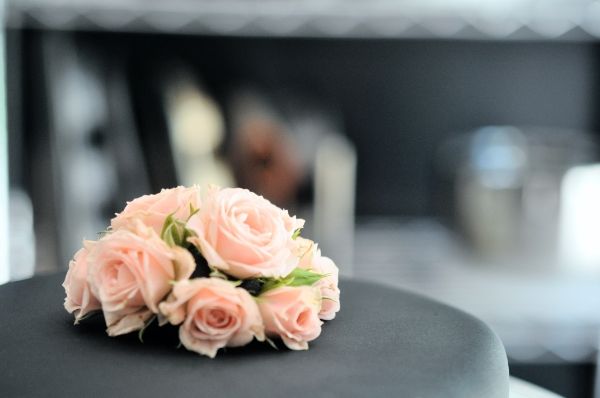 What you'll need:
For the cake
2 cups all-purpose flour
2 cups sugar
¾ cup unsweetened cocoa powder
2 teaspoons baking powder
1½ teaspoons baking soda
1 teaspoon salt
1 teaspoon espresso powder or instant coffee
1 cup milk
½ cup vegetable oil
2 eggs
2 teaspoons vanilla extract
1 cup boiling water
For the frosting
2 cups confectioner's sugar
2 tbsp butter, room temperature
2 tbsp milk
½ tsp vanilla
For the fondant
One 24 oz package of fondant in the color of your choice.
2 Wilton smoothing tools (you can get this at a craft store where you buy your fondant)
*Don't buy pre-rolled fondant. It is difficult to unroll, often cracks, and it's just lazy, you guys.
Preheat oven to 350º F. Prepare two 8-inch cake pans by spraying with baking spray or buttering and lightly flouring.
How you'll do it:
Prepare the cake:
Add flour, sugar, cocoa, baking powder, baking soda, salt and espresso powder to a large bowl or the bowl of a stand mixer. Whisk through to combine or, using your paddle attachment, stir through flour mixture until combined well.
Add milk, vegetable oil, eggs and vanilla to flour mixture and mix together on medium speed until well combined. Reduce speed and carefully add boiling water to the cake batter. Beat on high speed for about 1 minute to add air to the batter.
Distribute cake batter evenly between the two prepared cake pans. Bake for 30-35 minutes, until a toothpick or cake tester inserted in the center comes out clean.
Remove from the oven and allow to cool for about 10 minutes, remove from the pan and cool completely.
Prepare the frosting:
You really want the frosting to be room temperature. You should set it out before you start the cake to make sure. Don't try microwaving it, even on low. You risk making it too soft and messing with the consistency of your frosting.
Mix all of the ingredients together in a bowl and beat with an electric mixer until smooth. Easy peasy!
*If you really want to skip this step and buy frosting from the store (I'm not judging you), simply add ¾ cup confectioners sugar per container because cake decorating frosting should be a little bit stiffer.
Prepare the fondant: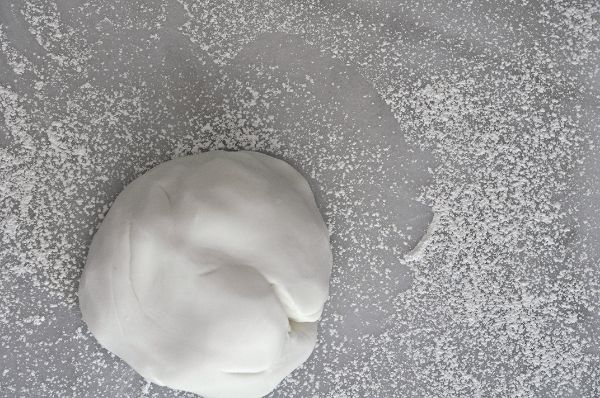 To find out how wide your fondant needs to rolled out to, take a ruler and measure the width of the cake (that's easy! It'll be 8 inches since we're using 8-inch cake pans) and the height after the layers are stacked. Add them together. Your fondant needs to be rolled out so that a circle at least that wide can be covered.
Lightly dust your work surface with confectioners sugar. If you're using using black fondant, pick up your fondant more often during the process because you can't use white confectioners sugar without messing with the color.
Take the fondant out of the box and wrapper. Knead it on the sugared surface until it is soft enough to roll with a rolling pin. This shouldn't take more than a minute or two.
Roll out the dough until it is wide enough and about a ¼ inch thick.
Assemble the cake:
After you have let the cake layers cool completely (I mean it — completely!) take a long serrated knife, place your hand flat on the top of the cake, and cut the natural dome off of the cakes, making them completely flat and even. If you move slowly, this shouldn't be too difficult!
Put a dab of frosting on a cake stand, preferably a rotating one, but it's not essential. Place the first layer smack in the middle of the stand. Take a big scoop of the frosting and plop it right in the middle. Using an offset spatula (you can grab it at the grocery store) spread the frosting at least a ¼ inch and up to ½ inch thick.
Place your second layer carefully directly on top of the first layer. You really only get one real shot at this, so look at it from above and center it before putting it down. Take the remainder of your frosting and spread it around the sides and top of the cake. Though you should try to spread it evenly, this doesn't need to be pretty — it will be covered by the fondant.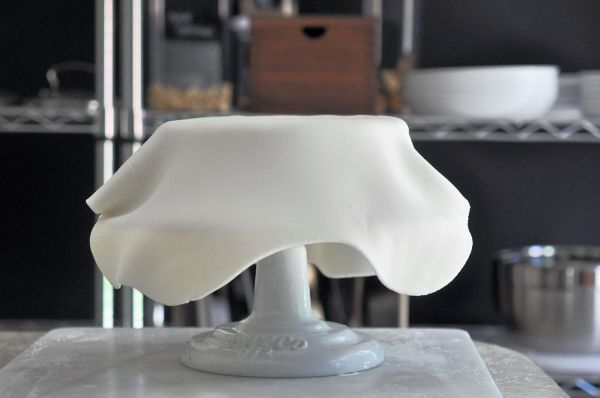 To place the fondant on the cake there are two methods. All of the YouTube videos will show you a draping technique, where you fold the rolled fondant in half over the rolling pin and use that to transfer it to the cake. I'll tell you what, though, I simply picked mine up and placed it carefully over the top. There is just a tiny bit of wiggle room to center the rolled fondant after you've put it on the cake, so don't panic if it's off-center.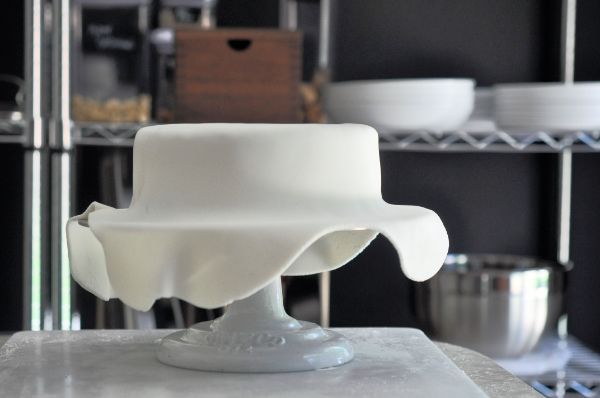 To smooth the fondant down and create sharp edges, use your hands to lightly press the fondant up against the sides of the cake. You may need to keep one hand on the excess fondant spilling over the sides so you can really mold the fondant to the shape of the cake without tearing or stretching it. Once you've used your smoothing tools to mold the fondant, run your pizza cutters around the bottom edge of the cake. Then use the side of the pizza cutter to lightly tuck the edges of fondant under the bottom to create a nice clean look.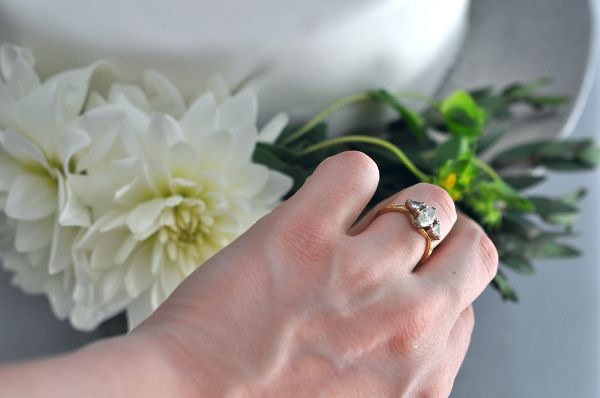 If you want to add flowers, this is really easy. To avoid sticking stems into the actual cake, take some extra fondant and roll it into a ball. Cut your flowers so that they have ¼ inch to ½ inch of stem and arrange them in the ball of fondant as you please. Use extra frosting to stick the ball to the cake in the position you'd like and voila! professional looking cake decorated with fresh flowers!
Storing the cake:
You should make your cake layers up to two days in advance. If at all possible, you should delay assembling the cake until the day before. I say this because once it's on the cake stand, there is no moving it to an airtight cake transporter. One way to avoid this is to use a cake stand with a glass dome on top. As long as it's airtight, you can assemble the entire cake up to two days out.
If you want to give your wedding a homemade feel, this is a great way to achieve that. It ends up being much less expensive than having a professional do it and you can brag ALL. NIGHT. LONG about making it yourself.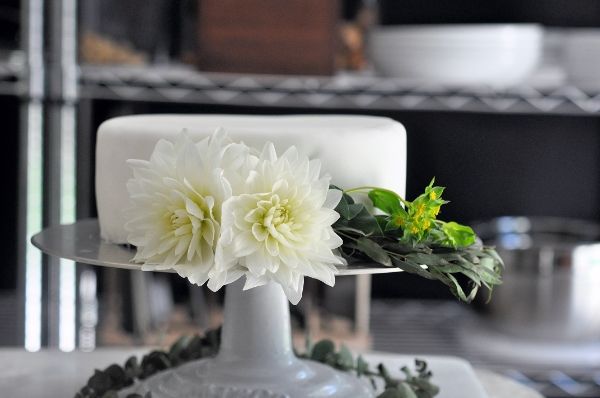 Good luck on your cakes! If you need help or pointers along the way, holler at me at www.lizzypancakes.com or tweet me @lizzypancakes.
LP
Vendors are terrifying. In a perfect world I would just have a friend that was a caterer, a friend that was a florist, a friend that was a DJ, etc. Unfortunately that's not my situation. I, like most brides, have to rely on the good people of yelp (and like minded websites) and the recommendations of my venue and friends.
How I feel when going around in circles with 50 different vendors.
That being said there were two vendors that I didn't even have to think about: Photographer — thanks Suzanne at SheWanders for being so bomb; and cake. As a little kid, my family and I used to go to VG's for donuts every weekend. Michael calls me a "doughnut snob" because I don't think anything compares to a VG's raised crumb doughnut. VG's also made all of my childhood birthday cakes. That being said, there was no question in my mind that if I could have VG's make my wedding cake I would.
Last weekend I picked up my flavor samples — marble cake with vanilla frosting, one with raspberry and Bavarian cream, and the other with chocolate mousse filling.
Now let me say a couple of things that reinforce why I love VG's:
1. They give you two 7" round taster cakes for free. This meant that my whole entire family got to taste the cake and I even had leftovers to bring into the office.
2. The flavors were AMAZING. I don't usually like fruit filling (many of the tasters felt the same way) and only got the raspberry because my mom wanted to try it, but we all loved it! The cake itself was super moist and tasted great four days after I first got it when I brought it in to work.
3. They totally worked with my out-of-town difficulties. Since I live in LA and VG's is in San Diego, I couldn't really do an in person consultation, but they work great via e-mail & actually respond to me in a timely manner.
4. They don't want to charge you a million dollars. Their quote was similar to what my parents paid for their wedding cake 25 years ago.
The bottom line: VG's is fantastic. It's one less vendor that I have to stress about, and that makes it a tiny bit easier to deal with the rest of the craziness.l
Yes, this is actually a cake made by VG's. Isn't it fabulous?
DIY-ing your wedding cake can certainly be an easy way to save some skrilla on one huge wedding expenditure. You snagged a killer recipe, YouTube-ed how to frost that bad boy, and have a darling topper that perfectly epitomizes you and your future hubster. But it still seems like something is missing, the sweet treat seems a little … blah.
Etsy seller A Cake To Remember has mastered the fine art of finishing touches to add a little extra oomph to your confection. Whether you're determined to full-on DIY it, or you just can't be bothered to learn how to make gumpaste flowers before your big day, A Cake To Remember has the tools to satiate your sweet needs. With tutorials, molds or all out floral arrangements, your cake will be top tier with a little help from this crafty shop.
With 17 years of custom wedding cake mastery, there is little that can't be conjured up by the mastermind behind this Etsy shop. From cake topper tutorials and silicon molds for the craftier of us, to the straight-up pre-made flowers, pearls, autumn leaves, and other decorations, A Cake To Remember has you and your cake covered. And since the lady Kara herself uses all the stuff in her shop on her own cakes, she knows it's good to go and will be a huge hit (on the sweet tooth) during your wedding day!
If you've got questions on what items A Cake To Remember offers that will best suit your needs, then sit back and relax. Kara will help guide you down the Candyland-like road to sugary delicousness and wedding cake bliss.
Of course, A Cake To Remember knows us BABs well enough to look out for our needs. Slap in the coupon code BROKE during check-out and snag 10% off your order! Dig in, Broke-Asses!
Today, we're pleased to present you with a deliciously decadent (and sublimely simple) DIY tutorial from the lovely ladies at one of our favorite L.A. bakeries – Sweet E's! If you're not an L.A. local, you may know them from appearances on shows like Food Network's "Cupcake Wars" or Style's "Tia & Tamera."  
Sweet E's Bake Shop has been providing the Los Angeles metro area (not to mention countless celebs) with divine baked concoctions since 2009, and we're so honored they took the time to share this fabulous Cake Push-Pop tutorial with us! These bad boys are a fabulous idea for special occasions like bridal showers, bachelorette parties, or of course, WEDDINGS! Once you master the technical know-how, you can go totally crazy with flavor combinations. Oh, the sugar-tastic possibilities … Take it away, Sweet E's sweeties! 
Supplies:
Yields approx. 10-12 Push-Pops.
– scissors
– spoon
– knife
Step 1: Once the cake is completely cooled use a 2″ circle cookie cutter to cut out 2″ circles of cake. Repeat this step until there is no more room on the cake.
Step 2: Next, Cut each 2″ circle of cake in half to create the thin cake layers in your Push-Pop.
Step 3: Now, fill your disposable piping bag with your favorite frosting.
 Step 4: Cut the tip off of your piping bag, about 1″ from the bottom.
Step 5: Set your frosting bag aside and start layering in your cake.
Sweet Tip: The bottom of an extra Push-Pop container works great as a tool to push your cake to the bottom of the container.
Repeat Step 5 until all your Push-Pops have 1 layer of cake in them.
Step 6: Using your frosting bag, add a thin layer of frosting on top of the 1st layer of cake.
Repeat Steps 5 & 6 until there are 3 layers of cake and 2 layers of frosting in each Push-Pop.
Step 7: Then top off the Push-Pop with a frosting swirl and decorate it with colorful sprinkles!
Who's gonna take these bad boys for a whirl?
We've seen some adorable cake-toppers in our day, but these may uh, take the cake… I mean, c'mon!!! Squirrels in love?!
Hilary from Bunny With a Toolbelt is the crafty genius behind these whimsical critters, and this week she wants to giveaway a $50 voucher towards any cake-toppers or custom creations in her Etsy shop! That's right, you could own your very own pair of twitter-pated squirrel friends!! Or dog friends, or gator friends… the options are nearly endless!
All you have to do to enter to win is subscribe to our Broke-Ass Brigade newsletter. Oh wait, you've already subscribed? Then you're already entered to win! Easy, peasey.
Once you're all settled in your sweet new marital pad, you'll need to deck those walls with some brain-tingling original art…
20X200 is a fabulous place to source unique & affordable art and photography prints! Each print is a limited edition, and prices start at a mere $20! Each week 20X200 unveils 2 exclusive new prints – you can preview them by signing up for their weekly newsletter here! Wanna snag a few sweet pieces for your walls? Well, this week we're giving away a $40 gift certificate to 20X200!
To enter to win, just leave a comment on this post telling us which 20X200 print you'd love to showcase in your space!
Whenever we throw a party, guest-ertainment is always at the top of our list. Getting your guests involved can be the thing that takes your party from ho-hum hoedown to an all out throw-down… so when we started working on the Kick Ass Cake Bash, Hunter, Leslie, Earl, Beth and I immediately started hatching plans for fun. And if you're ever looking for wedding cakes in Los Angeles, Fantasy Frostings is where it's AT!
The event space looked amazing, thanks to Beth Helmstetter's hardworking team. One of my favorite details was these Origami Cranes hanging from the rafters.
The Dollhouse Hair & Makeup team was on hand to do glittery and bedazzled bad-ass cupcake tattoos, or chopstick accessorizing for the ladies' hair.
They also dolled up our Alfred Angelo wedding gown models from NTA Talent – and those ladies were looking super lovely!
We love photo booths, but wanted something unexpected and quirky to match the kitschy Japanese inspired theme… and Oh, Snap! Studios was the perfect find! They brought in a freaking adorable Japanese tea house setup and some of the craziest props I've ever seen! The silly poses people came up with kept me laughing every time I walked past their station. I loved it! Check out more of our funny photos on the Oh, Snap! website gallery!
As a couple of serious foodies, we know there's nothing worse than being at a party and leaving hungry, so we had food and drink coming out the wazoo, yo. Not only were there sweets enough to send a nation into diabetic shock from Fantasy Frostings stunningly gorgeous dessert display, but delicious savory bites from The Food Matters, yummy and healthy cocktails from O.N.E. beverages, and a Pinkberry yogurt bar on the way out the door at the end of the night. If that wasn't enough, we sent home Kick Ass Cake Bash cookies from Weddingish in the gift bags, along with issues of The Bride & Bloom magazine, lipgloss tins from e.l.f. cosmetics, and a few other goodies.  Yeah, we like our guests fat and happy. And who could resist the adorable "maids" of Royal/T Cafe?
Speaking of the dessert display, Leslie had a stroke of brilliance when she invited her girlfriends from The Bachelor to create inspiration boards from which she then designed the cakes and displays. DeAnna Pappas, Amanda Rantuccio, Holly Durst, and one of our intrepid photographers, Holly Steen from Cakes and Kisses Photography created diverse and dreamy inspirations that we hung next to the confections so our guests would understand that each cake in the Fantasy Frostings' Broke-Ass Cake Collection is custom designed with the bride and groom with the same full-service attention that their celebrity clients love so much.
DeAnna's was my favorite, and they designed the whole dessert table after hers – all pink lemonade-y and refreshing.
Holly Flora's work was a huge influence on our wedding flowers, so when Beth suggested having her create a work of floral art for the event, I was so hyped! The floral mural she created was unbelievably luscious and exquisite. The guys from Aspect Lighting came in and made this mural absolutely glow in an ethereal warmth. It was stunning!  They made the party spaces so much warmer and sexier, and projected some ultra trippy and cool effect onto the dance floor.
As broke-asses, we're suckers for free swag, and we definitely wanted to give our partying buddies something to remember the night by, so having Family Industries on hand to do on-demand custom screen printing of Broke-Ass T-shirts was ridiculously awesome. The guys who run Family Industries are straight up rad dudes, the kind you want to grab a beer with, and so creative and nice. They brought 4 screens and let guests choose which artwork they wanted and where to place it. Most popular style? Strategically placed boobie cupcakes.  They also printed a cuppie onto Hunter's tie so he was the most stylin' (and sweet) hubby in the room.  I smell a new wedding trend… how dope would it be to go to a friend's wedding and get a cool tie or t-shirt as a favor?
Then of course, we had the amazing, the radical badical, the ever-jamtastic Flashdance DJ spinning beats all night. I can't count how many compliments we got on the DJ that night, and it just proved once again, that Michael is the only DJ for us. As Hunter so eloquently put it during our (spastic and ineloquent thank you's) when recalling the time I sprained my ankle dancing my face off at our wedding – "Michael is the only man who ever hurt my wife, and I thanked him for it". Not only a totally genius musical ninja, but a good friend that I love partying with whether its over beers at a neighborhood haunt, or in a room with 400 caked-up revelers.
And my favorite entertainment moment of the evening, when after our thank you's, Hunter and our friend K.U. performed a rap they had composed especially for the occasion, surprising everyone in attendance and showing off their mad skillz.  There are few things sexier than a husband who writes raps for his wife, I'll tell ya…. I love to watch him perform!
I really have to give it up to Beth Helmstetter, without who's planning prowess and flawless execution of the evening, we'd have been utterly lost. She brought some amazing ideas to the table, and made our vision for the evening come to life in unexpected and wonderful ways. I can't imagine doing it without her, she was a lifesaver of awesomeness.
We also want to give major props to our sponsors The Bride & Bloom magazine and NTA Talent. Without their support and generosity, none of this would have been possible. We are so proud to have had them be such a major part of the evening – and loved getting to celebrate all together!
All in all, it was a totally memorable and unique event, and so nice to get to host all our friends with fun and interactive elements, lots of delicious food and drink, and all the broke-ass love in our hearts.
All photos by the fabulous Shannon Lee.
If you've been reading here for a while then you know that we are constantly trying to get in shape, create a healthy diet, and generally do things that make us feel like the bad-asses we strive to be. If only it was as easy to give our bodies a makeover as it was to give our blog one!
Our blog header recently went from a big headed Broke-Ass graphic to what our youngest twitter follower calls "Princess!" (She's two, but we'll take it), and it is all thanks to our new sponsor, Astrid of Champagne Promises LLC.
The moment we saw Astrid's amazing work, BAB and I looked at each other and said, "I want to go to there."
So we went…
Until recently, Astrid was based out of Switzerland, running the incredibly successful (and awesomely named) Potato Mamma Design. Her work has been featured in countless magazines and campaigns from Marie Claire to Diesel. Lucky for all of us, Astrid has fallen in love with the U.S. and with wedding design. Now the mind that designed for The Knot (click here to play with a dress up widget she designed for The Knot) can create your own custom invitations!
We were really picky when searching for someone to redesign our blog, but Champagne Promises was right up our ally. All of Astrid's designs are fresh to death but also incorporate that timeless element of class from the fifties and sixties. You know that, "How can they be so smooth and sexy? I need to buy myself a martini set" kind of classic cool. MadMen much?
Frank, Dean, Sammy- Meet the Mrs.
But invitation design is just the beginning. Why not make this custom design the custom branding of your wedding. The same uniquely you image from your invites can be used for save the date magnets, bachelorette coasters, heck even the big day's cake topper.
Our makeover wasn't easy just because Astrid is so talented, she is also a delight to work with. She is incredibly thoughtful, even when it comes to her price points. If a fully custom design isn't in your budget,
Champagne Promises
has multiple options to choose, including "ready to order" designs that can be tailored as much or as little as you like. It can truly be a Champagne design on a beer budget! The possibilities are as large as your imagination, or larger because Astrid will take your idea and run with it. But when your 3
rd
cousin asks, "Who thought of these AMAZING invites?" you can just say, "We did."
I love the concept of a groom's cake at weddings. How cute, to have at least one element that celebrates the boy's taste, likes and general boyness! I didn't know they existed, really, until after I became engaged… and I'm given to understand that they have more popularity in the south. But we're in southern california, right? Yeah, baby…
My man really isn't into sports, and while he appreciates video games he is not ruled by them. (I know, I'm lucky, right?) He used to love comic books, but that time has passed. There is, however, one love in his life that I cannot replace nor compete with. And I share this love, so it seems the ultimate choice for his special cake. Ladies and gentlemen (if any men actually read this), I humbly submit to you….


(image source)
A PIZZA CAKE!
Hunter grew up in Manhattan, and loves pizza more than any other food. He says it is the food that erases all class lines in our country, and he's right. On a recent trip to NY for his HS reunion, we ate pizza no less than twice daily… often thrice! Yes, I gained like 10lbs. but it was so worth it folks. There is nothing like new york style pizza for breakfast. And, you really haven't lived until you've had noodle pizza. I'm just sayin'.
Pizza has always been a constant in our relationship. For a while, back in Chicago, we had a Sunday night ritual of pizza and The West Wing. Anytime we see a pizza place, we inevitably say "pizza!", but, because we're dorks, we've taken to lisping it, so it comes out "peetha!". Our friends think we're crazy, but we can't help it. Its a disease, I tell you. We're even seeking a homey pizza joint for our rehearsal dinner.
So, its the perfect choice. I'm hoping to have our talented friend Lorri make the thing – I'll have updates as time passes. But, I'm so excited to have such a herald of my Hunter – city on the outside… sweet inside – to honor him at the wedding.
Damn, now I want pizza. Le sigh.