Posts in the 'wedding advice' Category
Photo courtesy of Weddingbee
Dear Heather,
I'm a broke ass bride. My fiance and I are paying for our whole wedding, and my really optimistic budget is $8,000. My MIL keeps telling me not to worry about money, that she is going to help, but I've asked her directly what she can contribute and she doesn't know… So I am planning the wedding as if that money does not exist. Did I mention, to make it all tougher, we are based in NYC?
The wedding is the evening of 10/25. So far we have a (probable) venue and a (probable) caterer. We're transforming a raw gallery space and having a BBQ buffet. Because we are getting married close to Halloween, we are planning a red and black, dark romance, wrought iron and roses feel.
My question is, with my limited budget, how do I set a casual, fun feel for the wedding without looking cheap or tacky? What should I specifically avoid? I can't afford a stylist or planner, so I'm looking for your good taste and lessons learned.
Thanks!
Ansley (and Derrick)
Dear Ansley (and Derrick),
Before I tackle your stylistic questions, I want to make sure that you're on track with your budget. As a general guideline, approximately half of the total wedding budget tends to go toward venue and catering. Based on your probable vendors, hopefully this is realistic. If not, you need to reexamine some priorities. Also, I think it's wise to not count on your MIL's possible contributions until she gives you a hard and fast number. Worst case scenario – she chips in and you have extra funds. Whoohoo!
As far as your letter … the word "tacky" makes me sad. No matter what you do, odds are someone at your wedding or someone who hears about your wedding will find something about it that's tacky. All weddings are at least a little tacky. Let's all please promise to let go of tacky. All it does is tear us down. And now, a pause while I climb off my soapbox.
Okay. Now onto your questions! Quite honestly, I'm not really sure that "a red and black, dark romance, wrought iron and roses feel" meshes with "a casual, fun feel". The former seems quite formal, while the latter obviously is not. So, I'm going to do my best, but I suggest that you give more consideration to how you want your wedding to look and feel, as there is a bit of a disconnect right now.
For your wedding, I suggest focusing on a few things: (1) Rather than doing formal floral centerpieces, I love the look of candles and scattered petals. This will likely be less costly, and everyone looks fabulous in candlelight. The catch here – make sure your venue allows candles, as some do not. (2) Give a thought to using some DIY uplighting. Lighting can have a really dramatic effect on an event, and it gives you a lot of bang for your buck. This will be especially helpful if your rental company only has white linens, which leads us nicely into (3) Don't be afraid of using linens with a bit of color to them. Some rental places will charge extra for non-white tablecloths and napkins, but this is not universally true. Having some colorful linens will help with the dark romance theme without damaging your budget. (4) Do your best to buy used decor from another couple and sell the stuff you use when you're done with it. There are a lot of sites that allow you to list and browse merchandise (the classified section on Weddingbee is the one that springs to mind most readily, but there are definitely more out there), so go to town seeing what you can find. (5) Definitely look for wedding inspiration online–I've seen gorgeous gothic weddings that pull off reds and blacks beautifully.
As for what to avoid … You'll likely want to smack me for my lack of specificity, but avoid anything that doesn't make you happy. People will judge you no matter what you choose, but if you and your fiance like something, that's all that really matters.
Do you have any other suggestions as to what decor Ansley (and Derrick) could use? Or did you have something "tacky" at your wedding? Tell me all about it in the comments below!
I have a number of friends who are somewhat cynical about weddings: they point to the divorce statistics and scoff that people spent so much money only to be single again a few years later. But the divorce statistic alone doesn't tell the entire story. The idea of what a marriage entails has evolved as a cultural notion, and with it, so have our individual expectations of it. Among the marriages that endure, those who are happiest in their marriages now are actually happier than at any point in history. Conversely, those who are unhappy in their marriages are more unhappy than ever before. But still, isn't sublime happiness worth taking the chance and making the effort? You don't gain anything by refusing to try.
ARE marriages today better or worse than they used to be?
This vexing question is usually answered in one of two ways. According to the marital decline camp, marriage has weakened: Higher divorce rates reflect a lack of commitment and a decline of moral character that have harmed adults, children and society in general. But according to the marital resilience camp, though marriage has experienced disruptive changes like higher divorce rates, such developments are a sign that the institution has evolved to better respect individual autonomy, particularly for women. The true harm, by these lights, would have been for marriage to remain as confining as it was half a century ago.
As a psychological researcher who studies human relationships, I would like to offer a third view. Over the past year I immersed myself in the scholarly literature on marriage: not just the psychological studies but also work from sociologists, economists and historians. Perhaps the most striking thing I learned is that the answer to whether today's marriages are better or worse is "both": The average marriage today is weaker than the average marriage of yore, in terms of both satisfaction and divorce rate, but the best marriages today are much stronger, in terms of both satisfaction and personal well-being, than the best marriages of yore.
Consider, for example, that while the divorce rate has settled since the early 1980s at around 45 percent, even those marriages that have remained intact have generally become less satisfying. At the same time, consider the findings of a recent analysis, led by the University of Missouri researcher Christine M. Proulx, of 14 longitudinal studies between 1979 and 2002 that concerned marital quality and personal well-being. In addition to showing that marital quality uniformly predicts better personal well-being (unsurprisingly, happier marriages make happier people), the analysis revealed that this effect has become much stronger over time. The gap between the benefits of good and mediocre marriages has increased.
How and why did this divergence occur? In answering this question, I worked with the psychologists Chin Ming Hui, Kathleen L. Carswell and Grace M. Larson to develop a new theory of marriage, which we will publish later this year in a pair of articles in the journal Psychological Inquiry. Our central claim is that Americans today have elevated their expectations of marriage and can in fact achieve an unprecedentedly high level of marital quality — but only if they are able to invest a great deal of time and energy in their partnership. If they are not able to do so, their marriage will likely fall short of these new expectations. Indeed, it will fall further short of people's expectations than at any time in the past.
Marriage, then, has increasingly become an "all or nothing" proposition. This conclusion not only challenges the conventional opposition between marital decline and marital resilience; but it also has implications for policy makers looking to bolster the institution of marriage — and for individual Americans seeking to strengthen their own relationships.
Intrigued? Read the rest at The New York Times.
Image courtesy of Joe Lanman
Dear Heather,
I just found out that my sister planned her bridal shower on the same day as my wedding anniversary. It is out of town so I'll have to go away the whole weekend away from my husband. I already committed to bringing all the food, so I am pretty involved and wish I had been considered in the decision.
Am I being overly sensitive that I wish she would have considered our own anniversary being an important day that I'd want to spend with my husband? I probably would have said it was ok had she asked first, but felt caught off-guard that invitations were sent out with the date chosen already.
Signed,
Dueling Dates
Dear Dueling,
I do think that you're being a little sensitive. Here are a few reasons why: (1) Because it's a shower, I'm assuming someone is throwing it for her, so your sister might not have been the one who chose the date. If the host simply asked about your sister's availability, she likely just gave that person a list of dates when she was free. (2) Even if your sister did choose the date herself, I suspect it was simply an oversight that she happened to choose your anniversary. Quite honestly, I have no idea when my sister's anniversary even is, so if I planned something on that date, it wouldn't dawn on me. And even if your sister knows exactly when your anniversary is, in the moment and with the stress of planning a wedding, she might have forgotten. (3) For some people, anniversaries aren't all that important. My husband and I rarely do anything for our anniversary, so if one of us were out of town, it wouldn't be a big deal. Your sister might not have realized that this was going to upset you.
Given all that, it would have been courteous of your sister to check with you in advance, especially if she definitely knew it was your anniversary and knew that it was important to you to spend that specific day with your husband. Unfortunately, you're now stuck in a situation that will entail being away from your husband on your anniversary, so the two of you need to make the best of it. I have a friend whose husband travels all the time for work, and he's always out of town for both Valentine's Day and their anniversary, so they make it work by celebrating on other days. When you really think about it, it isn't the specific day that matters. What's important is that you and your husband have been together for another year, and that can be celebrated on any day.
Have you been apart from your spouse on your anniversary? How did you end up celebrating the occasion?
This article in the New York Post riveted me. Whether you're looking for love, currently engaged, or already wedded to your mate… the statistics revealing what qualities in a person makes them likely to be candidates for happy marriage that Susannah Cahalan presents herein are boggling. In the details of piece, I can see why my first marriage – though brilliant on paper – was far from perfect in reality. I can see how much better suited Paul is for me, as a life partner. I can see how legions of ex-boyfriends past fit perfectly in their place of "not for me."
And I came away from it knowing what traits to better focus on cultivating within myself as time goes on, to make me a better partner for Paul, and do my part in ensuring the future satisfaction of our marriage. It's fascinating, what science is capable of understanding, and predicting. And it's amazing, to see where our priorities, as humans, really shake down, in terms of seeking a mate. Give it a read, and see what you think. Does it resonate with your past, present or vision of your future? Does it motivate you to nurture different attitudes within yourself, about what "true love" means?
I hope you like it as much as I did! 
Make a mental list of attributes you'd require in your perfect mate. Do you picture a handsome, tall man, with six figures in the bank, a sharp wit, a sweet sensibility and an Ivy League diploma to round him out?
Well, I have a bridge to sell you.
That's because in love, as with genies, we only get three wishes, says relationship expert Ty Tashiro. The more traits you pick that are above the average, the lower the statistical odds that you'll find a match. And three is the tipping point.
Imagine you have a room of 100 men. If you choose mediocrity — the trifecta of average income, looks and height — you'll have, statistically, only 13 suitors out of 100 to choose from. Increase your criteria to an attractive man at least 6-feet tall who makes $87,000, and you're left with only one.
Add another trait — funny, kind, even a political affiliation — and it becomes statistically impossible to find him out of 100 men.
Tashiro, a professor at the Center for Addictions, Personality, and Emotion Research at the University of Maryland, has run the numbers and thinks we're approaching this whole finding-a-mate thing wrong. He urges singles to be more statistical in their approach to the "irrational" world of dating.
"All this wishing has led to a case of wanting everything and getting nothing," Tashiro writes in his first book, "The Science of Happily Ever After: What Really Matters in the Quest for Enduring Love" (Harlequin). Dating should be "about learning to weed out the undesirable traits and rethinking our views about what really matters in a romantic partner."
Our fairy-tale view of romance — 88 percent of adults believe in soul mates — has contributed to the fact that although 90 percent of people will marry in their lifetimes, only three in 10 will find enduring love, Tashiro says. (He gets this statistic by adding unhappy marriages and separations to the 50 percent divorce rate).
When finding a long-term partner, don't waste your wishes, he warns.
So what should be on your list? Keep attractiveness off the table, if you can. Looks are not a predictor of sexual satisfaction, nor do they correlate to happier marriages. In fact, there "is no reliable association between physical attractiveness and relationship satisfaction," he writes, quoting from his own research.
A study at the University of Tennessee, which recruited 82 newlyweds to rate each other's attractiveness (to keep it honest they also had the research assistants rate their hotness factor), corroborates his conclusions. What they found was that there was "no relationship between either partner's level of physical attractiveness and either partner's relationship satisfaction." The only significant association found was that the most physically attractive men were least satisfied with their marriages.
…Read the rest of the article, here! 
From the time Daniel and I started considering marriage, the wedding world and its inhabitants had warned me about the inevitable wedding inquisition. As a newly engaged woman, I expected to be bombarded by questions about the proposal, the wedding date, and even wedding minutiae like the kind of veil I may wear. And trust me, I have been. However, I was not expecting inquiries that are blatantly sexist and, for lack of a better word, question the integrity of my and Daniel's relationship. I realize our situation is unorthodox – being a young, international couple is not normal, especially in not-so-urban midwest America – but I am still shocked by some of the questions we've been forced to answer.
Before I go any further, I want to offer a disclaimer. Daniel and I love our friends and family, and the majority of them have been entirely supportive. When we have received inappropriate questions, we know they come from a place of love and concern for us, even if it doesn't seem that way at first.
Now then, listen up! If you are under 25 and in any kind of long distance (especially international) relationship, here are 12 tough (and some just plain dumb) questions to watch out for.
These first four questions are only for me, and I hate to play the gender card, but…
1. Are you going to finish college?
Well, since it's still the 1950s, and I was only at university to receive my MRS. degree anyway, you're right! I may as well drop my books and pick up a spatula. My simple mind clearly can't juggle academics and housewifery at the same time. (For the record, if you're the domestic type – fantastic, I'm not knocking it! But if you knew me, you'd know how ridiculous this question is.)
Seriously, though. I'm only one semester away from graduation. Even if I weren't that close to done, my personal growth is more important to me AND to Daniel than my "wifely" duties.
2. Are you still going to graduate school?
See question 1. In case that's not clear enough, I'm still going when I am ready. In fact, being engaged to Daniel only increases my desire to go, because we will be going to graduate school together and supporting one another through it.
3. When are you going to start a family?
Well, we already have a son, Thomas (my cat). We'll probably expand when we live in an apartment or house that allows us to have two pets, and then we'll get a dog (to be named Sigmund). Oh? You mean human children? Ha! Never.
4. Don't you think you're a little young to get married?
Did I miss something in Biology class? Is there some magical age where the "marriage gene" switches on and one is suddenly fit for life-long monogamy? No. I think marriage "age" is about maturity level. I think I'm ready. I was just lucky enough to find the perfect partner early in life, just like my parents did before me.
Now for the international gems. We're not amused by those either.
5. How can you possibly know each other well enough to get married?
This is one we get a lot, because from the outside, our relationship seems like five visits, totaling about 14 weeks. So, for those of you who don't know, thanks to modern technology, people can now communicate face-to-face via the internet and spend hours upon hours getting to know one another. Like Daniel and I have, every day, for multiple hours a day, for the last year and a half.
6. Are you just marrying Daniel for immigration purposes?
No. If you knew how time-consuming and how expensive the visa process was, you wouldn't even ask such a thing.
7. Are you worried Daniel is just using you for a green card?
No. Trust me, if all he wanted was a mail-order bride for immigration purposes, he could have found someone much less emotionally-demanding than me. Not to sound high-maintenance, but I expect a lot of emotional commitment in a marriage-worthy relationship, and if he were just looking for a green card, he would be idiotic to pick me.
FYI: From a legal standpoint, a green card is a few steps after marriage. So, asking if I'm a green card ticket is inaccurate. A green card is a work permit, not an immigration visa. And besides, have you seen the American job market lately? Just saying, the economic recession is still real in a lot of job fields.
8. What if Daniel moves here and it doesn't work out?
What if you get married to your next door neighbor and it doesn't work out? Then, it doesn't work out! At least we gave it a proper shot. Legally speaking, he'll get deported and go home to his beautiful native country and his loving family and friends. I'll go home to my beautiful native state and my loving family and friends. Seriously, though, thanks for assuming our marriage will fail.
9. Why can't you wait a few more years to get married?
This question normally has different angles. Why can't we wait until we're both done with graduate school? Because we don't want to wait another five to seven years to be together. Why can't we wait until we know each other better? Because we already know each other better than we know anyone…and don't you think we'd know each other even better if we could spend more time together in person? Oh, and maybe, it's because we love each other and want to be married.
10. How do your families feel about all of this?
Honestly, this is really difficult for them. Daniel's family is losing him to another country. My family is gaining the responsibility of helping Daniel when he arrives. Both families are facing an unorthodox situation the likes of which they never dreamed would happen. We're all just making the best of it. Overall, though, both sides are handling it with optimism and goodwill.
11. Is 90 days really enough time to plan a wedding?
To quote my mother, "I threw together a wedding in six weeks, and my marriage has lasted 25 years." So, yes, it is possible. It is not ideal. That is why we are thinking of doing two "weddings" – one to handle the legal side and one to handle the celebration side.
12. Why couldn't you find a nice American boy/Australian girl?
This is the WORST question ever. A) It implies that the other person is not "nice" because of his/her respective nationality. B) It implies that we chose to fall in love with each other. C) It implies that the burden of the relationship is on our family/friends, who we have gravely disappointed. Our answer? WE JUST DIDN'T. We found each other, and we're happy. Capiche?
On the bright side, these questions have really benefited Daniel and me. Even though they can be a bit scary and upsetting to answer, their persistence in our engagement has forced us to reiterate our commitment to each other and helped us to grow stronger as a couple. No matter what comes next, I know that if we can face these questions, we can face anything together.
Okay, rant over. International Bridezilla out.
Image courtesy of Christy Kellish Photography
Dear Heather,
My husband and I are renewing our vows in October. Our original wedding, ten years ago, only cost $500 TOTAL. It was very small. We only had our parents with us and celebrated with a small dinner after.  I am having a difficult time this time around because 1. I don't want to spend a ton of money 2. I am torn by the cost of a big party and 3. I want a big party.
My heart tells me I want a Sue Wong gown (or one that looks like her designs). I want to rent a hall and have a traditional reception with friends and family and dancing and food. I want a wedding cake. My head tells me the expense is stupid and to just keep it small again. I don't want to feel like I missed out … again.
What do I do? Any advice? I think I am sounding whiny and spoiled. Neither are very becoming.
I would appreciate your help and advice.
Thank you,
Angel

Dear Angel,
First, congratulations on ten years! That's definitely worth celebrating! Second, I don't think you sound either whiny or spoiled. Rather, you sound like someone who is conflicted.
If I'm interpreting your letter correctly, you seem to regret having such a small celebration the first time around. For some folks, what you did at your wedding would have been fantastic and exactly what they wanted. I get the feeling that you aren't one of those people. Unfortunately, your letter left out a crucial detail: How does your husband feel? For the sake of being able to answer your question, I'm going to assume you two are largely on the same page. If I'm way off base, please don't take my advice; talk to him instead!
There are basically two ways to approach your concerns – "How can I make my celebration less expensive?" OR "How can I justify to myself what I want to do?" There are plenty of suggestions on this site for making things less expensive (for instance, our Real Budget $5k or less weddings and Can't Afford It/Get Over It archives). So, I'm going to tackle the latter, more emotionally-loaded question.
Personally, I think you should go with your heart but allow your head to have at least a little input. Your first celebration was quite small, and it sounds like you want your vow renewal to involve more people. There's nothing at all wrong with this. There's something really magical about being surrounded by people who love you, and it's okay to want this! However, more people means more expenses, especially if you intend to feed and entertain those people. Think about having a party at your house – you likely wouldn't feel guilty spending money to make dinner for your guests. A wedding or vow renewal is similar, just potentially on a bigger scale.
It also sounds like you and your husband need to spend some time figuring out what you want your vow renewal to look like. You mentioned wanting a specific dress and having a more traditional reception. What exactly does this look like to you? As you nail down what you truly want and who you genuinely want to be there, you might realize that it won't really be all that expensive. Plus, in addition to paying for that one day, you're also buying a lifetime of memories. Spend your money wisely, but don't berate yourself for wanting something a big grander this time. You're celebrating ten whole years!
Did you have a vow renewal? Was it a big or a small affair? Tell us all about it in the comments below!
This post on The Matt Walsh Blog really hit home for me. I lived with my first husband for almost 6 years before we were married, and yet the marriage barely survived 3 years. We knew every one of the other's bad habits and annoying quirks. But that wasn't enough. Looking back, I can see very clearly what broke us up, and yet not put my finger on the exact straw that broke our marriage's back. But I do know that no amount of "till death do us part" commitment would have cured what ailed us, and had we made the choice to honor our vows over our happiness, we'd have lived a very miserable existence until that death came calling. 
What I love about this post is that it sums up the exact way I feel about my impending marriage. Paul and I have not yet known each other for a year, and yet I know that making my vows will be different this time than the last. And I get to take all the lessons from my first marriage into my next, to make me a better wife, partner, friend, and lover. By our second date, we knew we were headed toward the aisle. It's so easy to say "oh my god, are we really ready for this?" But, Matt is right. No one is ever ready. All we can do is jump, and count on our wings to open. 
_______________________________________________
I met my wife on eHarmony. I was a morning rock DJ in Delaware, she was living in Maryland and finishing up her degree. I drove two and a half hours to pick her up for our first date. I spent most of my bi-weekly paycheck on tickets to a dinner theater in Baltimore. The rest went to gas and tolls.
And that's the way it would go for the next year and a half (minus the dinner theater part). Once a week, I'd spend money I didn't have and drive the 260 mile roundtrip to see the love of my life. Sometimes I'd sleep for a few hours in the guest room at her mom's house, waking up at 2AM to head back to the coast for my 5:30AM radio show.
I was very tired back then.
And broke.
Lord, was I broke.
She'd take turns driving my way, burning gas she couldn't afford to burn and using money that should have been collecting interest in a savings account. On occasion, we'd cut ourselves (and our cars) a break, meeting in the middle for an intimate meal at the Cracker Barrel near the Bay Bridge. It was in these moments that I knew I was fulfilling her girlhood dreams. Oh, it might be a cliché, but it's true: most young ladies grow up fantasizing about the day that a small market radio jock from Delaware will whisk them away to the Cracker Barrel in Stevensville.
It was a fairytale romance.
Or maybe not; but it was ours. It was our relationship. It was real. We loved each other. We were building something.
When we tied the knot in October of 2011, we were vowing our lives to the other person, even though we'd never lived in the same state. We'd rarely spent more than two consecutive days with each other. We didn't know all of each other's bad habits. We didn't know what the other was like on a day-to-day basis.
We had no nest egg, for that matter. We'd blown most of it funding our trips back and forth.
In other words, we weren't "ready" for marriage. We hadn't tried it out. According to conventional wisdom, we were "unprepared." We didn't take a turn in the Marriage Simulator. We didn't live together for seven years and slowly glide into it. We were two, apart, only dating — courting, really — until we were one. We were unmarried, and then we were married.
No transition.
No warm up.
We weren't ready for kids, either. We didn't get any practice swings. We had no kids, and then we had two kids. We weren't parents, and then we were parents. We slept at night, and then we didn't.
If there's one thing about life that I wish everyone would consider — particularly my peers, and those younger than me — it's that you'll never do the big things if you're waiting until you're ready to do them.
You'll never be ready.
Photo by Teddy James
Dear Heather,
Hi! Love your website. I just got engaged this past Christmas and have been enjoying wedding planning our upcoming December wedding. Have you done a post on "bridal fee showers" or "greenback showers," as they are referred to in different areas? I would love to see a post on this! I have heard this sentiment shared by other brides too. There is not much on the internet, only a few comments here and there on some wedding blogs. It's a very heated debate. I saw your recent post on PresentValue, and I think this is a great idea, but I know some (especially older) guests might shy away from using a website for a cash gift. A "fee shower" is usually advertised as such on the invite, but I have heard a lot of negativity and comments such as this is tacky, tasteless, rude, etc. Although, IMHO, it is tacky, tasteless, and rude to register for $200 crystal candlesticks or new dishes to replace the perfectly good dishes we have, especially when I have 100k in student loan debt that could be paid off!
The suggestion with having a fee shower is that it makes clear that you do not want gifts and people can just give cash/checks in the card. I hate the word "fee" though. Do you have thoughts on this? Would love to hear them! Thank you!!
Signed,
Present Puzzlement

Dear Present Puzzlement,
In a way, you sort of answered your own question. Having a bridal fee shower is controversial, and if you decide to go that route, be prepared to take some flak (either to your face or, more likely, behind your back) for it. Traditionally, the whole idea behind a shower is to "shower" the guest-of-honor with presents, which is why a lot of guests would prefer to bring something tangible. To cater to those guests, I suggest just going ahead and setting up one "normal" registry. And you don't have to register for fine china if you aren't that sort of couple! Go ahead and ask for towels (trust me, you can never have enough) or sheets or board games – whatever suits your fancy. A registry doesn't necessarily have to be just things you need; it can also include wants, and it can be as esoteric as you desire. In addition, you mentioned our recent post on Present Value. For those guests who would prefer to give cash but don't just want to fork over a wad of money, this is a great option! Plus, having a registry on Present Value might make some guests realize that you'd prefer cash to physical gifts, so it's a win-win!
Have you ever gone to a bridal fee shower? Or would/did you have one yourself? Let us know in the comments below!
After the initial glory of the engagement and the outpouring of love from friends and family comes the first step of wedding planning. Which in my case was DO ALL THE THINGS AT ONCE. Which is bad. Really, really bad for someone like me. My need to create and control and perfect only exacerbates my generalized anxiety disorder. Hi my name is Tiffany, and I trigger my GAD by being a completely unbearable control freak.
Justin and I lightly tip-toed around the risk that wedding planning could be for me. There were polite suggestions of getting someone to help with the wedding and I of course shot that down because I can do it all myself and also do you have ANY idea how much those people cost!?!  With my remedial crafting skills and Pinterest combined, I TOTALLY had this wedding thing under control.
But did I really? I understand that wedding planning is supposed to be joyous and fun and not stressful but please review paragraph one if you still think that option is available for my type. Once I took the first step and admitted that I would need help, I jumped on the internets and started researching wedding coordinators. And then I was not so gently reminded of their cost and curled up in a ball and cried, naturally. And fellow BAB-ers are probably shaking their heads in agreement right now because that is the absolute last thing that your budget needs!
However, I am here today to tell you that it IS possible to find professional wedding help within your budget. I spent an irrational amount of time searching the internet and found exactly what we needed: someone to help us design our space and provide day-of coordination that wasn't going to charge us more than our net worth (Events by Elisa, for you San Diego brides!). I didn't need someone to do it all, but I needed the support and guidance (and amazing creative vision) of a professional that will keep me in line and on budget! She is also planning a "pintervention" soon so I eventually stop gathering thousands of ideas. And while we are still 8-months out and dealing with a venue that is under construction, we are incredibly happy with the service and guidance we have received thus far.
Could I do this? Maybe. Would I lose my mind? Definitely. Photo via Faithfully Focused Photography.
So, fellow control freaks or sufferers from generalized anxiety disorder – the appropriate type of wedding help is out there. Look for coordinators that are more flexible with their services. If you don't need someone to find and book your vendors for you, then you shouldn't be paying someone to do that (trust me, google, yelp, and wedding wire can do all of that handiwork for you). If you just want someone to help you the month or day of, just pay for that. I also found some options that were fairly new in the business therefore they had super low rates compared to everything else we were seeing. They need the experience and if you don't mind being their training wheels, then go for it! Your wedding coordinator angel exists – just keep looking!
My advice to those of you questioning if it is worth splurging on a coordinator: if your sanity is at stake it is ABSOLUTELY worth it.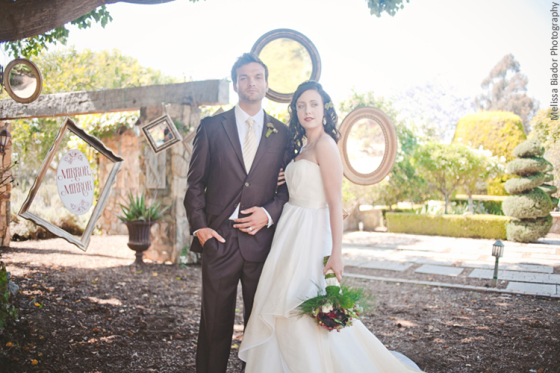 This is not us (clearly). But our wedding will be styled just as awesomely!