---
Posts in the 'under $500' Category
Let's start the New Year by rocking a reader's "CAI/GOI" challenge. Today's challenge: Finding a new dress for Julianne to love!
I am absolutely in love with this Watters gown; however it is completely out of my price range. I would love something for under $500 with similar detailing on the bottom. Do you have any suggestions on where I should be looking?
Thanks!
Julianne
Julianne, I'm happy to help! Finding something super detailed and sticking to a tight budget can be super difficult but starting a new year is all about resolutions, right? We've got this.
CAN'T AFFORD IT
Adelaide Gown (Retails for $3,400)
GET OVER IT
Strapless Pleated Bodice Gown with Pick Up Skirt ($399.99 at David's Bridal)
Beaded Tiered Tulle Gown with Sweetheart Neckline ($349.99 at David's Bridal)
Organza Gown with Pleated Tier Skirt and Lace ($449.99 at David's Bridal)
Organza A-Line Gown with Angled Draped Pick-Ups ($349.99 at David's Bridal)
Tiered Organza Wedding Dress ($419.99 at For Her and Him)
Strapless A Line Wedding Gown ($399.99 at For Her and Him)
Adrianna Papell Strapless Rosette-Skirt Gown ($238 at Dillard's)
To get the detailing you want for under $500, sales and clearances are going to be your best bet. Lots of places have sales around this time of year. Get out there and look around. If you're close to a sample size, consider going to stores to see which samples are on sale. I grabbed a sample dress and paid much less for it. It was a tad dirty, but a quick trip to the cleaner made the savings worthwhile.
Vera Wang's collection for David's Bridal brings her unmistakable talent to a lower price point. But it's still not affordable for all.
Hi there!
I was wondering if I could get a Can't Afford It/Get Over It for the  Vera Wang White collection gown at David's Bridal (Organza Fit and Flare Gown with Bias Flange Skirt Style VW351011).  I have fallen in love with it but can't afford $1200+ for a dress that I will only wear for a few hours. Thanks!!
If this dress isn't in your future, be open to adding details to a simpler design. A classic strapless A-line or ball gown dress, for example, could look much closer to your inspiration with a bridal sash. Etsy is full of options like this crystal beaded number or this DIY kit. The intricate organza detailing on the skirt of this DB gown is undoubtedly the reason for the $1200 price tag – but tone down the detailing on similar gowns and watch those prices drop!
CAN'T AFFORD IT
Organza Fit and Flare Gown ($1,248 at David's Bridal)
GET OVER IT
Strapless A-Line Gown ($399.99 at For Her and For Him)
Anabelle Gown ($450 at J. Crew)
Satin Pick-Up Ballgown ($199.99 at David's Bridal)
Taffeta Ball Gown ($249.99 at David's Bridal)
Adrianna Papell Strapless Rosette-Skirt Gown ($238 at Dillard's)
Badgley Mischka Iridescent Strapless Ruffle Gown ($695 at Shopbop)
You can also consider looking at websites that allow brides to sell their dresses. A quick Google search for the dress style you're requesting took me to a couple people selling that exact dress. If you go that route, be sure to ask about any alterations made. Many sites require sellers to have a return policy. It's hard to know if the dress will fit you. Or, if the seller lives nearby, perhaps you can have a meet-up.
Candie is in love with a dress "Glee" actress Lea Michele rocked at the 2011 SAG Awards.
Hi there! I'm looking for some help. My fiance and I are getting married next June and I need to find a wedding dress. We're getting married on some friends' property, and it will be pretty relaxed and casual. Because of that (and the hot weather!), I really want a simple, light dress that still looks very elegant and timeless. I fell in love with a white Oscar de la Renta dress Lea Michele wore at the SAG Awards, but I'm not sure where I can find anything like it. I love how sparkly and slimming it is. I'm on a budget of about $500. If there is any way you could help me, I'd really appreciate it!
Thank You!
Candie 
It's easy to see why this dress has caught your eye. The long lines and hint of sparkle is super fun. To get this look for less, try experimenting with metallic colors or textures, instead of intricate beadwork, to get that signature shimmer.
CAN'T AFFORD IT
GET OVER IT
Phoebe Couture by Kay Unger Pleated Gown ($450 at Saks Fifth Avenue)
Adrianna Papell Dress, Sleeveless Spaghetti-Strap Beaded Blouson Evening Gown ($299 at Macy's)
Spaghetti Strap All Over Sequin Wedding Dress ($229 at David's Bridal)
Yumi Kim Cinderella Maxi (Retail $169 at Yumi Kim)
Glitz Gown by Badgley Mischka (Retail $650, rent for $150 by Rent the Runway)
Screen Siren Gown by Bagley Mischka (Retail $850, rent for $125 by Rent the Runway)
This was actually pretty challenging. The dress is beautiful but the color is hard to match. Since you're not getting married until next year, you could also consider waiting until Rent the Runway has a sample sale. If you fall in love with one of those RTR gowns, you may be able to snag it for keeps AND stay under budget! Best of luck!
Lizzy is loving everything about this dress except the price.
Hi there! I have a query for your can't afford it/get over it category. I love J.Crew's "Serena" wedding gown, but can't afford the $2,100 price tag. (That's, uh, more than half of my wedding budget!) I love the polka dots, the sleek shape/minimal ruching, and the silk/linen fiber (I really don't love polyester). I love that it's grown-up elegant and not too princess-y. It reminds me of that awesome vintage champagne poster. I am checking the used wedding gown sites for it every single day, to no avail so far. I would also consider making something similar myself but the boning in the bodice scares me a bit… Would love to hear your thoughts on alternatives to this dress!
Creating a sleek silhouette doesn't have to break the bank. The fact that you like the fun details will give you a few more options as well.
CAN'T AFFORD IT
Serena Wedding Gown ($2,100 at J. Crew)
GET OVER IT
 Tulle and 3D Lace Mermaid Wedding Dress ($459.99 at For Her and Him)
 Simple Elegant Tulle Mermaid Wedding Dress ($439.99 at For Her and Him)
 Vintage White Ivory Lace Wedding Dress ($409 at Wonder Xue via Etsy)
 Lace Wedding Dress ($440 at Panda & Shamrock via Etsy)
 Sasha Wedding Gown ($380 from Romantic Gowns)
Strapless Lace Gown with Ribbon Detail ($499 at David's Bridal)
I'm not much of a dress maker. So, unfortunately I can't offer you advice on creating the boning in the bodice. But, if that's the only thing holding you back, perhaps some of our BABs can offer some suggestions? Ladies, any tips on creating the boning within a wedding dress? It might also be good just to visit higher end fabric stores in your area and talk with the staff about how to tackle such a project. That might be the best way to get what you really want in your budget. Don't forget to consider your sanity. Taking on projects can make the wedding extra special. It can also cause lots of stress. Be honest about what you can handle in the time you have before the wedding.
Caitlin has a dress she can't stop thinking about.
I have a dress I can't get over…it's the Maggie Sottero "Bernadette."
I found one on Preownedweddingdresses.com, but it was $1,500, and not in my size
I've been there; literally. My dress was a sample — so there was only one made. Despite its beauty, it was a dress that would never be reproduced. Even if it was, I couldn't afford the retail price. Thankfully, with only the man power of the smallest of my bridesmaids, we left with dress during a going out of business sale. It's hard to get over it once you have found "the one." But even so, we've got a few fab options for you to consider.
CAN'T AFFORD IT
Maggie Sottero Bernadette (Retails for about $1,650)
GET OVER IT
Romantic Lace Wedding Dress, Ivory Lace Open Back Wedding Dress ($799 at RuffleNBustle via Etsy)
Lace Wedding Dress Backless ($559 at Leontina Couture via Etsy)
Scalloped Lace Cut Out Mermaid Wedding Dress ($499.99 at For Her and Him)
Backless Mermaid Wedding Dress with Lace Cap Sleeves ($529.99 at For Her and Him)
Lace Over Satin Gown with Illusion Back ($749 at David's Bridal)
Cap Sleeve Lace Over Satin Gown with Illusion Back ($724 at David's Bridal)
There you have it. Most of these options clock in at about half the price tag of that Maggie Sottero. You CAN create a luxe lace look for less, without creating too much debt.
Got a CAI/GOI request for the gang? Email it to emily@brokeassbride.com, and she'll pass it on to Tori and Heather, our CAI/GOI mavens! 
Candice is smitten with a loverly and lacey gown that is way our of her budget!  Poor thing!  Let's see what Candice had to say….
So I thought it would be worth a shot… I LOVE the The St. Pucchi Avine 506! The  lace is gorgeous and the back is to die for! However, I too am a BROKE ass bride and I can't afford the thousands of dollars this dress costs. I am open to any suggestions you may have.
Thank you for your help and thank you for being there for those brides that live on a budget but still want to be beautiful on their wedding day!
Candice
Candice is in adoration of one of the top bridal designers out there – and of course, she's not alone!  Many a BAB drools over a designer dress, knowing in our heart of hearts that it will never happen for us. BUT, what we can do is create an optical illusion – tricking our guests into thinking that we spent a boat load when, in reality, we won't be going into debt for a once in a lifetime dress on a once in a lifetime day!  We at BAB are quite the magicians!  So without further ado, ALAKAZAM!
Can't Afford It
$7,000.00
Get Over It
Watters & Watters
Watters Lourdes
I am obsessed with this dress!
Lace Fit & Flare style # KP3221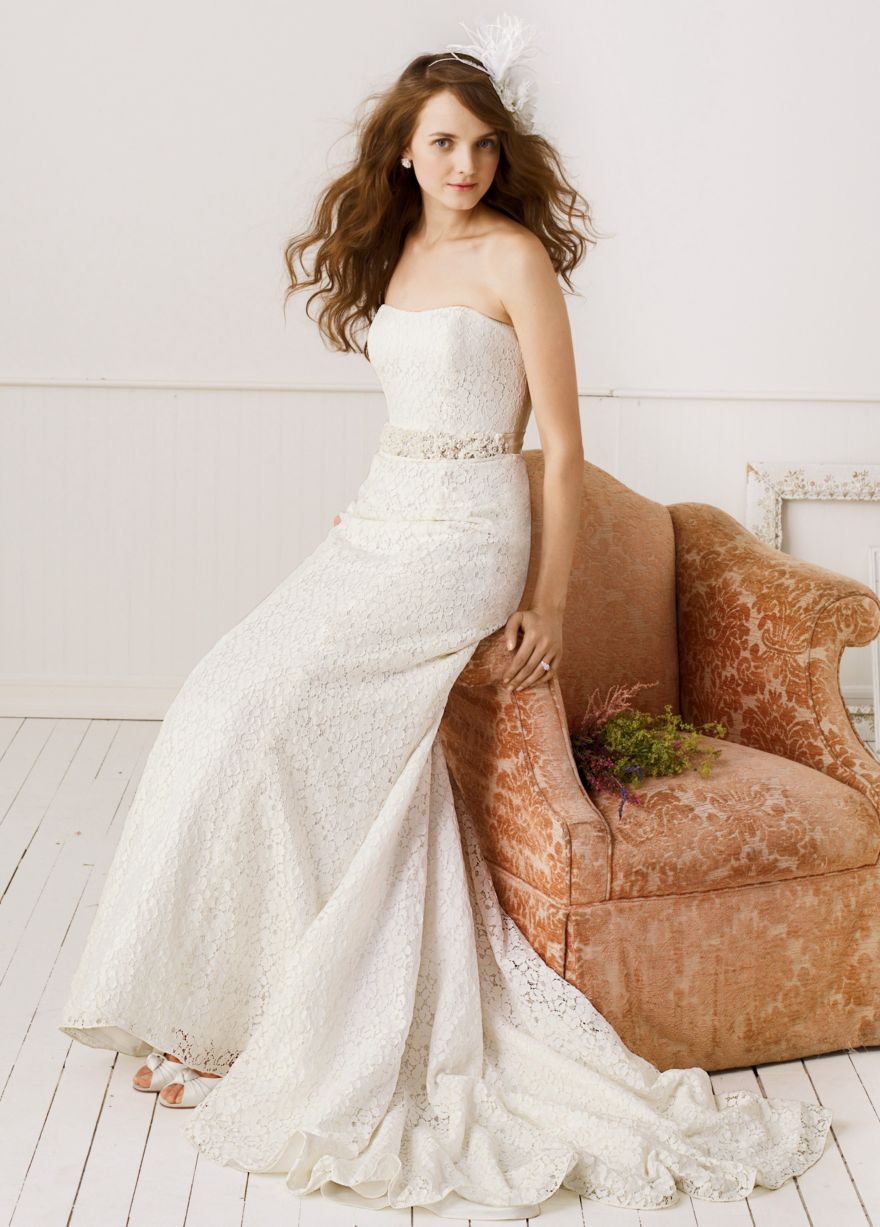 Alfred Angelo #1816
Jim Hejlm Style # JH8763
Lace Wedding Dress inspired by Jim Hejlm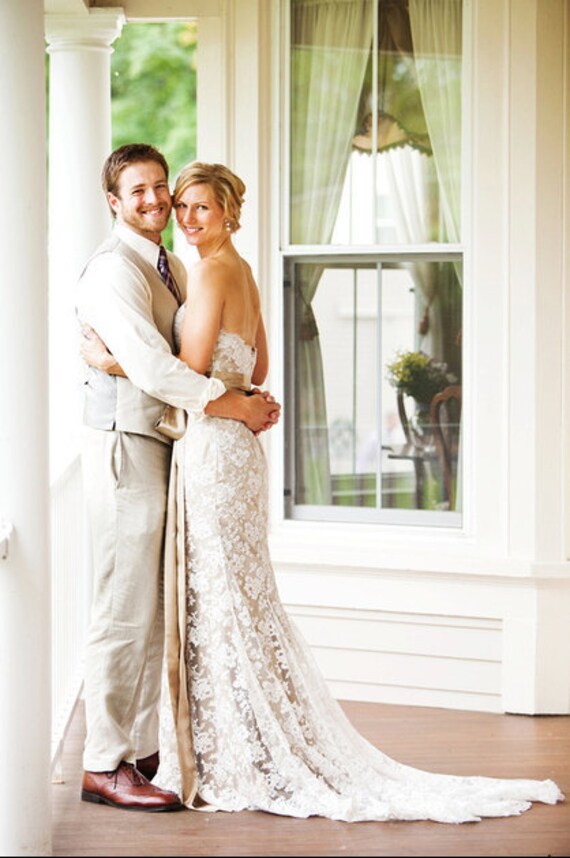 Jim Hjelm style #1104
There you go, dear! Seven alternatives to the $7,000 St. Pucchi. Save your seven grand for a new car or a down payment on a house! Your big day will be magical enough with out having over paid for a dress you'll likely only wear once.  The real magic is that you and your hubby to be are in love and happy.  Poof!  No additional slight of hand required!
This week, I took it upon myself to see how many BABs there are out there who are brave enough to rock a short white frock for their big day. In my CAI/GOI research I've run across some totally adorable, beautiful, sexy and sassy short dresses that would be awesome for a reception dress or as "The Dress" if you have the cajones!  So, do you have the guts to rock a Little White Dress for your wedding day?
Can't Afford It
Monique Lhuillier
$2,000.00 – $3,000.00
Get Over It
Heloise Dress
J.Crew $425.00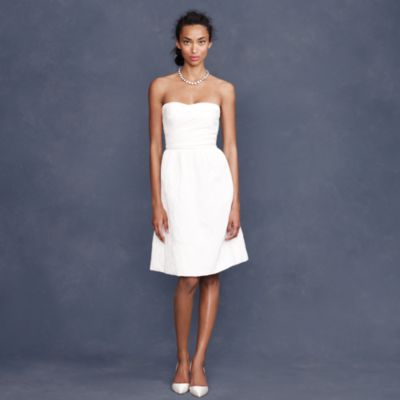 Embroidered Lace Sheath
Cache $198.00
BCBGMaxAzaria- Alice mixed lace Sheath Dress
Bloomingdale's $248.00
Adrianna Papell
Nordstrom $178.00
JS Collection Petal
Nordstrom $131.90
Rebecca Taylor Sequin Bodice Strapless
Nordstrom $159.90
A.B.S. by Allen Schwartz
BlueFly.com $245.oo
Sue Wong
BlueFly.com $263.00
Diane von Furstenberg Zarita Dress
Shopbop.com $325.00
Halston Heritage One Shoulder Tiered Dress
Shopbop.com $425.00
So, BABs, how brave are you?  Would any of you rock a short dress to say your I Dos?  Would any of these make an appearance at your reception or another wedding related function?  Let me know what you think!
We're jumpin' right into CAI/GOI this week with this submission:
"Hello, my name is Liz and I have found the perfect wedding dress! The problem is that it's out of my price range…I am in love with a Tara Keeley dress that is absolutely amazing but costs over $2,000!
My husband and I are finally having the wedding we never had. The ceremony will be at a beautiful sunken garden followed by a brunch reception; no more than 25 people total. I love this dress because it is beautiful and it can be worn 3 different ways! I could walk down with the full skirt, take photos with the tulle skirt half open, and wear only the cocktail dress to brunch. If there is anyway that you could find an inexpensive alternative I would greatly appreciate it!
Best regards,
Liz
Liz is a multi-tasking Mamma after my own heart! Every savvy woman and handy man knows that it's best to have one tool that can complete multiple tasks. The Swiss Army Knife and the convertible dress; they're interchangeable. Okay, okay, maybe they're not interchangeable. *Snicker*! I just got the most giggle worthy image of my mas macho man in a convertible dress! Yikes!
But you get my drift. One dress that you can wear several different ways or one tool that you can use several different ways.
So here's the way I see it, Liz. I think your best bet is to check out David's Bridal and their line of convertible dresses. You can only wear theirs 2 ways! Or, you could buy a freakin' awesome lace cocktail dress and find a seamstress to fashion you a tulle skirt like the Tara Keeley skirt.
Can't Afford It
Tara Keeley style #2210
$2,500.00ish
Get Over It
 Two in One Beaded Taffeta Gown
David's Bridal Style #YP3266 $499.99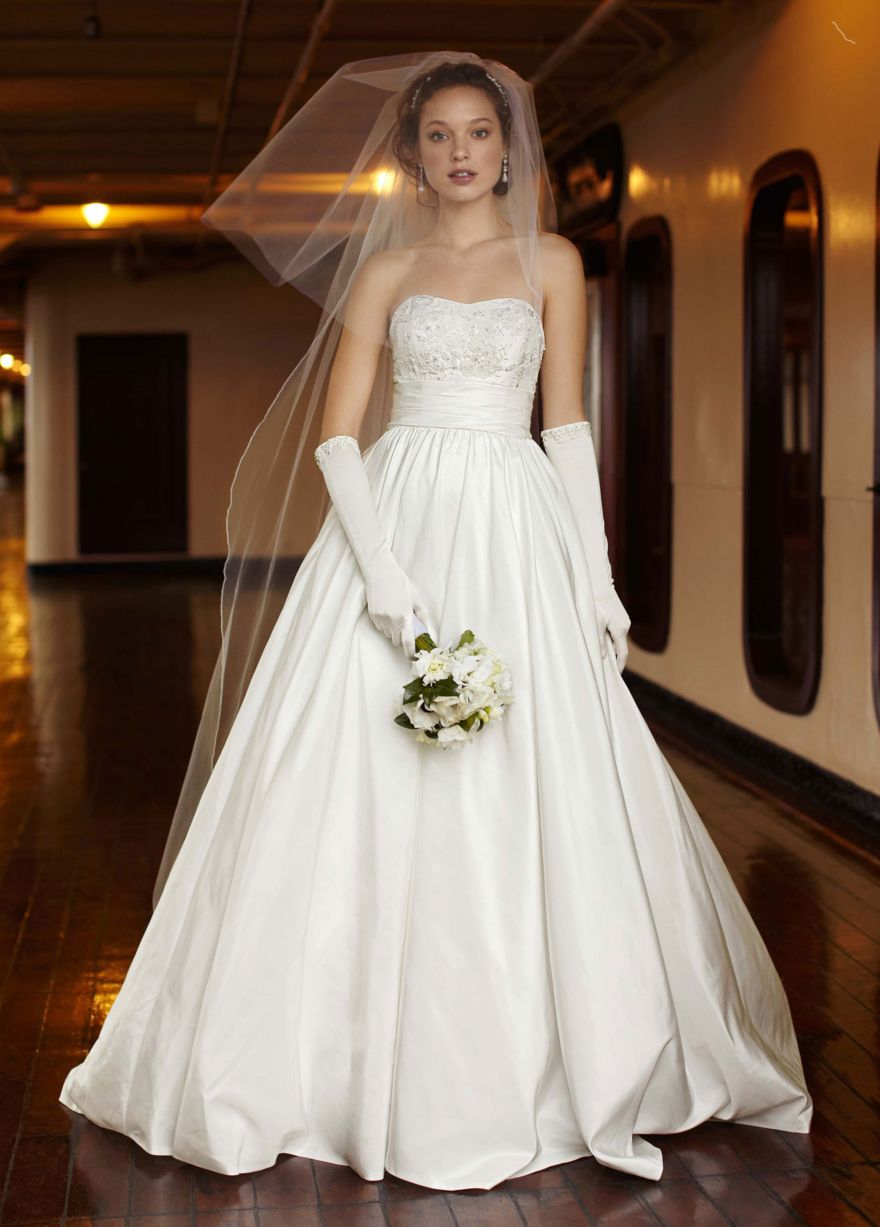 with full skirt
sans skirt
Adrianna Papell Strapless Lace Sheath Dress
Nordstrom.com $178.00

Shoshanna Sylvie Strapless Dress
shopbob.com $397.00
Badgley Mischka Platinum Label Ruched Lace Dress
Neiman Marcus $465.00
Long Tulle Skirt- Burlesque
ustrendy.com $180.00
Comes in 5 different colors! Can be customized!
Full Length Champagne Tulle Skirt
etsy.com $345.00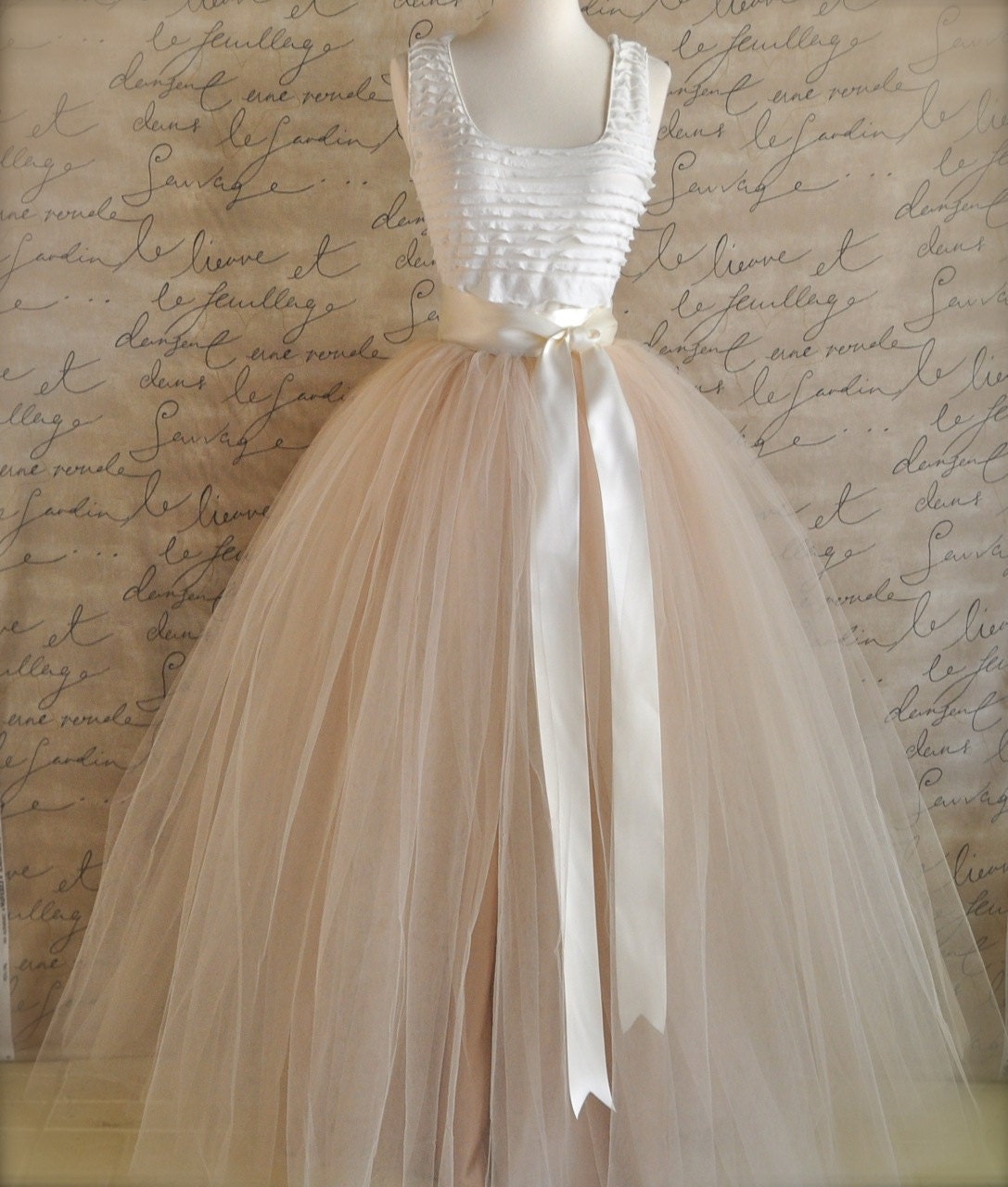 Adult Tutu. Wedding Bridal Tutu.
etsy.com $185.00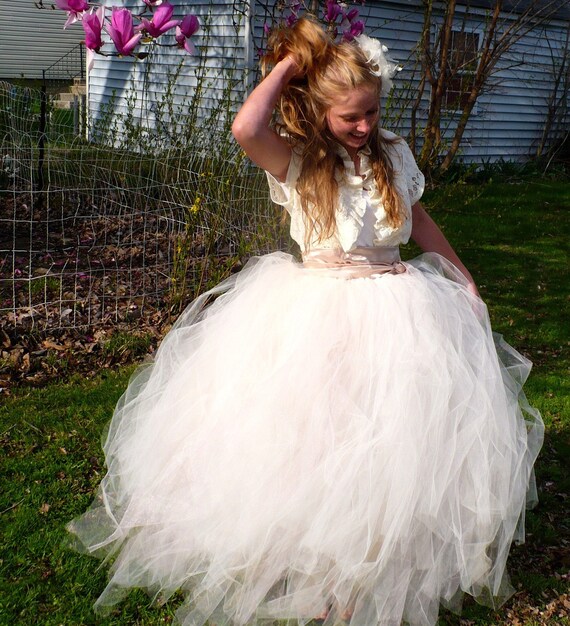 Liz, you can always convo the etsy.com sellers in order to have your tulle skirt customized to your preferences.  And of course you'll be paying shipping & handling on each purchase. However, if you decide to go this route, you'll not only have saved a boat load, but you will have a sexy little cocktail dress to wear wherever your style-savvy heart desires!  And you'll have all the "tulles" you'll ever need!  Okay that was cheesy!  But I couldn't resist!
I hope this CAI/GOI helped you out!  And I hope I've given you all the tools you'll ever need to finish your search.  And  hopefully, to find or make the dress of your dreams!  Here's to versatility, convertibility, and savvy women like Liz and our BAB readers!  Until next week, I'm wishing you the best of luck and the best multi-tools or "multi-tulles" available!

One of the best ways to get a unique, affordable wedding gown is to buy it from a talented Etsy seller. Here are some phenomenal gowns for under $500.
MuseBridalBoutique, $275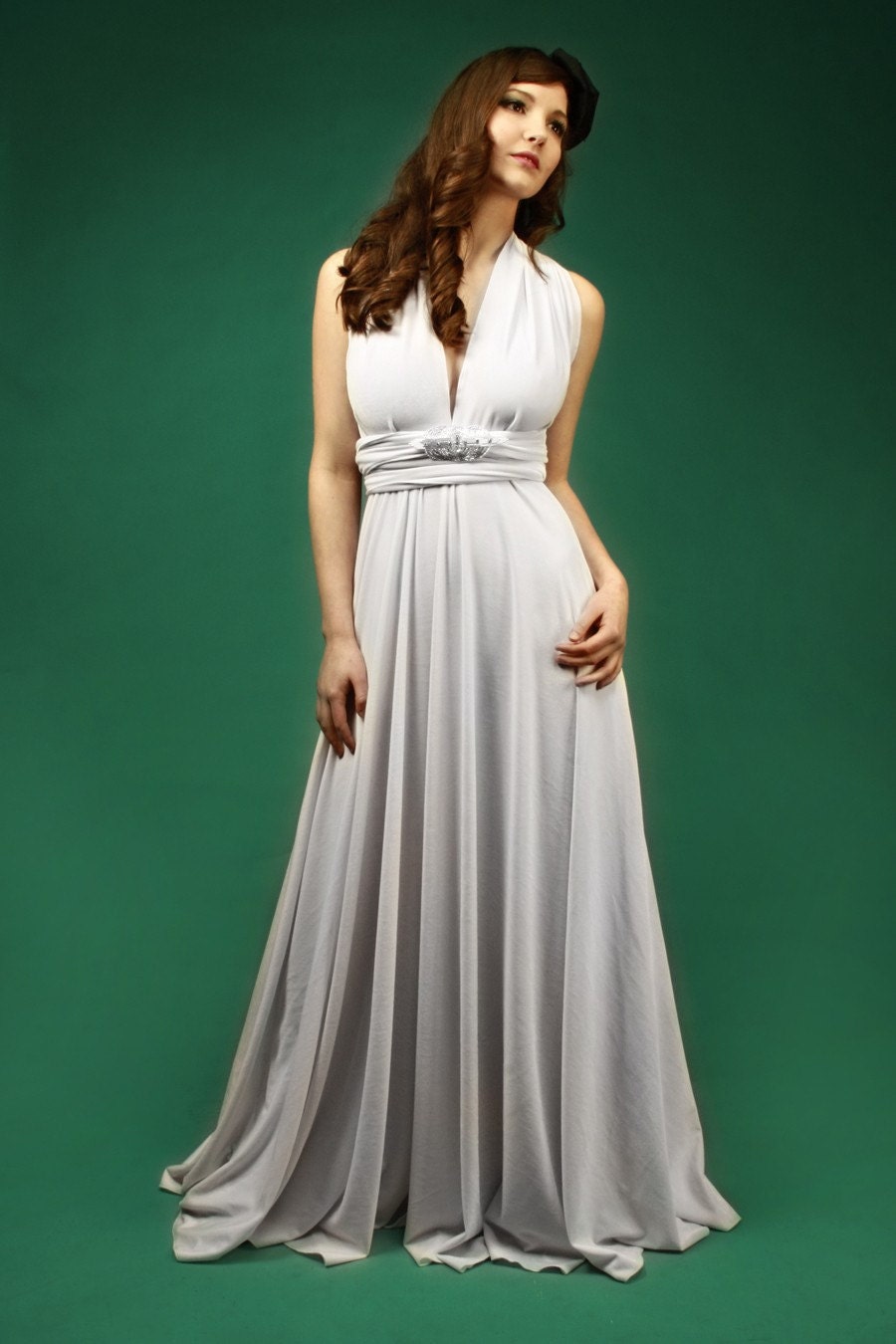 SugarWeddings, $429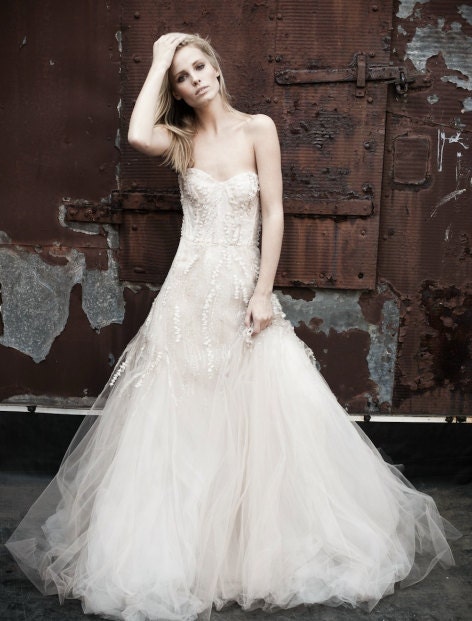 SugarWeddings, $429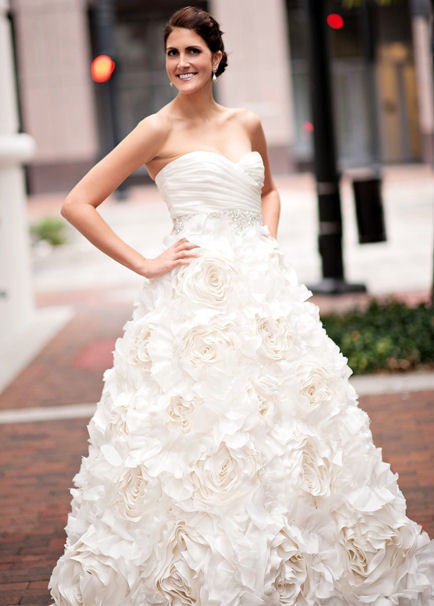 MaryniaGasiorowska, $300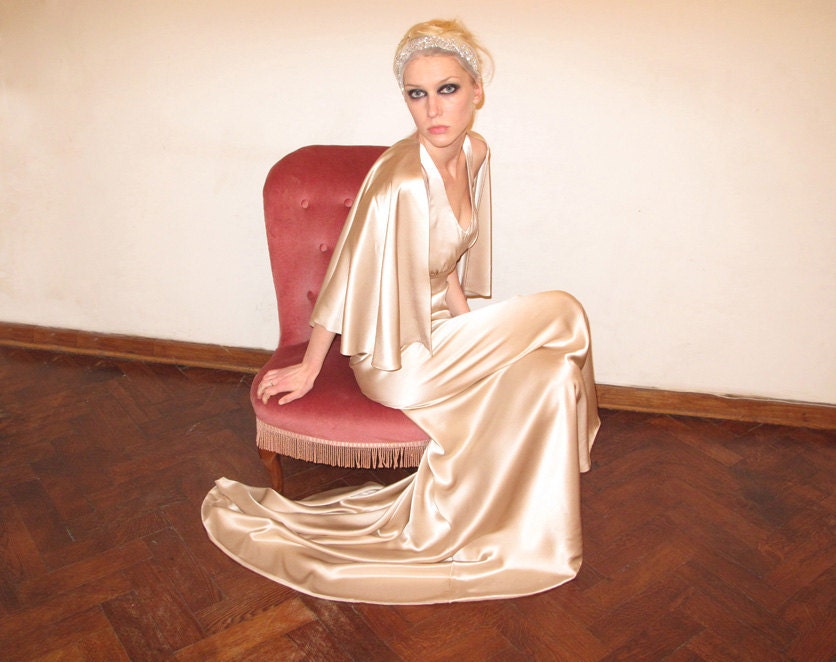 WhiteRomance, $450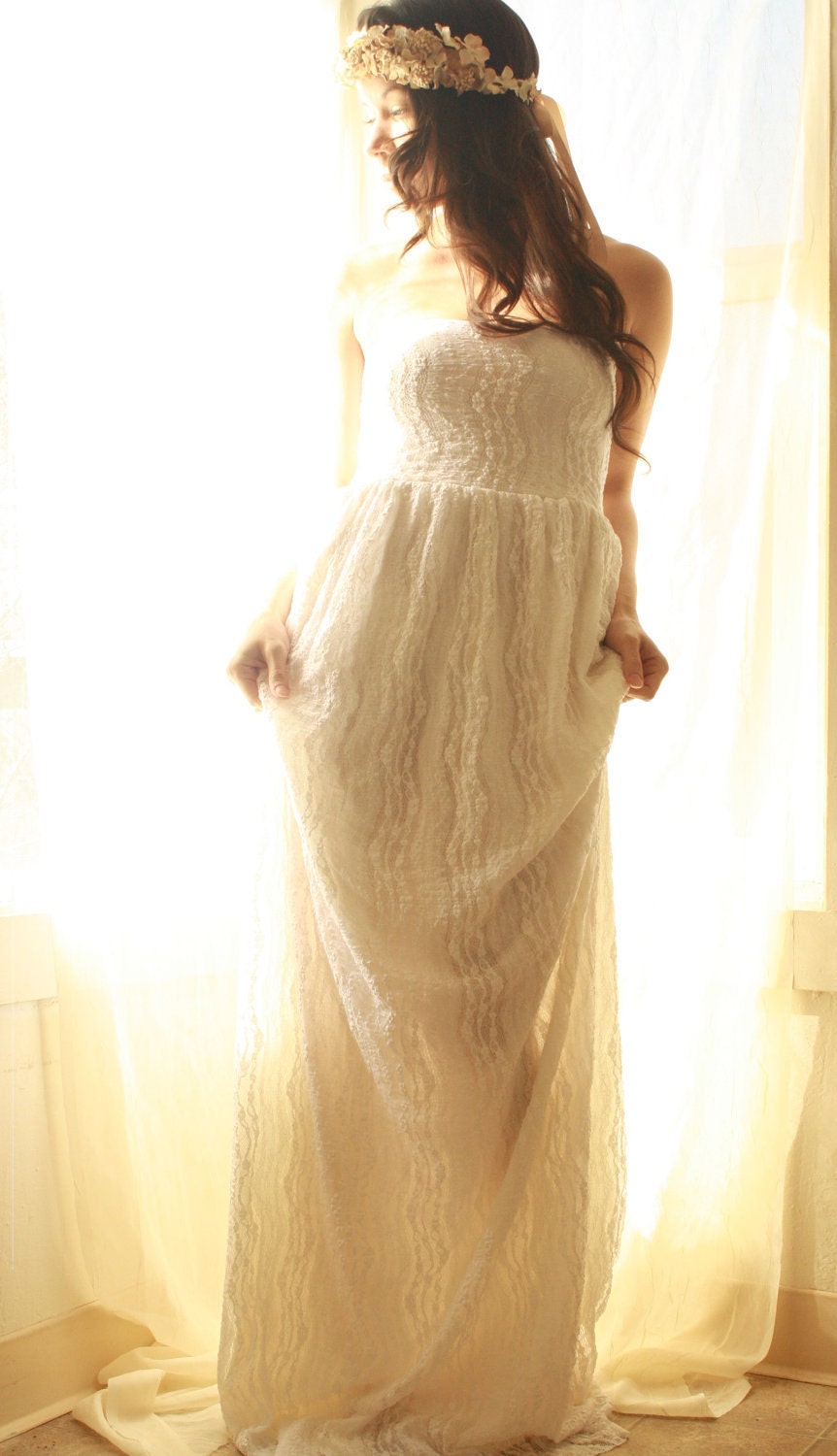 ZephyrGrahamParis, $489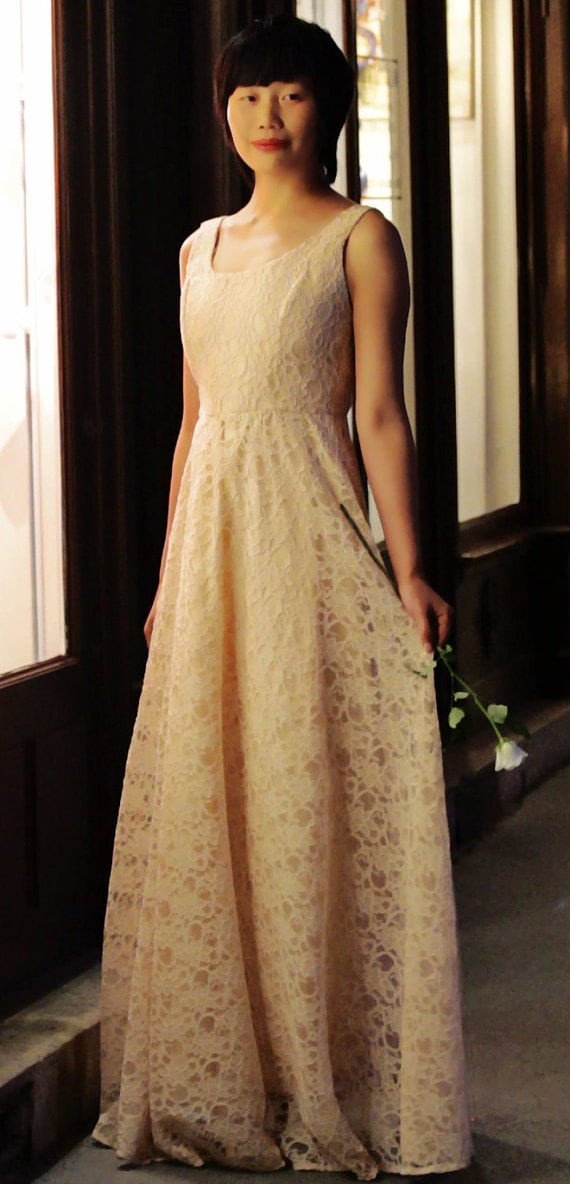 KtJean, $480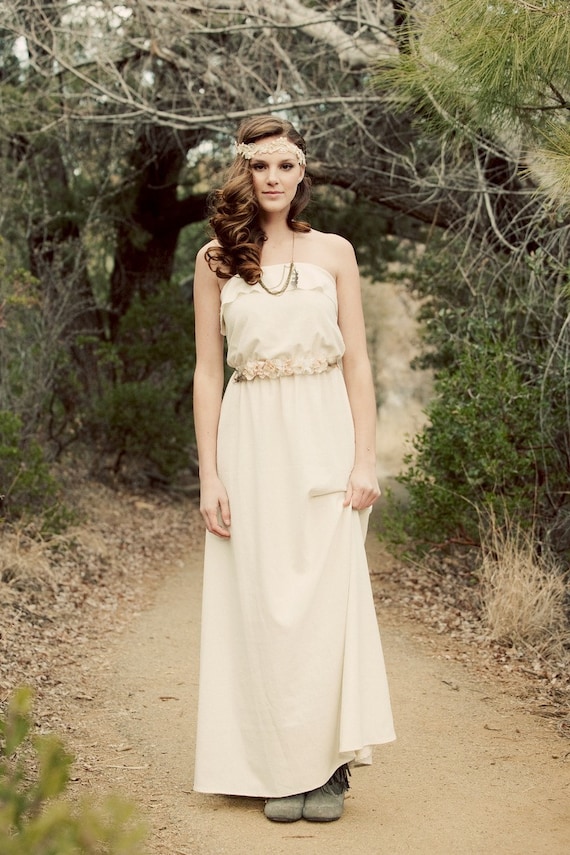 Lolileu, $450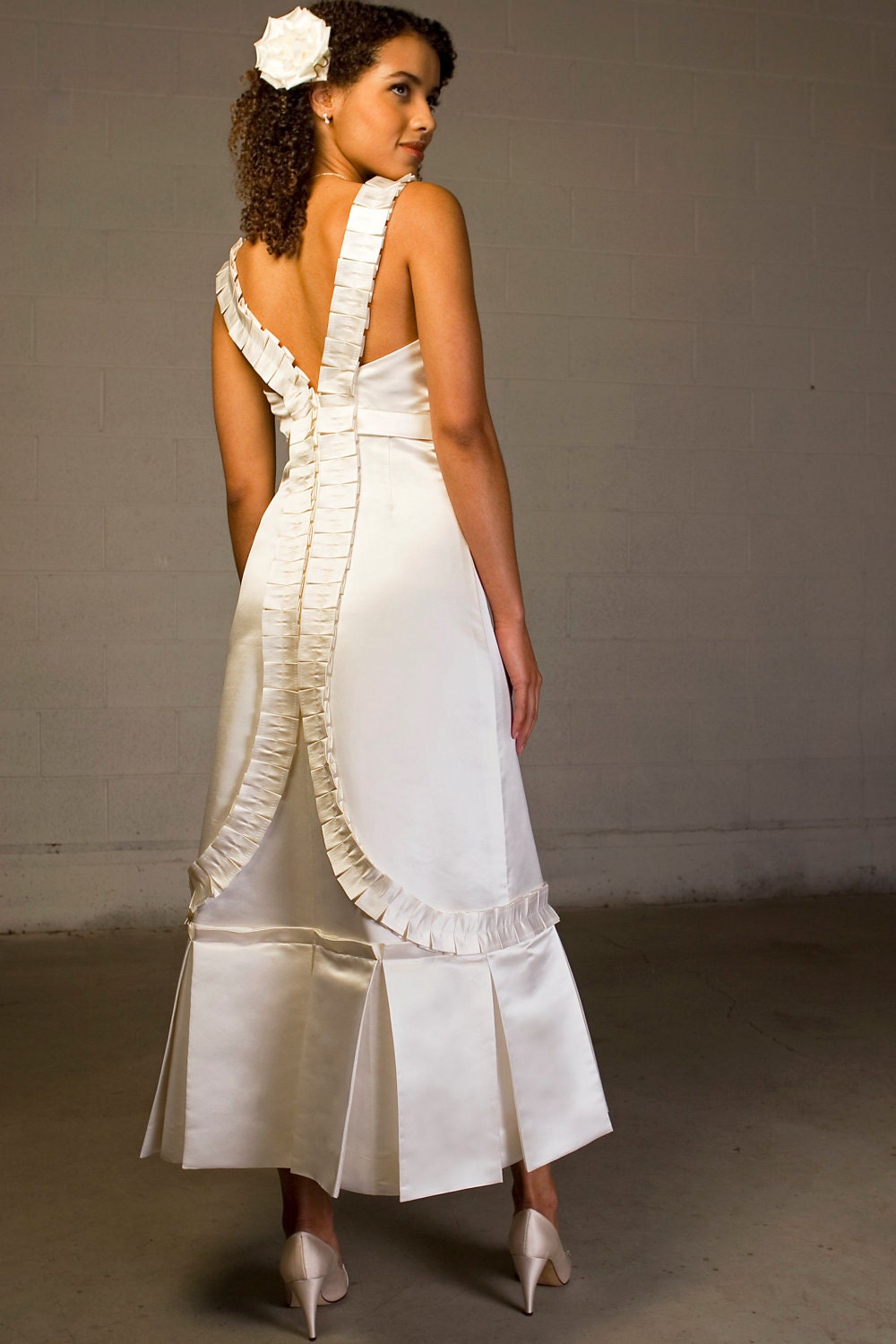 ElianaCouture, $425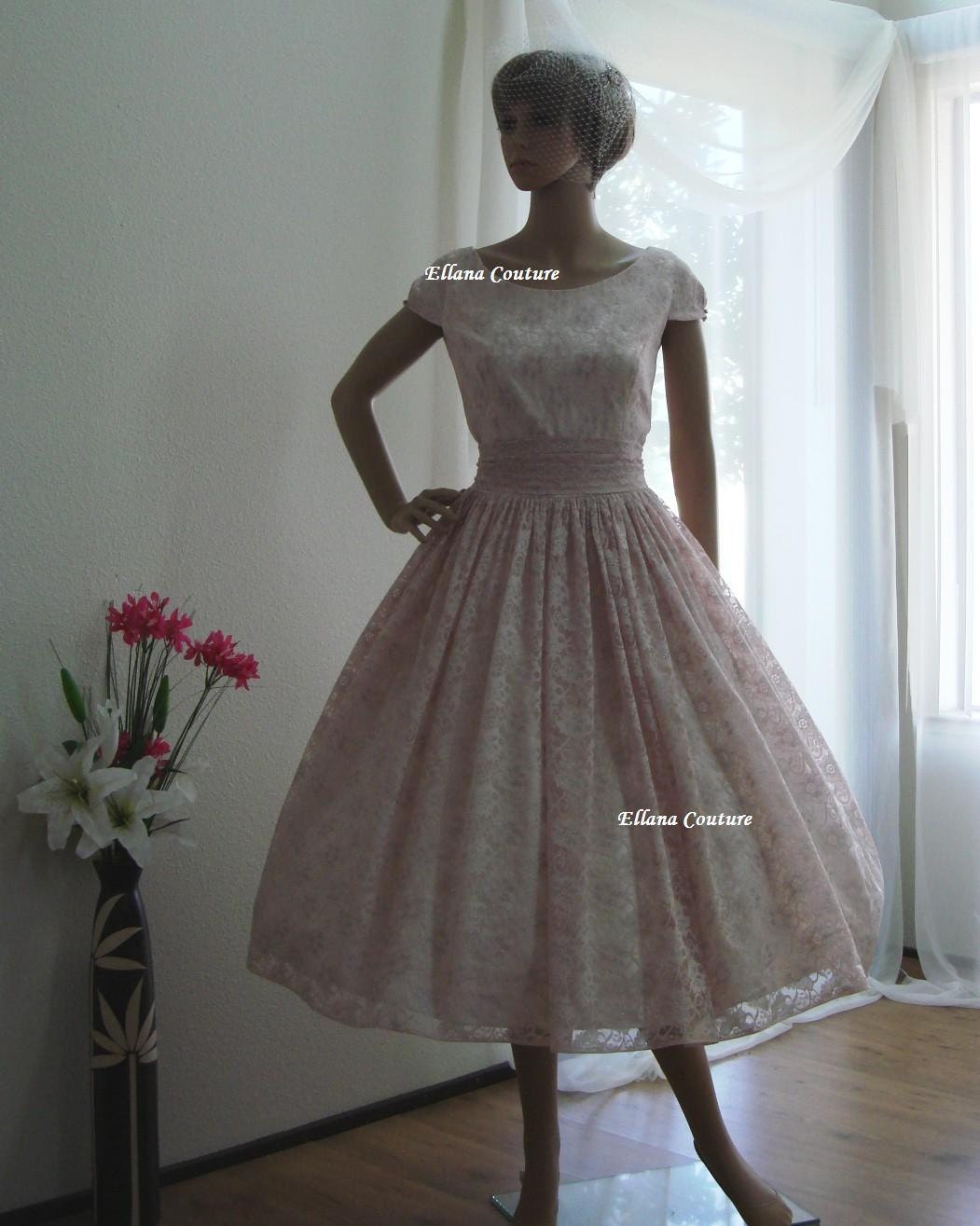 FrenchKnotCouture, $425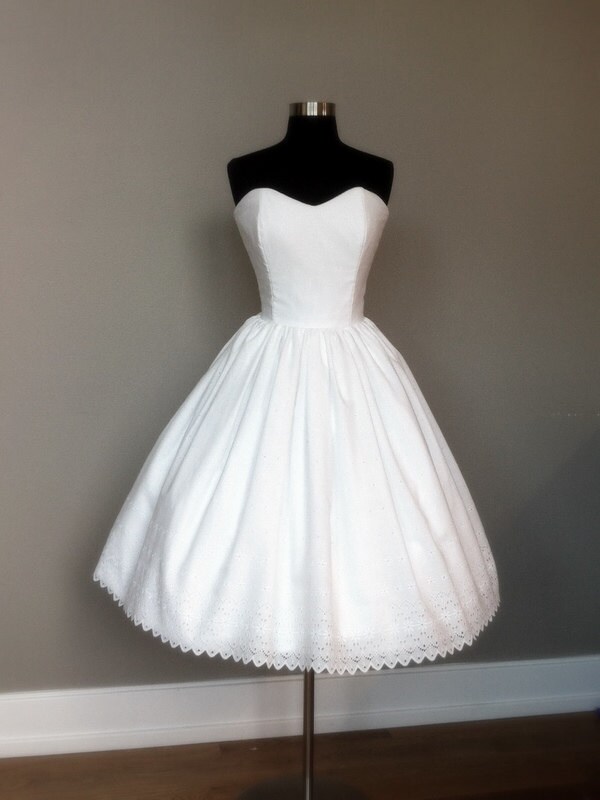 Have any of you BABs found your dream dress on Etsy? We wanna see it! Leave a link below in the comments!