---
Posts in the 'pumps' Category
Shoes are a personal weakness of mine. Finding the perfect pair of glittery heels for my own wedding was one of my favorite online searches  – ever. This week, I was once again searching for glittery dancing shoes.
I am in love with the Kate Spade Krysta multi-colored shoes. The $328 dollars is definitely not in my price range so I was hoping you could help me find something similar for less than that. I do love the bow, actually it's basically my favorite part!
Thanks!
Payless Budget
Given your Payless Budget sign-off, I set the budget at $55 and under. What do you think about these sole sisters?
CAN'T AFFORD IT
Kate Spade ($328 at Piperlime)
GET OVER IT
Madden Girl Jassper ($49 at Lulu's)
Love Glitter Pump by Carlos Santana ($49.95 at DSW)
Lulu Townsend Illene Multicolor pump ($49.95 at DSW)
Type Z Darla Multi ($48.99 at Zappos)
Madden Girl Tiarah ($46.99 at Zappos)
Blink's Gold Baileyy ($54.99 from Heels.com)
My Delicious Idol Oatmeal Bow Peep Toe ($28 at Lulus)
Kitsch Couture Gina Glitter Heels (£35 at Bank Fashion)
J. Renee Rosina ($79.95 at Zappos.com)
As you can see, the most similar pair are undoubtedly the  J. Renee Rosina slingbacks. They're a little pricier than the rest of the lot at almost $80, but look the closest in spirit to the Kate Spades you're lusting for. In my self-imposed price range, I had trouble finding both the bow and the right glitter color combination. However, there are a number of options that are definitely inspired by your favorite shoes. Any BABs out there have tips about adding glitter to a pair of heels? Or maybe a bow could be added to shoes that already have the perfect glitter? All crafting tips welcome ladies. Please share.
I'm squealing with excitement over this week's Can't Afford It/Get Over It!  We are delving into the wide and wonderful world of shoes!  And I have to admit, here and now, that I have a shoe addiction!  I am a SHOE-A-Holic and I have no desire to change any time soon!  And it looks like BAB reader, Jenn, will be in attendance of my Shoe Worship meetings!  Here's what Jenn wrote in to tell us:
"Hi!
I love your website! I'm dying to know if you have seen any shoes that compare to these Louboutin Shoes, but on a broke-ass bride budget. I believe the regular price for these is almost $2000!!
Thanks!!
Jenn"
Ok, Jenn!  Here's the skinny on these beauties!  I don't believe they were ever on the market for us poor shoe-a-holics. The one, and only, time I have ever seen them is on Christina Aguilera's feet!  I'm certain that they were custom made for the movie set of "Burlesque" and the lucky lady, Christina, got to keep 'em!
You did write in to the correct place!  Being a Broke-Ass Bride and a shoe addict myself, I am in the same boat!  In over my head, head over HEELS, total, stupid, gross, adoration & awe of Christian Louboutin! You love the Burlesque shoe and I love the Gino T-Bar Beige!
So I set out to find my shoes, even knock offs would do!  As long as I got the look, I would be happy.  So I found this website that claimed to be an outlet for Louboutin.  I found my shoes and I dished out $135.00 for them.  I waited a month with no shoes.  I e-mailed them requesting the status of my order and informing them that they were my wedding shoes, only to find that they had lost my order!
So, I forwarded them my order confirmation.  They e-mailed me back to tell me that they had found my order and it was in the mail.  I got the shoes on my Birthday!  I was so excited!  I tore them open only to be hit with the horribly offending odor of paint & plastic! They were so wrong!  So, so, so very wrong!  They didn't fit correctly, the souls were scuffed, the patented leather (if it was leather) was damaged at the heel and toe.  The inner-soul wasn't cut down to the size of the shoe and there were frayed ends where the stitches were.  I was so incredibly disappointed!
But, hey, you get what you pay for.  Right?  Wait a minute….
I payed freakin' $135.00 for those knock offs!  The least they could do was make them wearable!  So here I am re-canting my tale in poor Jenn's CAI/GOI.  Ladies and fellow shoe addicts, please don't buy from the christianlouboutin-outletshop.com !  If you have to have those red soles, scrimp and save your pennies and please go to the Official Christian Louboutin website.   You can search the web for used red souls  but please, Buyer, be ware! Or you can make your very own Faux-Boutins!
Now that I've said my peace, let's get on with the show!  Jenn can't get over her Burlesque Louboutin Dream Shoes!  I have some solutions that don't involve any outlets claiming to be Christian Louboutin!  So….
Can't Afford It?
Christian Louboutin Burlesque $2,000.00
They don't list them on the web site
Get Over It!
etsy.com   $250.00
seller: EclecticOrnaments
etsy.com $129.00
seller: emma999
Nina Sadi Ivory $129.00
Madden Girl Oyzter Glitter Pump $29.94
Lulu Townsend Ivy Pump $54.95
Chinese Laundry $69.95
Badgley Mischka "Stella" $66.99
G by GUESS Krizzie Pump $39.95
Joan & David Cutie 2 $197.99
Touch Ups "Bobbie" $55.99
rsvp "Lovely" $32.70
Nina "Evadne" Ivory $31.99
Ok, I know that a bunch of these look-a-likes don't quite look like the Burlesque Pump but I have a few tricks up my sleeve!  I'm a B.A.B. Certified Savings Ninja, remember?!  So, here's what you do, Jenn.  You purchase your shoe of choice from those listed above or from your own find and you CUSTOMIZE them to your Louboutin prefrences! You can paint the soles  You can add a pouf-tacular shoe clip! And/or you can have them be-dazzled, Be-jeweled, and totally blinged out!
 Being your trusty Certified Savings Ninja, I'm gonna tell you how to do it!  If you wanna faux red sole, you need to buy a sample gloss paint from a hardware store or paint store.  They are usually no more than 5 or 6 bucks, sometimes less depending on the quality of the paint. You'll have to tape off and seal your new, soon to be, Faux-boutins so that the upper of the shoe doesn't get damaged or stained in the painting process.  Once, you have protected your bridal shoes, paint on at least 2 or 3 layers to get the right coverage and hue.  A can of spray gloss sealant would be wise.  When they are dry, unwrap and un-tape 'em.
So you have your red souls on your new shoes but you opted for one of the peep toes above that doesn't have any poof. Don't fret!  Etsy.com is your saving grace!  Choose any of the shoe clips below to enhance any of the shoes above!
Get Over It!
Shoe Clips
Lace Peacock Ivory $ 42.00
Seller: misunbridal
BIG Organza Flower Shoe Clips $38.00
seller: finkshop
Light Gold Leather Flower Cluster Shoe Clip $26.00
Seller: finkshop
Haley Shoe Clip $35.00
Seller: hunlovegee
3 Piece set $ 25.99
Seller: angelina28
Pink Champagne Flower $17.00
Seller: FlyingPigCreations
French Fashion Inspired $38.00
Seller: sofisticata
Ivory, White, or Champagne Flower with Feather $55.00
Seller: ClarkandDiversey
I hope against hope that this post helped you, Jenn!  It's been a long journey through Louboutin Land but I hope this GAI/GOI helped you in your search for your "Burlesque" look-a-likes!  Best wishes, Jenn!  All this excitement and shoe adoration has me feeling faint!  I'm gonna go lie down and dream of gorgeous shoes…..
Reader Request
Hi fellow broke-asses! I've got a cry for help. Basically, I need some shoes for my wedding. Not too hard, but I'm vegan, so I need them to be all man-made materials. Additionally, my groom is not much taller than me, so while I'd like a small heel or wedge, I need it to be 2″ or less. I'd prefer something with a vintage-y flair, but I'm open to just about anything. Can you help? Thank you!
Of course we can help! Here are some low-heeled, animal-friendly shoes for you.
Anthropologie, $68: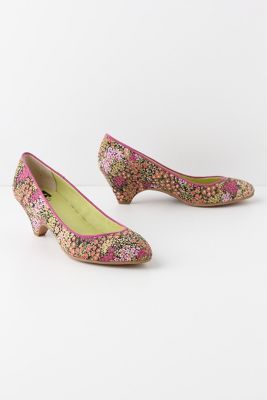 BC, $69:
Alternative Outfitters, $23:
Bouquets, $69:
(also available in white, silver and purple)
Bandolino, $48:
White House Black Market, $40:
Modcloth, $65:
Olsenhaus, $50:
The right pair of shoes can take an outfit from beautiful to stunning.Shoes can be demure, shoes can provide a pop of bold color, shoes can dazzle, and most importantly, shoes can help you dance the night away. Vive la différence! BridalShoeStyle.com has shoes for every wedding style–from beachy sandals to sky-high heels and everything in between!
BridalShoeStyle.com not only offers a huge range of styles from bridal to bridesmaid to junior bridesmaid and flower girl, they also have a rainbow of colors and metallics for maximum sparkle and pizzazz, AND they let you know if any given shoe style can be dyed for the ultimate in customization!
This week, one very lucky BAB will win a pair of shoes from BridalShoeStyle.com — winner's choice! Plus, this week EVERYONE is a winner, because BridalShoeStyle.com is offering a special 30% discount for our readers (until February 28th) with the code BABNEWS30!
There are two ways to enter to win! Just subscribe to our Broke-Ass Brigade newsletter (if you haven't already) or leave a comment on this blog post! Please make sure to leave an email address, twitter handle, or some other way to contact you in your comment…and let us know which shoe style is your favorite! We're curious…
For most brides, the dress is something that we wear on the wedding day and that's it – one and done. But wedding shoes, well, we can wear these over and over! Since the holidays  are coming, I wanted to put together a roundup of sparkly, bling-tacular shoes that can be worn by a bride, wedding guest, or holiday partygoer. And all of these are $150 or less!
1.  Topshop $110 // 2. J. Renee $80 // 3. Urban Outfitters $49 // 4. Old Navy $35 //
5. Jeffrey Campbell $120 // 6. Steve Madden $150