---
Posts in the 'lace' Category
Hello my BAB's! I hope you all had a fantastic 4th of July weekend filled with plenty of sparklers! Summer sure is flying by. We've been getting lots of requests from you ladies which is so awesome. This week we're helping a BAB get over this very lovely gown from the 2014 collection of Elie by Elie Saab for Pronovias. I have spent many days just staring at Elie Saab dresses, trying to lift my jaw off the floor because they're … perfect. He started designing wedding dresses over 30 years ago and every collection is more beautiful than the last. There are always some beautiful, intricate details that make his gowns really stand out.
Elie Saab's "Louisse" $8,800 at Pronovias
V-Neck Floor Length Chiffon Charmeuse With Ruffle Lace Beading (Style: 017019722) $176 at JJsHouse.com
*Comes In Ivory, too.
V-Neck Charmeuse Court Train Wedding Dress (Style: 01538210) $250 at LightintheBox.com
Full Ball-Gown Skirt With Delicate Lace, Tulle & Crystal Embellishments (Style: 30369367) $380 at BHLDN
Beaded Ruched Bodice & Cap Sleeves Are Embellished With Exquisite Crystals (Style: P4672) $538 at Unique Vintage
A-Line Gown With Lace Cap Sleeves & V-Neck With Lace Inset (Style: 325062) $750 at Ann Taylor
A-Line Gown Gown Made In Royal Duchess Satin & Tulle Overlay (Style: BL083) $776 at HouseofBrides.com
Crystal Beading Trims The Embroidered Lace On Organza (Style: 5202) $1,049 at BestBridalPrices.com
Crystal Beaded Embroidery & Alencon Lace Appliques On Net With Wide Hemline (Style: 2616) $1,180 at BestBridalPrices.com
I hope I was able to find some other dresses you can love just as much. Let us know what you think! Until next week, BABs …
Got a gown that you just can't get off your mind? We're happy to help you get over it! Just tell us in the comments below! Please remember to include the budget you're working with so we can find you the best alternative for you.

*As always, please do your own research before buying a gown online. Team Broke-Ass is here to provide you with inspiration and resources, but it is up to the consumer to know what they're purchasing.
Oh hai der, BAB's! You ladies have been keeping me busy with such lovely requests, and this week is no exception. The friend of a BAB hit us up on Twitter to see if we could help her friend get over a heavenly Monique Lhuillier dress from her Fall/Winter 2014 collection. The vine and lattice motif details are truly unique and give the dress a very romantic feel. I am not even surprised this dress is $7,000! But once again, we are talking about a dress that could pay for an entire wedding and that's just not gonna fly. Here's what she is looking for:
"Illusion neckline, kind of drape-y, short sleeves, floor length with no train, lots of lace."
So, without further ado, let's do this.
Monique Lhuillier's "Valentina" $7,000
A-Line Dress With Illusion Neckline & Waist Sash $120 at ModCloth
A-Line Tulle Dress With Lace Beading (Style: 002004543) $233 at JJsHouse.com
Trumpet Mermaid Gown With Short Sleeves & High, Illusion Neckline (Style: 10469083) $280 at TBDress.com
Lace & Chiffon Gown With Short Sleeve Illusion Neckline & V-Back (Style: GA2223) $481 at BestBridalPrices.com
Cap Sleeve Chiffon Sheath Gown With Lace Detail (Style: WG3686) $724 at David's Bridal
Wedding Dress With Lace Overlay, Sweetheart Neckline & V-Back $779 at Etsy
I hope I was able to help your friend find something a little more BAB friendly. Sometimes it's hard to find all of the elements you want in one dress so let me know what you think. Please write in with any other requests as we're always happy to help! Until next week, BABs …
Got a gown that you just can't get off your mind? We're happy to help you get over it! Just tell us in the comments below!
*As always, please do your own research before buying a gown online. Team Broke-Ass is here to provide you with inspiration and resources, but it is up to the consumer to know what they're purchasing.
Sarah wrote in this week looking for a Can't Afford It? Get Over It! gown that embodies three lovely dresses she found. She was surprised that so many unique bridal designers are out of Israel. To be honest, I kind of was, too. These dresses (in Jem fashion) are "truly outrageous!" The construction, beautiful fabrics and detail that go into these one-of-a-kind designs are some of the loveliest I've EVER seen. Here's what Sarah had to say:
"I'm having such a can't afford it moment right now! I'm absolutely IN LOVE with all of the Israeli designers out there (who knew that Israel is where the creme de la creme of wedding fashion resides … not this girl … until now!). And while I know you aren't going to get the same high quality fabrics as you would with these dresses. I want something that hits the same tone as any of these dresses for under 2k"
I couldn't find exact prices for these dresses but let's just say you could have a pretty spectacular honeymoon for any one of them.
$$$$
Chiffon A-line gown with a small cowl neckline with flowing open sleeves (Style: 11669) $338 at Madame Bridal.
Chic Vintage V-Neck Lace Wedding Gown $376 at Etsy.
Satin Strapless Mermaid Gown With Embellishment (Style: 111209 Khloe) $778 at HouseofBrides.com
Satin Strapless Gown With Sweetheart Bust Line (Style: 11237) $898 at Madame Bridal.
An Elegant Combination Of Crepe And Romantic Lace (Style: 28923803 / Odessa) $1095 at BHLDN.
Shimmering Beaded Embellishments Showcase The Lovely Illusion V-Neckline (Style: 15535) $1,149 at Madame Bridal.
Crystal Edged Alencon Lace On Lustrous Satin (Style: 1967) $1,196 at House of Brides.
Sweetheart Tank Bodice With Figure Flattering Corset (Style: ZP345006) $1250 at David's Bridal.
Crystal Beaded Embroidery On An Allover Alencon Lace Gown (Style: 2675) $1450 at BestBridalPrices.com
This Hand-Embellished Gown Glimmers With Beads From The Double-Strap Back To Floor Skimming Hem (Style: 31883556 / Elsa) $1495 at BHLDN
You should also check out Grace Loves Lace because they have a KILLER selection of unique dresses. A couple of my favesies are, "Giselle" and "Dillon." This boutique is in Australia so if you convert AUD to USD, most of them will still fall within your $2K budget even with S&H. BAM! Please let me know what you think or if you would like more suggestions just let me know in the comments!
Got a gown that you just can't get off your mind? We're happy to help you get over it! Just tell us in the comments below!
Happy Friday, BABs! My love for BHLDN grows ever stronger, especially with the release of it's Summer Lookbook this week. The first image in the lookbook featured one of its gorgeous gowns coupled with an ethereal flowing tulle skirt, and I DIED. Far be it from me to keep the love all to myself, so for this week's Five for Friday, I picked my five favorite looks from BHLDN's Summer Lookbook.
Ellie Gown, $1,395.
I've been finding myself loving lace a little more these days, and the cap sleeves paired with the slight keyhole in the back plus buttons made me swoon a bit.
Valley Dress, $800.
I'm a sucker for short white dresses, and this one nails it. I love the lace shoulders and the faint tie at the back of the neck is such an unexpected but sweet addition.
Elsa Gown, $1,495 + Elsa Tulle Skirt, $595.
You guys, I can't even with this. The Elsa Gown on its own is stunning — beading, slim lines and totally reminiscent of flapper-ish style. Add in the tulle skirt? Game over. I would wear the shit out of that skirt even well after my wedding day.
Nuptia Dress, $500.
The Nuptia Dress just screams out to be worn for a pretty, casual garden wedding or a bohemian beach bash. Normally, tiers and ruffles aren't really my jam, but I feel like this dress is so well balanced and subtle, that it makes me second-guess my hesitation.
Waterfall Dress, $850.
I have to admit, sleeves have been growing on me. And I think this particular sleeved beauty would be perfect for one of those late-summer/early-fall weddings when the air starts turning crisp and you have to start toting a cardigan everywhere with you.
BONUS:
Mint Sprig Booties, $110.
I'd be completely remiss if I left these shoes out, because I love them so. For no other reason than they're so gorgeous and slightly surprising in color and shape, but still completely elegant.
What do you think, darlings? Which of these new looks from BHLDN is your favorite? Tell me in the comments!
Winter brides still want to look beautiful while staying warm, right? This week we're focusing on  beautiful lace boleros, shrugs, and capelets for brides who choose to say "I do" in colder temperatures. We're using the BHLDN first light capelet, which sells for $150, as our "Can't Afford It" ideal. Our alternatives will cost under $100.
CAN'T AFFORD IT
First Light Capelet ($150 at BHLDN)
GET OVER IT
Ivory Short Sleeve Lace Wedding Bolero Jacket Shrug ($49.99 at Alex Bridal via Etsy)
Bridal White Lace Bolero Jacket ($82 at Angelina Design via Etsy)
Short Sleeve Tulle Jacket with Lace Embroidery ($99 at David's Bridal)
Short Sleeve Lace Jacket ($79 at David's Bridal)
Sweeping Waltz Capelet ($48.99 at Ruche)
Mandarin Collar Lace Bolero ($69.99 at Tulip Bridal)
Admittedly, a little lace won't keep you warm. But it's pretty… and pretty necessary in the winter. Any BABs out there find a super cute coverlet they'd like to share? (P.S. Send your "CAI/GOI" requests to emily@brokeassbride.com!)
Caitlin has a dress she can't stop thinking about.
I have a dress I can't get over…it's the Maggie Sottero "Bernadette."
I found one on Preownedweddingdresses.com, but it was $1,500, and not in my size
I've been there; literally. My dress was a sample — so there was only one made. Despite its beauty, it was a dress that would never be reproduced. Even if it was, I couldn't afford the retail price. Thankfully, with only the man power of the smallest of my bridesmaids, we left with dress during a going out of business sale. It's hard to get over it once you have found "the one." But even so, we've got a few fab options for you to consider.
CAN'T AFFORD IT
Maggie Sottero Bernadette (Retails for about $1,650)
GET OVER IT
Romantic Lace Wedding Dress, Ivory Lace Open Back Wedding Dress ($799 at RuffleNBustle via Etsy)
Lace Wedding Dress Backless ($559 at Leontina Couture via Etsy)
Scalloped Lace Cut Out Mermaid Wedding Dress ($499.99 at For Her and Him)
Backless Mermaid Wedding Dress with Lace Cap Sleeves ($529.99 at For Her and Him)
Lace Over Satin Gown with Illusion Back ($749 at David's Bridal)
Cap Sleeve Lace Over Satin Gown with Illusion Back ($724 at David's Bridal)
There you have it. Most of these options clock in at about half the price tag of that Maggie Sottero. You CAN create a luxe lace look for less, without creating too much debt.
Got a CAI/GOI request for the gang? Email it to emily@brokeassbride.com, and she'll pass it on to Tori and Heather, our CAI/GOI mavens! 
Candice is smitten with a loverly and lacey gown that is way our of her budget!  Poor thing!  Let's see what Candice had to say….
So I thought it would be worth a shot… I LOVE the The St. Pucchi Avine 506! The  lace is gorgeous and the back is to die for! However, I too am a BROKE ass bride and I can't afford the thousands of dollars this dress costs. I am open to any suggestions you may have.
Thank you for your help and thank you for being there for those brides that live on a budget but still want to be beautiful on their wedding day!
Candice
Candice is in adoration of one of the top bridal designers out there – and of course, she's not alone!  Many a BAB drools over a designer dress, knowing in our heart of hearts that it will never happen for us. BUT, what we can do is create an optical illusion – tricking our guests into thinking that we spent a boat load when, in reality, we won't be going into debt for a once in a lifetime dress on a once in a lifetime day!  We at BAB are quite the magicians!  So without further ado, ALAKAZAM!
Can't Afford It
$7,000.00
Get Over It
Watters & Watters
Watters Lourdes
I am obsessed with this dress!
Lace Fit & Flare style # KP3221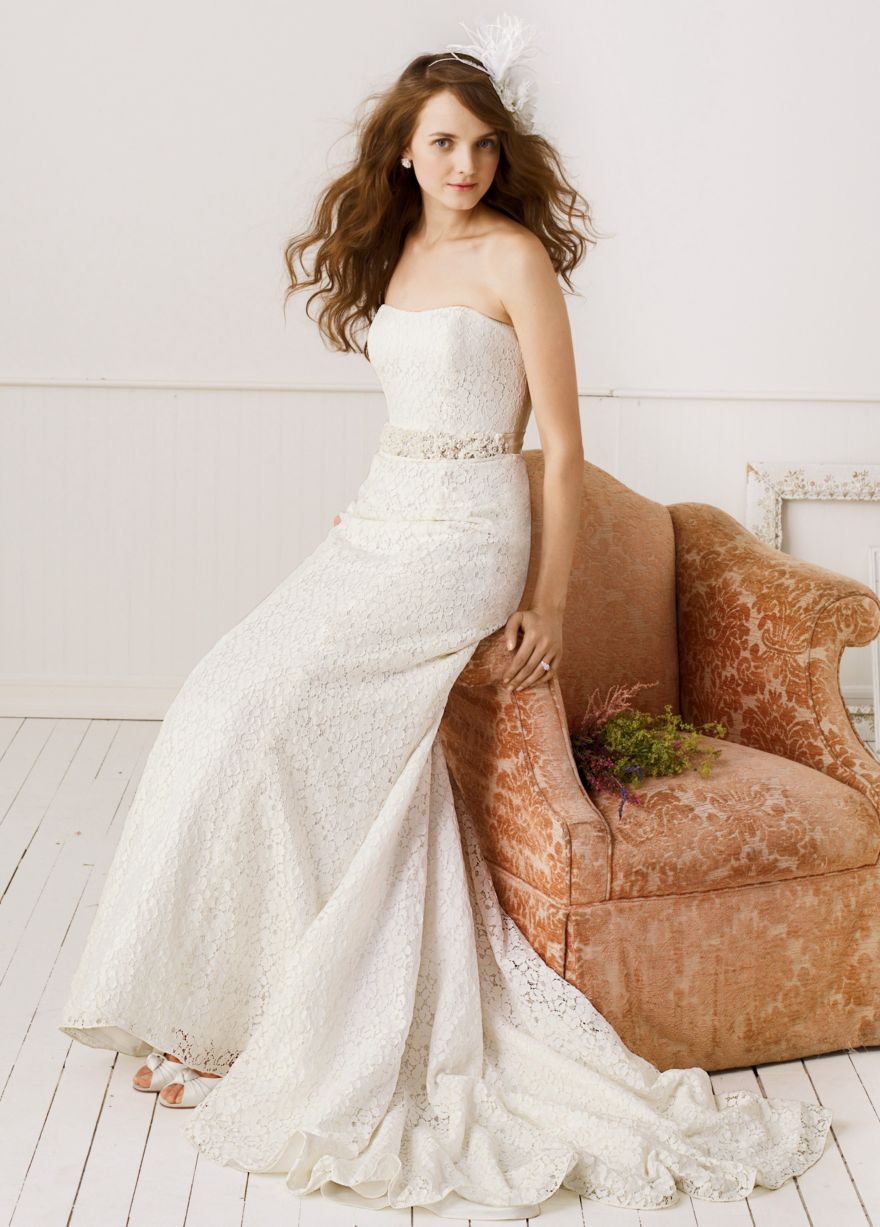 Alfred Angelo #1816
Jim Hejlm Style # JH8763
Lace Wedding Dress inspired by Jim Hejlm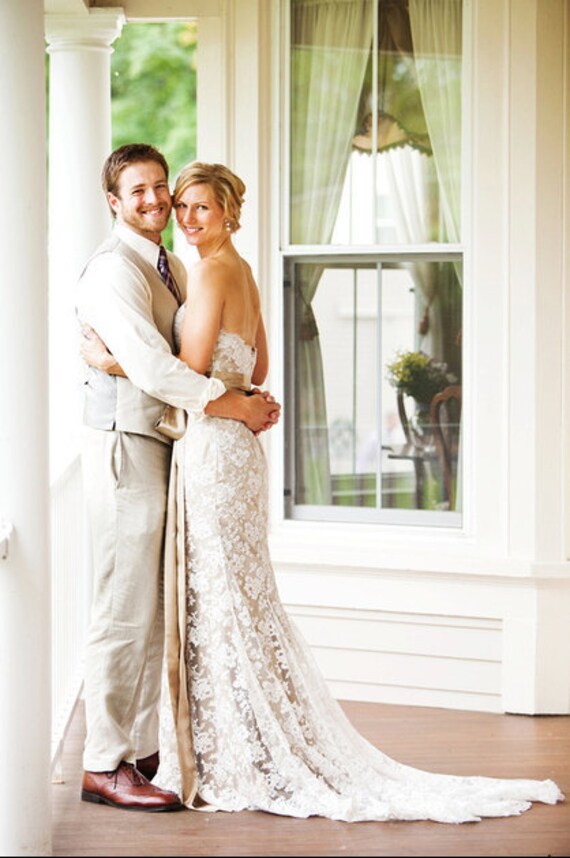 Jim Hjelm style #1104
There you go, dear! Seven alternatives to the $7,000 St. Pucchi. Save your seven grand for a new car or a down payment on a house! Your big day will be magical enough with out having over paid for a dress you'll likely only wear once.  The real magic is that you and your hubby to be are in love and happy.  Poof!  No additional slight of hand required!
Lace  is a feminine, romantic classic – and it's so IN right now. Whether you're on the hunt for a gorgeous lace gown, shoes, or hair accessories, we've made you a little lace primer. So without further ado, here are some affordable lacy pieces for your wedding day.
Dress $298 // Shoes $165 // Clutch $64 // Gloves $40 // Headband $85 // Shrug $70 // Necklace $20
Who says that you have to wear a dress to your wedding? It's very en vogue now to wear a top with a bottom, and even to swap out your skirt between your ceremony and reception. Best of all, you can wear most of these items post-wedding with more casual items. Win-win, y'all!
Here are some mix and match separates for any price range. Which would you pair together?
Tops: Modcloth $60 // Free People $148 // Old Navy $40 // Karen Kane $62 // American Apparel $46 // Elie Tahari $239
Bottoms: Adam $295 // Club Monaco $140 // BHLDN $800 // BCBG $298 // Talbots $40 // Wyatt $98
 - Dana F.