Posts in the 'handmade wedding' Category
Our engagement was just about a year and a half long, which was plenty of time to accomplish all of the things I had planned, if I actually worked on them and didn't spend the bulk of my time fixating on one detail or entirely new things. Pinterest was my best friend and my worst enemy at the same time.
With about a month left to go, I had to buckle down and actually start doing all of these projects I'd dreamed up and pinned or let them go. I'm a bulldog for projects so I had no intention of letting them go, which means I spent a lot of time cutting, filing, sanding, designing, drilling, gluing, painting, printing, swearing, and candymaking, taking breaks for both the bachelorette party and bridal shower.
The fine folks at WeddingMix have put together a video that accurately captures all the last month of our engagement, minus some of the crying and the swearing:

I can tell you right now that those pretty doily lanterns DON'T WORK with paper doilies (I wanted a bunch, but lace doilies are surprisingly expensive); they just look lumpy and sad and severely unpretty, and I took a great amount of pleasure in both punching mine and throwing it away. And learn from my mistake and don't put hot candy in your mouth. What was I thinking?
Out of all of the symbology involved in weddings, perhaps nothing is more deeply symbolic than the exchange of wedding bands. Wedding bands are a daily reminder of your love and commitment to one another, a circle without beginning or end, made of precious materials just as you are precious to one another.  Vena Amoris is a Latin name, meaning literally "Vein of Love", derived from the ancient belief that a vein runs directly from your heart to the fourth finger on your left hand, hence the placement of wedding bands on that particular finger. While this belief is a fallacy, the tradition remains, and we're glad, because it means you can gaze at your gorgeous handcrafted rings from Vena Amoris Jewelry all day long for the rest of your lives.
Vena Amoris makes their bespoke work based on a love of pieces from a long ago era; Middle Age and Renaissance religious art and most of all Mideast and Mediterranean jewelry. Each piece is individually handcrafted, starting from the alloying of the metal to the fabrication of the pieces. Vena Amoris works mostly with sapphires and diamonds, and they make a conscious choice for most of the center diamonds they use based on their unique qualities–just like a relationship, it carries its darkness and light within it, and when taken as a whole, shows the dynamic beauty of its inherent qualities, creating something wholly unique to you and your partner.
This week, one incredibly lucky BAB will win a silver his & hers wedding set from Vena Amoris Jewelry (your choice of ruby, sapphire, or champagne diamonds)! Want them? Need them? Gotta have them? Get an easy free entry by subscribing to our bi-weekly newsletter! It's packed with the best deals, steals, and sass on the web, and we'll never spam ya! Go forth, and may the odds be ever in your favor!
Hey everybody!  Long time no write!  Life is awesome (but busy) here in newlywed-land!  I can't believe it's already been four months since Zach and I tied the knot!
A little preview of our wonderful day!
To start off my recaps, I thought I'd update you on how all of our last minute DIY projects turned out!  I was pretty stressed about all we had to do in the week before our wedding.  It was definitely a lot to do, and the process was not without its hiccups.  I'm pretty proud of how everything turned out in the end though!
One of the first things we tackled was our tablecloths!  In order to create the exact hues we wanted, we used this handy Rit Dye Color Formula Calculator.  The hardest part of the process was just figuring out how much dye we needed to make and calculating the amount of each color to use for a huge bucket of dye.  Once we got it figured out though, the dip dyeing was super simple!
Tablecloths in windy action! 
Our next big project was a photobooth!  My "Pinspiration" was this photo booth:
But with a little ingenuity and use of some already-lying-around wood, this is what Zach built:
Suffice to say, it was a HUGE hit and totally worth all of our (mostly Zach's) hard work!
Inevitably, there were a few projects that fell by the wayside.  We never got around to making an arbor or focal point for our ceremony.  Oh well!
Our biggest project was definitely self-catering our food and desserts!  Thankfully, we had a lot of help from family and friends, and everything came together beautifully and deliciously in the end.  It was definitely a busy week in the kitchen!  We actually ended up with too much food!  Here's a little peek at the dessert spread my mom, sister, and I slaved away over:
Mmmmm…
Would I recommend saving so much DIY for the week before your wedding?  Definitely not!  Making all this happen and getting along while doing it was not without its challenges!  I'm so happy with how everything turned out in the end!
Did you save lots of DIY for the last minute?  How did it end up for you?
(Special thanks to our photographer Bright Fizz Photo!)
Here at Broke-Ass Bride, we LOVE multi-purpose wedding party gifts! Not only is it nice to thank your attendants for all of their hard work and support, but it's even better when you give them something they'll be able to use over and over–like these beautiful mini totes from OohBabyInfinity! Just imagine: they're perfect for carrying all of the bits and bobs they need for the wedding day, including emergency kits, water bottles, flip flops, etc…but with their on-trend prints, they're also perfect to pair with a maxi dress or a sweet cardi while out and about on the town. And since they're made with attention to detail from high-quality fabric with a waterproof PUL lining, they're a gift that will stand the test of time! Want an extra sweet gift? Try adding one of OohBabyInfinity's infinity scarves! Plus, OohBabyInfinity recognizes that you're under enough financial strain as it is, so all orders of four or more bags or scarves are 15% off, and through the 18th of October, Broke-Ass Bride readers will save an extra 3% with the code BROKEASSBRIDE!
Want an easy free entry? Sign up for our bi-weekly newsletter! In it, you'll find contest info, great nationwide bridal deals, and super-awesome Broke-Ass Bride exclusive deals…and we'll never spam ya!
Bringing personality to a wedding while still keeping costs low  is a challenge all couples face. Etan and Megan added a great amount of character to their celebration with lots of DIY décor, and a group of people willing to dig in their heels and help this self described "bookish" couple. This Los Angeles duo focused on celebrating what they absolutely loved without going overboard. Good food, cold brews, laughter, good books, and twinkly lights are the key ingredients to this extremely charming L.A. wedding. 
Names: Etan & Megan Rosenbloom
Occupations: Etan works in marketing in the music industry and is a heavy metal music journalist. Megan is a medical librarian who works with rare books.
Wedding location: Lehrer Architects, Silver Lake, Los Angeles, Calif.
Wedding date: Oct. 13, 2012
Approximate guest count: 80
How would you describe your wedding? Everything about our wedding was very personal, from the elements of the ceremony to the DIY décor to the barn raising feeling of putting the whole thing together with friends and family. Also, all the things we didn't do ourselves we sourced super locally, whether it was the clothes, the food, the beer, so it was a very eastside of LA wedding. We had a lot of bookish decor, which makes sense as we're both pretty bookish people.
What was your favorite part of your wedding?
Megan: After all of our hard work, taking a moment to breathe and watch our friends and family all together getting hyped on the dance floor and being humbled by the fact that they were all here for us.
Etan: The heightened sense of intimacy with Megan under the chuppah.
What did you splurge on? We didn't really "splurge" on anything, but as might be expected our biggest expense was the food. But Whoa Nelly Catering worked with us to keep costs low and delivered absolutely amazing food. Our foodie and vegan friends were especially delighted with their offerings, which were all sourced from our local farmers' markets. Many people said it was the best food they've ever had at a wedding.
What did you save on? We managed to save a lot on booze. We are really into craft beer (even my bouquet had fresh hops in it!) so we wanted that to be the star of the show. A friend of ours runs a great beer bar and was able to source three California craft beer kegs for a great price, and then, sweetheart that she is, ended up gifting us one of them. So we had world class beer for our guests for a song. We got our wine from BevMo on their 5 cent sale, so a lot of our bottles were only a nickel! We didn't want to have a full liquor bar, so next to our agua frescas we had a "spike station" with a bottle each of vodka, whiskey, gin and tequila for people to spike their drinks if they wished. We also borrowed PA equipment from music friends and Etan created some great Spotify playlists for dinner and for dancing.
Was there anything you would have done differently, in retrospect? We probably should have hired a videographer. We had a lot of family & friends who couldn't make the trip. Our friend who shot the video on my personal camera did a great job stepping up to help, but my gear just wasn't up to snuff. We also should have reminded people to do certain things like use the photo booth or thumbprint the guestbook to get more participants in those activities.
What was your biggest challenge in planning? Mostly just trying to stay sane while working full-time and doing all of these DIY projects at night, and knowing when to let a certain project go if it just wasn't working out.
What lessons did you learn from planning or from the wedding itself? From planning the wedding, I learned a lot about time management and balancing all the things I wanted to create and what I could feasibly achieve. At one point, I was thinking that I was working really hard to make certain things that no one was going to notice. I was pleasantly surprised that our guests really did notice all the hard work and love that my friends and I put into all the details of the wedding. Having people come up and mention certain small elements that they enjoyed really made me proud as a crafter and made all the work worth it. I also learned not to be afraid to ask friends for help, and our friends gave us a lot of help in too many ways to list here. At the wedding itself, having everyone there for us, taking part in this very intimate moment, really hammered home just how much we are loved and supported as we forge our new family together.
What were your top five favorite things about your wedding?
It's hard to pick just five!
Our groomsman/ brosmaid Alexis was a giant help with a lot of the crafting and lighting design, and he designed one area that he could decorate however he wanted. He made us this beautiful lamp where he cut pages out of our two favorite books (Ulysses & Finnegans Wake, both by James Joyce) into leaf shapes, laminated them, and attached them to the lamp so the light glows through the words. He also made us a clever table out of dictionary where the ashtray rested on the page for "smoke" words and the cup holder rested on the page for "drink" words. He made this lovely little oasis for us where we relaxed and took a few photos immediately after the ceremony. Now both of these items adorn our home and we love them to death, and every time we look at them we think of him and all he did for us. Alexis was rewarded in a surprising way for all of his hard work…he fell in love with our bridesmaid Maryanne at the wedding and is now moving across the country to be with her!
We were lucky enough to have Etan's mom's best friend, Cantor Perryne Anker, as our officiant & pre-marital counselor. She's been present at the ceremonies for many of Etan's major life events, and was a great calming guide for both of us through this whole process. She made the ceremony personal, moving, and funny…everything we could have asked for.
Instead of the traditional parent-child dance, Etan and his mother Aviva did a choreographed Israeli folk dance to the song "Erev Ba" and everyone was very impressed by how light on their feet they were! It was a beautiful, touching moment. Aviva was glowing with motherly pride.
Watching our two very different families from separate coasts get to know each other and enjoy each other's company was a real treat. We might not ever get everyone together in the same spot again, so that was really special for us.
Watching all of our friends and family go absolutely apeshit on the dance floor was a huge highlight. I took a moment to just enjoy the scene and be glad we could bring all of these wonderful people together, if just for an evening. The first song was Prince's "Let's Go Crazy" and when Prince starts in with his little sermon, everyone just went wild. Our friends Josh, Grant and Agatha ran over to me during the song, looked at the table near the dance floor and said, "Wanna Breakfast Club this shit?" OF COURSE. So we all got up and danced on the table, and at the end of the song Etan came over and I jumped into his arms from the table and he spun me around and kissed me as the song ended. It was a total movie moment…even better than The Breakfast Club. I'll never forget it.
Top five least favorite?
The ceremony music false-started so our bridesmaid Lavinia had to swoop in and save the day by restarting it.
We found out a few days before that there were some plumbing issues so we had to scramble and get a port-a-potty for the guests. I kinda had a meltdown about it at first, but they turned out to be really nice as far as port-a-potties go, and no one cared.
The whole shebang ran late so we didn't get enough dancing time, we should have allotted more wiggle room…I think our friends could have danced for hours more!
We were so busy and things went so fast that I only got one of those delicious beers and we didn't get any pie until the next day.
The next day it was super hot, we were all exhausted, but we had to go back to the venue to take down all the decorations and clean up. That and returning all of the borrowed stuff and trying to sell the things we don't need was kind of onerous but wasn't too awful.
What was the worst piece of wedding advice you received? People told Etan to let me do everything and make all the decisions, that it was my day. That's not true, it was OUR day, and we learned quickly that making these decisions together was crucial. The last thing Etan wanted was to show up to our wedding and not even recognize what was going on, so he was involved in the whole decision-making process even if he was less involved in the actual crafting parts.
The best? Try to take time to be in the moment…it is so true. When you plan a whole year for one day, it's insane how fast it'll go by. Also whether you're a DIY bride or not, whatever you do, hire a professional event coordinator for the day of the wedding. You will not be able to manage the logistics on your own, and it's not fair to push it off on a bridesmaid or family member…they want to enjoy your wedding too, not work at it!
Any other bits of wisdom? Have the wedding that speaks to who you are. It wasn't the fact that we did a lot of things ourselves that made it personal, it was that I'm a DIY person and that reflects who I am. If you're not a crafty person, don't try to craft a bunch of stuff for the wedding because you feel like that's what you're supposed to do. We carefully picked all of our own music not only to save money on a DJ, but because we're music people and we had to have every song count. If you don't like cake, don't have one! We had pie. We've been to a lot of weddings as guests and I would say the only ones that we ever found a bit disappointing were ones where it felt like the couple was making choices because they felt pressure to from some source outside of themselves — whether it be a family member, friends, or the general wedding industrial complex. Your friends and family love you, and they want to celebrate who you are as a couple, so show them who you are in the way you do your wedding, even if that means eloping.
Vendors
Caterers: Whoa Nelly Catering
Flowers, Crowns & Boutonnieres: The Paper Arum
Photography: Lindsay Giles McWilliams (Denver, Colorado) & Sarah Law Photography: (Southern California, soon to be based in Portland, Oregon)
Musical Performance: Homesick Elephant featuring Kelly Sulick
Valet: Hollywood Hills Valet
Bride's Dress: Shareen Vintage
Bride's Hair: Megan Klammer at Heretic Salon
Bride's Makeup: Heather Cvar at Le Pink & Co. Apothecary
Bridesmaids' Dresses: Matrushka Construction
Flower Girl Dress: Made by friend
Groom's Suit: Al Weiss
Groomsmen's Blazers: ASOS
Groomsmen's Ties: Zara
Engagement Ring: Single Stone
Wedding Bands: Claude Morady
Save the Dates: Photo by Sarah Law Photography; Design by And She Designs
Invitations, seating cards and programs: Designed and handmade by the bride
Ketubah: Gallery Judaica
Ketubah Art: Peter Wonsowski
Thumbprint Guest Book & table numbers: Bear Witness Studio
DIY projects
Decor primarily by the bride Megan Rosenbloom & groomsman Alexis Bourbeau
Custom Lighting by groomsman Alexis Bourbeau (abourbeau@aol.com)
Mothers' shawls, groom's kippah, and bride's capelet knit by the bride
Challah cover embroidery by the groom's aunt Alma Schneider, sewn by the bride
If there is one lesson to take from Etan and Megan's big day it's to be realistic about your time. Most ladies become DIY divas in an effort to add personal touches to their wedding days. Luckily, friends and family are often eager to help. Be sure to let them. Be honest about your own limitations and allow others to step in and help. A wedding is your day, but those who love you truly want to offer a supporting hand in the festivities. There's nothing wrong with accepting that – in fact, it will probably help things go more smoothly.
Congrats to Megan and Etan, and special thanks to their wedding photographers, Lindsay and Sarah! 
What happens when two besties say "I do" in a sunny South African wedding with lots of DIY touches? Magic! In October, Claudi and Luan took the big plunge with a $9,000 budget for an 80-person wedding farm-style wedding. This wedding inspiration duo took their crafting talents to the limits creating beautiful hanging decorations like hearts and flowers and personalized shoes for the groomsmen. Their hard work resulted in a personal yet super pretty ceremony with noteworthy little touches throughout the day.
Names: Claudi and Luan ten Cate
Occupations: Luan, in flight chef for Etihad Airways; Claudi, housewife
Wedding location: Olive Mystery Wedding Venue, Bapsfontein,  Gauteng, South Africa
Wedding date: Oct. 25, 2012
Wedding budget: Approx $9,000
Approximate guest count: 80
How would you describe your wedding? Fun DIY farm-style wedding
What was your favorite part of your wedding? The photo shoot with our amazing photographers, Izelle and Gerhard.
What did you splurge on? The venue and food
What did you save on? EVERYTHING ELSE
Was there anything you would have done differently, in retrospect? Yes, I would spend more time with the guests.
What was your biggest challenge in planning? Incorporating what Luan wanted as he was living in Abu Dhabi during the whole planning process.
What lessons did you learn from planning or from the wedding itself? To spend more time on myself and a little less time making everyone else happy.
What were your top 5 favorite things about your wedding?
The decor and flowers
The cake/candy buffet table
Venue
My dress
Our photo shoot
Top 5 least favorite?
Not having enough time with the guests
The day going by so quickly
What was the worst piece of wedding advice you received?
"You need to stay on top of things and manage it carefully!" This advice is the worst because micro managing everything will just annoy those around you and face it, not everyone is as excited about your wedding as you are. In fact weddings tend to bring out the worst in some people…
The best?
Relax and let go. Nobody has the script for the day, they won't even notice if the flowers are fuchsia pink instead of baby pink. The ambiance and atmosphere is what creates the mood and feeling so be happy and enjoy it.
If you've been married for more than a year, what have been some challenges?
Even being married for six months has its challenges. Like my husband not understanding the concept and importance of closing the toilet lid. Also, relocating to Abu Dhabi and having to start a life here from scratch is quite a challenge.
Any other bits of wisdom?
Don't sweat the small stuff! The world will not end if the linens are navy instead of sapphire or if the white roses have a slight green tinge. Remember what the day is for. It is about saying "I do" and if the wrong flowers or linen will prevent you from saying "I do," then you should reconsider getting married. My philosophy is, if you are not willing to get married in a moldy old court house without the whole white wedding then you should not be getting married. Then you are getting married for the wedding and not the marriage!
Also, try and do as much as you can by yourself. Your wedding is the day you can recreate all those amazing DIY projects you keep pinning on your wedding board on Pinterest! This keeps it personal and saves a lot of money. All it takes is some creativity.
Budget breakdown
Venue and Food: $5,000
Decor and Flowers: $300
My Dress and Accessories: $700
Groom's Outfit:$300
Bridesmaids dresses: $70 (for all the bridesmaids)
Groomsmen Outfit: $200 (including All Star Shoes)
Hair and Makeup: $450 (for all the girls and my mom)
DJ and Photobooth: $900
Invitations and Stationary: $50
Photographer: $850
Extras: $200
Vendors
Photographers: Iz Photography by Izelle Labuschagne
Wedding Dress and Bridal Accessories: Ivy Bridal House, Rachel van Loggerenberg
Venue:   Olive Mystery Wedding Venue, Anja Bands, olivemystery@gmail.com
Décor and Flowers: DaisyDoo Décor and Styling, Marie Bührlen, daisydoodecor@yahoo.com
Wedding Cake and Candy Buffet:   Daisy Doo Designer Cakes, Claudi ten Cate, daisydoocakes@yahoo.com
Bride and Bridesmaids' Makeup: Angelstar Make up, Jeanne- Marie Eloff
Lighting, Sound and DJ:   TUKS FM, Nolz van der Merwe
Photobooth: Photobooth Inc., Rob Sulcas
These love birds highlighted their style with a budget-friendly party full of personality. Small projects at home made a big impact by adding a little extra something to some already beautiful settings — great lesson for any bride-to-be! Get creative, have fun and focus on everything you want out of your day. 
Krista definitely deserves an amazing dress for her big day, but her budget is keeping her from living the couture dream.
Hi. 
I'm a mom. I put my wedding on hold for almost three years because our son is a regular at sick kids' hospital and my fiancé and I wanted to focus on him and his health and put everything else on the backburner. Now that he is doing much better, the wedding plans are back on, and I've found a dress.. I think about it in my sleep. I scour the internet in hopes of finding either a decent replica or pre-owned… It is stunning and I am irrevocably in love with it. 
I present to you the Claire Pettibone "Versailles". I swear Claire Pettibone is the devil trying to make all poor brides cry… Help me get over it. I cannot throw $7,000 at this. That's nearly half the budget.  
Sincerely,
Krista
Don't worry Krista, lots of BABs fall victim to the Claire Pettibone lust trap! Consider checking out this post or  this post for more dresses inspired by the same designer. Those picks were inspired by a different designs, of course, but you never know if one of those options might be your next dream dress. Then we have the following dresses, of course, chosen to match your inspiration.
CAN'T AFFORD IT
Claire Pettibone Versailles ($7,000+ through Claire Pettibone)
GET OVER IT
Divine Downpour Gown ($1,300 at BHLDN)
Alexandria Gown ($749.99 at Ruche)
Rose Petal Spaghetti Strap Wedding Dress ($750 at Ann Taylor)
Carolina Lace Wedding Dress (£550 at Phase Eight)
Tulle Gown with Lace Applique and 3D Flowers ($1,100 at David's Bridal)
Straps Sweeatheart A-Line Tulle With Flowers ($255 at Lemandy Wedding Dress via Etsy)

Cap Sleeve Fit-and-Flare Lace Gown ($950 at David's Bridal)
Falling in love with couture often means zeroing in on a detail you love best then trying to match that. You could always add a gold sash, for example, to a dress that has the appliqués in the amazing inspiration gown. Also, often times Etsy shops have wonderful sample sales. If you shop for your size on Etsy, you could find beautiful gowns like the Lauren from Natural Bridals.
Hey, BABs!  Did you miss me? I was off getting my MRS but it's good to be back!  My first order of business is to find Elise a Claire Pettibone look-a-like for a steal.  As we all know our dear Claire likes to hawk her dresses for a pretty penny.  But most of us gals are still  in a paycheck to paycheck , too much month at the end of the money budgetary situation.  Oh, we've graduated from Kool-aid and Cup-O-Noodles.  But spending several grand on a one-time-use dress is out of our realm of thought for a lot of us.
CAN'T AFFORD IT
Clair Pettibone @ Kleinfeldbridal.com ($4,000.00)
GET OVER IT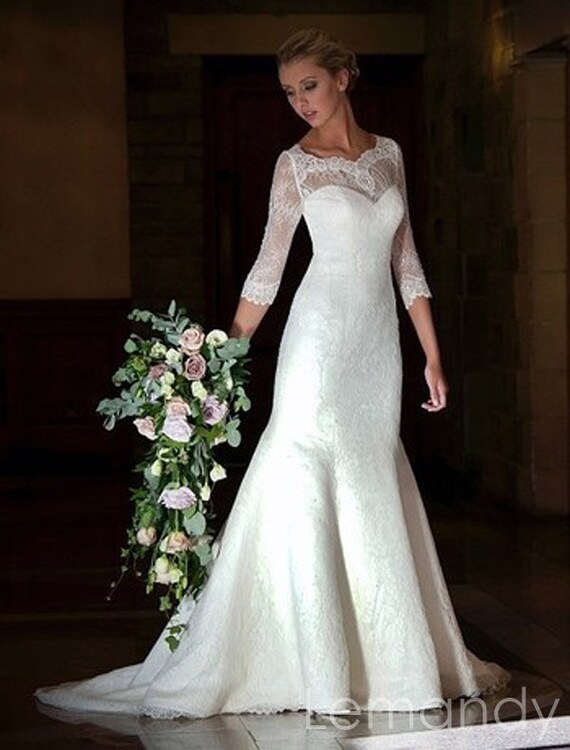 Lemandy Half Sleeve Mermaid Lace Wedding Dress ($285.00 at Etsy)
Watters Encore Wedding Dress Style Coriander 3218E ($396.00 at BestBridalPrices.com)
Lace dress inspired by Jim Hjelm JH8211
BridalBlissDesigns Lace Wedding Dress with Sleeves and Keyhole Back ($849.00 at Etsy)
Casablanca Wedding Dress Style 2119 ($1,550.00 at BestBridalPrices.com)
Birdy James "Lyrica" Vintage-inspired Poet Sleeve Chiffon Wedding Dress ($525.00 at Etsy)
Oleg Cassini Satin Wedding Gown with Beaded Pop Over Jacket ($950.00 at David's Bridal)
 Angelina Faccenda Wedding Dress Style 1260 ($1,757.00 at BestBridalPrices.com)
So, there you go, Elise – a plethora of sleeved beauties with a vintage feel.  From bateau necklines to sweetheart necklines, long sleeves, to 1/2 and 3/4 sleeves, plus lace galore!  I hope one of these gowns tickles your fancy and satisfies you Pettibone cravings.  What do you think, BABs?  Did I hit or miss for Ms. (soon to be Mrs.) Elise?
In terms of our wedding, we're committed to doing as much DIY as possible. Not only because in general it will help us save some cash for splurges elsewhere, but because it's nice to add personal flair where we can–after all, nearly everything in our home has been altered in some way to reflect our tastes and aesthetic, so why shouldn't our wedding be the same way?
In the spirit of DIY, Jason and I decided to make and bottle our own wedding wine.  Granted, we don't have the equipment or expertise to handle it on our own, so we took a trip to Classic Winemakers in Olympia, Washington, for a crash course in winemaking.
After tasting a range of red wines*, we decided on a yummy South African Shiraz, and then we were thrown headfirst into winemaking – mixing water, various fruits, yeast, woods…and some other things I don't remember, but since we were carefully supervised, we couldn't toss in anything wrong or funky or poisonous and screw things up. After some stirring and clapping of hands in excitement, the wine was sealed in its barrel and you're done for the next six weeks while the wine ferments: Classic Winemakers takes care of any necessary filtering or other steps along the way.
At the six week mark, we drove back down with our label design on a thumb drive, and while the shop owners printed and cut the labels, we washed our bottles, filled them with wine, corked, wiped, sealed, and then labeled them–state advisory labels on the back, and our custom labels on the front.
Now we have thirty one bottles of our wine aging in our guest bedroom for the big day, and we're both looking forward to our next DIY wedding adventure, whatever that may end up being.  It might not have been the cheapest way to procure wine (though very reasonable overall, at $300 for our entire batch), but it is one more way to put our stamp on the look and feel of the day's festivities, and if we end up having any leftover bottles, we can save them and open them on our anniversary…or, if we run out, we can always go back and make more of the same blend!
*We decided to make red instead of white as neither of us particularly cares for white, and the majority of our friends are red drinkers; it would have been a larger blow to the budget to make both a red and a white. Instead, we decided we'd rather offer a couple of nice beers in place of white wine.