---
Posts in the 'engagement rings' Category
I'm the first to admit I'm a huge lover of rough diamonds and unique styles. But my heart always skips a beat when I see a truly classic piece, one that could easily become a timeless family heirloom and will never love its proverbial (and possibly actual) luster. Don Roberto contacted me earlier this week about their custom nameplate necklaces that can be made with your Twitter handle (so awesome), but it was their bridal line I was really interested in. In all, the collection is pretty blingy … and slightly pricey. But with my stellar Interwebz sleuthing skillz and the need to bring you an awesome Five for Friday, I found these five gorgeous pieces for under $1,00o that are so classic, they're worth the splurge.
The cluster of diamonds ups the sparklification (what? It's a thing.) without busting the budget. Ding! Ding! We have bling!
A pair of classic diamond studs will last you an eternity. Mine were included in my inheritance from my mother. This pair from Don Roberto has the added benefit of screw backs, if you're one who has a tendency to lose an earring (I feel ya, sister).
So this one isn't made out of the good stuff, but the design is gorgeous and the price tag isn't brutal — though it's still a bit spendy. However, this bracelet has some legs on it as far as the mileage you'd be able to get out of wearing it. Personally, since it's not real diamonds, I'd be more apt to wear it to any semi-fancy event.
My white gold, diamond latchback earrings are my go-to ear decorators for a few reasons: They're blingy, they're classy and I know I won't lose them. The latchback is the greatest gift to jewelry and clumsy people since … well, maybe ever.
The vintage feel of this ring coupled with the tiny detailing make it gorgeous in my eyes. It's not overly "Look at me!!!!" but it's definitely eye-catching, and the price tag won't cost your honey three-months salary. Hell, you could even treat yo-self!
What do you think, BABs? Which of these beauties would you invest in?
I hate to use the F-word, but I'll admit it. I am a feminist.
I am an independent woman of the new millennium! I am a defender of equal rights! I will not be the woman behind any man; I will be the woman NEXT to him, for we are equal and balanced in every way! AND I would never take a man's name! How about allowing MY name to last through generations! We'll hyphenate! And FURTHERMORE… Wait…. What's that? Is that a ring?!?! SQUEEEEEEEEEEEEEEEEEE!!!! "I'm gonna be Mrs. Spencer! I'm gonna be Mrs. Spencer!" It's. So. Sparkly. How does it look when I'm typing? How does look when I'm driving? How does it look when I'm drinking coffee? How does it look when I point North? How does it look when….
How I thought I looked when I put my ring on for the first time.
How I actually looked when I put my ring on for the first time.
 Engagement rings are funny, aren't they? They're like these "sold" tags we put on women to show the world they're no longer sadly hanging on the sale rack. "Yes, some very nice man came along and offered to take me home, water me, and feed me. I mean, thank God for men, right?!" (Despite the sarcasm and all the feminism talk, men are cool. Just to be clear.) But really, if you delve deep into engagement ring history, rings have been used to tag, own, and legally bind women for like, thousands of years. Cavemen used to tie braided grass around the wrists and ankles of their chosen ladies to keep their spirits under the man's control. (I get it. Even I get a little emotional when my wrists and ankles are not properly decorated.) Ancient Egyptians buried the paired deceased with silver or gold wire wrapped around their left, 4th finger because they believed it was directly connected to the heart by the Vena Amoris, or the vein of love. (Ok, so this is actually kind of sweet but ALL veins are connected to the heart and thanks for that super sweet gift after I'm dead.) Men didn't even start wearing wedding bands to signify they've been bagged regularly until the 20th century. So, why are we women putting up with such a tradition? Because they're really, really pretty.  And sparkly.
Once I get used to the glare from my new symbol of ownership, I would like to find a balance between my feminism and our modern day adaptations of marriage tradition. Ultimately, these traditions are what you make of them and I certainly imagine incorporating them into my wedding day. And when I do imagine this, it is beautiful. And I really love my ring. I LOVE it.
My ring! And, yes, I am part gator. That is my only explanation for my scaly hands.
We chose not to do the traditional diamond engagement ring. My ring is a natural aquamarine stone (I say "natural" because there are lab-created stones out there that are not as precious but are less expensive, FYI) with diamonds around and down the sides alongside deep blue sapphires in a white gold setting. It's big and sparkly and that makes it perfect for me. The best part about not doing a traditional diamond engagement ring, is that it is usually less expensive and there are so many more unique options. Any ring will work if you and your fiance love it! (Also, it's rather large and it's a big hit at parties when I pretend to have a hard time lifting my left arm. Real dramatic-like. So, my ring has been good for my comedy too.)
I also thought I'd share a couple of recently engaged friends' rings who also went the non-traditional route and they are SPECTACTULAR!
Check out Julie-Joy's ring. She has a rectangle setting with a cluster of diamonds instead of one large diamond in the middle in a platinum setting and I must say, pictures do not do this ring justice! More diamonds = more sparkle!
I love the all diamond band! So dainty!
 And check out Caroline's ring. She has a beautiful blue sapphire surrounded by diamonds in a yellow gold setting. It is so fun, yet so elegant!
Caroline glowed when showing her ring to me and said, "I love it so much." It's just perfect.
Now, don't get me wrong, I've got nothing against diamonds. They can also be very unique and if we had the cash laying around, I would've insisted upon this Tiffany's spectacle:
This HAS to be a toddler's hand, right?
Alas, I do not have $250,000 for that ring. So, diamond alternatives are the inexpensive and unique answer to the simple diamond for even the most feminist of brides who are looking to show a little personality on that Vena Amoris.
Here's to feeling pretty and making as much money as our male counterparts,
Most of us get popped the big ol' question with a ring – THE ring. Not me. I got a placeholder ring. Y'know a ring that isn't my forever ring. To read all about my engagement story – it's good – click here.
Now don't go feeling sorry for me. I was thrilled about it!
I gotta tell you why – because my guy knows me. He knows (after lots of gifts being returned and exchanged) that I'm a…a…a…discriminating kind of girl. That's a nice way of saying that I'm picky!
The dude knew that if I was going to wear this band of gold and platinum for the rest of my life that I'd want some input on it.
The good news is that because I'm designing it myself, I also get to put my money-saving skills to work. I don't like paying full price – especially for expensive items. I love me a deal!
Even if you already have your engagement ring, you may have some input on your wedding band – or another sparkly bauble that Mr. Wonderful will be generously giving you.
That's why I'm thrilled to share my Tips for Designing Your Ring On a Budget:
1. Be very clear about what you want when you meet with the designer. Show lots of photos and if you have any rings that are similar to what you want, bring those. Cutting down the design time helps keep the price down.
2. Don't poo-poo stores that are a little rough around the edges. Posh jewelry stores pay for the expensive retail space and fancy-pants environment by marking up your jewelry even more. The rent's gotta be paid.  Remember that you're buying the jewelry – not the store and the experience. You'll forget about that store in no time, but you'll wear your ring every day.
3. Consider going to the diamond or jewelry district. Generally these are less expensive options than stores in retail locations. Again, less over-head expenses plus there are a lot of options in a condensed area which means competition. And that's a win for your guy's wallet.
4. Smokey Robinson said it best when he sang: you better shop around. We had vastly different pricing from the three bids that we received. Just be sure you're comparing apples to apples – or in this case diamonds to diamonds or precious metal to precious metal.
5. If you have some jewelry that you don't wear anymore (like that scrimpy, broken promise ring from your high school boyfriend), trade it in toward your new ring. Gold is still at a high price, so why not offset the cost of your new ring with some old stuff that's broken and jammed in the back of your jewelry box anyway?
6. Ask the designer for ways to save money. Don't be shy! Perhaps white gold would work as well as platinum. Or perhaps it doesn't make sense to have those perfect, colorless diamonds as tiny accent stones when you could get away with less-than-perfect stones. These people are experts and will know clever ways to pinch a penny or two.
7. This isn't a tip, but rather something to consider. The big, honkin' diamond is expensive. You can get a whole lot more total carat weight in smaller diamonds for your moola. I opted against the big, single rock for a blinged out triple band of diamonds – and it was way, way under my guy's budget.
My ring is almost done and I'm excited to share it with you here! I'll post a picture when I get it.
Oh and here's some ring wisdom from my previous 2 trips down the aisle: get your rings engraved. Engrave your groom's ring and have him engrave yours. Have it be a surprise message that you'll see on your wedding day. It's very fun and romantic – and an inexpensive way to add another special personalized touch!
I hope you're ready for some serious bling because this week, Rachel B. wrote in with a challenge to find a CAI/GOI engagement ring! Check out what she had to say:
Hey, I'm not actually engaged yet, but my boyfriend and I are saving up for a wedding some time next year. I'm hoping you can help me with a "Can't Afford It/Get Over It" for the engagement ring I'd LOVE to have. I'm head over heels for the "Beloved" ring by Hearts on Fire, but it's way out of our price range.  I'd love something for just hundreds rather than thousands, and I specifically DON'T want real diamonds. (I won't be rockin' any blood diamonds on my finger!)  Can you help me find another ring I can fall in love with – without the $3,500 price tag?
Rachel, you came to the right place.  I actually make jewelry so I have a fair amount of knowledge about this subject.  You have all kinds of options.  So, lets dive right in to a sea of sparkles, shall we?
CAN"T AFFORD IT
"Beloved"  ($3,850, Hearts On Fire)
GET OVER IT
"Karina" ($1,149 CAD, Quorri)
*Lab-created diamonds*
"Magdalynn" ($1,399 CAD, Quorri)
*Lab-created diamonds*
"Adena" ($799 CAD, Quorri)
*Lab-created diamonds*
14K White Sapphire Halo Ring ($808, Rare Earth)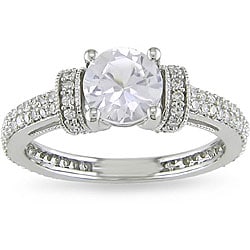 10K Gold Lab Created White Sapphire ($330.39, Overstock.com)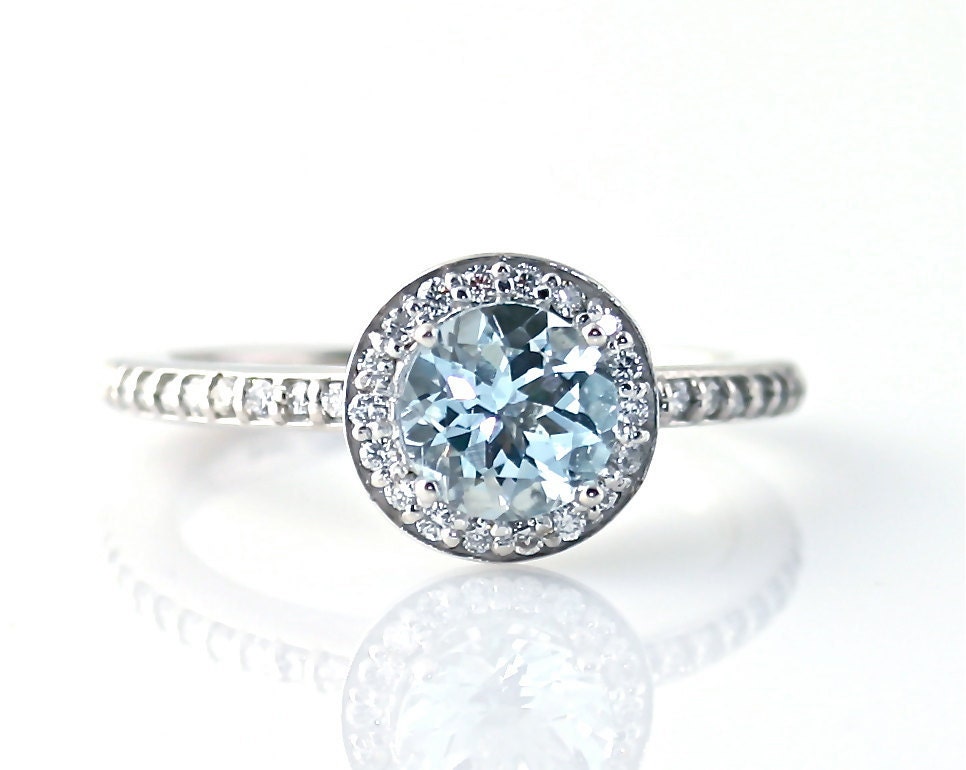 14K Aquamarine Diamond Halo Ring  ($887, Rare Earth)
*Conflict-free diamonds*
Rachel, you sent me a photo of a diamond, which leads me to believe that you enjoy the look of a diamond but you don't want any part of the stigma attached.  I get it.  Diamonds aren't as rare as the jewelry industry would have the consumer believe.  They are however a status symbol like a luxury car or a designer bag.  And we all know that there are plenty of ways around paying designer prices while achieving the designer look.
My best advice to you is to choose a less expensive metal.  Platinum & 18K gold will just boost your price point.  Besides, 18 K gold is softer than 14 Karat gold.  The closer you get to pure gold, the more malleable the jewelry will be. Gold is a soft metal.  The 18 K is better for pendants and earrings that won't endure daily punishment.  I would stick with 14k, or even silver.  You also have the option of choosing steel and titanium or one of the many alternative jewelry metals being used today.  If you decide to go with a natural gemstone like sapphire, morganite, aquamarine etc… you can get a much larger stone than you would be able to have if you were to use a diamond or even an engineered diamond.  The setting you like is a "halo" setting.  However, you might also like the "ballerina" and "skirted" settings. You have a multitude of options!
If I were you and nothing other than the "Beloved" would do,  I would take myself to all the local boutique jewelers in my area with a picture of the ring in hand and ask them to quote a price to recreate the ring with 14k white gold and white sapphires.  You might be pleasantly surprised with the results!  Best of luck and congratulations on your upcoming engagement!
Exciting news BABs…..I got my wedding ring! It's exactly what I wanted, and I was able to purchase it tax-free while we were visiting family in New Hampshire. S-weeet!
Let me back up for a second and explain to you why this is such an amaze-balls feat of awesomeness. My engagement ring is raised with a little spot for the wedding band to fit underneath. Originally, I was thinking that I would just get the matching band that completes the set and call it a day. Done and done. Only one problem….that wedding band retails for a not-so-broke-ass price of $1,110.
Photo via Diamond Ideals
Ugh. I'm not going to lie, I had more than a small problem with paying over $1k for a ring that will be mostly hidden under my engagement ring. So Mr. Officer, Mr. Officer's mom, and I loaded up the Jeep and set off for the Mall of New Hampshire to see if we could do better than $1k for a thin band of chip diamonds to match my engagement ring.
Our first stop was Kay Jewelers. The super friendly and very helpful jewelry salesperson took a look at my engagement ring and pulled out a very pretty $500 diamond band. Already we were on the right track, but we decided that the ring wasn't a close enough match and I just wasn't in love.
Photo via Kay Jewelers
The next stop on the jewelry tour of New Hampshire took us to Belden Jewelers. I can't really make any sort of sweeping assessment of Belden's as a chain, but I will say that I was very unimpressed with the jewelry salesperson at the Mall of New Hampshire location. Her aggressive sales style turned me off immediately, and made me feel like I was getting worked over. Also, the best she could offer was either a super pricey custom ring or a catalog order. Complete fail.
Next up – Zales. We loved the Zales salesguy; he was super helpful and somewhat entertaining. He took us over to the case, and this little beauty caught my eye:
Photo via Zales
Then he told us the price…… $199. Um, what?!
The deal seemed a little bit too good to be true, and I decided that we needed time to do a little more research. So, we went home to read reviews and mull it over with some delicious Chinese food.
The following day we were back at it and headed out to Day's Jewelers and Jared's to check out their selection. Both places offered the not so exciting choice of either a custom ring or a super pricey designer ring. Shown below is the pretty Ritani ring from Day's Jewelers (retail price $2,935) and a pretty Scott Kay ring from Jared's (retail price $1,245).
 Photo via Ritani (Day's Jewelers)
Photo via Jared
I couldn't help but notice that the expensive rings look almost identical to the budget friendly rings, and I just couldn't stop thinking about that perfect ring at Zales. So, we went back over to the Mall of New Hampshire to try it on again. The wedding band was a perfect match and we decided it was actually the closest match with my engagement ring. Surprisingly, the Zales ring looks like it was made to complete the set with my engagement ring.
Usually I go out of my way to support independent businesses, but in the case of a wedding band that will definitely need maintenance at some point, I'm kind of loving the convenience of a chain store. Plus, Zales offers a jewelry protection plan on the ring for $65, which covers sizing, cleaning and diamond replacement for life. Sold! Mr. Officer bought my ring as a belated Valentine's gift, and I'm so excited to wear it that I almost don't want to wait until May.
We still can't believe that one of the most important symbols of our marriage turned out to also be one of our cheapest purchases. Did anybody else have a big wedding band win, or did we just win the wedding band jackpot?
Reader Request:
Etsy seller PetrasRocks
"I have found my dream ring… but with my fiance and I paying for the entire wedding ourselves, it's a little out of my price range. Can you help?"
We sure can! Here are some fabulous looks for less:
1 $899 //2 $699 // 3 $770 // 4 $703 // 5 $979
What do you think, BABS? Which of these pave halo diamond engagement rings is your reasonably priced fave? If you've got a wedding fashion-related request, leave it in the comments!
– Dana F. 
Handcrafted by individual artisans, these wedding bands are made using recycled metal and responsibly sourced or recycled gemstones.
Turtle Love Co
. has everything you and your partner are looking for in the most important item of jewelry you'll ever wear, whether you're shopping for skinny rings, fat rings; tree rings, rippling water rings; simple rings, brushed rings, hammered rings, or even manly rings!
If your partner in crime cringes at the thought of a fancy, shiny wedding ring,Turtle Love Co. has just what you're looking for: a sampling of
wedding rings
that would probably stop and scoff at traditional, "prettyboy" wedding bands. These rings run the gamut from
rustic
 to
downright industrial
– encompassing all manly tastes!
Of course, there's more to love at Turtle Love Co. than engagement and wedding rings! Nature-inspired necklaces, diamond earrings, and pink and white and silver Swarovski crystal jewelry are just a few examples of pieces from their stunning collection of brilliant baubles. They've also got some lovely pieces of pearl jewelry for those who appreciate a more timeless, traditional look.
If you're looking for affordable gifts for your lovely bridesmaids, consider outfitting them all in Turtle Love Co.'s eco-friendly, indie artisan pieces! And of course, you know you've got to grab a piece to complete your own bridal ensemble! The jewelry at Turtle Love Co. is so awesome, you'll be rockin' it well after your wedding day.
Like Turtle Love Co. on Facebook for updates on new products, new vintage rings, and general office antics!
I am so pleased to introduce you to a company that is very close to my heart – 
Turtle Love Co.
!
Turtle Love Co.
offers some of the most artful, sustainable, and
unique jewelry
 available. They sell magical 
engagement rings
, distinctive
wedding bands
, and generally gorgeous jewelry that you'd be proud to rock on your big day. 
Turtle Love Co.
 jewelry is handmade by real, independent artisans who use recycled metal and responsibly sourced or recycled gemstones. There are plenty of beautiful, affordable options for the earth friendly, budget-minded bride.
If you're in the market for an engagement ring,  you're sure to find one that speaks to your unique tastes, AND ethical sensibilities – perhaps the Diamond Vine Engagement Ring? Or this gorgeous Nested White Topaz? Or maybe you're not the diamond type of gal? Don't fret! Turtle Love Co. has an extensive colored gemstone engagement ring collection that feature beautiful stones like sapphires, garnets, and peridots.
Looking for something truly unique? If you've perused a single wedding blog in the last 6 months, chances are you've found yourself lusting over photos of vintage dresses and vintage jewelry.
Turtle Love Co.
has a masterfully curated collection of
vintage engagement rings
. They're authentic vintage, too – not "vintaged" or "vintage-inspired" – this is the real deal! We are totally wowed by these gorgeous heirlooms – where else will you find a beautiful gold filigree diamond engagement ring made in 1915 – for $900?
Of course, the
Turtle Love Co.
goodness doesn't stop at wedding jewelry – there's a expansive selection of giftable, eco-friendly jewelry pieces for any occasion! Be sure not to miss out on their latest limited edition creations – like Turtle Love Co. on
Facebook
for updates on new products, new vintage rings, office antics, and sale info!
Every bride knows that an engagement ring is really just the tip of the iceberg – there's bridal jewelry, bridesmaids' gifts…it adds up fast. But we know that the right piece of jewelry can make any occasion feel truly momentous, and we believe women everywhere are entitled to that feeling. That's why we wanted to tell you about Bejool.com. You're familiar with many "Daily Deal" websites, but Bejool is a DD website that's exclusively for jewelry! Each featured jewelry piece is sold at a discount of 60-80% off retail prices, and shipping is always FREE.
Wanna score some beautiful baubles? Every Friday this month, Bejool is giving away a $25 gift certificate to one lucky Daily Jool email subscriber. Just sign up for their Daily Jool email here: