---
Posts in the 'claire pettibone' Category
Happy Friday, Broke-Asses! I love this time of year, when all the new wedding-y stuff starts making the Interwebz rounds, because it increases my ogling time significantly … and lucky me! A good portion of my job is to find and ogle pretty things! This week, in honor of amazeballz wedding dress designer Claire Pettibone's new invitation line with Wedding Paper Divas, I hand-picked my 5 favorite designs to share with you! 
Earthly Paradise, starting at $184 for 100.
Fairytale Romance, starting at $239 for 100.
Fluttering Forever, starting at $239 for 100.
Rustic Vineyard, starting at $194 for 100.
 Soaring Love, starting at $174 for 100.
Aren't these gorgeous? Head on over to Wedding Paper Divas to check out the full collection and tell us which is your favorite!
Krista definitely deserves an amazing dress for her big day, but her budget is keeping her from living the couture dream.
Hi. 
I'm a mom. I put my wedding on hold for almost three years because our son is a regular at sick kids' hospital and my fiancé and I wanted to focus on him and his health and put everything else on the backburner. Now that he is doing much better, the wedding plans are back on, and I've found a dress. I think about it in my sleep. I scour the internet in hopes of finding either a decent replica or pre-owned… It is stunning and I am irrevocably in love with it. 
I present to you the Claire Pettibone "Versailles". I swear Claire Pettibone is the devil trying to make all poor brides cry… Help me get over it. I cannot throw $7,000 at this. That's nearly half the budget.  
Sincerely,
Krista
Don't worry Krista, lots of BABs fall victim to the Claire Pettibone lust trap! Consider checking out this post or  this post for more dresses inspired by the same designer. Those picks were inspired by a different designs, of course, but you never know if one of those options might be your next dream dress. Then we have the following dresses, of course, chosen to match your inspiration.
CAN'T AFFORD IT
Claire Pettibone Versailles ($7,000+ through Claire Pettibone)
GET OVER IT
Divine Downpour Gown ($1,300 at BHLDN)
Alexandria Gown ($749.99 at Ruche)
Rose Petal Spaghetti Strap Wedding Dress ($750 at Ann Taylor)
Carolina Lace Wedding Dress (£550 at Phase Eight)
Tulle Gown with Lace Applique and 3D Flowers ($1,100 at David's Bridal)
Straps Sweeatheart A-Line Tulle With Flowers ($255 at Lemandy Wedding Dress via Etsy)

Cap Sleeve Fit-and-Flare Lace Gown ($950 at David's Bridal)
Falling in love with couture often means zeroing in on a detail you love best then trying to match that. You could always add a gold sash, for example, to a dress that has the appliqués in the amazing inspiration gown. Also, often times Etsy shops have wonderful sample sales. If you shop for your size on Etsy, you could find beautiful gowns like the Lauren from Natural Bridals.
Hey, BABs!  Did you miss me? I was off getting my MRS but it's good to be back!  My first order of business is to find Elise a Claire Pettibone look-a-like for a steal.  As we all know our dear Claire likes to hawk her dresses for a pretty penny.  But most of us gals are still  in a paycheck to paycheck , too much month at the end of the money budgetary situation.  Oh, we've graduated from Kool-aid and Cup-O-Noodles.  But spending several grand on a one-time-use dress is out of our realm of thought for a lot of us.
CAN'T AFFORD IT
Clair Pettibone @ Kleinfeldbridal.com ($4,000.00)
GET OVER IT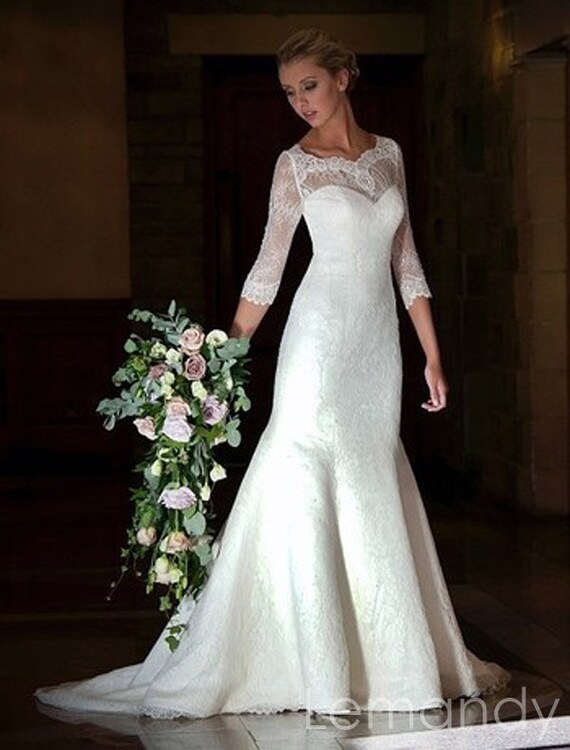 Lemandy Half Sleeve Mermaid Lace Wedding Dress ($285.00 at Etsy)
Watters Encore Wedding Dress Style Coriander 3218E ($396.00 at BestBridalPrices.com)
Lace dress inspired by Jim Hjelm JH8211
BridalBlissDesigns Lace Wedding Dress with Sleeves and Keyhole Back ($849.00 at Etsy)
Casablanca Wedding Dress Style 2119 ($1,550.00 at BestBridalPrices.com)
Birdy James "Lyrica" Vintage-inspired Poet Sleeve Chiffon Wedding Dress ($525.00 at Etsy)
Oleg Cassini Satin Wedding Gown with Beaded Pop Over Jacket ($950.00 at David's Bridal)
 Angelina Faccenda Wedding Dress Style 1260 ($1,757.00 at BestBridalPrices.com)
So, there you go, Elise – a plethora of sleeved beauties with a vintage feel.  From bateau necklines to sweetheart necklines, long sleeves, to 1/2 and 3/4 sleeves, plus lace galore!  I hope one of these gowns tickles your fancy and satisfies you Pettibone cravings.  What do you think, BABs?  Did I hit or miss for Ms. (soon to be Mrs.) Elise?
Kate's got caviar taste but not enough clams to fund it. And she doesn't want to sell her precious pets in order to snag a real Claire Pettibone.
Hello, I have been enjoying reading through your blog, lots of great tips written in a humorous way 😉
I'm a UK bride to be and we seem to have a lot less choices wedding dress and price wise than in the US. I have been totally lusting over the Claire Pettibone Chantilly wedding dress, along with a few of her others. However, unless I remortgage my pets there is no way I could afford even a quarter of one of the CP dresses. If you have any ideas for alternatives I would really appreciate it. I'm looking for a lace/vintage style wedding dress with an interesting or unique back.
Thank you!
Kate
Kate, you're right; Claire Pettibone does amazing things with lace. No one will argue with you there. Unfortunately, few people have her touch. Also, the amazing lace backs that she features aren't easy to find. But, that doesn't mean you can't find something vintage-inspired with lace to have without sacrificing Fido. Stick with that open-minded attitude and let's look at some options that are less than a sixth of the cost of your inspiration.
CAN'T AFFORD IT
Claire Pettibone Chantilly (Estimated retail $6,000 to $6,200)
GET OVER IT
Ivory French Lacy Chiffon Wedding Dress ($800 at Paula Studio via Etsy)
Beaded Cap Sleeve Gown ($995 at Grace Loves Lace via Etsy)
Scalloped Lace Cut Out Mermaid Wedding Dress ($499.99 at For Her and For Him)
Paloma Wedding Dress (£450 at Phase Eight)
Maria Wedding Dress (£495 at Phase Eight)
If the dream isn't here, consider piecing it together. BLDHN, for example, has a pretty bridal lace tank top that can be put over a simple white dress. Or, David's Bridal offers a variety of lace jackets that can be similarly used. Since you seem a little open to other vintage styles, consider checking out a some of our older posts, like the ones inspired by the Catherine Deanes Lita Gown or Pronovias Petunia dress. Lastly, if you're going to stretch your budget, it doesn't hurt to check out sites where brides re-sell their dresses, like Pre-OwnedWeddingDresses.com or Once Wed's used wedding dress listings.  Claire Pettibone is quite popular on those sites.
Claire Pettibone gowns are things of beauty.  But they're also ass-expensive. Today's bride is having this very dilemma. So I'm about to throw her a (petti)bone and help her out.  Let's see what bride Nora had to say:
I have fallen hard for this Claire Pettibone wedding dress. I love the lace and the sleeves and the back.  It's perfect.  It is also outside of the budget of $1,000 or less.  Any help would be appreciated.  Thanks!
Can't Afford It:
Get Over It:
1. Nightcap Clothing. $640.
2. JS Collections. $200.
3. Alice by Temperley. $761.
You would need to hem the sleeves on this one.
4. Tadashi Shoji. $548.
5. Allure Bridals. About $1000.
You would need to hem the sleeves on this one.
6. White by Vera Wang. $600.
7. David's Bridal. $599.99.
8. Justin Alexander. About $1000.
9. Destinations by Mon Cheri. Under $600.
10. Moonlight. Between $500 & $1000.
11. Mia Solano. Between $500 & $1000.
12. Allure Bridals. Between $500 & $1000.
13. Destinations by Mon Cheri. Under $500.
14. Mia Solano. Between $500 & $1000.
15. Mia Solano. Between $500 & $1000.
Miss any CAI/GOI magic?  Catch up here:
This week's CAI/GOI request comes from a bride who's got her eye on a Claire Pettibone boho stunner, but the $6,000 price tag is way out of her budget.
Hi! I recently got engaged and have been totally counting my blessings. Finding the Broke-Ass Bride is on that list! Unfortunately, no matter how hard I try, I can't find the money-tree in the backyard, so I am BEGGING for your help.

Here's the situation, part one (yes, there are parts!): I am in LOVE with the Cloisonne dress, part of Claire Pettibone's continuing collection.  I like lots of her stuff, but that one feels like the ONE.

Situation part two: I'm on a beer budget, here.  Not even microbrews, either.  Cases of canned light beer.
And finally, part three: I'm six foot three.  I've found some interesting and charming dresses on Unique Vintage (love Sue Wong!!) but I'm super-tall and I need the extra length!

SO…I'm a Broke-Ass Bride, looking for something very European-Bohemian with an edge.
If you choose to accept this mission, you'll totally rock my socks off!


LOVE!!
T
Don't worry, T.  I've got you covered in the canned beer-budget dress department.  After all, Miller Hi Life was my favorite beer in college.
And since T said she wanted something 'with an edge', I had some fun and threw in some 'wild card' get over gown picks.  Feast your eyes on high fashion!
Can't Afford It:
Get Over It:
1. Milly. $950.

2. OdyLyne. $187.

3. Max Studio. $398.
4. Jen's Pirate Booty. $229.

5. Jen's Pirate Booty. $199.

6. Badgley Mischka Platinum Label. $880.

7. Halston Heritage. $995.

8. The Limited. $169.99.

9. Love, Yu. $1200.

10. Sue Wong. $490.

11. Tadashi Shoji. $550.

12. Nika. $578.

13. J.Crew. $600.

14. Sue Wong. $588.

15. Olivia Luca. Under $600.

16. Martin McCrea. Under $600.

17. White by Vera Wang. $600.

Miss any other CAI/GOI magic? Catch up here: