Posts in the 'budget wedding planning' Category
*This post brought to you by our friends at Luna Bazaar*
So now that you're starting to get into the nitty gritty of the wedding planning, I'm sure you're starting to think about and look at the details. And OMG. There's soooo much to do, so much to make, so much to buy! All the deets have to be perfect!
Chill, darling.
While there are a bajillion and a half amazeballz pics of wedding details strewn across the internetz (yes, even I have a Pinterest board dedicated to the little thangs), they don't have to be overwhelming. In fact, there are a lot of little things you can do to ensure you aren't wasting your dollaz on a one-time-only, use-it-or-lose-it kind of décor purchase:
1. Inject a good amount of YOU into your purchases.
You know how all of Weddingland says that your wedding should still represent you, just a shinier/more colorful/more expensive/more dressy/etc., version of you? Well, kinda. Definitely keep you, your partner and your life in mind when deciding on your wedding theme. And if you're looking to stretch your budget, keep in mind the kind of décor you like to look at, over and over again. I mean, if you're uber into color and disco balls (ahem, moi), then find colorful, sparkly objects to surround yourself with.
These Disco Ball String Lights from Luna Bazaar shoot off cool beams of light, which make them perfect to illuminate table centerpieces or for a little sexy accent above your bed.
Yeah, that's right. I keep a Wyoming license plate and a badass unicorn poster over my bed.
Can you feel the sexytime mooooood?
2. Go timeless, but in a way that excites you.
Now, I'm not saying stick to all white or don't pick something new and funky-fresh, just make sure it's something that makes you happy. Chinese lanterns are a pretty go-to pick for wedding decor. They add a little oomph and are oh, soooo cheap to pick up by the many. Obviously all white is classic and elegant, but you'd be surprised what a mix of colors can do. Whether you go monochromatic or have a colorsplosion, Luna Bazaar offers a RIDICULOUS range of sizes and shapes, to mix up the fun. And when the party's over, hang them from your ceiling for a little extra decor oomph. Since they assemble and disassemble super easily, they're a no-brainer when you have to move or redecorate.
BONUS: If you have a feline friend, it will be captivated by the moving globules above. Which, for you, is wildly entertaining.
3. Go for functionality.
You know what the best kind of decoration purchase is? The one that can be used for a holy buttload of things. Candle holders can go from sweet centerpiece accents to the source of seductive lowlight around your living room. Baskets can hold programs or favors and later, your stack of Real Simple magazines. And vases of all sizes and shapes are useful for pretty much anything, from change jars to pasta containers to a pretty way to stash cotton balls.
This Turquoise Blue Frosted Glass Vase decorates my kitchen table, often with a single daisy in it.
And this Vintage Green Glass Vase operates as my office supply wrangler. So much better than one of those weird office store caddies.
So, really, what it comes down to is cost per use. And since we here at The Broke-Ass Bride are all about making the most out of every dolla dolla bill, we want to make sure our skrilla is spent wisely. That means finding multifunctional items that can easily translate from the fantastic fête that is your wedding over to your cozy abode. It also means shopping at places, like Luna Bazaar, that won't rob you blind and offers a whole helluva lot of choices. And when all is said and done, and you spy those fun disco ball lights out of the corner of your eye, you'll remember dancing the night away with your love and all your posse around you. Who wouldn't want to remember that?
Do you have any burning decor questions? Need help on how to stretch those dollars and find multiple uses for one item? Let us know in the comments!
Happy Friday, BABs! And happy Valentine's Day! While you're probz being schmoopy with your love, I'm on the road moving from Texas to Florida and looking forward to beach life. But that's my version of romance: Me, my man (and our cat) and the wide open road. So, in between stuffing boxes and bidding adieu, I scoured the Interwebz for five gorgeous and timeless bridesmaids dresses for you to ogle. Bonus: They're all $150 or less! Enjoy!
"Elizabeth," by Weddington Way.
D574 by Alfred Sung.
D518 by Alfred Sung.
D516 by Alfred Sung.
"Audrey," by Weddington Way.
Which is your favorite? What feel are you going with for your ladies? Tell us in the comments!
Hello, BAB-ers! My name is Tiffany, and I am beyond thrilled to be a BAB Real Bride Contributor. Because yes, I am in fact a real bride although sometimes I have a hard time believing that.
I am 30 years old, live in San Diego, and engaged to the absolute love of my life, Justin. I know, barf. But really, this man has changed my life in ways that I didn't know needed changing. It all started in December of 2011 when a dear friend of mine and her then fiancé invited me to crash his company's Christmas party. At one point during the evening, my friend and I noticed a handsome stranger that we dubbed "The Seth McFarlane Guy," and it became my sole mission in life to make flirty eyes at him all night until he came to talk to me. Which he did. And immediately fell in love with me (or so I like to say).
After about 6 months of torrid romance and drama, we became an official pair. And about 13 months later he would lead me on the scavenger hunt of my life that ended up right back where it all started — where one classy broad crashed a company Christmas party and stole a man's heart. His proposal was incredibly well thought-out and made me do some actual work and thinking, which is basically his mission in life. The scavenger hunt clues led me to the concert venue where we had our first date, his old apartment complex (the scene of many "come to Jesus/WHY WON'T YOU JUST LOVE ME" talks), and finally the scene of the original crime (aka a really swanky resort in the hills). It was nothing less of perfect and like a normal female I immediately started planning.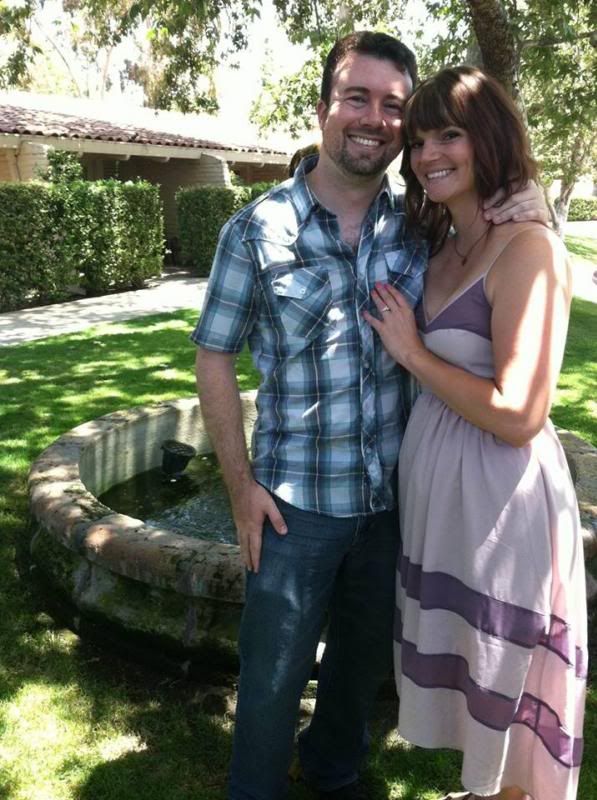 Our wedding will happen this October — the 11th to be exact. So soon, omg. We are getting married at Karl Strauss Brewery Gardens. This was basically a no-brainer because we are those snooty craft beer enthusiast people that are replacing wine-os as the most annoying people in the world. And if I give you any more details I won't have any more content to contribute so I will just say, STAY TUNED NEW FRIENDS!
I should probably also tell you a little bit about us so we can become close, personal best friends. I am not a native San Diegan (San Diego-ite?) but I have lived here for 13 years. I work as an educational writer for a local zoological park (SCIENCE!) and have a deep love for anything animal or nature related. Basically, if you want to discuss climate change, I'm your girl. Justin is an East Coasty from Maine and moved to California in 2008 to follow his dream career of working in the video game industry. And, SPOILER ALERT, he achieved that dream and is a video game designer. He is also a geek extraordinaire and has turned me on to such geek lore as Battlestar Galactica (I AM NOT FINISHED WITH IT SO PLEASE DO NOT SPOIL IT), Sherlock, Archer, Lord of the Rings, and basically anything else that Redditors love. We are servants to a tyrant- Bombay cat that is truly the weirdest animal on the entire planet. She will NOT be attending our wedding but I am trying to figure out how we can Skype with her during the ceremony. Priorities, you know?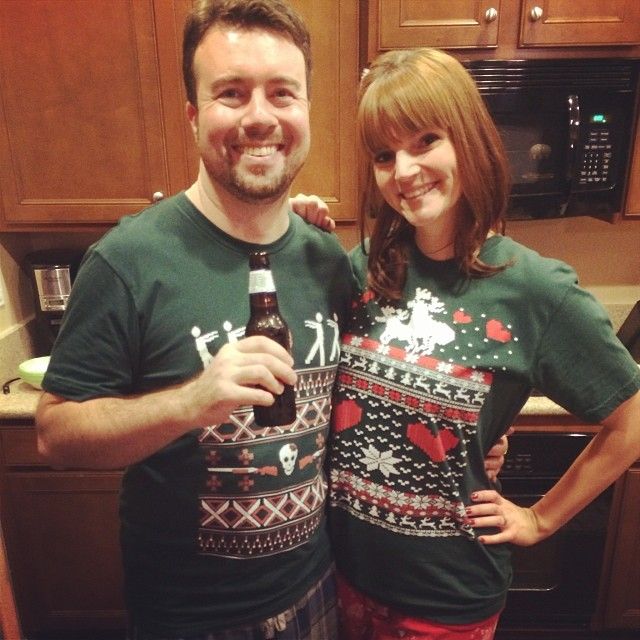 I can't wait to share our wedding planning adventures with you. Please stay tuned as I continue to spiral into complete wedding planning madness! You can follow along in real-time on twitter @tiff_gee.
Hello BAB readers! My name is Ellis and I am so excited to blog here along side these very wonderful and talented ladies. I'd love to take some time to tell you about myself, my fiance, and our wedding!
I am 28 years old, I will be 29 on February 2nd. I am originally from Southern California (Huntington Beach) but did some traveling and moving around starting at age 19 and eventually ended up in Portland, Oregon. I come from a large family, I have three siblings (1 of which just moved in with me this past weekend, my baby brother T) and 7 nephews and 2 nieces! I currently attend Southern Oregon University and have one more year to graduate with bachelor degrees in Human Services and Mental Health with two minors in Early Childhood Education and Photography. I hope to move back to Portland and get into the Social Work Masters Program at PSU in Fall of 2015. I work in both a daycare and a photo developing shop, which keeps me quite busy along side of school and wedding planning.
My fiance's name is Andy, and he is 33. He grew up here where we live in Southern Oregon. He graduated with a bachelors in History from the University of Oregon and went on to receive his Masters of Education at Southern Oregon University a few years later. His entire family lives here in the valley and being close to them is a huge deal to us, though he does long to be back in the city. He enjoys biking, building, cooking, video games, and reading.
We met in early 2007 through a mutual friend (long story, maybe I'll divulge sometime) and began to date off and on until it was more official in late 2008. We immediately clicked and I honestly knew from the moment I laid eyes on him he was the one for me! We had a long distance relationship (400 miles apart) from 08-10, where we would see each other about every weekend. I moved to Southern Oregon with him as a temporary solution and we have been here ever since.
On December 30th 2012 Andy asked me if I wanted to go for a drive with the dog to play in the snow. We drove an hour to Crater Lake area only to find there was no snow! An hour back, I was ready to just go home, he insisted we head 10 minutes south of where we live to Mt. Ashland. Once we got in the snow, about 4 feet of pure soft powder, I turned around and he had a ring box in his hands. He opened it and said "Will you?" and I of course said yes. He was so nervous he forgot he had a bouquet of flowers hidden in the trunk as well. We were so excited, we called his parents and my siblings on our way home to announce our engagement. It was a really beautiful night, I'll never forget.
Fast forward a year and some weeks later, we have been planning a wedding on a budget. I thought we could afford $15k, the budget soon dropped to $10k, and after some emergency dental work last Fall the budget is now closer to $6k. We are getting married on a real working farm which also houses historically claimed barns and buildings. It is beautiful with acres of fruits, vegetables, and flowers growing, large willow trees, and even peacocks running loose on the grounds! Our wedding theme is very laid back but sweet summery and chic. I am thinking light pinks, golds, mints, and navy with free flowing fabrics and string lights that turn on at 10pm just as it starts to get dark.
It has been a second job this past year putting this wedding together and though I've only had one big meltdown (thank Zeus), it has been stressing but rewarding. I'm very excited to share my experiences, tips, tricks, and hints for wedding planning on a serious budget!
xo,
ellis
Happy Friday, BABs! In the premiere edition of our new Five for Friday series, I searched the Internetz for my five favorite shiny, glitterized and golden Save the Dates! These pretties are often the first taste of your … well, taste … that your guests will receive in anticipation of your wedding day. While they are by no means necessary, they do serve as a useful (and beautiful!) reminder of when the big day is. AND! Your Save the Dates can be wildly different than whatever you have in mind for your invitations, so don't be afraid to reach for the (gilded) stars!
"Classic Quill," InvitationBox.com., starting at $174 for 100.
"Gold Crest," Invitations by Dawn, starting at $94.09 for 108.
"Golden Afterglow," Wedding Paper Divas, starting at $114 for 100.
"Gilded Grace," Wedding Paper Divas, starting at $139 for 100.
"Glamorous," Invitations by Dawn, starting at $94.09 for 108.
Any of these glimmering lovelies strike your fancy? What type of Save the Date style would you like to see? Tell us in the comments!
Hey there, newbie BABs! Welcome to the party! Amid the piles of tulle and yummy cake tastings lies the golden nugget of fun that is your wedding registry. For some of you, this will be the chance for you and your honey to start your cohabitation off on a shiny new foot. For others, those of you who are already well-familiar with bodily functions, smelly socks, and morning cups of coffee in bed, building your bridal registry can be tough, since you are fairly stocked when it comes to household goodies.
Regardless of which camp you fall in, Present Value is a wedding registry you'll definitely want to set up. Beyond standard cash registries that can go toward vacations or experiences, Present Value registries focus on your financial future. From house downpayments to debt reduction, college funds to investment portfolios, your wedding guests can give you a little peace of mind.
While scanning for new fine china or that killer KitchenAid stand mixer (in turquoise!) is always fun, Present Value knows the real value of planning for your new life together. The registry site has a clear and concise interface that you can personalize with a welcoming note and a photo of you and your other half and the whole experience is completely free – for both you and your guests. No fees are incurred and there is no charge to set up your Present Value registry.
While new goodies are great, a little financial freedom and stability go a long way. So whether you're decking out your casa or planning a honeymoon of a lifetime, give your guests the opportunity to help you plan for your future. Because as any BAB knows: Every cent counts.
Note: This post was brought to you by our friends at Present Value.
Team Broke-Ass: The time has come! Today is when the real, actual I-can-touch-it-and-turn-the-pages-and-smell-it The Broke-Ass Bride's Wedding Guide will be immediately available on the interweb and in bookstores
Those of you who scored your copy during the Big BAB Book Buy should be getting this beauty on your doorsteps (or uploaded to your e-readers) soon, but for those of you who wanted to wait until it hit the shelves so you could peep it in person, you can now score your copies at your local bookstore or Barnes & Noble.
I've been so excited to finally get to share this moment with everyone, especially my readers. Do you guys remember this post and all the unknown that laid ahead? So, so, so, so unbelievably much has happened since that day, some good, some bad … but all of it has lead up to this point.
My book is finally being released.
Writing a book is hard, but I had an unbelievable team helping me and an amazing support system to hold me steady… and of course, all of my wonderful readers!
So go! Rejoice! Get your copy today, and make sure you stock up for every bride-to-be on your gifting list, and any you suspect might be getting engaged over the holidays!
Available at Amazon, Barnes & Noble and Indiebound.
If you read the Broke Ass Brigade Newsletter yesterday, you know that I'm rebooting my "What You Don't Know About Your Wedding" teleclass series from last year. Talking with a DJ on Wednesday, still working on interviewing a bartender. And for those of you who won't be able to get on the call live to ask questions (Because it'll be 9pm/10pm where you are, and "Modern Family"/"Revenge" is on), just get on the list and I'll send you an .mp3 later.
There's  just a lot of stuff you don't know. And you're not supposed to, because this is the first time you've ever planned a wedding. Not to mention your last, hopefully. It's like asking you to be lead surgeon on a heart transplant. Less at stake, yes. Still not going to happen without a bunch more experience. So, in no particular order, except how they're occurring to me under deadline pressure:
1. Tax and Service and Delivery – Seriously, the first question you should ask any vendor after you get a quote. $35 per person for dinner sounds great, until you add almost 10% for the tax and 20% for service, which throws another $10 on there.  Granted we're expensive here in L.A., but do your local calculations and you'll see what I mean. Don't faint when you add it up for the bar. $5 chivaris – Yay! $150 delivery? Hmm…ASK AND CALCULATE.
2. No matter what you do, you can't get everyone to RSVP on time. Even if you use e-vites. Even if you ask them to RSVP online. Even if you give them a later RSVP date. Even if you give them an early one. You are still going to end up calling and emailing stragglers after the date has passed. Sucks.
3. Same goes for showing up on time.
4. Same goes for showing up at all, period. As a coordinator who knows what it took to get there and what it cost per person, there is nothing more annoying to me on your behalf, than empty seats at a table. And it happens at just about every wedding. Sometimes there are good reasons, but still. KHANN!!
5. There is a reason why you won't see pictures for a few weeks after your wedding. They say that for every hour a photographer shoots your wedding, they do 4-6 hours of work on your pictures. Editing, color correcting, admin work, posting to an online gallery. And this is for every wedding they do, not to mention all the other stuff they have to do to maintain their businesses. Photographers are usually pretty realistic about how long it's going to take – they are NOT  being lazy or brushing you off. But you've seen their other work. You know the end result is worth it.
6. You won't be able to return all of your unused alcohol. I know, right? If you had to chill it, you won't be able to return it, whether  you opened it or not. Once it gets back to room temperature it's going to skunk pretty quickly, and most stores won't take it back at that point. And, of course, you can't return open bottles of anything, so tell  your bartender not to open a new bottle or jar until the last one is empty.  You would think that would be intuitive, but not always.
7. Buffets aren't necessarily cheaper than sit-down. "Yes, they are!" a Caterer friend said to me. "Well, yeah, the way YOU do them!" I shot back. Buffets require less staff, but possibly more equipment and rentals. And it depends on the menu you choose.  Sit down and compare Apples to Apples, cost to cost.
8. Three things that will be left over: Programs, Cake, Favors. Keep 10 programs for yourself and your family, recycle the rest. Ask the bakery about to-go boxes when you order the cake. Food or candy are the only favor that completely disappears.
9. With a few exceptions, your family actually wants what's best for you, I swear. They just think that they know what's best for you, and they think you don't. How could you? You're a kid, still. Don't prove them right – no tantrums, no fights. Confirm, with a smile,  that whatever it is that you want is what you want, and the way you want it will work out fine. And then keep moving until you reach a safe distance. Repeat as necessary. Hey, I didn't say it was going to be easy!
10. This is all going to work out. You are going to find all of your vendors, get everything scheduled, dot the i's, cross the t's, and have  a wonderful wedding during which you will be absolutely gorgeous. It might seem harrowing right now, but it's going to come together, I promise.
So, what are your questions about this list? Would you add anything to it? Let me know below!
See you at the end of the aisle,