---
Posts in the 'budget wedding ideas' Category
As a wedding guest, the dress code has a tendency to be tricky. You want to read between the lines and give it your best go without having to consult a fellow nuptial-goer for fashion advice, but sometimes it can just be plain confusing. BAB tackled this issue way back in 2011 and while there seems to be a bit less rigidity these days (can guest wear white if the bride is wearing pink? Martha says yes.), many of the old tropes still apply. So here's a refresher from the Broke-Ass archives!
I'm switching gears a bit this week to discuss something that comes up over and over on wedding forums and blogs — what to wear as a wedding guest.
Nowadays, finding something to wear as a wedding guest is almost as stressful as finding your own wedding dress! There are so many etiquette rules, so many stipulations and so many vague dress codes ("festive casual?" "dressy resort?") that it seems that guests can never figure out which fashions are appropriate for someone else's wedding.
There are no hard and fast rules, but I've been to a lot of weddings and I've gotten a feel for these things. So, here is my advice for what a women should and should not wear as a wedding guest.
DON'T wear white or ivory. It wouldn't bother me personally, but it's frowned upon in general, and some brides get so upset that they actually ask women wearing white to leave the wedding. As ridiculous as that may sound, it's better to avoid the situation altogether. There are a ton of other colors out there — choose one of them!
DO dress for the venue. If the wedding is on a lawn or on the beach, those strappy jeweled stilettos might not be the best idea. You might want to consider flats, kitten heels or wedges instead. Or if the wedding is in a fancy hotel ballroom, you might not want to wear a casual sundress with flip flops.
DON'T wear the same exact color as the bridal party, at least not intentionally.
DO dress comfortably. I think that anyone who subscribes to the "fashion before function" philosophy is glutton for punishment! You're going to be wearing this outfit for several hours — why would you want to suffer in a dress that's too tight or shoes that pinch? Nowadays, it's easy to find clothes and shoes that are stylish and comfy!
DON'T wear anything that's too flashy and/or revealing. This is a wedding, not a nightclub. The bride's great-aunt has no desire to see your butt cleavage. Trust me.
DO keep in mind that some houses of worship have dress codes. For example, one is not supposed have bare shoulders in a Jewish synagogue. If you're unsure about ceremony dress codes, feel free to ask the bride, groom or their families. And you could always bring a wrap or pashmina with you just in case.
DON'T dress for the wrong time of day. A slinky LBD would be inappropriate for daytime, and a pastel floral sundress wouldn't quite work for evening.
DO remember that if you have to ask "Is this appropriate?" it probably isn't. But also remember that even if you make a screaming fashion faux pas as a guest, it's not the end of the world. All eyes will be on the bride, not you!
What rules do you follow when dressing for a wedding?
-Dana F.
It's no surprise that we have a little geek side over here at BAB. I mean, let's be real. You don't get this cool by not having a daily dose of geekery in your diet. And what better way to celebrate your inner fangirl than adding bits and bobs to your wedding day?
ALLONS-Y!
When you first glance over at my group of friends, I'm the Phoebe to their Chandler, Joey and Ross. But what you don't see on the outside is that this edgy, bubbly chick can definitely get her nerd on, especially when it comes to Doctor Who (and minions!).
Kevin and I recently decided to revisit the series, starting from our dear Mr. Christopher Eccleston and suddenly I was overwhelmed with the desire to have a Doctor Who themed wedding (again)! Just picture it, a touch of color in every direction — you don't even need to be a Whovian to enjoy some good, ol' blue!
Bring a bit of classic art to the table with a cake mimicking the famous work by Vincent van Gogh!
Pinterest has some amazing recipes for drinks — ask if your venue allows you to do a customized cocktail and serve up some Killer Kool-aid (adult style!).
Now there's the standard TARDIS or "Timelord" and "Companion" ring sets, but this little beauty completely sold me. Simple and classy with a touch of inner-geek!
"Nine hundred years of time and space, and I've never met anyone who wasn't important." So why not lock their memory into this customizable TARDIS guest book!
Between you and me, I could not be more thrilled that I came across this! I had an idea to use the sonic screwdriver to hold up my bouquet but could not find someone else who had done it. Until now! I can guarantee I'll be holding this on my day — nerd moment all the way!
Now we just need a bouquet to give away!
What a sweet, little addition to your aisle. Dress up your flower girl with a blue tutu and your ring bearer with a bow tie (because they're cool) and not only do you have an adorable picture but a little Matt Smith to drive the girls crazy.
Sapphires are such a beautiful accessory to have. They're classic and timeless, but can be used in the most unexpected ways.
And lastly, a touch of navy blue on your dress, how could you go wrong? Or if you want to go all the way, perhaps add a small TARDIS on the inside of your dress for your "Something Borrowed" and "Something Blue"!
Are you incorporating any TARDIS blue into your wedding? Or do you have something else subtle and sneaky that's a must-have?
Daniel and I have three goals with our wedding: keep it cheap, keep it from looking cheap, and keep it unique. During these early stages of our planning, we've tried to come up with ways to save ourselves money without sacrificing our vision. Thus far, we've come up with several ideas that not only cut costs, but also make our wedding even more uniquely suited to our personal style. Take a look at our top five!
1. The Dress
This is my "marriage" dress from the ever-gorgeous Kitten D'Amour.
Even though I plan to have two dresses (one for the "marriage" and one for the "commitment ceremony"), I am still able to have them both for less than the price of one regular wedding dress. How? I want a rather "untraditional" style. I want a tea length, vintage-inspired dress, preferably all lace and preferably red. My first dress is a stunning party dress from Kitten D'Amour, an Australian company that specializes in vintage-inspired luxury clothes. My second dress is to-be-determined and is proving difficult to find. However, there are several vintage-inspired brands that allow fully customizable dresses, and the most expensive dress I like is around $800 US. In short, don't be afraid to go untraditional and/or custom – it's cheaper than you think!
2. The Flowers (or lack thereof)
Daniel and I aren't really flower people. I don't like them because they die so quickly, and Daniel just isn't very interested in them at all. Besides, our venue has several gorgeous gardens in the springtime: flowers included! Therefore, instead of blowing the budget on floral pieces that will simply wither and fade, we're considering replacing all the wedding flowers with material options. Boutonnieres? Try pocket squares. Centerpieces? Try candles and lanterns. Bouquets? Try vintage bro0ches or origami. Personally, I'm leaning toward book pages – perfect for me (as an English major/writer) and my potential bridesmaids, who are all English majors, writers, and/or bookworms!
3. The Favors/Gifts
I have never understood exactly why guests and attendants need favors or gifts. Yes, they all deserve gratitude for showing up, showering us with love and support (and things of monetary value), and devoting their time and energy to our wedding. However, which guests really want a container of bubbles or tulle bag of candies? And which attendants really want a necklace or cufflinks
? Shouldn't your loved ones be willing to celebrate your union without expecting gifts? And more importantly, don't they deserve better than something disposable or generic? Daniel and I do want to provide our guests and attendants with a favor or gift, but we want it to be something they can actually keep and treasure. We're not sure what form this will take yet – maybe printed photographs with us at the wedding or personalized poems or my pseudo-infamous "joy jars," but whatever it is … it will be better than a plastic container of bubbles.
4. The Decorations
Two of our best friends are getting married in a few weeks, and the bride has informed me that their wedding decorations are minimal. In her words, "why spend a bunch of money on decorations that serve no purpose after the wedding?" I totally agree. One reason Daniel and I chose a "vintage" theme is so our wedding will be filled with things we love that we can use again in our vintage-styled home (you know, once we're done with graduate school and have money for a house, yikes!). So, the picture frame with chalkboard center that lists the wedding menu will become Daniel's board for the grocery list or dinner options. The small suitcase that holds the wedding cards will sit on our coffee table and hold magazines (by which I probably mean GQ). You get the idea.
5. The Officiant
This is Daniel and our friend Gary at MorrisonCon.
Neither Daniel nor I are religious, so we knew we did not want to have a religious officiant. However, the idea of having a judge or justice of the peace marry us seemed a bit unromantic and impersonal. Therefore, we had the brilliant idea to ask a friend of ours to become an ordained minister and perform the ceremony. The advantages to this are: it is free, we can customize the entire ceremony (which is appealing for me as a writer), and we can be joined in matrimony by someone who truly knows us and blesses our marriage. Our officiant of choice? Our friend, Gary, who was in Las Vegas with us when we met. Gary was our first mutual friend, and he witnessed (and advised on) the first days of our connection – add in his dazzling sense of humor and teddy bear charm, and how could we do better?
Of course, nothing is set in stone until money is paid, return dates are expired, and the bride drops the "zilla" in the decoration category. However, we are feeling pretty confident that these ideas will save us some cash and add a few unique details to our wedding day. In all honesty, I think it's just lucky that we both like "vintage" – but hey, I'll take all the luck I can get in putting this wedding together.
Happy Friday, Broke-Asses! This week, we got a super special request from a super specialer (yup, making up words here, folks) bride-to-be: My former roommate from way back when, who is getting married in a very amazing location needs something to keep herself warm and cozy for her fall nuptials. So, she hollered at yours truly with a mission to find a toasty wrap or shawl for her usually chilly self that would greatly compliment the long-sleeved short antique-y dress she plans on donning. So, Kate, here's what I found … and I know you would rock the hell out of any and all of these. Bonus: All ring in at under $80!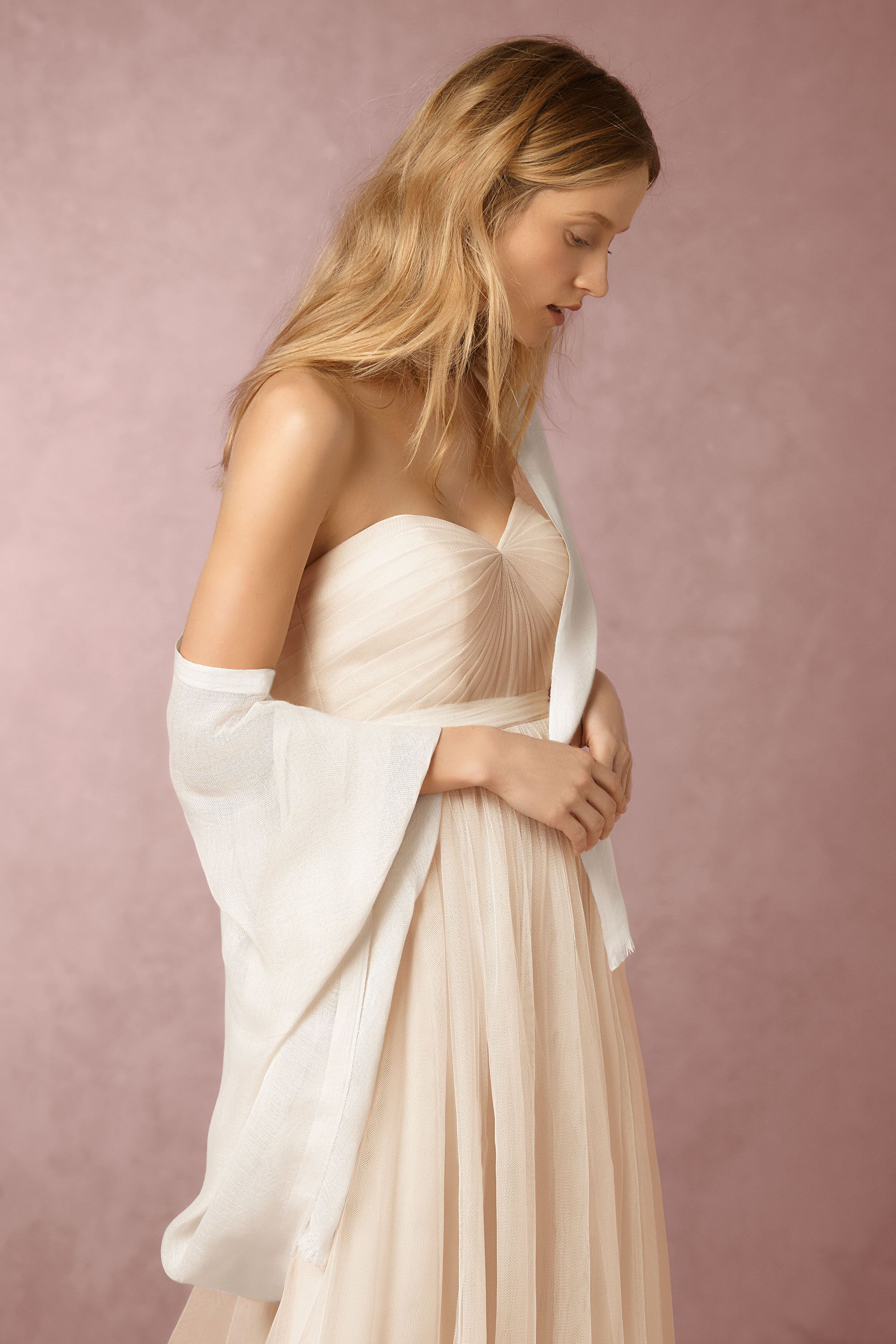 Carlotta Wrap, BHLDN $78


Daydream Confetti Shawl, Ruche $28.99

Pashmina Shawls, The Dessy Group $30.00

Mandy Boucle Tassel Shawl, Boohoo.com $32
Alpaca Wool Winter Shawl Wrap, Amazon $49.99
Whaddya think, Kate? Any of these make you fall head over heels? How are the rest of you Broke-Asses staying warm on your wedding day?

Angela and Jay had their beautiful wedding in January of this year, incorporating meaningful locations, the support of their community, and some Arizona flair. Seriously, how cute are these cactus favors? It goes to show that you don't need to spend $30,000 to have a beautiful, memorable wedding day…and since their family and friends were involved throughout, they were able to start their married lives feeling truly loved and blessed.
Names:  Angela and Jay
Occupations: Angela- PhD Candidate, Cultural Anthropology, Jay: Video Game QA Lead, Red5 Studios
Wedding location: Phoenix, AZ (Immaculate Heart of Mary Church and the Science and Heritage Park)
Wedding date: 01-04-14
Wedding budget: Original $3000…..Actual $5000
Approximate guest count: 100
How would you describe your wedding? Laid-back, informal, with traditional aspects
What was your favorite part of your wedding? I loved getting to talk with all of my friends and family during the reception. I just wanted it to last forever.
What did you splurge on? The reception venue. We met on NYE 4 years ago at a bar owned by my husband's friend. The venue is RIGHT behind it, so we both wanted to celebrate our marriage there, even though it was pretty expensive for our budget. It didn't include much. It had a small catering kitchen and tables and chairs we could use. I also spent $444.00 on my wedding gown. I felt guilty for this, since Jay was wearing a suit he already owned. I REALLY wanted a simple white dress, off the rack. But I couldn't find anything I liked. My mom made me go to a David's Bridal one day and I found something that wasn't too shiny and fancy for me. I hoped to sell it…but, then a friend burned a cigarette hole in it, and I spilled my beer on myself. I'm sure someone would still buy it…
What did you save on?  Everything else!! The cake/cupcakes were made by my best friend from high school. I won a few bottles of champagne in an online contest. I cut out all the paper flag decorations with my mom. My brother bought decorations off Craigslist from a woman who had similar colors for her wedding (candles, cake plates, lights, lanterns). I bought all the servingware (bowls, trays, and tongs) at a dollar store. I didn't want flowers at first, but my mom wasn't having that. So I found 10 bouquets at Costco for $100. They doubled as bouquets for the bridespeople and table decorations. We gave small cacti as favors (only 50 of them) and my friend purchased them for me at cost ($1 per cactus) from his cousin who runs a nursery. We decided a build your own sandwich bar would be good instead of a caterer. It was very simple. We had sliced cheese, turkey and roast beef with condiments. We bought bolillo rolls from a Mexican bakery which was cheaper than the same rolls at Costco. I made three grain/pasta salads that were very very inexpensive. One was quinoa, one was a pasta salad, and one was Israeli couscous. The biggest saving was the alcohol. My husband's friends who own the bar gave us free beer and wine! We also received free coffee due to a mixup at the coffee house. That was a nice surprise!
Was there anything you would have done differently, in retrospect? I would have done two things differently. First I would have managed time better. We were married in a church service and since my husband is not Catholic, we didn't have the full ceremony. In fact it only took 30 minutes. We had no idea it would be that quick! This meant that our guests had to wait about 2 hours between our ceremony and the reception. Since our reception was only a block from the church, most of our guests just headed to our friends' bar for food and drinks. We had to set up the wedding while they did this. We decided to set up our own wedding to save money (of course!). Since we were early, the young men we had hired to set up the tables hadn't gotten started yet. Everyone was stressed out and working hard. They wouldn't let my husband or I do much, which was nice, but also frustrating.
The second thing I would have done differently is I would have hired a day-of coordinator. I would have just asked an old friend and paid her $50 or something. That way she could have fielded the 10,000 questions everyone had for me that day. The questions freaked me out because I really wasn't very picky about how everything looked, but of course no one believed that. Most of the questions were related to the decorations.
What was your biggest challenge in planning?  We had a few challenges. The biggest challenge was money. We don't have a lot and everything really added up.  I was in Washington teaching for the Summer and Fall semesters right before the wedding. So not only did Jay and I not get to see each other, but all of my planning was done through email and phone calls. I didn't even see the church until the rehearsal dinner. Luckily we were familiar with the reception venue.
What lessons did you learn from planning or from the wedding itself?
1.Our families really care for us. When we needed help purchasing something they always came through and just gave us money. We didn't abuse this privilege, however.
2. I wouldn't have bought so much food. Lots of our friends who said they were coming didn't show, so there were too many sandwiches. Also, we had made sure to tell people that we were only serving light food, and during that 2 hr break between wedding and reception, lots of our guests ate dinner. My mom ended up donating bread to a soup kitchen which was great, but it would have been better for us not to spend the money in the first place.
3.I also learned that dancing is not as important to other people as it is to me. I spend what seemed like weeks and weeks creating our playlist. It was nuts. I went from slower dancing at the beginning to all out party music at the end when everyone would have been drunk. Well, The only dances that happened were our first dance and the father/daughter dance. Everyone else just used the wedding as a way to catch up with old friends and family, which was lovely, but not what I had envisioned. I wish I'd not cared about the music so much.
What were your top 5 favorite things about your wedding? 
1. Seeing friends and family that I hadn't seen for years. I have lived in CA and WA for the last 4 years, so I'm out of touch with a lot of my Phoenix peeps. My husband is the same way. It was nice to have everyone together.
2. The cake and decorations! I really loved what I did. Yes it was simple, but it reflected us. We aren't flashy people. I was really proud about the money I saved.
3. The help we received from friends and family. They worked so hard and the night of the reception I felt really very guilty for it. I saw my mom running around putting lunch meat on platters and making a veggie tray. My bridespeople and other friends all helped immensely with various food and decorations. It made me feel awful at the time, but everyone says it wasn't a problem and that they had a good time. Also, it made me feel very loved.
4. Wine and beer! Not only was it free, but it helped both me and my fiance loosen up a bit.
5. Getting to celebrate our commitment to each other in front of all our friends and family. Although Jay and I have been committed to our relationship for a while, it felt good to share that with everyone else. Everyone was really happy for us, and that felt great!
Top 5 least favorite?
1. I didn't like the music at the wedding ceremony, but it wasn't a big deal. It was just boring church music that didn't really fit the wedding.
2. My fiance was nervous and I didn't know how to cheer him up. He didn't smile once during the service and his hand was sweaty when I met him at the altar. I felt like I was failing him by not creating a happy wedding. He finally loosened up at the reception after we cut the cake….. about 3 hrs in…
3. I don't have a picture of my parents walking me down the aisle.
4. Friends and Family who said they were coming that did not show up.
6. We only paid for a 3 hour reception. I wanted it to last at least 2 hours longer into the evening. We did all move over to the bar, but my fiance and I didn't stay as late as our guests. I guess that was probably a good thing!
What was the worst piece of wedding advice you received? I didn't have any bad advice, just a LOT of judgement from others. When you tell people that you are getting married, suddenly everyone has an opinion on things. (tablecloths, flowers, food, "You HAVE to have the Chicken Dance!", etc.) That was a little annoying at first, then a lot annoying. Also, I really thought that our relationship would somehow grow deeper at a profound level after getting married. It didn't. I still feel the same love for him that I felt before the wedding. Although there are times when I think "Wow, that was a whole fiasco, wasn't it? Getting married in a church when neither of us are religious, having a fancy white dress, registering for gifts, etc. I can't believe he loves me SO much that he would do it all and not complain once."
The best? A few friends told me "Do what you want and try not to listen to other people." and "This is about a marriage, not about a wedding."
Any other bits of wisdom? Just have fun on your wedding day! Soak it all in and try to remember everything. Smile and say thank you as much as possible. Don't sweat the small stuff.
Budget breakdown?
Venue (4 hour rental, includes a $500 refundable deposit): $1645.00
Security (We had to hire an off-duty cop for the venue.): $120
Marriage License: $107.00
City Fees (sound permit, alcohol permit): $38.00
Food,cups/napkins (Costco, regular supermarket, Mexican Bakery): $423.00
Sparkbooth (only 5-6 guests used this…I could have skipped it.): $55.00
Stereo speaker rental (we borrowed a few from friends too): $80.00
Vistaprint invitations w/postage(we emailed most people but sent out 60): $61.50
Photography (elizabethbatesphotography.com): $500.00
Decorations: flowers ( Costco ) Tablecloths ( TableclothsFactory ): $406.87
Dress (David's Bridal): $444.99
Shoes/Veil (DSW Outlet and Claire's Workshop ): $52.30
Church marriage prep: $350.00
Hair (The Root Salon)$65.00
Bouquet (made by a friend who does this as a small side business): $100.00
Rings (I used my grandmother's but it needed a few prong repairs. I traded in some gold to help pay for that. We bought a stainless steel one onAmazon for Jay for the ceremony. He got a tattoo of his ring because he doesn't like jewelry): $210.00
Hotel room for wedding night ( Sheraton Phoenix Downtown ): $112.00
Total: $4770.66
Free items: Cake/cupcakes, alcohol, tables/chairs were included with rental, extra help setting up was a gift from BIL's girlfriend, Church fees were paid by my parents (because they wanted the church wedding), Coffee (there was a mix-up at the coffeeshop, so we got it for free!), and FIL paid for the rehearsal dinner.
Dear Heather,
I just discovered The Broke Ass Bride and I'm happy. I really needed a website like this. My fiance and I had been together for 7 years, lived together for 4 and have a 3 year old son. We got engaged last October and are planning our wedding for next December. The problem is it is really going to be a low budget wedding. Most of everything, including my dress, the catering, flowers, the music, the photographer, the cake, some decoration, and even the alcohol has been covered by relatives since my fiance's family is extremely close and really love throwing parties and helping each other in every way, including economically.
The problem is this: my family is big, my fiance's family is huge. After taking out every single person that does not HAVE to be there, our guest list is 205 people. My fiance and I have been facing a hard time economically, which happened after we started planning and set a date, so we didn't know we were going to have money problems. This is causing us to have a very hard time paying for a venue and we may not have a honeymoon right away. We will also need money for decorations, his tuxedo rental, and my dress accessories and alterations. A LOT of people have been telling us that if we need anything we should just say so because THEY WILL help with something for the wedding, but they don't come asking what we need or offering anything. However, we need that help now or otherwise we will miss the venue due to availability. Plus, some relatives have made arrangements already to spend the holidays here because of the wedding.
We are trying to decide if we should write a note politely asking for help with the wedding planning instead of wedding gifts, since we don't need anything for our home. The only thing we need is help for the wedding, be it money or other kind of help. I have read that it is always wrong to ask for money; that if I don't have it, I shouldn't be celebrating the wedding. I don't want a big wedding. Right now, everything I need for the wedding to happen is the money for the venue.
What should I do? This is really stressing me out. Your response would really be a blessing.
Thank you very much!!
No Money For Venue
Dear Money,
It sounds like your main struggle right now is finding money for the venue you want. Is this particular venue nonnegotiable? If you haven't considered all of your options, including finding a less expensive venue, do that first. If that venue is the only one that will work in your area, then you should talk to your fiance's family. Since they've already offered money for various aspects of the wedding, ask if some of that money could be transferred to paying for the cost of the venue, especially if you have your heart set on a particular place. If they're amenable to that option, then work on decreasing the cost of the other things they were going to pay for. Find a less expensive dress. Downscale on flowers and use only things in season. Talk to your caterer about ways to make the menu less expensive. Hire a more affordable DJ (or do an iPod reception) and photographer.
Once you've done all that, realize that it's extremely unlikely that everyone on the invite list will attend. You said that you don't want a big wedding. I'm not sure what constitutes "big" to you. While I don't think that your invite list of 205 will ever turn into a 15-person super-intimate ceremony, I also don't think that you'll truly have 205 guests. Obviously, though, if you can cut the invite list, it will make other things more affordable, what with fewer meals, tables, chairs, centerpieces, etc. If you cannot cut the list, though, prepare to cut everything else, as referenced in the previous paragraph.
Speaking of invitees … some of them have offered to help. Take them up on it! When it comes to weddings, people want to help, but they need to know what you want. It's extraordinarily unlikely that anyone will come up to you and say, "You know, I really want to do [x] to help with your wedding." Instead, they make general offers of assistance, and it's up to you to take the next step. Figure out some ways they could help – put the crafty ones to work on making decorations, have your seamstress friend help with dress alterations, tell the friend who makes jewelery what you want in regards to accessories and let her run wild – and give them specific tasks. The key here is that you have to actually ask them to help and give them achievable jobs.
You mentioned that you might not be able to afford a honeymoon right away. While it sucks, this is not the end of the world. I would suggest doing some sort of mini-moon; maybe see if there's an affordable nearby bed and breakfast that you could escape to for a couple of days immediately after the wedding. And then, on your one-year-anniversary, take a bigger trip.
As for asking for money – I agree that writing a letter and explicitly asking for money is a no-go. However, there are plenty of registries out there now that let you ask for cash. We actually did a post recently about Present Value, which you should check out. I think something like that could serve you quite well.
Have you had friends or family offer to help? Did you take them up on it? How did it go? Tell me about it in the comments below!
*This post is brought to you by our friends at Madison Reed*
You guys, I have a confession: I'm a bottle girl.
No no, not that kind (I hate waitressing as is. Add a nightclub to it and yeah … NOPE).
I'm talking the kind that you use when you color your hair. Now, don't get me wrong. I am a natural blonde, but here's the thing: I want to be blonder. I want ALL THE BLONDE. But I'm frugal (duh), and it's like pulling teeth for me to spend money on a trim (which happens like once a year). So, I want salon-quality, super easy and uber affordable. And I don't want to have to mess with it too much. Easy request, right?
Actually: Yes, yes it is. Because: Madison Reed. This online subscription-delivery company takes alla dem hair-coloring worries (going to the store, trying to find the exact same shade previously purchased, figuring out if the instructions are actually speaking English, etc.) and gives 'em the big ol' middle finger.
Sure, Madison Reed's website offers pics of their various shades, but even more than that, they have consultants available to help.
But since I knew that I just wanted ALL THE BLONDE, I picked Roma. And then I was off!
Just look at dem rootz. Oof.
The packaging is super pretty and it's not just "color developer, tube with color, conditioner, gloves and crappy instructions that get ruined if they get wet at all." Nope. There's lotsa goodies, including:
2 pairs of gloves (one for coloring, one for the rinsing out process)
a shower cap (so you can actually DO STUFF while the color develops, rather than walk around like a giraffe with a neck brace on)
wipes to get the goop off your face
cream to keep the goop from getting on your face
a really rockin' set of shampoo and conditioner (I love this stuff)
All this is in addition to the regular color and developer shizz. And the instructions? They're printed on the packaging, so they'll hold up even if there's a color-splosion in the bathroom.
It says to use all of the color in the tube. I squeezed that mofo like my life depended on it.
The process is pretty standard: Prep, mix, apply, saturate, wait, rinse, swoon.
Très good look for me, non?
Of the many things I really liked about this system was that there was a very obvious lack of strong chemical smell and the color lasts.
Since Madison Reed is a subscription-delivery service, you can set it to arrive at your doorstep however often you choose. And since you're skipping a trip to the salon, it saves you beaucoup bucks.
Mission: Go Blonder complete!
If you're thinking of giving your follicles a little color boost before your big day, try this shizz out. For serious.
In the short time I've been engaged, I feel like I've got a lot of the big stuff done. I've booked my venue (an awesome 1920's theatre in downtown Greensboro), secured my photographer, found a DJ, my dress is hanging safely in my parent's spare bedroom, and I've sent out my save-the-dates. My mom recommended I assemble a spreadsheet as to track my expenses. Now, to be honest with you, math and financial responsibility have never been my strong suits, so I was a little apprehensive.
She walked me through all the columns and rows, and everything looked good. I was well under budget and feeling pretty good about it. Then, today, I remembered the caterers (Apparently its in good taste to feed people when they're coming 1,000 miles for your wedding). We're having Carolina barbecue for our meal, which is damn tasty (and cheap). Since I don't have to give them the final head count until 3 days before the wedding, I calculated as if every single one of our guests RSVP'd yes.
YIKES. If everyone shows up, I will officially have approximately $250 left for the following:
Flowers (bouquets,  boutonnieres, etc)
Any decorations
Bridesmaid gifts
Hair/make-up for myself
Alcohol
Now, I know every single person we invite will likely not show up, but it's still enough to skyrocket my anxiety through the roof, and start freaking out a little about my budget. Before today, I was fairly confident that I wasn't going to have too many problems staying in the lines.
It looks like it's time to get creative, and I would love to enlist my fellow broke-ass brides in any tips, tricks, or things I can do to get my life together. Please help me!
Choosing a venue can be one of the most difficult aspects of wedding planning. And in San Diego, the options are endless. You can get married at the beach, on the bay, at the beach, at a winery, at the beach, on a ranch, at the beach, in the city, and also the beach. Did I mention THE BEACH? If you are sensing snark, your snark-sense is working. We are the furthest from beach-loving people as we could possibly be. Why? SAND. Also, sand fleas. I will not elaborate, lest you spend the rest of the day inadvertently scratching phantom itches.
After our engagement (and maybe a little before because at the end of the day, I am woman) we started browsing venue options. Our search continued until I said, "How about a brewery?" and Justin replied, "This is why I am marrying you." I searched the most popular brewery site in San Diego – I won't give it a name but I will tell you that it rhymes with "phone." The food and beverage minimum for this site was literally more than I ever dreamed one would spend on a wedding which led to yet another WE CANNOT AFFORD ANYTHING emotional breakdown. Actually more like, "I would NEVER spend that much on a wedding WHAT IS WRONG WITH PEOPLE" breakdown.

images via Rachel McFarlin Photography & ABM Photography 
Which led us to look up Karl Strauss Brewery Gardens. We were both very familiar with this site because it is down the street from where we live. One point for convenience! Beyond the uniqueness of the grounds, a few things really set KSBG apart from other venue options – most notably that it is all inclusive. There are no separate charges for parking, cake cutting, chairs, table setups, linens, you name it. Many of the other venues I glanced at made me appalled at the nitpicky, nickel-and-dime charges they come up with. And the bonus? They have their own bakery and DJ contracted already. Which means less work/decision making for us to do. Total score.
BUT WAIT, THERE'S MORE. The grounds and gardens are GORGEOUS. Hello, you are going to give me all of your beer and do half of the work for me AND be completely gorgeous? SOLD. Really, it was a no-brainer. And in the end we are proud to say that we looked at ONE venue. One singular venue that met every single one of our wedding desires. KSBG, our one true wedding venue love. Am I bragging? Yes, yes I am. Because this was a huge decision that we made incredibly simple and are more than confident in our choice. And I also just spent a good two hours looking at return address stamps so I needed to remind myself when the important decisions happened…
The one person who is not happy with our decision is my father. My Bud Light Lime loving father, whom we are forcing to drink "that fancy shit beer," because obviously they only offer Karl Strauss products (which are a DELIGHT). We are trying to acclimate him; so far, we have not succeeded. Stay tuned for updates on our quest to teach my father the ways of fancy beer!