Posts in the 'bridesmaids' Category
In one of our many efforts to keep our wedding simple and laid back, Zach and I decided not to have an official "wedding party."  It's not that we don't have friends who we'd love to honor with this position, as I think both of us could easily pick a few close buddies to stand up with us.  It's more that we just don't really see the point.
I mean, dressing alike is cute when you're toddlers…And then all of a sudden it's cute again when you're a fully-grown adult if you're in a wedding?  I don't get it.
We didn't want to boss people around and tell them what to wear and what to help with for our wedding.  Honestly, we hope that our friends and family will voluntarily step up and help us out of the goodness of their hearts, not out of obligation because of some "title" we've bestowed upon them.  We're still involving some special people in the ceremony by having them perform readings, and both of our best friends will still be giving toasts at the reception.
Another factor in our decision was that our wedding is only going to have about 60 guests.  The more people you put up front the emptier the seats will look!  I don't want our ceremony to look like no one is there because there are no butts in seats!
Anyone else forgoing a traditional wedding party for a more casual approach?
HI! If someone referred you here, it may be because they don't feel they can adequately explain to you why you're being an asshole about their wedding. Maybe it's because they simply love you too much, or maybe it's because they can no longer stand the sight of you! It's probably some combination of both. You obviously haven't noticed it yet, but your words and actions are causing them bucket loads of needless stress and anxiety. And as planning a wedding is one of the most stressful situations a girl will ever voluntarily put herself through, that shizz needs to stop right now.
In any case, don't be mad at them for directing you here and sort of implying that you're being an idiot. They never said you were an idiot! DISCLAIMER: I am not explicitly calling you an idiot either (except when I am). I'm sure you have an excuse for your behavior that sounds completely reasonable…in your own mind. But please,  let me try and explain why your selfish actions are at risk of totally bogarting someone's big day. Read these options and see which one applies to you.
Oh, you think this bridesmaid dress makes you look fat/pregnant/too old/too young? Your opinion has been noted! And renoted. Highlighted, and put in ALL CAPS. Please stop kvetching about how much you hate your dress, and let your friend get back to enjoying her wedding planning journey. Consider the expense of a single dress you are not-so-secretly not in love with versus the price of friendship. (And if you're secretly thinking the price isn't worth it — DON'T use one of life's happiest occasions as an excuse to broach the subject. Chalk it up to a life lesson.)
Are you using this wedding as one giant excuse to stir the pot and re-incite old family tensions? Seriously, if you can't be a damn grown-up and sit through a meal surrounded by a few people who rub you the wrong way, maybe just sit this one out.  But don't act like you're making a statement by doing so either, you asshole.
You can't comprehend why your children aren't invited to this wedding? It's because they're tiny assholes. No, the bride didn't say that. She probably doesn't even think that. I think that. Some people are all about big, loud, raucous family weddings. Others would rather foster a more sophisticated, adults-only atmosphere.  Just because you're used to big family weddings, doesn't mean someone is slighting you or your children by not inviting them. Would you take your kids to a cocktail party? No. So leave your tiny assholes at home, and relish in the opportunity to enjoy some good old fashioned adults-only fun for a night, or stay home. And if you do decide to decline on the RSVP, SEE ABOVE.
Are you of the opinion that because you or your party are helping the happy couple pay (or are paying in full) for their wedding, you have final say on everything? I say this with love … you're kind of a horrible person! I'm sure being parented by you was trying enough, so maybe loosen up a little and let your children plan their own damn wedding? You're lucky they still love you at all, because it seems you have serious control issues, and/or are unbelievably selfish. If you absolutely do expect to have the final say on everything, but disagree with me on that last little bit, then you also need therapy.
You're paying for, or financially contributing to the cost of the wedding, so you think you can invite whoever the eff you want? Well the good news is, you're not horrible (and you're not at all alone). The bad news is, you should probably just let your kids decide who gets to share in one of the most important days of their lives. I know your baby's big day is the perfect opportunity to show off and assert your superiority over distant cousins, coworkers, and whoever else, but don't. Just don't. You can show them all the pictures later. Having a bunch of people at your wedding that you barely know is both horribly awkward, and a needless expense.
If none of them resonate, it's VERY likely that …
You don't care enough. Dammit, your son/daughter/sister/brother/best friend is getting married. It is a BIG DAMN DEAL, and you treat it like it's mostly a major inconvenience, if you bring it up at all. Maybe you're too young and stupid to get how serious this whole affair is, or maybe you're too old and stupid to remember how crazy and stressful and wonderous and joyful the whole wedding experience can be — but suffice it to say, you could care more. You could do more.
Maybe you're sad and a little bitter because love hasn't found you yet — or maybe it's found you four different times and you're just sort of over it. That doesn't change the fact that these two people have found each other, love each other, and have to decided to JUST GO FOR IT, statistics be damned! And that is worth celebrating every time.
You care too much. Holy hell, back off already. This isn't your wedding. These aren't your decisions. If the bride wants you to take the reigns and plan her entire wedding, she will ask you, pointe blank. If she hasn't asked you, don't just assume the job is yours! And don't get on her ass just because she's not planning her whole shindig based on some wedding planning timeline you read about in a magazine.
Again, I say this with love: Find another hobby. Maybe you're just jonesing to plan your own wedding, there's no groom in sight, and you're just living a little too vicariously through her. Maybe your wedding was a gajillion years ago and you're just trying to recapture your former bridal glory, while totally annoying her with all your terribly dated decor suggestions. Your day will come —or your day has come. Hard lovin', I know. Find something else to obsess about.
"But, but, but…" you say, "the bride in my life has morphed into a completely unruly, wedding-addled wackjob!" Well, look out for my follow-up piece "Oh, You Think You Fancy? Your Wedding Is Ruining Everyone's Lives!" on the blog soon! And hang in there.
Wowza, you guys just can't get enough of For Her and For Him, can you? Well, they feel the same way about you, so For Her and For Him is back with a whole new range of dresses, some big changes in the shop, and one smokin' promotion, just for you Broke-Asses.
For Her and For Him has made some improvements in the shop, including hiring a very experienced pattern maker who has helped spruce up dress patterns to better suit customer preferences. They have ramped up stitching intensity from 7.5 to 10 for every last inch of fabric and have scoured various fabrics to find a lighter, thinner lining material, thus leaving you feeling more comfortable and relaxed – like you're floating on cloud 9! All this, plus there's a shiny new measuring guide that is practically foolproof!
Because For Her and For Him is so in lurve with you BABs and they want to show off all their fancy new improvements, they've got a killer deal for you. What? Yeah, you heard.
From Sept. 5th through Nov. 30th, For Her and For Him is offering:
- 10% off the purchase of two dresses, 20% off 3-5 dresses and 25% off the purchase of 6 or more!
- FREE custom sizing
- FREE FedEx shipping worldwide
And that's not all. "Like" For Her and For Him on Facebook and get an extra $10 off immediately. Not looking to buy right away? No problem. By liking their Facebook page, you'll get a code that will extend the deal until you're ready to make your purchase.
In addition, if you write a review after receiving your dress and post pics, you'll get $20 cash back!
Whew. I don't know if it gets much better than that, BABs! So get yourself over to For Her and For Him and score yourself some sublimely sweet, divinely affordable bridesmaid dresses!
On the hunt for bridal and bridesmaid looks that won't break the bank? You can stop searching. We've got stylin' bridesmaids get-ups for right around $100, and a one-of-a-kind bridal look for under $500. Yes, that includes shoes. And accessories. All are courtesy of fashion-forward e-tailer ASOS.
First up, Pretty in Pink Bridesmaid Look – $100.97. This romantic style (seen above) is perfect for a vintage or handmade-inspired wedding, or a laid-back, outdoor or barn ceremony. Pair it with loose, wispy hair and whimsical bouquets. For an outdoor summer wedding, you can skip the flats and opt for brown or bronze sandals.
Something Blue Bridesmaid Style – $97.76 This is the look for a bright, summer beachy wedding. If you're getting married on the sand, you can also have your girls walk down the aisle barefoot, with bright blue painted toes. Pair it with long wavy hair and a bouquet of fun white flowers, like daisies or dalias.
Black and White Bridal Look – $463.97 This is a style for the untraditional bride, who wants to make a nod to the white dress, but wouldn't be caught dead walking down the aisle in a full-length gown. Put your bridesmaids in black dresses and carry dusty pink bouquets. On this look, the sandals are almost twice as much as the dress, so if you're on a tighter budget, skip the new shoes and opt for your favorite pair of black heels.
There you have it! Beautiful budget-friendly looks from ASOS. Do any of these outfits inspire you? Let me know in the comments!
The follow-up to last week's Handmade Bridal Party Gifts Edition, Part Two of the Round-up features stunning splurges for your wedding day from Brooklyn's Renegade Craft Fair. The best part is, everything comes custom-made to your desire. If the prices listed are a bit out of your range, contact the artists. They'll likely be willing to work with you to create something within your budget.
Meesh's hand-printed Wedding Tree, $75, pictured above, is an alternative to a traditional guest book. Guests create leaves on the tree by adding their signed thumbprints. The 18″ by 24″ print comes customized with the names of the bride and the groom across the bottom. Directions for guests, acid-free archival stamp pads and and thin-tipped permanent markers are included. Best part is, instead of seeing your guestbook tucked away on some bookshelf after the wedding, you can frame this and display it proudly on the wall of your home.
I'll admit it, I'm a bit of a sucker for ampersands. And typography. And invitations that don't involve ribbon in any way, so I love everything about these custom silkscreen invites by the illustration team Two Arms Inc. Contact for pricing.
If you're shelling out big bucks for your dress, it's only right your groom gets to splurge on a little something for himself. And why not invest in clothing he can wear for years? Elizabeth Kading of Five8ths clothing creates custom men's shirts in her Baltimore workshop. She makes a range of styles, uses all-natural fabrics and takes the time to get to know how her customers plan to wear their shirts and what fit they like best. Her philosophy is to convince people to invest in a few high-qualtity, timeless pieces that last for years rather than a bunch of cheap, Made in China clothing that barely makes it through the season. The end result creates better jobs and it's better for the environment. Shirts start at $175.
While you're in the market for custom clothing, check out Jamie Lau Designs' handmade dresses for your bridesmaids. She uses fabrics collected from her travels in Japan or salvaged from vintage shops. Email jamielaudesigns@gmail.com for custom pricing.
I'll leave you with one more guest book idea. This leather, hand-bound book by To Boldly Fold can double as a scrapbook or a guest book. It lays completely flat when open and is composed of heavyweight acid-free paper. At $120, it's definitely a splurge. Try and convince your grandma to get it for you as a shower gift. If that fails, To Boldly Fold has smaller versions that retail for half that price.
Salutations,  BABs!  Welcome to another installment of CAN'T AFFORD IT/ GET OVER IT.  Broke Ass Lauren wrote in to ask us for assistance with her bridesmaids' footwear.  Here's Lauren's dilemma:
"My bridesmaids are all wearing yellow cotton dresses of their own choosing and I want to unify the bridal party with grey peep toe wedges. I found some linen peep toe wedges at gojane.com for $18.00 but they don't come in grey.  I also like these Dexter wedges but can't find them for sale with color a option either.  Please work your magic! I am looking to spend less than or around $30….I know its a tall order.
Thanks ever so much, Lauren "
CAN'T AFFORD IT (Can't find it!)
Dexter shoe from Payless.com- no longer available
Lauren, it seems like you're having your very own Fifty Shades of Grey (Wedges) experience.  Well,  there's no need to get all hot and bothered.  I've found a few gray wedges that will fit your budget and your aesthetic.  I've also come up with an alternative in the unlikely event that you don't fall in love with any of the gray lovelies I've selected.  So, what do you say we get over it already?!
GET OVER IT
Bouquets Rosette Silver (6pm.com $20.70)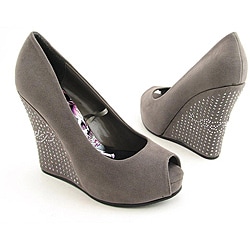 Ed Hardy Viva Gray Dress Shoes (Overstock.com $39.99)
ALDO Powskey Gray (Amazon.com $40.00)
Blowfish's Court Grays Dress Shoe (Overstock.com $49.99)
Merona Milena Suede (Target.com *Clearance* $20.99)
But if you don't like any of those options you can always buy a pair of white wedges and paint them!  Clean leather or leather-like shoes with Isopropal Alcohol.  And look into buying some spray paint specifically made for shoes like Meltonian Nu-Life Color Spray .  Although regular old Krylon spray paint will work too,  especially if you are altering the color of fabric shoes.  It's best to start with white or pale/neutral shoes.  Here are a few options:
American Eagle Jenerr Side Bow Wedge (payless.com $26.99)
American Eagle Kylene Peep Toe Wedge (payless.com $29.99)
rsvp Adalynn Ivory Satin (6pm.com $23.70)
Bouquets Caelyn Champagne (6pm.com $20.70)
Merona Marita Patent Peep Toe (Target.com $20.99)
And then there's the shoes below.  I know they aren't wedges but they are mushroom gray, peep toe, with an embelishment, and a low kitten heel.  I think they are fabulous!
Vaneli Djalma T. Moro Satin (6pm.com $29.99)
Please verify the color of these shoes before you commit to ordering any of them.  Every computer screen is different and color saturation varies.  Also, verify that the shoes you do buy are from the same lot.  There are actually more than 50 shades of grey in terms of tint and tone.  The same shoe from a different lot might be slightly lighter or darker than the rest. You should also consider metallics like silver, pewter, gun metal, etc… in your search too.  I hope this CAI/GOI has been helpful. Best of luck in your search for the perfect grey wedge.  And let us know how it all turned out, won't you?
Searching for original budget-friendly gifts for your hard-working bridesmaids and groomsmen? Never fear. My fiance and I spent last weekend culling through the Brooklyn edition of the Renegade Craft Fair, a collection of hand-crafted wares by independent designers and crafters, to bring you the latest and greatest bridal part gift ideas.
All the mind-blowing gifts featured below are under $50 and handmade by independent artists, who may be willing to work with you to customize your gifts. Most are made using sustainable methods and eco-friendly materials.
Bridesmaids
Give your girls a place to store lipstick, double sided tape and tissues for when you start bawling at the altar with this handmade ikat and leather Shelburne clutch by Shelter, $49.00. Shelter focuses on using local and sustainable materials, and many of their fabrics, including leather, are made in the USA.
Bridesmaids Back-Up Gift: If your girls aren't into clutches, check out this reversible hand-printed Hunting Circle Scarf by Bark Decor, $42.00. It's made from fine jersey cotton and eco-friendly inks.
Groomsmen
What to get the sports fanatic? How about a custom hand-cut remake of an Official League Baseball from the 1900s for $39.95. Huntington Baseball Co. creates hand-stiched, pitch-perfect replicas of vintage baseballs. Crafted in limited quantities by a single artist, these are among the finest you can buy. Best of all, William, the craftsman and baseball fanatic behind Huntington, can hand stamp a custom message on each one.
Groomsmen Back-Up Gift: If you're guys aren't into sports, gift them these men's cotton handkerchiefs screen-printed with the words "Blow Me" in the corner, $12 for a pack of two.  Witty and functional, what more could you want?
Ring Bearers and Flower Girls
It's not just any toy that can teach tykes cognitive skills and help them prepare for future teenage rebellions, but this Matching Tattoos Memory Game by Seven Acre Toys, $35, pulls it off. The twelve Maplewood tiles are laser-etched with six classic tattoos. Children flip over them over and play a game to help strengthen their memory-building skills. All products are handcrafted and made without paints, dyes or stains. While you're at it, check out Seven Acre's Mustache Wooden Pull Toy.
Ring bearers and flower girls back-up gift: The kids in your bridal party might be too old for a game of Memory, but not for a knitted friend, like this Elephant from Sweater Toys, $44.00. All Sweater Toys are one-of-a-kind, hand-sewn from recycled sweaters and vintage inspired cotton prints.
Stay tuned next week for my round-up of envy-sparking registry and wedding ideas from Renegade. Do you have other unique bridal party gift ideas? Share them in the comments!
This past weekend, my friends and family treated me to the most awesomest bridal shower ever! It's a little bit hard to surprise a person that lives out of town, so my shower wasn't a surprise, and I'm sooooo glad that it wasn't. I've heard some real horror stories about girls showing up for their showers looking like a hot mess, and I wasn't trying to make that happen. Plus, I appreciated that it gave me something really fun to look forward to……because let's face it, anticipation of fun is half the fun. No matter how pumped I was for the shower though, it completely exceeded my expectations. It was one of those moments in life when you just sit back and think, "Wow I know some amazing people, that really care about me." Seriously, I was touched.
Since Mr. Officer and I watched Breakfast at Tiffany's during our first date, the shower was Tiffany's themed. The bridesmaids thought of everything from handmade Tiffany box centerpieces, to adorable croissant favors. Amazingly, one of the bridesmaids even came down a night early, with three year old in tow, to make this amazing cake by hand:
Wow, these girls are talented! 
Check out the heaping pile of gifts………. 
And me making a weird face while explaining that I can now take covered dishes everywhere I go…. 
And posing with my cousin-in-law to be and the ribbon bouquet 
Unfortunately, I had to leave most of the gifts behind, but luckily that means that my parents have to come up to visit this weekend to bring my loot. All of the gifts were amazing, and here's an abbreviated list of some creative, off the registry gifts:
Now, to get started on all those thank you notes!  How about you, was anyone else blown away by their bridesmaids? Did you get any fun gifts that weren't on your registry?
Back in the early spring, I posted a roundup of affordable and fancy wedding flats. Well, since I'm such a huge fan of flats, and since it's been quite a long time, I wanted to show you another round of cheap, fancy flats, all for under $100, that would look amazing under your wedding gown or on your bridesmaids.
Nine West, $79
Fergie, $90
Restricted, $55
Me Too, $62
Nine West, $51
MICHAEL Michael Kors $70
Anne Klein, $50
What color flats would you wear under your wedding dress?
-Dana F.