Posts in the 'bhldn' Category
Well, hasn't it been a shiny, sparkly, bling-tastic week here at BAB! I couldn't very well not join in the ring party, so for this week's Five for Friday, I rocked (heh, get it?) massive Interwebz search for some unique, bold and badass engagement rings, all under $1,000. Feast your eyes, darlings!
The Embrace Opal Ring
at Angara, $469

Herkimer Diamond Solitaire Ring by Melissa Joy Manning, Inc., $415


Bezel Set Solitaire Black Diamond Ring from My Love Wedding Ring, $885.00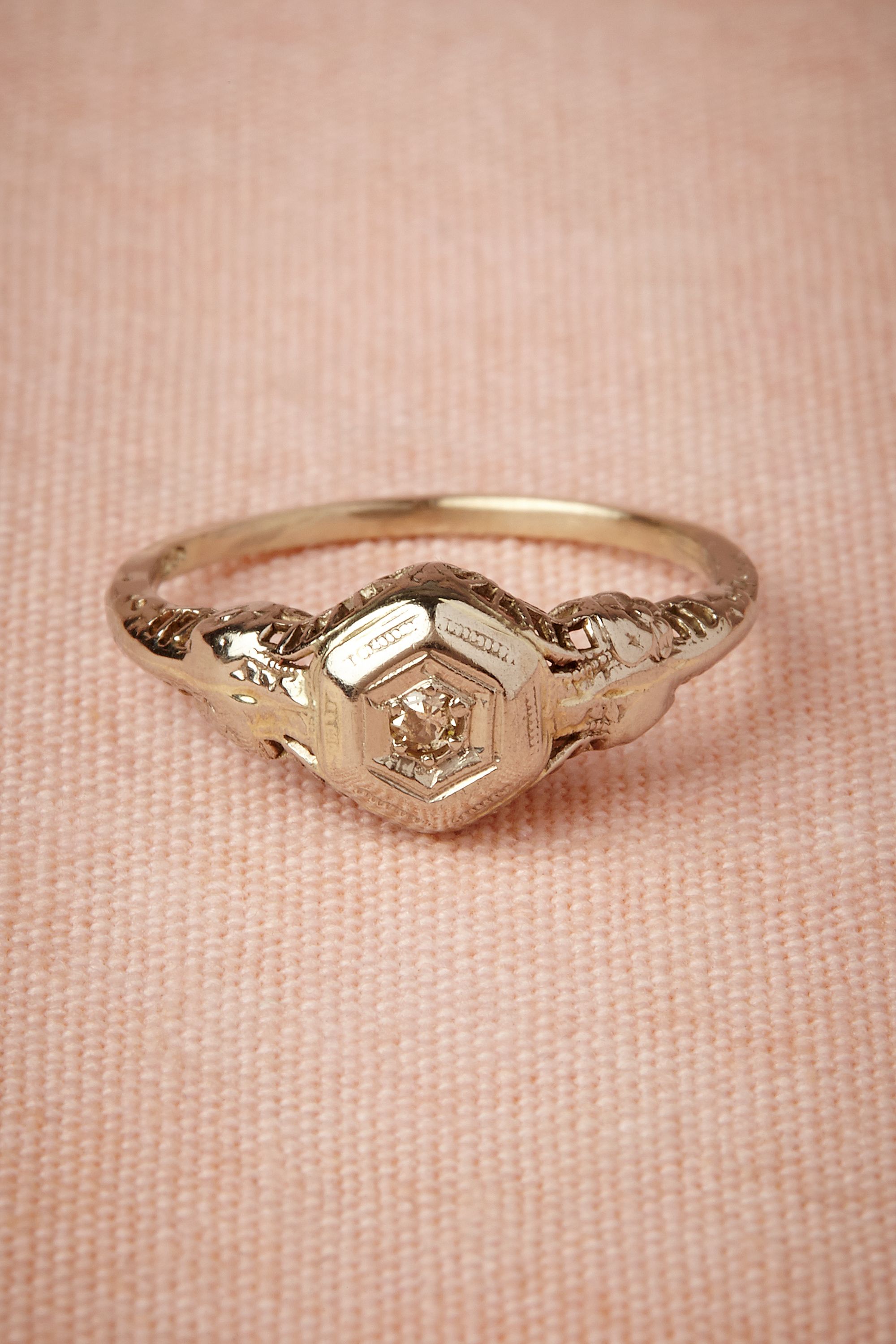 Geneva Ring from BHLDN, $550
Gemstone & Diamond Sterling Ring at QVC.com, $169.92
 Do any of these funky sparklers tickle your fancy? Which is your favorite?
Truth: It's no secret that I love BHLDN. I've always had a little crush on Anthro, but when BHLDN was introduced a few years ago, I died. There have been days where I've lost hours ogling sweet styles and dreaming up different weddings based on their lines. And while the prices can be a little high, the quality is soooo wildly worth it.
So when I got an email yesterday introducing the new Annabelle gown, designed by Jenny Yoo, there was no way I could keep it to myself. YOU GUYS. This fantastic frock can be styled in 15 different ways. While it is touted as a bridesmaid dress on the website, I can't help but think how gorgeous it would be as a beach wedding dress or gown for an easygoing restaurant reception. Also, it's available in white, soo … you know, that makes it easy. At $260, it's also a steal for a wedding dress! And you can change up the look between your ceremony and reception. So much bang for your buck!
Would you be open to wearing a "bridesmaid" dress as your wedding gown? Which style of the Annabelle dress is your favorite?
What happens when a bride wants to buck the strapless trend and not spend more than $2,000 on a wonderful gown? You get a bride in need of some shopping help.
Hey all, I could use some help in the CAI/GOI category: BHLDN Omelia. The sheath silhouette, the gorgeous lace detail, the fact that it's not strapless (I just can't be bothered to worry about things falling down/out), and it looks flowy/movable!… but the $2+k price tag is a serious downer. I might be up a creek with this one. I'd love to look at places like Etsy but, to be honest, I just can't bring myself to spend hundreds of dollars on something that I can't return sight-unseen. In a perfect world I'd love to be able to try it on (or have there be a return policy). Help?
Non-strapless, lace with movement – your wish is our command.
CAN'T AFFORD IT
Omelia ($2,200 at BHLDN)
GET OVER IT
High Neck Sheath Wedding Dress with Lace Details and Front Slit ($339.99 at For Her and For Him)
White Sheer Strap Sweetheart Wedding Dress ($918 at Unique Vintage)

Ivory Illusion Bateau Wedding Dress ($538 at Unique Vintage)
White Ruched Chiffon Cap Sleeve Prom Dress ($598 at Unique Vintage)
Cap Sleeve Fit-and-Flare Lace Gown ($950 at David's Bridal)

Angeline ($639.99 at Ruche)
Etsy could also offer some wonderful options. On the other hand, your point about a return policy is valid. Consider using Etsy's "Shop Local" feature to find vendors in your area. Meeting the designer in person and trying things on is always preferable to crossing your fingers and hoping it works out. Any BABs out there have suggestions for shopping on  Etsy for such an important dress?
With previews for the new "The Great Gatsby" movie playing everywhere, it's no surprise that chic 20′s style is catching the eye of modern brides. Sadly, that kind of glitz isn't always nice to the pocketbook, as this week's BAB quickly realized.
I've been looking for a quasi-20′s feeling dress for a while, and low and behold I've fallen in love with this Jenny Packham dress. Unfortunately, it looks to be way outside my price range (found a used one for $4,000!).
I'm looking for something that is $1,200 or less – with interesting beading, or lace, or sparkle, that's a little bit unconventional. Help!
Often these kinds of dresses can be super difficult to replicate. There is one over budget option, but it was too good not to include. Plus, I'm a big believer in watching for possible sales or online discounts that would drop something fab that's been just out of your reach to comfortably within your budget.
CAN'T AFFORD IT
Eden Gown by Jenny Packham
GET OVER IT
White Sheer Strap Sweetheart Dress ($918 at Unique Vintage)

Aiguille Gown ($1,200 at BHLDN)
 Delphina Art Deco Mermaid Romantic Gown ($998 at Dahlnyc via Etsy)
Grace 1930s-Inspired Bridal Gown ($1,402.60 at Rowan Joy via Etsy)
Ivory Lace Capped Sleeve Wedding Dress ($1,065.60 at Grace Loves Lace via Etsy)
Silk Lace Satin and Chiffon Romantic Wedding ($940.29 at Katherine L. Kerrison via Etsy)
If you're looking for even more options, check out our October post about the BHLDN "Lita" gown, it's a super similar, 1920′s-inspired style.
This week's BAB Sofia has some amazing couture taste! The wonderfully unique neckline created by the detailed draping of the sleeves on her Le Spose di Gio dream dress is truly to die for.
Hi!
I am in love with a wedding dress from Le Spose di Giò. It is the dress CL31 from the Classica Collection. I am not sure about the price but I don´t want to pay more than $1,500. Would you be able to give me any ideas? I really like the neckline and sort of transparent sleeves.
Thank you!
Sofía
So, Sofia, I'm starting with an apology. I failed to find the retail price for this European designer. It might be worthwhile to check local shops in your area in case it's more affordable than it appears. Until then, here are some wonderful alternatives for you to covet.
CAN'T AFFORD IT
GET OVER IT
Honeychurch Wedding Gown ($1,200 at English Dept via Etsy)

Savoir Faire Gown ($1,400 at BHLDN)
Off the Shoulder Chiffon Wedding Gown ($295.99 at For Her and For Him)
One Shoulder Metallic Detail Fit-and-Flare Gown ($699.99 at David's Bridal)
Florence Gown by Reem Acra ($400 rental through Rent the Runway)
Off Shoulder Trumpet Bridal Gown by Rami Kashou ($462.50 at Bebe)
Fit to Flare Wedding Gown with Illusion Neckline ($1,100 at David's Bridal)
Finding something that matches your inspiration's super beautiful neckline was super difficult. After looking really closely at lots of necklines – a strange way to spend a Sunday evening – these came up as noteworthy alternatives. Hopefully you'll find something here that makes your heart swoon!
It's rare that one dress embodies everything a bride wants in her wedding gown. Often we're split between many options because of small details. Jane, on the other hand, knows exactly what she wants, but it's twice her budget.
I would be SO grateful if you would use your amazing dress-finding skills to help me out with a sudden and major case of CAI/GOI:
I just fell in love with BHLDN's new Ortensia gown  It's exactly what I've been looking for – a flowing, floor length skirt that starts from the natural waist, a beautiful deep V neckline, pretty (but not blingy) details – but it's double what I can afford ($1500 is my absolute maximum).
Thank you!
Jane
Jane, you did the hard part: Describing your perfect dress and including the budget. Now we've found some options that are less than half the budget. This way, you can add extra bling – if needed – through pretty shoes, a belt or maybe a pair of statement earrings.
CAN'T AFFORD IT
Ortensia Gown ($3,000 at BHLDN)
GET OVER IT

Evelyn ($544.99 at Ruche)
Aidan Mattox Sheer-Back Ruched Gown ($475 at Neiman Marcus)
Badgley Mischka Antigua Bay Gown ($150 rental through Rent The Runway)
Sequin Bodice Chiffon Gown ($375 at Badgley Mischka)
Goddess V-Neck Wedding Dress ($550 at Ann Taylor)
V Neck Chiffon A Line Wedding Gown ($369.99 at For Her and For Him)
Be sure to check out the back of these options, Jane. Some have fantastic detail that you wouldn't guess from the front — something I'm assuming you'd like given the inspiration. Finding the perfect dress is a tricky thing to do online – do read the return policies before ordering!
Krista definitely deserves an amazing dress for her big day, but her budget is keeping her from living the couture dream.
Hi. 
I'm a mom. I put my wedding on hold for almost three years because our son is a regular at sick kids' hospital and my fiancé and I wanted to focus on him and his health and put everything else on the backburner. Now that he is doing much better, the wedding plans are back on, and I've found a dress.. I think about it in my sleep. I scour the internet in hopes of finding either a decent replica or pre-owned… It is stunning and I am irrevocably in love with it. 
I present to you the Claire Pettibone "Versailles". I swear Claire Pettibone is the devil trying to make all poor brides cry… Help me get over it. I cannot throw $7,000 at this. That's nearly half the budget.  
Sincerely,
Krista
Don't worry Krista, lots of BABs fall victim to the Claire Pettibone lust trap! Consider checking out this post or  this post for more dresses inspired by the same designer. Those picks were inspired by a different designs, of course, but you never know if one of those options might be your next dream dress. Then we have the following dresses, of course, chosen to match your inspiration.
CAN'T AFFORD IT
Claire Pettibone Versailles ($7,000+ through Claire Pettibone)
GET OVER IT
Divine Downpour Gown ($1,300 at BHLDN)
Alexandria Gown ($749.99 at Ruche)
Rose Petal Spaghetti Strap Wedding Dress ($750 at Ann Taylor)
Carolina Lace Wedding Dress (£550 at Phase Eight)
Tulle Gown with Lace Applique and 3D Flowers ($1,100 at David's Bridal)
Straps Sweeatheart A-Line Tulle With Flowers ($255 at Lemandy Wedding Dress via Etsy)

Cap Sleeve Fit-and-Flare Lace Gown ($950 at David's Bridal)
Falling in love with couture often means zeroing in on a detail you love best then trying to match that. You could always add a gold sash, for example, to a dress that has the appliqués in the amazing inspiration gown. Also, often times Etsy shops have wonderful sample sales. If you shop for your size on Etsy, you could find beautiful gowns like the Lauren from Natural Bridals.
We've got a special request this week. It's super special actually because this Bay Area bride hasn't fallen head over heels for a dress she can't afford yet – she just needs help.
Looking for an elopement dress idea for San Francisco City Hall June 2013. I wear size 14 in bridal gowns, I'm pear shaped, and I want something long, romantic, and unique. I go back and forth between '"traditional elopement" dress or something short, from white to cream or champagne…
Our girl wants options! And, her plans changed since she first asked for our help. They're still planning for something small and intimate but possibly at a chapel now. Courtney wants to spend no more than $700 and wants a soft, flowing romantic look but doesn't like all over lace. She likes a little something extra but not full-blown bling. Girl, do we have serious options for you – long, short, strapless, one-shoulder, color and white.
INSPIRATION OPTIONS
One Shoulder Mesh Gown with Beaded Waist ($179 at David's Bridal)
Swiss Dot Tulle Empire Waist Soft Wedding Gown ($349 at David's Bridal)
Margarete in Sand ($478.99 at Ruche)
Lively Chevrons Dress ($480 at BHLDN)
David Meister Your Royal Highness Gown ($110 rental through Rent The Runway)
Nicole Miller Exquisite Eliza Gown ($110 rental through Rent The Runway)
It's kind of fun to not have boundaries when looking through dresses. There's a definite variety available here. Not all have a little extra something but, being below your budget, you could easily be made special with a beautiful belt. Having your size was really helpful – these are all available in size 14.
Having such an open mind may make it difficult to really decide. Be sure to check the return policy if you're unsure. Any other BABs have some suggestions for courthouse/city hall/elopement wedding dresses for Courtney to consider?
Winter brides still want to look beautiful while staying warm, right? This week we're focusing on  beautiful lace boleros, shrugs, and capelets for brides who choose to say "I do" in colder temperatures. We're using the BHLDN first light capelet, which sells for $150, as our "Can't Afford It" ideal. Our alternatives will cost under $100.
CAN'T AFFORD IT
First Light Capelet ($150 at BHLDN)
GET OVER IT
Ivory Short Sleeve Lace Wedding Bolero Jacket Shrug ($49.99 at Alex Bridal via Etsy)
Bridal White Lace Bolero Jacket ($82 at Angelina Design via Etsy)
Short Sleeve Tulle Jacket with Lace Embroidery ($99 at David's Bridal)
Short Sleeve Lace Jacket ($79 at David's Bridal)
Sweeping Waltz Capelet ($48.99 at Ruche)
Mandarin Collar Lace Bolero ($69.99 at Tulip Bridal)
Admittedly, a little lace won't keep you warm. But it's pretty… and pretty necessary in the winter. Any BABs out there find a super cute coverlet they'd like to share? (P.S. Send your "CAI/GOI" requests to emily@brokeassbride.com!)