Posts in the 'bhldn' Category
Hey there, Broke-Ass Babes! Sadly, no ladies wrote in this week about their wedding dress budget woes. So, this week, I decided to pick one of my favorite dresses from the Marchesa Fall 2014 collection (Style: B10812) and WOWZA, she's a beaut! A trend that has become very popular in the last few years is the illusion neckline, and if you love to spend hours gazing at gowns like me, you're sure to see this in every jaw-droppingly beautiful collection of dresses. The neckline in this Marchesa dress is especially dazzling since it's decked out in pearls and crystals, and the hand-pleated chiffon makes this dress look effortless, yet ethereal like something a Greek goddess would get married in. Are you ready to see it? Here goes, in all of its supreme, flowy, glittering awesomeness:
CAN'T AFFORD IT
Marchesa $$$$ ($3001-$5000)
GET OVER IT
Sleeveless dress in airy, woven fabric with beading and rhinestone embroidery at top (Style: 66-3399) $99 at H+M.
A-line Princess Scoop Sweep/Brush Train Charmeuse Wedding Dress (Style: 604656) $119 at LightInTheBox.com

White Chiffon & Stone Cap Sleeve Gown (Style: 40778) $224 at Unique Vintage



Cap Sleeve A Line Wedding Gown with Decorative Buttons (Style: 0113925) $419.99 at For Her and For Him

Romantic  Chiffon Wedding Dress Wedding Gown $438 at Whiterose on Etsy

Satin sheath with hand-beaded illusion neckline and cap sleeves (Style: KI1307) $822 at BestBridalPrices.com


An illusion tulle neckline ornamented with beaded embroidered lace drapes the bodice, culminating in a gathered skirt that flows from an empire waist. (Style: 4MC890) $988 at BestBridalPrices.com


This floor-skimming silhouette balances the sleekness of flowing silk with intricately beaded shoulders and bias-cut styling. Harlow gown, $1,000 at BHLDN


Accordion pleated Paris Chiffon combines with embellished illusion tulle to create this Grecian inspired dress (Style: 4MK790) $1,049 at BestBridalPrices.com.
Another option you can consider is adding a beautiful, bridal capelet to your dress. They have some amaze options from the websites above (Like THIS stunner at BHLDN ) and will give your look even more versatility. Enjoy your weekend, BAB's! Until we meet again…

Got a gown that you just can't get off your mind? We're happy to help you get over it! Just tell us in the comments below! 
Happy Friday, Broke-Asses! This week, we got a super special request from a super specialer (yup, making up words here, folks) bride-to-be: My former roommate from way back when, who is getting married in a very amazing location needs something to keep herself warm and cozy for her fall nuptials. So, she hollered at yours truly with a mission to find a toasty wrap or shawl for her usually chilly self that would greatly compliment the long-sleeved short antique-y dress she plans on donning. So, Kate, here's what I found … and I know you would rock the hell out of any and all of these. Bonus: All ring in at under $80!


Daydream Confetti Shawl, Ruche $28.99

Pashmina Shawls, The Dessy Group $30.00

Mandy Boucle Tassel Shawl, Boohoo.com $32
Alpaca Wool Winter Shawl Wrap, Amazon $49.99
Whaddya think, Kate? Any of these make you fall head over heels? How are the rest of you Broke-Asses staying warm on your wedding day?

YOU GUYS. BHLDN has done it again. If their offerings weren't already completely drool-worthy, they've solidified their reign as the Bringers of Bridal Beauty, the Providers of Pretty, the Sultans of Swoon, the … whoops, I'm getting a little carried away. You get the point. BHLDN's 2014 line – The Heirloom Collection – of dresses and accessories is gorgeous, and some of it is shockingly affordable. Set your sights on pretty mode and ogle along with me:

Those heels, the Tamsin Gown and Sterling Lace Dress kill me. Which are your faves from BHLDN's newest additions?
Well, hasn't it been a shiny, sparkly, bling-tastic week here at BAB! I couldn't very well not join in the ring party, so for this week's Five for Friday, I rocked (heh, get it?) massive Interwebz search for some unique, bold and badass engagement rings, all under $1,000. Feast your eyes, darlings!
The Embrace Opal Ring
at Angara, $469

Herkimer Diamond Solitaire Ring by Melissa Joy Manning, Inc., $415


Bezel Set Solitaire Black Diamond Ring from My Love Wedding Ring, $885.00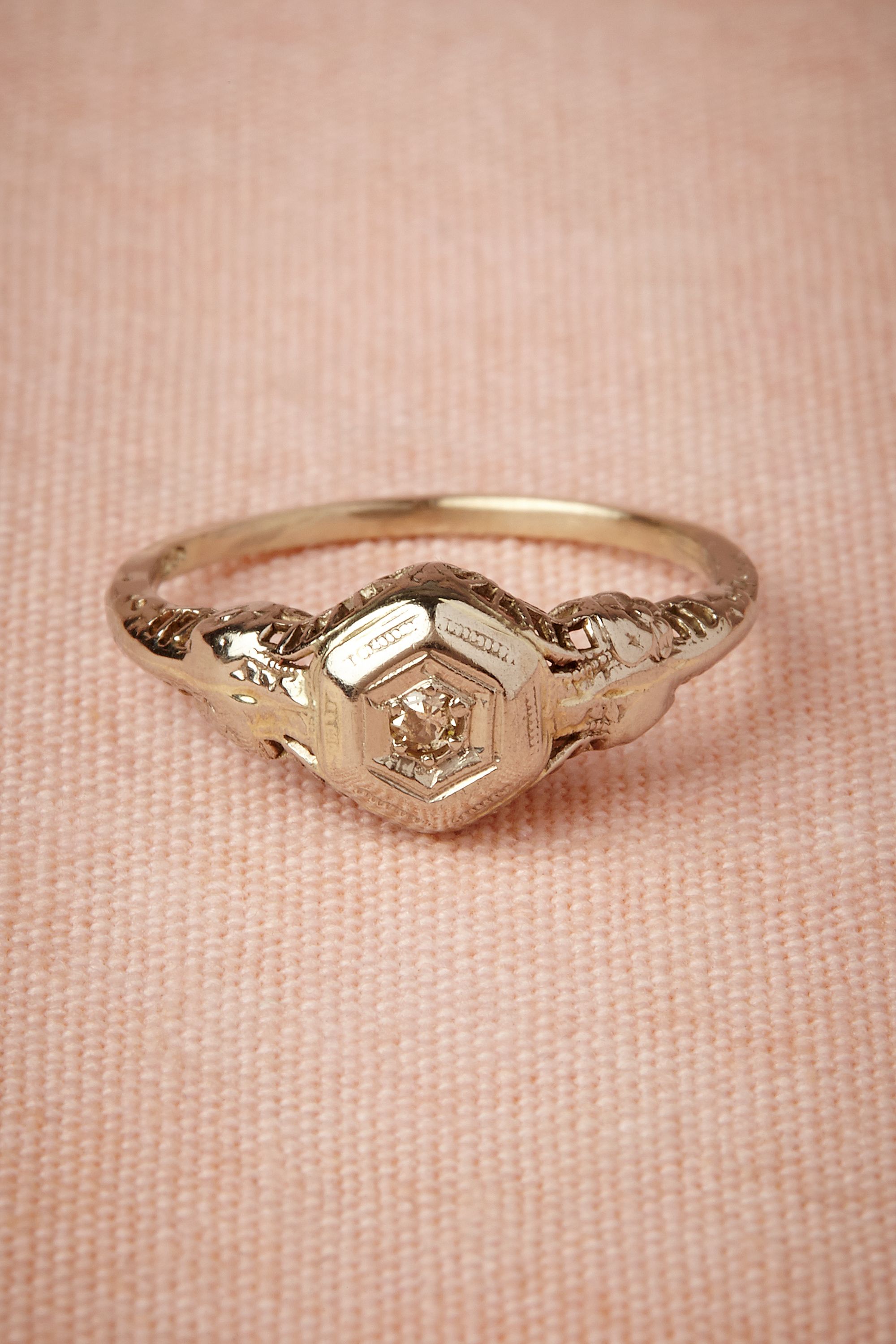 Geneva Ring from BHLDN, $550
Gemstone & Diamond Sterling Ring at QVC.com, $169.92
 Do any of these funky sparklers tickle your fancy? Which is your favorite?
Truth: It's no secret that I love BHLDN. I've always had a little crush on Anthro, but when BHLDN was introduced a few years ago, I died. There have been days where I've lost hours ogling sweet styles and dreaming up different weddings based on their lines. And while the prices can be a little high, the quality is soooo wildly worth it.
So when I got an email yesterday introducing the new Annabelle gown, designed by Jenny Yoo, there was no way I could keep it to myself. YOU GUYS. This fantastic frock can be styled in 15 different ways. While it is touted as a bridesmaid dress on the website, I can't help but think how gorgeous it would be as a beach wedding dress or gown for an easygoing restaurant reception. Also, it's available in white, soo … you know, that makes it easy. At $260, it's also a steal for a wedding dress! And you can change up the look between your ceremony and reception. So much bang for your buck!
Would you be open to wearing a "bridesmaid" dress as your wedding gown? Which style of the Annabelle dress is your favorite?
What happens when a bride wants to buck the strapless trend and not spend more than $2,000 on a wonderful gown? You get a bride in need of some shopping help.
Hey all, I could use some help in the CAI/GOI category: BHLDN Omelia. The sheath silhouette, the gorgeous lace detail, the fact that it's not strapless (I just can't be bothered to worry about things falling down/out), and it looks flowy/movable!… but the $2+k price tag is a serious downer. I might be up a creek with this one. I'd love to look at places like Etsy but, to be honest, I just can't bring myself to spend hundreds of dollars on something that I can't return sight-unseen. In a perfect world I'd love to be able to try it on (or have there be a return policy). Help?
Non-strapless, lace with movement – your wish is our command.
CAN'T AFFORD IT
Omelia ($2,200 at BHLDN)
GET OVER IT
High Neck Sheath Wedding Dress with Lace Details and Front Slit ($339.99 at For Her and For Him)
White Sheer Strap Sweetheart Wedding Dress ($918 at Unique Vintage)

Ivory Illusion Bateau Wedding Dress ($538 at Unique Vintage)
White Ruched Chiffon Cap Sleeve Prom Dress ($598 at Unique Vintage)
Cap Sleeve Fit-and-Flare Lace Gown ($950 at David's Bridal)

Angeline ($639.99 at Ruche)
Etsy could also offer some wonderful options. On the other hand, your point about a return policy is valid. Consider using Etsy's "Shop Local" feature to find vendors in your area. Meeting the designer in person and trying things on is always preferable to crossing your fingers and hoping it works out. Any BABs out there have suggestions for shopping on  Etsy for such an important dress?
With previews for the new "The Great Gatsby" movie playing everywhere, it's no surprise that chic '20s style is catching the eye of modern brides. Sadly, that kind of glitz isn't always nice to the pocketbook, as this week's BAB quickly realized.
I've been looking for a quasi-20′s feeling dress for a while, and low and behold I've fallen in love with this Jenny Packham dress. Unfortunately, it looks to be way outside my price range (found a used one for $4,000!).
I'm looking for something that is $1,200 or less – with interesting beading, or lace, or sparkle, that's a little bit unconventional. Help!
Often these kinds of dresses can be super difficult to replicate. There is one over budget option, but it was too good not to include. Plus, I'm a big believer in watching for possible sales or online discounts that would drop something fab that's been just out of your reach to comfortably within your budget.
CAN'T AFFORD IT
Eden Gown by Jenny Packham
GET OVER IT
White Sheer Strap Sweetheart Dress ($918 at Unique Vintage)

Aiguille Gown ($1,200 at BHLDN)
 Delphina Art Deco Mermaid Romantic Gown ($998 at Dahlnyc via Etsy)
Grace 1930s-Inspired Bridal Gown ($1,402.60 at Rowan Joy via Etsy)
Ivory Lace Capped Sleeve Wedding Dress ($1,065.60 at Grace Loves Lace via Etsy)
Silk Lace Satin and Chiffon Romantic Wedding ($940.29 at Katherine L. Kerrison via Etsy)
If you're looking for even more options, check out our October post about the BHLDN "Lita" gown, it's a super similar, 1920′s-inspired style.
This week's BAB Sofia has some amazing couture taste! The wonderfully unique neckline created by the detailed draping of the sleeves on her Le Spose di Gio dream dress is truly to die for.
Hi!
I am in love with a wedding dress from Le Spose di Giò. It is the dress CL31 from the Classica Collection. I am not sure about the price but I don't want to pay more than $1,500. Would you be able to give me any ideas? I really like the neckline and sort of transparent sleeves.
Thank you!
Sofía
So, Sofia, I'm starting with an apology. I failed to find the retail price for this European designer. It might be worthwhile to check local shops in your area in case it's more affordable than it appears. Until then, here are some wonderful alternatives for you to covet.
CAN'T AFFORD IT
GET OVER IT
Honeychurch Wedding Gown ($1,200 at English Dept via Etsy)

Savoir Faire Gown ($1,400 at BHLDN)
Off the Shoulder Chiffon Wedding Gown ($295.99 at For Her and For Him)
One Shoulder Metallic Detail Fit-and-Flare Gown ($699.99 at David's Bridal)
Florence Gown by Reem Acra ($400 rental through Rent the Runway)
Off Shoulder Trumpet Bridal Gown by Rami Kashou ($462.50 at Bebe)
Fit to Flare Wedding Gown with Illusion Neckline ($1,100 at David's Bridal)
Finding something that matches your inspiration's super beautiful neckline was super difficult. After looking really closely at lots of necklines – a strange way to spend a Sunday evening – these came up as noteworthy alternatives. Hopefully you'll find something here that makes your heart swoon!
It's rare that one dress embodies everything a bride wants in her wedding gown. Often we're split between many options because of small details. Jane, on the other hand, knows exactly what she wants, but it's twice her budget.
I would be SO grateful if you would use your amazing dress-finding skills to help me out with a sudden and major case of CAI/GOI:
I just fell in love with BHLDN's new Ortensia gown  It's exactly what I've been looking for – a flowing, floor length skirt that starts from the natural waist, a beautiful deep V neckline, pretty (but not blingy) details – but it's double what I can afford ($1500 is my absolute maximum).
Thank you!
Jane
Jane, you did the hard part: Describing your perfect dress and including the budget. Now we've found some options that are less than half the budget. This way, you can add extra bling – if needed – through pretty shoes, a belt or maybe a pair of statement earrings.
CAN'T AFFORD IT
Ortensia Gown ($3,000 at BHLDN)
GET OVER IT

Evelyn ($544.99 at Ruche)
Aidan Mattox Sheer-Back Ruched Gown ($475 at Neiman Marcus)
Badgley Mischka Antigua Bay Gown ($150 rental through Rent The Runway)
Sequin Bodice Chiffon Gown ($375 at Badgley Mischka)
Goddess V-Neck Wedding Dress ($550 at Ann Taylor)
V Neck Chiffon A Line Wedding Gown ($369.99 at For Her and For Him)
Be sure to check out the back of these options, Jane. Some have fantastic detail that you wouldn't guess from the front — something I'm assuming you'd like given the inspiration. Finding the perfect dress is a tricky thing to do online – do read the return policies before ordering!