---
Posts in the 'alternatives' Category
Stephanie is dying over the Watters Hera dress, but is also looking not to bust her budget of $1000. Your wish is my command, Stephanie! Watter you waiting for? Let's get you a fit & flare gown with a textured bodice and flowy flare!
CAN'T AFFORD IT
Watters Hera gown, $$$$
GET OVER IT
Sweetheart Fit and Flare Beaded Applique Gown ($549 at David's Bridal)
Strapless Lace Fit and Flare Gown With Side Split ($749 at David's Bridal)
Beaded Sweetheart Mermaid Wedding Dress ($249 at ForHerAndForHim)
Lace Crystal Beaded Net Over Satin dress ($999 at Alfred Angelo)
Crystal Beaded Satin Organza Dress With Chapel Train ($799 at Alfred Angel0)
There you have it, Stephanie – some fit and flare options that give you more twirl for your dollar! The heavy texture on the top of the Watters dress is unique, but you can keep that visual interest with some lace, beading, or ruching for a fraction of the price. Happy dress shopping!
Serena fell in love with this gorgeous Mark Zunino for Kleinfeld dress, but is looking for a more budget-friendly version, somewhere in the range of $1000-2500. Serena, let's make this happen for you! Shapewise, you're into a mermaid gown with a sweetheart neckline. Stylewise, it looks like you're into some beading, lace, texture, and pizazz up top with a more structured mermaid bottom. MAGIC BRIDAL GOWN SEARCH POWERS ACTIVATE!
CAN'T AFFORD IT
Mark Zunino for Kleinfeld, $$$$
GET OVER IT
Lace and organza mermaid dress ($283 at Lightinthebox)
Custom mermaid sweetheart neckline lace wedding gown ($468 at KarenTrends Etsy)
Wedding gown with lace appliques and ruffled skirt ($1250 at David's Bridal)
Georgette Mermaid Gown with Dramatic Organza Skirt ($999 at David's Bridal)
If you find a dress you otherwise love but it doesn't have that sweetheart neckline, you can always have the neckline altered by a trusted tailor–so when you're looking at alternate dress options, the texture and shape are way more important to nailing that Kleinfeld look. I hope this helps, Serena!
Let's start the New Year by rocking a reader's "CAI/GOI" challenge. Today's challenge: Finding a new dress for Julianne to love!
I am absolutely in love with this Watters gown; however it is completely out of my price range. I would love something for under $500 with similar detailing on the bottom. Do you have any suggestions on where I should be looking?
Thanks!
Julianne
Julianne, I'm happy to help! Finding something super detailed and sticking to a tight budget can be super difficult but starting a new year is all about resolutions, right? We've got this.
CAN'T AFFORD IT
Adelaide Gown (Retails for $3,400)
GET OVER IT
Strapless Pleated Bodice Gown with Pick Up Skirt ($399.99 at David's Bridal)
Beaded Tiered Tulle Gown with Sweetheart Neckline ($349.99 at David's Bridal)
Organza Gown with Pleated Tier Skirt and Lace ($449.99 at David's Bridal)
Organza A-Line Gown with Angled Draped Pick-Ups ($349.99 at David's Bridal)
Tiered Organza Wedding Dress ($419.99 at For Her and Him)
Strapless A Line Wedding Gown ($399.99 at For Her and Him)
Adrianna Papell Strapless Rosette-Skirt Gown ($238 at Dillard's)
To get the detailing you want for under $500, sales and clearances are going to be your best bet. Lots of places have sales around this time of year. Get out there and look around. If you're close to a sample size, consider going to stores to see which samples are on sale. I grabbed a sample dress and paid much less for it. It was a tad dirty, but a quick trip to the cleaner made the savings worthwhile.
Are you a lace lover? BAB reader Julie certainly is. She's found a wonderful dress to covet. And, you have to appreciate a girl who gets to the point. Here's what she wrote:
I need to "get over it" the new Jenny Packham Mimosa dress…suggestions under $1000?
Julie's inspiration comes from a 2013 collection. Thankfully, beautiful lace is always in style. Here are some affordable options.
CAN'T AFFORD IT
GET OVER IT
Custom White 3/4 sleeve Lace Wedding dress S186 ($380 by Susiewear via Etsy)
Custom 3/4 sleeve White Lace Tulle Wedding dress S205 ($389 by Susiewear via Etsy)
Kay Unger Lace Gown – Sequins ($630 via Bloomingdale's)
Tadashi Shoji Lace & Chiffon Gown ($548 at Nordstrom)
Backless Mermaid Wedding Dress with Lace Cap Sleeves ($529.99 at ForHerAndForHim)
Beaded Straps with Cut Out Back Mermaid Wedding Dress ($479.99 at ForHerAndForHim)
Peek-a-Boo Back Lace A Line Wedding Dress ($329.99 at ForHerAndForHim)
There you have it – lacy options for well under $1,000. Use the extra funds to finish off your looks with some amazing shoes and earrings. Should you need help finding an affordable match, let us know!
Candice is smitten with a loverly and lacey gown that is way our of her budget!  Poor thing!  Let's see what Candice had to say….
So I thought it would be worth a shot… I LOVE the The St. Pucchi Avine 506! The  lace is gorgeous and the back is to die for! However, I too am a BROKE ass bride and I can't afford the thousands of dollars this dress costs. I am open to any suggestions you may have.
Thank you for your help and thank you for being there for those brides that live on a budget but still want to be beautiful on their wedding day!
Candice
Candice is in adoration of one of the top bridal designers out there – and of course, she's not alone!  Many a BAB drools over a designer dress, knowing in our heart of hearts that it will never happen for us. BUT, what we can do is create an optical illusion – tricking our guests into thinking that we spent a boat load when, in reality, we won't be going into debt for a once in a lifetime dress on a once in a lifetime day!  We at BAB are quite the magicians!  So without further ado, ALAKAZAM!
Can't Afford It
$7,000.00
Get Over It
Watters & Watters
Watters Lourdes
I am obsessed with this dress!
Lace Fit & Flare style # KP3221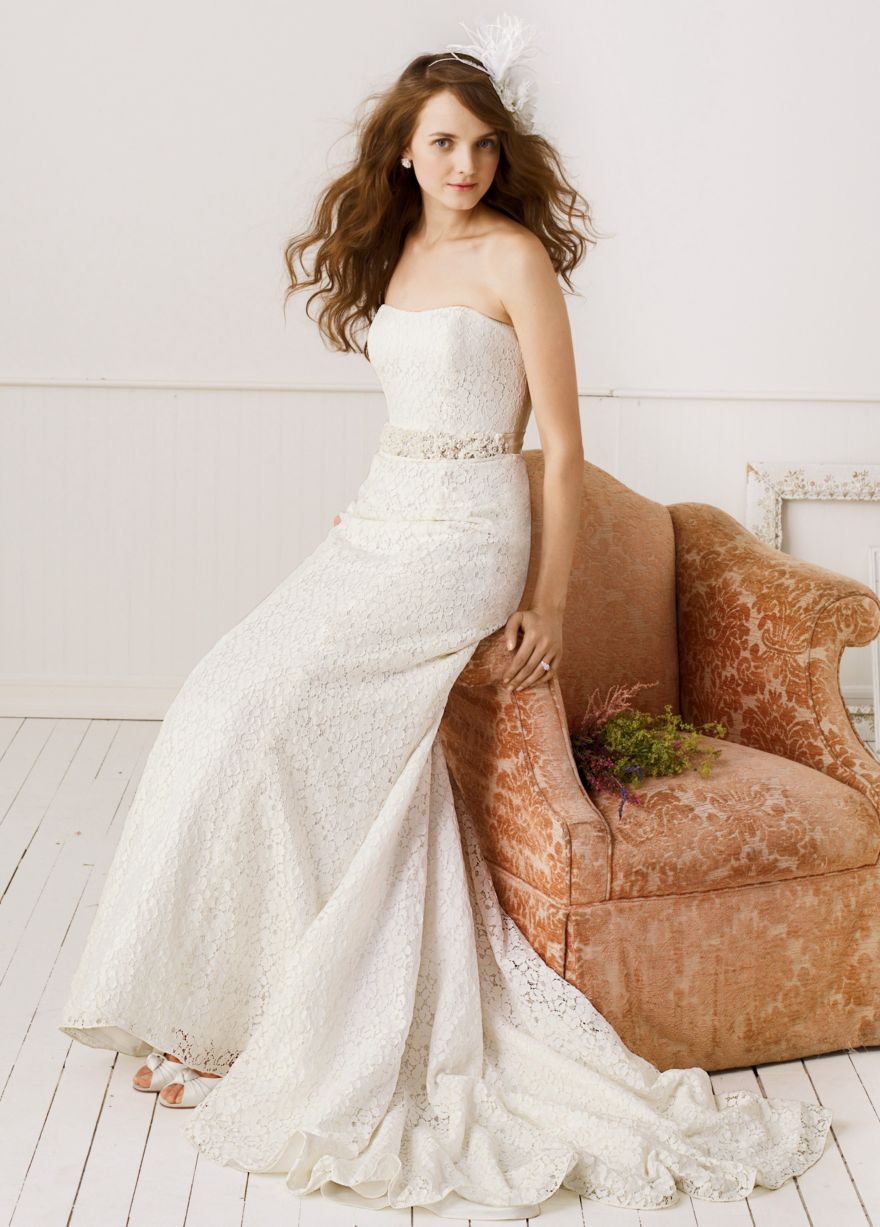 Alfred Angelo #1816
Jim Hejlm Style # JH8763
Lace Wedding Dress inspired by Jim Hejlm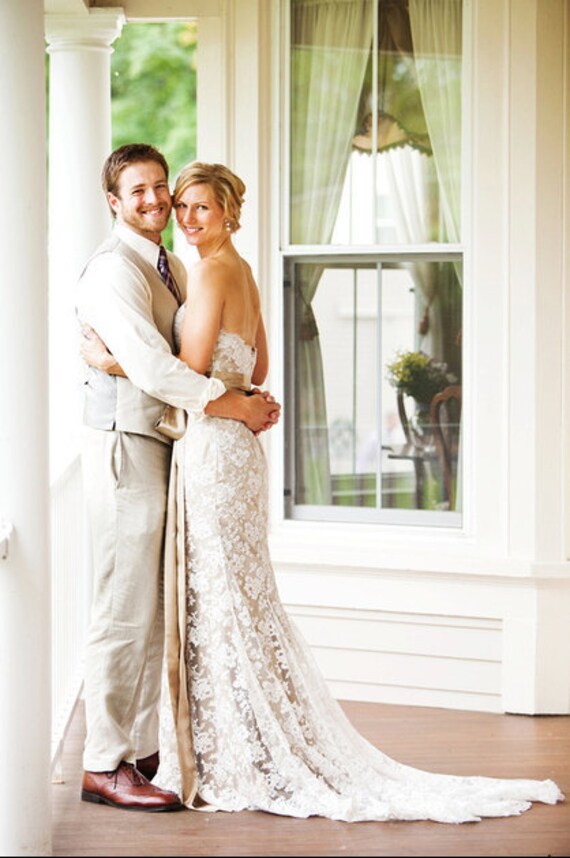 Jim Hjelm style #1104
There you go, dear! Seven alternatives to the $7,000 St. Pucchi. Save your seven grand for a new car or a down payment on a house! Your big day will be magical enough with out having over paid for a dress you'll likely only wear once.  The real magic is that you and your hubby to be are in love and happy.  Poof!  No additional slight of hand required!
Andi's in a bind!  She has the hots for a totally awesome gown that's no longer available for purchase!  Here's what Andi told me….
"I need your brilliance with a cant afford it/get over it….pleeeeease.
I've fallen for this dress:
…the sparkle is the perfect amount, the cut is perfect and the flowy silk chiffon is just what I've been looking for. Problem is our teeny tiny budget….I really can't spend more than $500. I've searched but never found anything that doesn't look like a cheesy costume or have a mermaid cut. HELP!  Thanks! ;)"
Andi, this dress is devine! You can totally pull this look off with 2 separate and individual pieces!  You could wear them that way on The Day, or you could take them to a seamstress with a pic of your dream dress and ask them to make it happen!  You'll be surprised with what you can create! So I went on the hunt for gold sequins tops and chiffon maxi skirts!  Andi, are you ready?
Can't Afford It
Aria by Rachel Gilbert
Net-a-porter.com  $1, 505.00
Get Over It
I'm gonna bust out the tops first!  Say hello to…
Sequin-V-Neck Cami
Express.com $27.93
Alice & Olivia Gold Sequin Scoop Neck
BlueFly.com $220.00
PENCEY Sequin Tank
Revolveclothing.com $172.00
Sleeveless Sequin Top Item # 74680
Fredricksofhollywood.com $25.00
Now that we've seen the light, let's venture into the world of wedding separates! The inter-webs abound with super flowy long skirts for our perusal!  These were the most reasonably priced items I could find.
"Sofia" Maxi Skirt By BCBGMaxAzaria
BlueFly.com $90.00
Alex Evenings Pleated Chiffon
Macys.com $89.00
 Or you could buy a simple Sheath or Column silhouette wedding gown from the inter-webs or even your local bridal consignment store.  You'll spend a couple hundred on the dress. Buy an over-sized sequin top or dress and take the 2 pieces to a seamstress or bridal alteration shop.  Those ladies can do anything!  Choose something like these from Lightinthebox.com.
$122.19
$199.99
Well, Andi, I hope this installment of CAI/GOI helped you out! You can totally get the look of your Aria gown, sans the $1500 price tag. All you have to do is use a little Broke-Ass Bride ingenuity.  Think outside the bridal box and give your budget a rest!  Here's hoping you get your sparkling soft Aria look-a-like for a fraction of the ticket price!
Danielle C. wrote in to tell us about her Disney Princess Wedding Dream Dress. This is what she had to say:
"Oh man. I definitely need your help for a CAI/GOI!! I went dress shopping tonight for the first time EVER in my life, and I fell in total, gross, lewd, sparkle-tastic love with this dress at Alfred Angelo: Style 205. It's actually their "Cinderella" dress, and as soon as I put it on it was so BEYOND glittery and ball gown-y and magical that I knew I had to have it!! The only problem: $949. Ugh. Like, DOUBLE the budget for a dress. It's hard to see in the photos of the dress, but in person the beading on the bodice is so shiny and glittery it's breathtaking, and the tulle skirt is glittery! It's like the 5 year-old me died and went to heaven… in this dress. Can you please find me something just as rhinestoney-y and pouf-tacular but waaaay cheaper? Thank you 1000 times over!!!"
How could anyone not answer this plea for Broke-Ass Bride Aid?! I mean, really! Okay Dannie Girl, think of me as your very own Fairly Awesome Godmother…only way W-A-Y younger!  I love this CAI/GOI! I'm certain that there are other brides out there, besides you, who are in love with this gown. "How can I be so sure, you ask?" Well, I use Pinterest boards to do my research for these little weekly romps through Wedding Dress La-La Land.  I posted this dress to my "Cinderelly" board and, with in 2 hours, I had 77 re-pins and 20 likes! My e-mail in-box was blowing up! This is going to be a slammin' installment of Can't Afford It/ Get Over It!  So, Dannie Girl, Are you ready?
Can't Afford It?
"Cinderella" style # 205     $949.00
Bibbity Bobbity Boo!
As your self-appointed Fairly Awesome Godmother, I would be remiss if I didn't give you the straight up gospel truth before I tried to make your pouf-tacular dress dreams come true. So, here is a bit of REAL for ya! Alfred Angelo's price point for this dress is actually pretty reasonable, as wedding gowns go! I know you only budgeted yourself for about 500 bucks, and there are wedding gowns out there to be had for under a grand!  The fact that this dress exists is proof of that! The likely-hood that you or I could find a dress exactly like "Cinderella" by Alfred Angelo for $500.00 or less is minimal at best. What I can do is find you a dress with the same cut & feel for your targeted ticket tariff.  
First you have to know what you are looking for. In dress speak, you are looking for an A-line, strapless, sweetheart neckline, with a gathered or draped bodice, a natural waist, and a tulle ball gown skirt. Wow, that's a lot of descriptors! But that's it in a nut shell. That's how you might describe it to a designer, seamstress, or tailor. So lets get down to the nitty gritty. Here's what I found.
Get Over It
2 in 1 Beaded Taffeta Gown $499.99
The full skirt is removable to reveal a sassy pencil dress which you can wear out on the town for years to come!
seller elegance50's $495.00
Absolutely Stunning Haute Couture 50's Style Custom Wedding Dress
elegance50s $375.00
A 50's Inspired Wedding Gown, Intricately Detailed Corset Cocktail Dress
Both of the elegance50s dresses are completely customize-able! It wouldn't take much to make either of these dresses resemble the Alfred Angelo "Cinderella" Dress! Swap the tea length skirt for a floor length skirt, add some bling/beading to the dress with the pleated/gathered bodice or add some gathered fabric to the bodice of the dress that is already beaded! A can of spray glitter on your tulle skirt and you are good to go! Seriously…think about having elegance50s be your very own team of house mice!
SMKCoutureBridal $390.00
The Perfect Princess Dress
This one has a drop waist, not a natural waist.  But it has the bling you are looking for on the bodice and skirt!
Silk Strapless Vintage Wedding Dress $550.00
Silk Georgette V-Neck Gown $550.00
Any seamstress worth her salt can add volume to these skirts with fabric and a poofy slip!  You can also add your own bling by having it added to the dress itself, you could bejewel your own self, or you could get a bedazzled cardi or bolero to add your desired amount of bling!
Sleeping Princess Dress 411203 $310.50
Sweet 16 Dress 017 $214.20
I can't vouch for 9lover.com as a place for quality work or customer service standards like those held by the BBB. But they do list pretty pictures for cheap! Have any of our B.A.B. readers ever ordered from 9lover? If so, What is your opinion of their web store?
Danielle, I hope this post helped you out. If you didn't find what you were looking for from your Fairly Awesome Godmother, may I suggest you begin searching for Prom & Quinceanera Dresses? You are most likely to find what you are looking for for your price point if you search in those categories. Best of luck, Dannie Girl! And thanks a bunch for writing in and getting that "Cinderelly" song stuck in my head!
 "Cinderelly!  Cinderelly! We'll make a lovely dress for Cinderelly!"
Reader Request:
Hi there. I find myself looking for a modern wedding – clean lines, bauhaus-inspired – but everything that I can find at reasonable price has a more vintage/romantic or blingy/overwrought vibe.  I've included photos of two dresses that I like because they're 1. modern, 2. not strapless, and 3. kind of space agey.  Can you suggest budget options that would be similar?
The inspiration:
Source: Pronovias
Source: Angel Sanchez
Here are some modern, unfussy bridal gowns that come in at a reasonable price. Good luck in your search!
Shop Now:
L-R: White House Black Market $120 // BCBG $348 // Badgley Mischka $348 //
Saja ~$1100 // Aria ~$600 // Derek Lam $695
Back in the early spring, I posted a roundup of affordable and fancy wedding flats. Well, since I'm such a huge fan of flats, and since it's been quite a long time, I wanted to show you another round of cheap, fancy flats, all for under $100, that would look amazing under your wedding gown or on your bridesmaids.
Nine West, $79
Fergie, $90
Restricted, $55
Me Too, $62
Nine West, $51
MICHAEL Michael Kors $70
Anne Klein, $50
What color flats would you wear under your wedding dress?
-Dana F.