---
Posts in the 'Wedding Inspiration' Category
This wonderful tutorial first appeared on the blog in 2012, but with the ubiquity of gorgeous, interesting backdrop ideas in weddingland lately, I figured it was a great time to take a little jump back and revisit this awesome paper rosette how-to.
I don't know about you Broke-Asses, but spring has finally sprung (fingers crossed!) in my neck of the woods. And due to such, I thought it would be a great time to break out a bright, festive tutorial. The ladies over at A Good Affair popped this bad boy in my mailbox and I just knew you'd love it. The paper rosettes are easy, fun, CHEAP and look awesome for any wedding. 
How-To by A Good Affair Wedding & Event Production
Photos: Luminaire Images
Supplies:
2- 12"x12" sheets of paper
Glue stick or Elmer's
Hot Glue Gun
Scissors
Step 1: Take your 12"x12" sheets of paper, and cut in half.

Step 2: Fold the 6"x12" papers accordion style with ½" folds.

Step 3: After you finish folding all the pieces, glue the end of one piece to the end of a second piece so that they overlap.

Step 4: After gluing all your pieces together to form one long accordion paper strip, take the two ends and join those together in the same fashion. This creates a completed ring of folded paper.

Step 5: Making sure the glue has dried and all pieces are secure, stand your ring upwards, and gently press the top edge outwards, with the bottom edge remaining on your work surface. This will form your paper rosette!

Step 6: If you are using two-sided paper, decide which side will be the front or back. The back side should be facing up. This is where you will hot glue to secure your rosette.
Step 7: To secure your paper rosette, take your hot glue gun (it sets faster) and put a dollop of glue right in the center. Make sure to hold down the rosette as the glue sets. If you are planning to have your rosettes double-sided i.e. both sides will be seen, be sure to hot glue right in the center very neatly.
Step 8: (Optional) Dress up your paper rosette with a simple circle cutout, or a coordinating embellishment! You can get creative!

Step 9: (Optional) To give your paper rosette a rounded edge, after you've folded your papers but before gluing, take your scissors and round off one side of your folded paper.

End Product: A beautiful 12" Paper Rosette!
Notes: Different paper sizes and fold sizes will give you a variety of rosette sizes and looks!
Pretty neat, eh? You down for some DIY awesomeness? I mean, it looks so simple even a DIY dunce like myself could prolly get it done.
Submitted via Two Bright Lights.

First and foremost, let me emphasize that I am not one of those traditional people who believe a wedding must have a theme. I know, me, untraditional? Shocking. Therefore, Daniel and I did not approach our wedding planning with the goal of creating a theme. Instead, we chose items based on our likes and dislikes, and a wedding theme naturally emerged as our planning progressed. I want to share the questions we asked ourselves with you, not only so you can understand how our "theme" evolved, but so you can use it when shaping your own wedding theme or simply sorting out the finer details.
This is our invitation, which features our first wedding "must," the color red. Picture taken by our friend, Teresa.
What is a must?
Think about the one style/theme detail that is non-negotiable and begin there. When it came to "choosing" a color for our wedding, it was a no-brainer. I adore the color red. As in – It. Is. My. Spirit. Color. I love red so much that I will be wearing a red wedding dress. It only made sense that red become the main color of our wedding. When Daniel began the search for our wedding invitations, he searched for ones with red accents and found the gem above from Wedding Paper Divas. It gave us our secondary and tertiary colors, black and white, which we also happen to love. Easy and natural.
These are two of our "vintage-y" centerpieces. Each table will have a different centerpiece that can be used as a lantern for our outdoor reception.
What is your style?
I don't mean your wedding style. Think about the two of you as a couple and your material belongings. Are your wardrobes full of chic dresses and sharp suits? Is your house decorated in ultra-modern stainless steel fixtures and geometric patterns? Do you love muscle cars and collect rock memorabilia? Whatever your style is in your life – let your wedding reflect that. Don't worry about what is trendy; worry about what is you as a couple. For me and Daniel, our style is vintage with a modern twist, which is reflected in almost every detail of our wedding, simply because we let our natural style lead our choices.
This is the sample book mark favor from FaithfulCrafter on Etsy. Ours will have a custom reading from our wedding ceremony.
What are your passions?
Think about hobbies, passions and places you two share. Figure out a way to work these into your wedding aesthetics. Daniel and I both love reading and academia, so without our even noticing it, books began creeping in as a theme. First, Daniel suggested doing a reading from Homer's The Odyssey in homage to the "long-distance" side of our relationship. Second, we bought bookmark wedding favors (with red accents and a vintage flair, of course). Then, I decided to have bouquets made from book pages (luckily, my bridesmaids are all writers and bookworms, too!). Now, I'm running with the theme and even trying to work vintage books into the centerpieces. Books reflect our passions, emphasize black and white as part of the color scheme and just plain make us excited to decorate. What's better than that?!
These are the sample book page bouquets from PumpkinsandButtercups on Etsy. My bridesmaids and I are having each bouquet custom made out of our favorite novel!
Most importantly, what do you want?
When it's all said and done, you don't need a theme or special colors or even decorations if you don't want them. Sit down with your partner and brainstorm your dream wedding. Then, figure out how you make it happen within your budget and your personal style. I can tell you from experience: once you open yourselves up to happiness, it will find you!
In the end, I guess you could say that my and Daniel's wedding theme is "literary vintage" with a color scheme of "red, black and white." But, really, we don't need those labels. It's just us.
What about you, BABs? How did you determine your "theme"? 
In honor of the premier of the new season of "Doctor Who" this weekend (and because I have a serious obsession), it's a perfect time to holler out to my Whovians and give a nod to those space-lovers out there for this Five for Friday. These are all fairly subtle accents, so it's not like you're going full geek — not that there's anything wrong with full geek, some people just aren't as apt to go that route as others. And they're all under $75, so you can reach for the stars with your! (Sorry) Geronimo!

Navy Blue 24 Inch Paper Star Lanterns – $11.95
from: Luna Bazaar
Paper lanterns are fantastic. Add a little twist with a star shape!

Galaxy After My Own Heart Heel – $64.99
from: ModCloth
These are adorable, and the lower, chunkier heel probably won't cause many problems comfort-wise. Maybe they'll make you feel like you're … wait for it … dancing on clouds! (Too much?)
I Just Need Some Space, Man Astronaut Necklace, £16.50 (~$27)
from Eclectic Eccentricity
Guys, I own this necklace and I love it so. It always gets rad compliments, too.
from Amazon
Gold. Confetti. Need I say more?
Galaxy's Greatest Glow in the Dark Undies in High-Waisted, $25.99
from ModCloth
These can totes be your little secret … and guys, they glow in the dark, so your honey won't have any troubles finding you.
How are you letting your geek card fly for your wedding, BABs? Do you have any ideas for upcoming Five for Fridays?
Image courtesy of Photo Pink
Dear Heather,
I refuse to spend big bucks on flowers. What else could I use?
Brittany
Dear Brittany,
The possibilities are endless, and I love non-floral decor. I even have a tag on my business blog dedicated to this very topic. Because I have faith in your ability to Google for images, I'm only going to include a handful of links in this answer. Mostly, I'm just going to throw out options.
When it comes to centerpieces, my favorite floral alternative will always be candles. They can be floating candles or clusters of candles or only a couple of candles surrounded by petals (yes, flowers, but way cheaper than whole flowers). The key here is to make sure your venue allows open flames. Some do not, and it would suck to get your heart set on something that's forbidden.
Other centerpiece options are stacks of books, feathers, silk fake flowers, paper flowers (there are *tons* of tutorials out there for making paper flowers, including one on my blog involving coffee filters or this one in The Broke-Ass Bride archives), or vases with glass beads or other items (maybe ornaments with your wedding colors for a Christmastime wedding) inside them. Or, heck, you could just use pretty colored vases, sans filling.
For bouquets, I found a Pinterest board devoted to eco-chic floral alternatives. There's also a lovely post on Offbeat Bride devoted to nontraditional bouquets. For those who don't feel like clicking on those links, some of the options include ornaments (again!), brooches (BAB's own Christen had a brooch bouquet!), feathers, and paper flowers.
When it comes to general decor, I love the look of fabric pennants or streamers. I did tissue paper pomanders for aisle decor at my own wedding, which is what's pictured at the top of this post. There are also many options for using balloons, or fabric back drops (think photo booth), or tulle hanging from the ceiling, tied in a stylish way. Gah! So many beautiful options!
Are you a fan of non-floral options? What are you planning on using? Let us know in the comments below!
BABs, I'm so excited about how rockin' the

DIY or DIE

projects have been lately, and today is certainly no exception. Nodlaigh, aka

Daydreaming Bride

, is in da hizzy to show us how to make super easy (and cheap!) personalized bunting. Guys, this could work for anything from your engagement party to wedding decor to a banner for a thank-you card photo to general home decoration. And since it won't cost you a pretty penny, you could easily make a few of 'em! And keep an eye out, because Nods is going to be joining us to give us some great wedding inspiration from time to time. And without further ado …
For those of you watching your pennies for the big day, today's post is one for you. I'm going to show you how to make personalised and colourful wedding bunting for next to nothing!
You can use whatever colours and fabric styles you wish to suit your theme — I've gone for an eclectic and vintage vibe using luxe velvet and cord fabrics mixed with colourful accent patterns.
What you'll need:
Even if you had to buy the fabric, Heat n' Bond and ribbon new, you'd still only be looking at just over £1.50 (~$2.51) per metre of bunting — cheap as chips!
And it couldn't be any simpler to put together, taking me less than an hour all in. For those sewing phobes out there, you could very easily make it a complete no-sew project by using iron-on adhesive for the ribbon instead of sewing it.
Cut your fabric to size and lay out to gauge which pieces are best to use.
Type out the text you require for your bunting. I went with "Mr + Mrs". It's crucial to make sure the text is oriented back to front so that it's the right way around for the finished product (You can do this in PowerPoint using the 3D rotation function under 'Format'). In terms of font, I'd advise to use one that's easy to cut out — some of the script fonts are lovely but not the easiest to work with. I used Aharoni.
Arrange the Heat n' Bond over the text, paper side up.
Trace around the letters onto the paper side using a pen or pencil.
Cut out your letters and place paper side up on the fabric you're using for the lettering.
Apply the iron to the paper side of the letters in order to bond them to the fabric. Use a medium heat, no steam and place the iron on the letters, as opposed to swiping it back and forth, to avoid moving the letters.
Cut out the letters with the fabric now adhered to the back.
Map out where you want the letters on the coloured fabric squares and peel back the paper.
Apply the iron to bond letters in place, once you're happy with the placement. Ensure the shiny side of the letters is facing up.
Arrange your fabric pieces for one final check to ensure you're happy with the final design.
Cut ribbon to size to allow enough room either side to affix the bunting.
Pin in place and sew the ribbon onto the fabric squares.
And you're done!
I told you — it's so easy!
Would you give this a try? What colours would you go for?!
Rustic weddings are gorgeous. Duh. There's a pretty whimsical feel to them that helps make your wedding day a little extra special and romantical. And they tend to be pretty DIY-heavy, which adds a great personalized touch.
Maggie Lord, the schamazing mastermind behind Rustic Wedding Chic is kinda sorta the guru of rustic weddings. Remember when she did this rockin' tutorial for us? Welp, that's just one of many many beautiful how-tos. In her book, "The Rustic Wedding Handbook," she shares even more how-to goodness, plus she gives some great tips and ideas on how to style your own rustic wedding.
And, of course, she wants to share with you, BABs! Get yourself in on the game by completing each task below to earn entries to win "The Rustic Wedding Handbook!"
BAB Throwback is a series that highlights some of our favorite posts from the days of yore, and some feature the Real Weddings you've read about in our book, "The Broke-Ass Bride's Wedding Guide." Because we're firm believers that photos help tell the story, we want to help you match the blog post to the Sample Budgets from Real Brides found in the book (p. 194-223).
The adorable Raechel and Joel are the perfect example of a couple who used their wit, creativity, and awesome friends to rock their budget-savvy sensibilities to the max, and have themselves a "cheap wedding" that was in no way cheap looking.
To start with, just look at their insanely creative save the date video.  (Caution: be prepared to fall in love)
Ok, so while you're wiping the drool off your keyboard, let me hit you with this mindboggler: these two cuties threw a wedding fully funded by themselves for only eight thousand dollars. $8,000, people!
Raechel works in visual sales at Anthropologie and worked her store discount for her hair piece and earrings, and she picked up her dress from J. Crew, which she ordered online at Christmas time to capitalize on the seasonal discounts… What a smarty pants! Her bridesmaids were asked to find dresses inspired by champagne colors, and they ended up ranging in budget from $30 to just under $150…. while the groomsmen and the groom all wore mixy-matchy vintage inspired suits.
Raechel and Joel knew that they wanted to splurge on their venue so they reserved a good chunk of their budget for the art gallery where the reception was held. Their evening reception featured drinks and desserts only, the couple saved a pretty penny on catering that way.
Now get this: They actually bought all of the desserts at Costco, which was a big money saver and thanks to Raechel's creative arranging skills, you can hardly tell they're store bought! Another one of crafty secrets? All of the wedding decor was from Raechel's favorite hunting spot, "Wanda's," an old grocery store which converted to a thrift store in the '80s. She scored loads of old crates, silver platters, wooden hat boxes, and milkglass vases for around $50 buckaroos. Talk about getting bang for your buck!
They went the friendor route by buying all of their flowers wholesale and enlisting the help of a buddy who loves doing floral arrangements. The bouquets were tied together and finished off with some vintage champagne lace that Raechel scored at a thrift store for super cheap, and they looked like the bomb diggity. Getting your florals wholesale is a very simple fix if you're a broke-ass DIY bride.
Our favorite part? Raechel's words hit deep in our hearts when explaining the day: their wedding was much more of a community event than a random mix of vendors. Every one of her friends were an essential part of something special by helping the wedding come together. Raechel and Joel sure know how to pick 'em!
So what have we learned from Raechel and Joel? Work at a cool clothing store simply for discounts, have friends who are photographers, culinary experts, and floral lovers, and live off of desserts and sweet treats only! Just kidding, but trusting in your own creativity and leaning on your loving and crafty friends is a lesson from which we can all benefit!
How are you using your friends and family to make your big day special? Are you decorating the space yourself? Are wholesale flowers calling your name? Let us know and send us some wedding porn of your own for us to drool over!
All right, darlings, it's time for one helluva DIY or DIE sesh up in this bish. Put away the scissors and tape and glue, grab an apron and get your booty in the kitchen to make your own damn wedding cake. Yup, you read that right. We've got Lizzy Pancakes here getting elbow-deep into some confectionary awesomeness to show you how to rock your wedding dessert the broke-ass way: By taking it on yourself. It's no secret wedding cakes are pricey, and you can absolutely go the route of having a "display" cake to slice 'n' smash, with a variety of other desserts for actual consumption or having a big ol' sheet cake hiding in the back. But even those tiny l'il display cakes will cost you a pretty penny, where as these bad boys (if you have most of the basics on hand) should only run you around $27 for the ingredients. UM. HELLO, SAVINGS. Let's do it!
Hello, Broke-Ass Brides, my name is Lizzy and I'm the blogger in chief over at Lizzy Pancakes. I'm getting married in just a few weeks and have committed to make my own cakes. Yes cakes. To save money and to make things way more interesting, the cakes I'll be making are bride and groom cakes, and our main dessert is going to consist of doughnuts from Voodoo Doughnuts here in Denver. The cakes are for aesthetic and traditional purposes — you know, when I lure my fiance into a false sense of security and smush the cake in his face while our family and friends watch.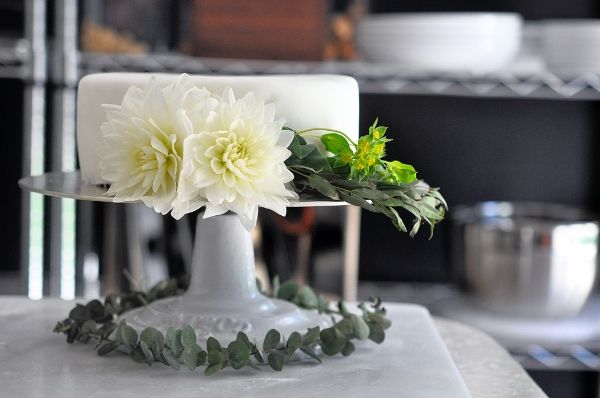 If you're having a small wedding, or if something like this would be a good fit for your party, making your own wedding cake is super easy. You know that smooth, beautiful layer of fondant? Not difficult. You'll breeze through it and spend the rest of the day absorbing compliments.
I made a traditional moist chocolate cake because I knew if it was kept airtight, it could be made up to two days in advance which is essential to maintaining a sane bride. If chocolate isn't your thing, I highly recommend Amanda's white cake recipe.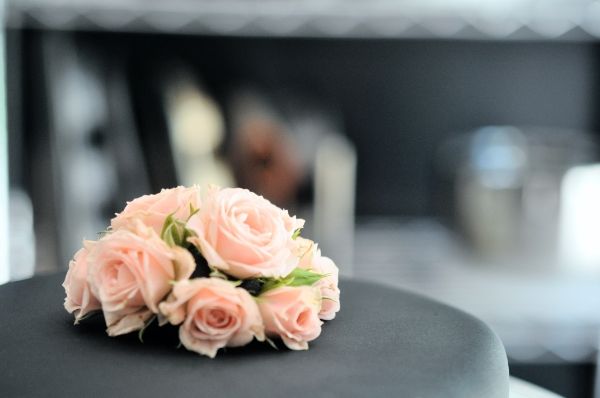 What you'll need:
For the cake
2 cups all-purpose flour
2 cups sugar
¾ cup unsweetened cocoa powder
2 teaspoons baking powder
1½ teaspoons baking soda
1 teaspoon salt
1 teaspoon espresso powder or instant coffee
1 cup milk
½ cup vegetable oil
2 eggs
2 teaspoons vanilla extract
1 cup boiling water
For the frosting
2 cups confectioner's sugar
2 tbsp butter, room temperature
2 tbsp milk
½ tsp vanilla
For the fondant
One 24 oz package of fondant in the color of your choice.
2 Wilton smoothing tools (you can get this at a craft store where you buy your fondant)
*Don't buy pre-rolled fondant. It is difficult to unroll, often cracks, and it's just lazy, you guys.
Preheat oven to 350º F. Prepare two 8-inch cake pans by spraying with baking spray or buttering and lightly flouring.
How you'll do it:
Prepare the cake:
Add flour, sugar, cocoa, baking powder, baking soda, salt and espresso powder to a large bowl or the bowl of a stand mixer. Whisk through to combine or, using your paddle attachment, stir through flour mixture until combined well.
Add milk, vegetable oil, eggs and vanilla to flour mixture and mix together on medium speed until well combined. Reduce speed and carefully add boiling water to the cake batter. Beat on high speed for about 1 minute to add air to the batter.
Distribute cake batter evenly between the two prepared cake pans. Bake for 30-35 minutes, until a toothpick or cake tester inserted in the center comes out clean.
Remove from the oven and allow to cool for about 10 minutes, remove from the pan and cool completely.
Prepare the frosting:
You really want the frosting to be room temperature. You should set it out before you start the cake to make sure. Don't try microwaving it, even on low. You risk making it too soft and messing with the consistency of your frosting.
Mix all of the ingredients together in a bowl and beat with an electric mixer until smooth. Easy peasy!
*If you really want to skip this step and buy frosting from the store (I'm not judging you), simply add ¾ cup confectioners sugar per container because cake decorating frosting should be a little bit stiffer.
Prepare the fondant: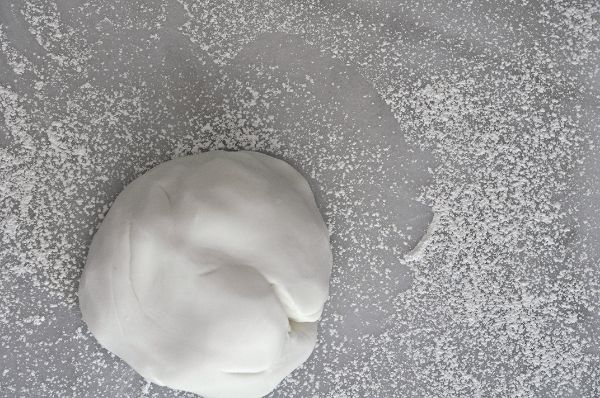 To find out how wide your fondant needs to rolled out to, take a ruler and measure the width of the cake (that's easy! It'll be 8 inches since we're using 8-inch cake pans) and the height after the layers are stacked. Add them together. Your fondant needs to be rolled out so that a circle at least that wide can be covered.
Lightly dust your work surface with confectioners sugar. If you're using using black fondant, pick up your fondant more often during the process because you can't use white confectioners sugar without messing with the color.
Take the fondant out of the box and wrapper. Knead it on the sugared surface until it is soft enough to roll with a rolling pin. This shouldn't take more than a minute or two.
Roll out the dough until it is wide enough and about a ¼ inch thick.
Assemble the cake:
After you have let the cake layers cool completely (I mean it — completely!) take a long serrated knife, place your hand flat on the top of the cake, and cut the natural dome off of the cakes, making them completely flat and even. If you move slowly, this shouldn't be too difficult!
Put a dab of frosting on a cake stand, preferably a rotating one, but it's not essential. Place the first layer smack in the middle of the stand. Take a big scoop of the frosting and plop it right in the middle. Using an offset spatula (you can grab it at the grocery store) spread the frosting at least a ¼ inch and up to ½ inch thick.
Place your second layer carefully directly on top of the first layer. You really only get one real shot at this, so look at it from above and center it before putting it down. Take the remainder of your frosting and spread it around the sides and top of the cake. Though you should try to spread it evenly, this doesn't need to be pretty — it will be covered by the fondant.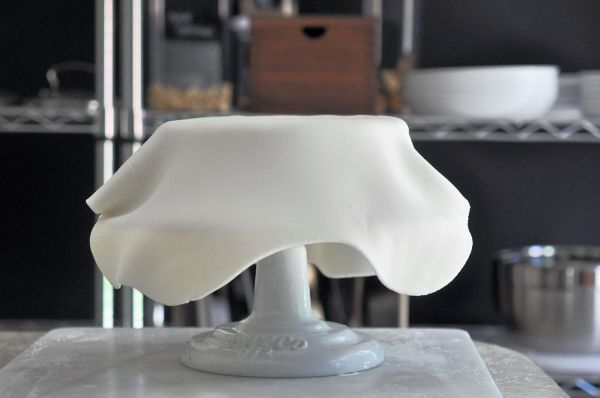 To place the fondant on the cake there are two methods. All of the YouTube videos will show you a draping technique, where you fold the rolled fondant in half over the rolling pin and use that to transfer it to the cake. I'll tell you what, though, I simply picked mine up and placed it carefully over the top. There is just a tiny bit of wiggle room to center the rolled fondant after you've put it on the cake, so don't panic if it's off-center.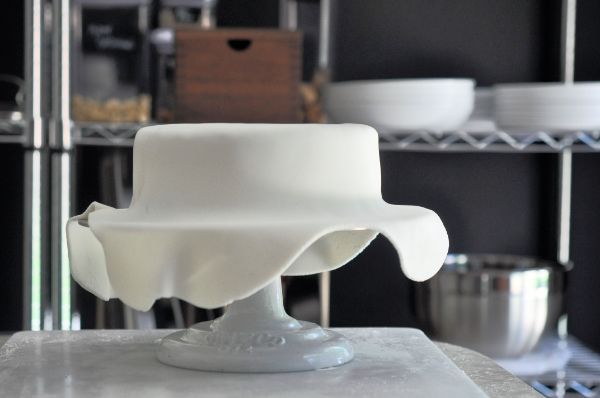 To smooth the fondant down and create sharp edges, use your hands to lightly press the fondant up against the sides of the cake. You may need to keep one hand on the excess fondant spilling over the sides so you can really mold the fondant to the shape of the cake without tearing or stretching it. Once you've used your smoothing tools to mold the fondant, run your pizza cutters around the bottom edge of the cake. Then use the side of the pizza cutter to lightly tuck the edges of fondant under the bottom to create a nice clean look.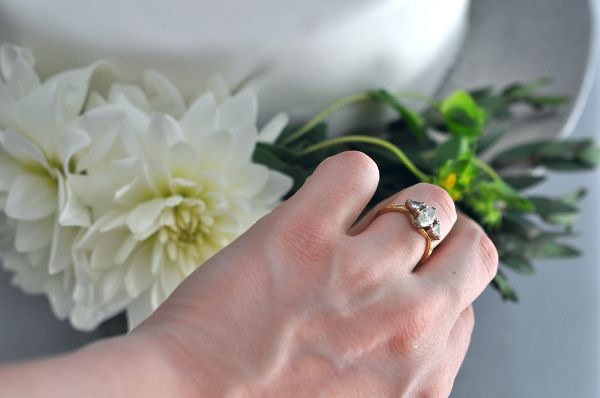 If you want to add flowers, this is really easy. To avoid sticking stems into the actual cake, take some extra fondant and roll it into a ball. Cut your flowers so that they have ¼ inch to ½ inch of stem and arrange them in the ball of fondant as you please. Use extra frosting to stick the ball to the cake in the position you'd like and voila! professional looking cake decorated with fresh flowers!
Storing the cake:
You should make your cake layers up to two days in advance. If at all possible, you should delay assembling the cake until the day before. I say this because once it's on the cake stand, there is no moving it to an airtight cake transporter. One way to avoid this is to use a cake stand with a glass dome on top. As long as it's airtight, you can assemble the entire cake up to two days out.
If you want to give your wedding a homemade feel, this is a great way to achieve that. It ends up being much less expensive than having a professional do it and you can brag ALL. NIGHT. LONG about making it yourself.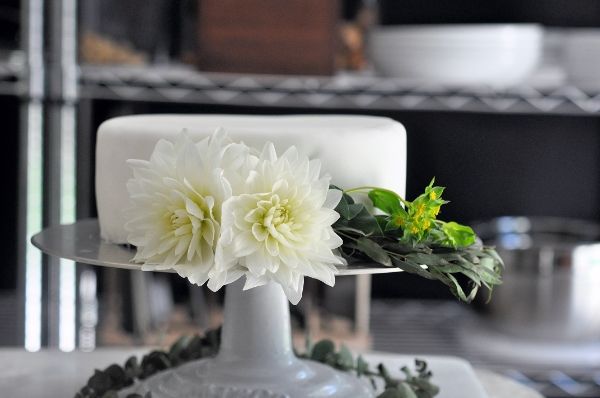 Good luck on your cakes! If you need help or pointers along the way, holler at me at www.lizzypancakes.com or tweet me @lizzypancakes.
LP
When this super sweet, laid back wedding from Lauren Lindley Photography fell into my leap, I spent some serious time living vicariously through the subjects of the photographs, with sand between their toes, mountain air surrounding them and pops of color livening up this sweet, family-oriented South Lake Tahoe wedding. The couple, whose sons played part in the ceremony, chose the destination because the bride grew up in the area. Summer and Peter, who planned from their home in Eugene, Ore., hosted 25 guests for a lakeshore wedding celebration complete with a (super colorful!) knot-tying ceremony, buffet-style dinner and a chandelier-adorned arch on the beach (whaaatttt???? YES. This, you guys). Let's join them, shall we?

Name: Summer & Peter
Occupation: Oncology Nurse
Wedding location: Round Hill Pines, South Lake Tahoe
Wedding Date: 7/3/2014
Budget: $3500
How would you describe your wedding (civil? Traditions? Write your own vows? Etc.): Casual, intimate.

What was your favorite part of your wedding? I loved it all! If I have to choose my favorite part it would be the reveal. Five quiet minutes with my soon to be husband
What did you splurge on? Airbrush makeup!
What did you save on? A reception venue, we had it at the rental house.

Was there anything you would have done differently, in retrospect? I would have hired live music for our ceremony.

What was your biggest challenge in planning? With it being a destination wedding, I had to rely on the Internet, and pictures. I had to have faith that my ideas came across clearly to people I had never met.

What lessons did you learn from planning or from the wedding itself? Although sometimes you can't wait for the planning to be over, it is a precious time, and should be enjoyed.
What were your top 5 favorite things about your wedding? My amazing husband and children; the beautiful scene my mom created for us; the rental house Stonehenge, South Lake Tahoe; our photo booth at the reception; and the knot tying ceremony.
Top 5 least favorite? Timing: the sun was burning our eyes, and I felt like I was melting! Would have had it 30-45 minutes later. Our wedding venue: Although gorgeous, it was one of their last weddings and I felt like they were "not in to it." Really I can't think of anymore dislikes
What was the worst piece of wedding advice you received? To go traditional, and not do the reveal. Good thing I didn't listen-Loved that part!

The best? Enjoy every minute, and get your hair and makeup done professionally.

Photography: Lauren Lindley Photography
Flowers: A Floral Affair
Caterer: Racheal K's Home Cookin
Ceremony: Round Hill Pines
Rental House: Stonehenge Tahoe
Decorations: Kathie Giove — My Momma
Hair and Makeup: Rah Hair Studio
Bride's Dress: Rosebud's Boutique (Junction City, Ore.)