Posts in the 'The Groom' Category
Just the other day Michael and I were talking about wedding stuff and he said (word for word), "I always saw on tv those guys who didn't help out with their wedding and I was like 'I'd never be one of those guys', but I feel like I am. Should I be doing anything?"
I thought about it, and my honest answer was no. It's not that I think I'm a one-woman show who can do this wedding all by myself, but I also don't need him manning the front lines right now.  After all, he is already working 70 hours a week, so I feel like asking anything more of him at this point might be unreasonable. I still want him to be involved; I ask him what his opinions are about the number of people in our wedding party and what he wants his groomsmen to wear, but we're not at the stage where I need action from him.
Not to mention, let's be honest, I have a vision and I know that 90% of that vision is stuff that he hasn't even thought about, nor does he specifically care and that doesn't bother me.
I know you're all wondering about this photo: Michael and I did a styled shoot with SheWanders Photography and they took this gem. Michael would like you to know that this was all my idea and he participated for my benefit.
Maybe I'll need more from him in the future, but right now, as long as he brings this handsome face on the big day, I'm good to go!
xoxo,
Brought to you by our friends at Simple Registry.
I dunno about y'all, but I like to make sure that if people are going to give me something, it's something I want and will really, truly use. Because: Guilt. I have this amazing problem of feeling guilty for not necessarily loving a gift, but hanging on to it nonetheless, which just results in clutter and hoarding and anxiety and … damnit, where's my whiskey?
All this and the pressure of wedding planning? OOF. Nope. I'd like to have fun, please.
So make things easier on yourself and on your guests and set up a registry that allows you to steer your loved ones toward items or experiences that you'd really like and therefore use. "But Christen," you say, "Wherever shall I find such a glorious unicorn of registries?"
YOU GUYS. I got this! SimpleRegistry.
Not only is SimpleRegistry super easy to use (I signed up myself. So, for realz.), but you can add pretty much anything: Need a toaster, like classic-style? BOOM. How 'bout tickets for the first Red Sox-Yankees face-off of the season? NAILED IT. Feeling more philanthropic and want to donate your dollaz to the ASPCA (one of the BAB's charities of choice)? YEAH, THAT TOO.
And you know how that girlfriend of yours is always suggesting different activities or restaurants, just insisting that you'll loooovvveee it? Well, she can take those ideas and add them as ideas on your SimpleRegistry list and your whole damn bridal party — you know, the ones who have the most fun? — can split that experience to make it one for the ages. Yup, birds, stones, etc. Doesn't matter. You get to go biking through a vineyard!
Go get your fun on and set up your SimpleRegistry!
Hey there, newbie BABs! Welcome to the party! Amid the piles of tulle and yummy cake tastings lies the golden nugget of fun that is your wedding registry. For some of you, this will be the chance for you and your honey to start your cohabitation off on a shiny new foot. For others, those of you who are already well-familiar with bodily functions, smelly socks, and morning cups of coffee in bed, building your bridal registry can be tough, since you are fairly stocked when it comes to household goodies.
Regardless of which camp you fall in, Present Value is a wedding registry you'll definitely want to set up. Beyond standard cash registries that can go toward vacations or experiences, Present Value registries focus on your financial future. From house downpayments to debt reduction, college funds to investment portfolios, your wedding guests can give you a little peace of mind.
While scanning for new fine china or that killer KitchenAid stand mixer (in turquoise!) is always fun, Present Value knows the real value of planning for your new life together. The registry site has a clear and concise interface that you can personalize with a welcoming note and a photo of you and your other half and the whole experience is completely free – for both you and your guests. No fees are incurred and there is no charge to set up your Present Value registry.
While new goodies are great, a little financial freedom and stability go a long way. So whether you're decking out your casa or planning a honeymoon of a lifetime, give your guests the opportunity to help you plan for your future. Because as any BAB knows: Every cent counts.
Note: This post was brought to you by our friends at Present Value.
I'm about to tell you something you might find shocking.  But hold onto your hats, because our wedding is going to be a….MEAT FREE ZONE!
That's right folks!  I am a longtime vegetarian and Zach rarely eats meat nowadays.  So we won't be serving anything that used to breathe and have eyeballs at our wedding.  I think a lot of our non-vegetarian friends and family members are surprised we're doing this.  But really, even if we were hiring a caterer, I wouldn't want to pay for people to eat in a way I don't believe in.  Because we're cooking all the food ourselves, of course we're not going to serve meat.  I don't even know how to cook it!
I hope that people aren't upset about not eating meat and I really hope they enjoy our food.  If it forces them to try something new, then good!  Maybe some will realize that it is possible to eat a satisfying and delicious meal without meat.  Maybe some will freak out and slam burgers before they come.  I don't really care.  At least we'll be showing off our values (and our mad cooking skills, hopefully) on our wedding day!As a side note, I have been to several weddings at which vegetarian options were not even offered!  Both times the couple knew that a few guests were veggie, but I don't know if it slipped their minds or they just didn't care.  Last time my friend and I (the only two vegetarians) couldn't even eat the salad or pasta salad because both had bacon in them!  We ate only bread and potatoes and thus got extra drunk and rowdy with no food in our stomachs.
Maybe I have a slight vendetta, but after not being able to eat at weddings I've been invited to, I am super pumped to turn the tables on everyone and not serve any meat!  I promise that the food will be delicious and that there will still be lots of protein (beans, guacamole) and cheese (we're not vegan).
Is it crazy to have a totally-veggie reception?  Do you think people will freak out or enjoy the food?  Have you ever been invited to a wedding you couldn't eat at?
Hey there, BABs! Back in the days when I was debating where we should get married, I mentioned our plan to move to San Diego, California, from Ohio.  Well, I'm happy to announce that we turned that plan into action and…
HERE WE ARE!
Honestly, now that I'm here, I'm really glad we decided to have our wedding in Arizona.  Trying to find a place to live, find jobs, and learn our way around a new city has been hard enough without also trying to find an ultra-low-budget wedding venue!
It's been a tough transition for us.  It took me nearly a month to find a job.  Combine that with the sticker shock of SoCal life compared to the Midwest, and the wedding countdown ticking away, stir vigorously, and you've got one stressed-out Carrie.  As always, Zach has been the yin to my yang.  When I'm lying on the bed crying that, "We're never EVER going to have enough money for a wedding!!!!!!!" he's sitting there rubbing my back reminding me that, "Everything will be perfect.  Just be patient and it will work out!"  I know he's right.  However, according to the experts, moving, getting married, and unemployment are three of  life's biggest stressors!  Thankfully, we are both now working and building that wedding savings account!
I know our situation is easy compared to the problems many other engaged couples are facing.  I'm glad that we were able to make it through this huge life transition together!  Did anyone else move or have a major life change mid-engagement?  What are your tips to help engaged couples cope with wedding/life stress, and come out stronger in the end?
Remember my state debate from this post?  Well, here's the follow-up…
Time was ticking away.  More and more people kept asking me if we had set a date yet, as their calendars were booking up for next summer.  My online search for an affordable spot in California was proving fruitless.  More than anything, we just wanted to decide on a place and set a date so that we could give people enough advance notice in this over-scheduled day and age.
So, after much discussion, we made the decision I somehow knew in my gut we would make all along:
We're getting married in Arizona!
After examining all factors, we decided that having our wedding at Zach's parents' house in northern Arizona would allow us the most freedom to DIY and be the most affordable, despite the cost of renting tables and chairs.  We talked to his parents about the idea and they were thrilled!  They're happy for an excuse to do more work on the house and give some of their relatives an extra reason to come visit.  We're happy because we know there's lots of fun stuff for our guests to do in the area, and the hotels are affordable.
I'm already drawing inspiration from gorgeous photos of backyard weddings.  The mission now is to turn this:
into this:
It'll be a challenge but I think we can do it!  I'm so excited to dance the night away under the gorgeous Arizona stars!
Did anyone else have an at-home backyard wedding?  Was it worth all the DIY work?
After getting engaged in Peru we were beyond excited.  I, being extremely type-A, couldn't wait to dive into planning!  The only problem was that we were traveling for three more months after the proposal.  Being in South America and having no idea where we'd be living or working or anything when we got back, there wasn't much detailed planning we could do.  So we decided to start with the big stuff.  Sitting on a park bench in Lima, Peru, drinking some beers while waiting for a night bus to leave, we decided to brainstorm and write out the goals we have for our wedding.  We hope these will help us remember what's important despite how easy it is to get swept away in the little details and nonsense.  This way, if we're struggling with a decision down the line we can come back to the goals and use them to help us make the right decision.  That's the idea, at least.  Here they are, in no particular order.
1. Pay for our wedding ourselves and not go over $2500.
2. Agree on decisions together so that our wedding truly reflects our personalities.
3. Make our wedding more like a fun reunion than a showy formal event.
4. Be selective about our creative projects so that we don't get obsessed with or overwhelmed by the details.
5. Make our wedding reflect our values: vegetarian, eco-friendly, etc.
6. Have a meaningful and sincere ceremony.
7. Handle any conflicts with courtesy and maturity while still standing up for ourselves on what really matters.
8. Have quality time with everyone at our wedding and involve our guests as much as possible.
What do you think?  Can we accomplish all of these?  Did anyone else sit down and write goals for their wedding before really beginning the planning?
Hey there, BABs!  This week we're showing our love for the fellas.  Brittany has requested assistance in finding her groom's duds for the big day.  Here's what Britt has to say,
"Hi, I've seen you find dream dress inspirations at much cheaper prices.  I am desperate to find my groom's dream suit or one similar.  It's Pronto Uomo Platinum Brown Vested Suit.  We love the color and style and it's retail is not terrible at $449.00 on sale.  But we're looking more for the $150 to $200 range.  Crazy ridiculous?  Maybe.  Am I just crazy ridiculously broke?  Definitely.  Please help!"
CAN"T AFFORD IT
Pronto Uomo Platinum Vested Suit (Men's Wearhouse $449.99)
GET OVER IT
Men's 3-Piece Brown Tone on Tone Suit (Sears.com/New Era Factory Outlet $99.99)
Tommy Hilfiger Chocolate Pinstripe Suit ( Bluefly.com $284.79)
Superior 150′s Single Breasted One Button Brown Vested Suit
(Amazon.com $129.95)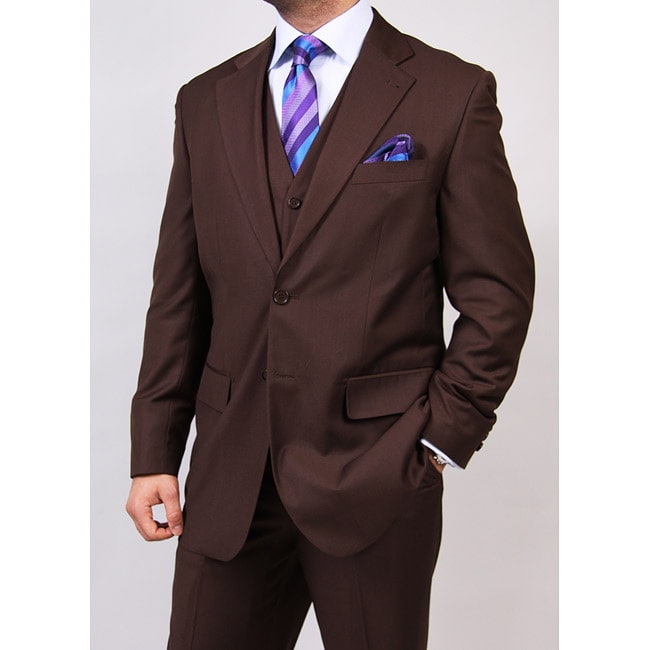 Ferrecci's Men's Brown 2 Button Vested Suit (Overstock.com $90.99)
Stacy Adams Men't Dark Brown 3-Button Vested Suit
(Overstock.com $102.79)
Presidential Suit Italian Modern Fit Double Beast Window pain Brown
(Amazon.com $119.99)
 Phat Farm Men's Brown 3-Button Vested Suit (Overstock.com $113.99)
There you go Britt! Seven slick stylin' suits for your man to rock on the day you say your "I do's".  Don't forget to check your local department stores for suit separate sales.  Macy's, JC Penny, Jos. A. Bank, Dillard's, and Bloomingdale's all sell suits and some even sell tuxedos.  Check 'em out.
I threw in the double brested number because I thought it was freakin' awesome!  I hope one of these sparks your soon to be hubby's interest.  Best wishes on finding a chocolate suit that would make Mr. Wonka envy your man.
You're a team now, so why does it seem like you're doing all of the wedding planning while your manly counterpart plans out his game-watching schedule for the week? One way to get him engaged in wedding planning is with a copy of Be the Man: The Man Registry Guide for Grooms.
The Man Registry
is the web's leading wedding resource for grooms and groomsmen. Chris Easter, one of the co-founders of the site, has compacted all of this imformation into an irreverent read-it-on-the-toilet-size guide to the big decisions and obstacles that men will face leading up to, during, and after the big day. In addition to tons of practical advice, the book is peppered with lighthearted stories, helping readers learn from the insights and missteps of all the grooms who came before them.
Armed with a copy of Be the Man: The Man Registry Guide for Grooms, grooms will stop feeling lost  and overwhelmed by seemingly inscrutable wedding etiquette and traditions, and will be able to step up to the plate, be part of the process, and own the day: after all, it's a hugely important day in his life, too!
This week, one lucky BAB will win a copy of Be the Man: The Man Registry Guide For Grooms!