Posts in the 'The Bride' Category
Well, hasn't it been a shiny, sparkly, bling-tastic week here at BAB! I couldn't very well not join in the ring party, so for this week's Five for Friday, I rocked (heh, get it?) massive Interwebz search for some unique, bold and badass engagement rings, all under $1,000. Feast your eyes, darlings!
The Embrace Opal Ring
at Angara, $469

Herkimer Diamond Solitaire Ring by Melissa Joy Manning, Inc., $415


Bezel Set Solitaire Black Diamond Ring from My Love Wedding Ring, $885.00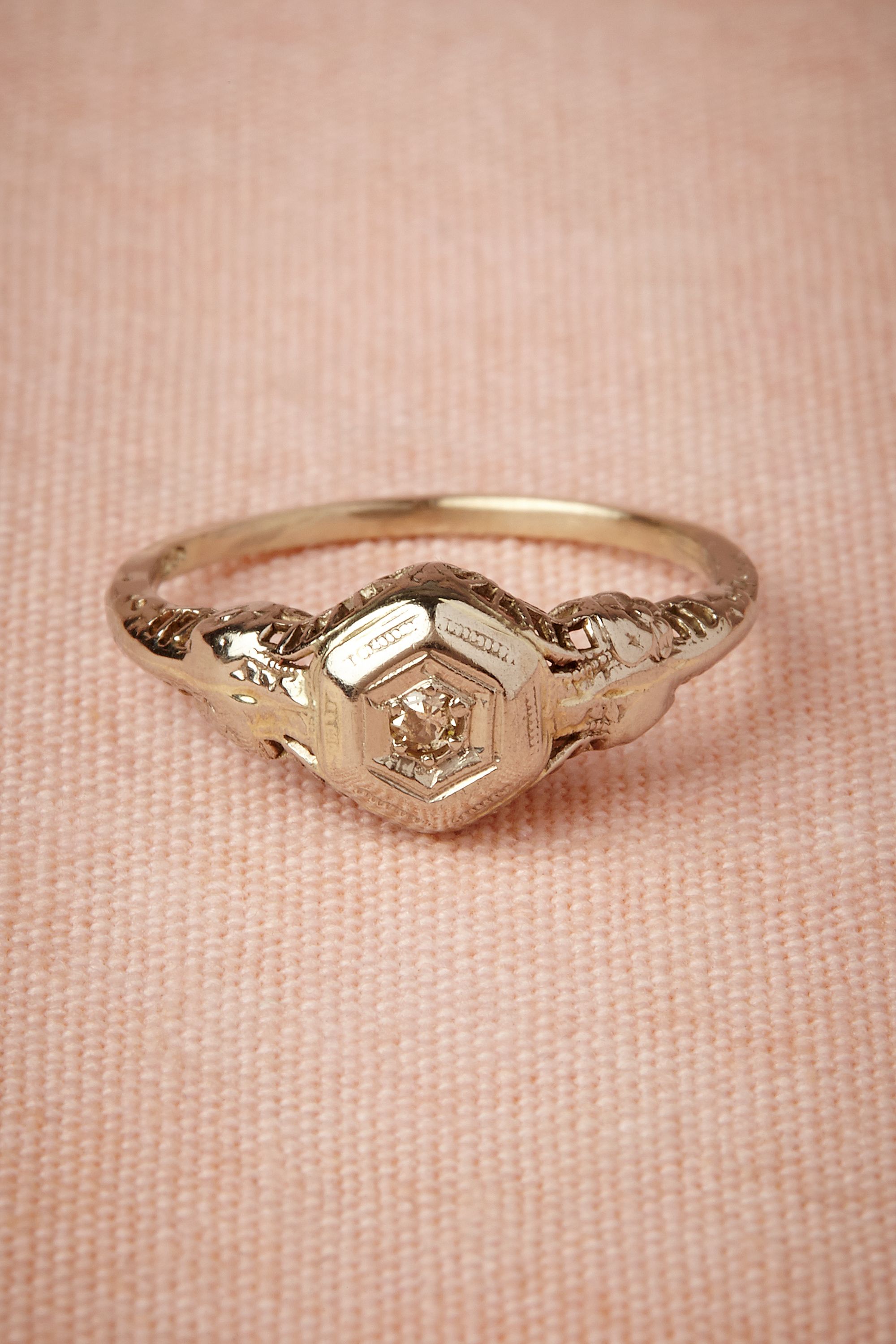 Geneva Ring from BHLDN, $550
Gemstone & Diamond Sterling Ring at QVC.com, $169.92
 Do any of these funky sparklers tickle your fancy? Which is your favorite?
Y'all, I love me some ModCloth. Like, it's a little ridic. And when I found out they were rolling out vintage-inspired wedding styles, I straight swooned. While there are some short dresses, some long dresses and some dresses that aren't white at all, there are also glorious accessories and enough glittery, sparkly goodness to last me a lifetime … or at least this wedding season. Here are my five favorites:

Gilded Grace Dress from ModCloth – $139.99


Yes I Candescent Heel in Gold from ModCloth – $29.99

Candlelit Soiree Dress from ModCloth – $129.99
Honors and Upwards Jacket from ModCloth – $54.99
Sparkle Your Interest Dress from ModCloth – $157.99
The last one MURDERS me. It's the cutest ever. EVER. Which item from ModCloth's vintage-inspired wedding styles is your favorite? Tell us in the comments below!
Brought to you by our friends at Simple Registry.
I dunno about y'all, but I like to make sure that if people are going to give me something, it's something I want and will really, truly use. Because: Guilt. I have this amazing problem of feeling guilty for not necessarily loving a gift, but hanging on to it nonetheless, which just results in clutter and hoarding and anxiety and … damnit, where's my whiskey?
All this and the pressure of wedding planning? OOF. Nope. I'd like to have fun, please.
So make things easier on yourself and on your guests and set up a registry that allows you to steer your loved ones toward items or experiences that you'd really like and therefore use. "But Christen," you say, "Wherever shall I find such a glorious unicorn of registries?"
YOU GUYS. I got this! SimpleRegistry.
Not only is SimpleRegistry super easy to use (I signed up myself. So, for realz.), but you can add pretty much anything: Need a toaster, like classic-style? BOOM. How 'bout tickets for the first Red Sox-Yankees face-off of the season? NAILED IT. Feeling more philanthropic and want to donate your dollaz to the ASPCA (one of the BAB's charities of choice)? YEAH, THAT TOO.
And you know how that girlfriend of yours is always suggesting different activities or restaurants, just insisting that you'll loooovvveee it? Well, she can take those ideas and add them as ideas on your SimpleRegistry list and your whole damn bridal party — you know, the ones who have the most fun? — can split that experience to make it one for the ages. Yup, birds, stones, etc. Doesn't matter. You get to go biking through a vineyard!
Go get your fun on and set up your SimpleRegistry!
I found my dress! If there is one part of planning a wedding that makes it feel real, I'd say that is up there. I had never even been dress shopping with anyone before (and I've been in quite a few weddings), so it was definitely a little overwhelming. Having seen far too many episodes of Say Yes the Dress, I planned my entourage very carefully. My mom, littlest sister Ali, and my friend and bridesmaid Cassie all accompanied me. I figured I had a more mature perspective, a teenage hipster's perspective (Ali is 16), and someone who sees me on a day to day basis.
We had appointments at two different shops, a chain store and a small, local boutique. I will admit, I had a lot of preconceived notions about how I thought my experience would go. For the past year I have worked for a small business owner, and have come to appreciate the hard work and detection it takes.  The small shop was also where my other sister got her wedding dress, so I know my mom really wanted me to find something there as well. I had no idea what I was looking for, and was more than willing to put my fate in the consultant's hands.
Our first appointment was at the bridal chain store. We were the first appointment of the day, and my consultant, Heidi, was friendly and knowledgeable. She asked me a lot of questions about my fiancee, my venue, and what kind of look I was going for. I told her that I was getting married in a 1920′s theatre, so I was going for a vintage-y, Gatsby-esque look. She pulled three dresses to start, and from there was able to pull more styles that I liked. I tried short dresses, long dresses, sleeveless dresses, and dresses with sleeves. She showed me dresses that I would have never thought to try, and even though she was working another appointment at the same time, I would have never known it with how attentive she was. All the dresses she had me try were all under my $850 dress budget. At the end of the appointment, there was one dress that I was in love with. It was comfortable, beautiful, and very much "me". It was also on sale for $399. Not wanting to make any spur of the moment decisions, we told the shop that we would be back after lunch.
We headed to the small boutique, very optimistic about what we would find. I don't remember my consultant's name (Megan? Molly?), but she was very friendly and made me feel comfortable right away. However, she was not very proactive in what she showed me. She basically walked me around the shop and showed me where the low price, mid-range, and high-price dresses and told me to pull what I wanted. To my dismay, none of the dresses I liked were under my budget, and they were all very similar looking. I only tried on four dresses, and narrowed it down pretty quickly to one that I could see myself in. It was beautiful, but out of my price range and a little poofier than I would have liked (as my mom said, I am not her "poofy" daughter). The consultant did her best to work with my budget, but even with a few discounts, the dress alone would be close to $1,000. Yikes.
We decided to hash it out over lunch, and after sending pictures to my fiancee's family and my sister in Chicago, I made the executive decision to go with the dress from the chain store. When all was said and done, I ordered the dress, undergarments, veil, and headpiece-all for $750! My sister's mother-in-law is a seamstress, so I'll be able to get my alterations done for a reasonable price as well. I felt really good leaving with a dress I loved that fit well with my venue, I knew I would be comfortable wearing, and was under my budget. Such a good feeling!
If I could leave you with any advice, it would be to go with your gut and do what feels right to you, your personal style, and your budget. While I liked the dress from the boutique, I knew there were other parts of my wedding that I would rather spend my money on. Happy shopping!
Truth: It's no secret that I love BHLDN. I've always had a little crush on Anthro, but when BHLDN was introduced a few years ago, I died. There have been days where I've lost hours ogling sweet styles and dreaming up different weddings based on their lines. And while the prices can be a little high, the quality is soooo wildly worth it.
So when I got an email yesterday introducing the new Annabelle gown, designed by Jenny Yoo, there was no way I could keep it to myself. YOU GUYS. This fantastic frock can be styled in 15 different ways. While it is touted as a bridesmaid dress on the website, I can't help but think how gorgeous it would be as a beach wedding dress or gown for an easygoing restaurant reception. Also, it's available in white, soo … you know, that makes it easy. At $260, it's also a steal for a wedding dress! And you can change up the look between your ceremony and reception. So much bang for your buck!
Would you be open to wearing a "bridesmaid" dress as your wedding gown? Which style of the Annabelle dress is your favorite?
Hey there, newbie BABs! Welcome to the party! Amid the piles of tulle and yummy cake tastings lies the golden nugget of fun that is your wedding registry. For some of you, this will be the chance for you and your honey to start your cohabitation off on a shiny new foot. For others, those of you who are already well-familiar with bodily functions, smelly socks, and morning cups of coffee in bed, building your bridal registry can be tough, since you are fairly stocked when it comes to household goodies.
Regardless of which camp you fall in, Present Value is a wedding registry you'll definitely want to set up. Beyond standard cash registries that can go toward vacations or experiences, Present Value registries focus on your financial future. From house downpayments to debt reduction, college funds to investment portfolios, your wedding guests can give you a little peace of mind.
While scanning for new fine china or that killer KitchenAid stand mixer (in turquoise!) is always fun, Present Value knows the real value of planning for your new life together. The registry site has a clear and concise interface that you can personalize with a welcoming note and a photo of you and your other half and the whole experience is completely free – for both you and your guests. No fees are incurred and there is no charge to set up your Present Value registry.
While new goodies are great, a little financial freedom and stability go a long way. So whether you're decking out your casa or planning a honeymoon of a lifetime, give your guests the opportunity to help you plan for your future. Because as any BAB knows: Every cent counts.
Note: This post was brought to you by our friends at Present Value.
You know what I hate about shopping? Trying on clothes in the store. Having to tug here, suck in there, wriggle through this … only to have to step out into the open to look in a three-way mirror, certain that all eyes are on me (paranoia? Maybe. Justified? TOTES.). But BAB pal Pastel Dress Party takes away all that awkwardness when it comes time to shop for wedding, bridesmaid and other special occasion dresses.
With Pastel Dress Party's videos and tutorials, you can take your own measurements in the comfort of your living room, hand 'em off to Pastel Dress Party and get a dress made just for you, whether it's from the company's collection or a design of your dreams (check out their Facebook page for inspiration and custom creations). And to really put your mind at ease and make the experience the mostest bestest, Pastel Dress Party offers complimentary shipping and an alteration credit with each of its dresses. So if you're less than enthusiastic about parading your entire bridal party through a bridal salon, simply wait for your Pastel Dress Party frocks to arrive, and then enjoy a private fashion show (and more than one complimentary glass of champagne) in the comfort of your own home.
You guys, let's talk glasses. All of us here at Team Broke-Ass rock the specs, and tons of brides do so on their wedding day. But picking out a new pair of glasses can be tough. And if you're anything like me, you want to go through the whole process in the comfort of your own home rather than under the oh-so-unflattering florescent lights and judging eye of the folks working at the eye doctor. Here's where Warby Parker comes in.
Not only does Warby Parker have some rad styles in tons of colors (purple, you guys.), but they also let you try on your specs at home. No, for serious. Pick out 5 frames you want to take for a spin and Warby Parker will ship 'em to you for free. Then you have 5 days to take those bad boys for a test drive *ahem, brides: Try 'em on with your dress!*. Pick the winner, purchase them on the website and send back all the try-ons (shipping is free!). Your new glasses should arrive shortly!
And for the holidays, Warby Parker is pimping some serious coolness with their store-bought gift cards, purchased by 12/19: Buy a Warby Parker Gift Card, and the recipient will get a Make-A-Snowman Kit. So not only do you get new glasses that will be perfect for you, but you'll get to have some fun with your own mini-snowdude. You will receive all the necessary tools for creating a five-star snowy friend, including: carrot nose, faux-coal eyes, buttons for eyes and a smile. Now that's a treat!
This weekend, I made a proper appointment at The Princess Bride in Bothell and was accompanied by only two other people: my maid of honor and another of my bridesmaids, both assertive enough to ensure that I wouldn't allow an opinion other than my own to determine my ultimate purchase. It was by all accounts a smashing success, as I ended up buying a dress that I absolutely love. Here 's what I learned from my experience:
1) Consider dresses in the context of your theme.
No one's saying you can't wear a ballgown to your beach wedding or a sarong to your church wedding if that's what you really want, but a dress that fits in with your overall scheme will look more cohesive. If your overall theme is 'vintage',  bringing in elements of the time period you want to emulate will help tie everything together. Same with bridesmaid dresses, but that's an article for another day!
2) Have a good idea of what you like.
Browse Pinterest, look at other weddings, watch a boatload of Say Yes to the Dress, read bridal mags, and really look at the dresses. Not necessarily specific dresses or specific designers, but fabrics, common elements between dresses that speak to you. You might not be able to afford that Jenny Packham that you're dying over, but that and a few other dresses may help you figure out that you're all about the beading–and that's a great start! Bring examples of the things you love to the bridal salon, point out the elements that really speak to you, and you'll avoid having dresses pulled that just waste your time and exhaust you mentally (it's hot, emotional work trying on dresses, and the more you try on, the more confused and upset you can get!).
3) That said, be flexible. 
You can read all of the magazine articles in the world about which dress will actually suit your body type best, but no amount of reading can replace actually seeing them on your body yourself.  A chart may tell you that as a short, full-figured person, you shouldn't even look at a fit & flare and should resign yourself to empire,  but I can tell you that as a 5'2″ (on a good day) full figured person, I tried on a fit & flare and everyone was dying over how great I looked in it. And if you are really in love with a shape, try several if the first one doesn't work out–I tried on a different fit & flare at another shop, and it looked like I was in my second trimester with a baby conceived in a threesome with Ben and Jerry. All I'm saying is, don't knock out a shape off the bat because someone else says it won't look good on you–see for yourself. Try them all. You may end up surprising yourself! The dress I ended up buying, while it is one I pulled myself, is one that I wouldn't have ever even considered if I had only seen the promotional photos. You really can't tell what you'll love until it's on your body.
4) Research your shop before you book an appointment.
I saw The Princess Bride's booth at the Seattle Wedding Show, which put them on my radar. I checked out their website and saw that they carried designers who reflected the aesthetic I was looking for, which increased the odds that I'd find something that I'd like. (It also didn't hurt that they gave me a coupon for $100 off a dress purchase at said wedding show…so definitely check out wedding shows in your area!) Going to a different shop that focused on different materials and shapes might have meant that I'd have wasted my time, or ended up being talked into buying a dress that was something other than what I really wanted. For example, my maid of honor was talked into buying a very princessy gown at a shop with more dramatic gowns for her wedding this past October, when she really wanted something simpler. This week, while looking for dresses for me, she found exactly the kind of dress she'd been pining over and ended up kicking herself retroactively for not sticking to what she really wanted.
5) Start at an actual shop, not at a sample sale.
Starting at a sample sale like I did made me feel very discouraged about the dress-finding process, because the samples they had in my size were dirty, torn, and poor quality–and they fit me very poorly, to boot, which left me feeling like the odds were against me in terms of finding a dress that I love that fits me. At A Princess Bride, I was shocked, SHOCKED, that I fit into their samples with no issues, because I expected a repeat performance. No, no, no. You may strike gold at a sample sale, or you may end up looking through the poorly made, ill-fitting crap that no one else wanted, and that is no way to start off your dress-buying experience. My problem during an actual dress appointment was choosing only one of the dresses to purchase when so many looked so damn great!
6) Before you go in, make sure you set a hard budget.
Know exactly how much you're willing to spend, and figure in several hundred dollars of alterations into that amount. If you've got $1500 to spend, you may want to cap your dress at 1000 so you have money to add sleeves, or a bustle, or cups, or modify a neckline without going over your budget–alterations and sales tax adds up fast! Whatever number you set, stick to that number. Don't even think about trying on a dress you can't afford, because once that dress hits your body and you fall in love, nothing else will compare and you'll be heartbroken, or you'll devastate your budget, or put a financial strain on anyone who has kindly offered to help you purchase your dress.  Or maybe you  have some wiggle room in your budget but know you'd feel sick about spending that much money later–don't say yes in the heat of the moment and regret it later! Stick to your number. You'll find a dress, I promise. The lower the number and the more exacting your specifications, the more legwork you'll have to put in, but you will find a dress.
7) Hydrate!
Seriously, who would have thought that trying on a bunch of dresses could make a person so thirsty?
8) Leave the crew at home.
Bring just a couple of people–three, max. The more people you include, the more opinions there will be about what actually flatters you, and again, you may end up getting confused or being pushed away from a dress you love or into a dress you're ambivalent about.  Put these people in charge of taking pictures of you from the front, and especially from the back so you can see what everyone else sees. You can show it to everyone else later, but while you're shopping, make sure that the collective voice of others doesn't overpower your own.
9) Start early.
Start looking earlier than you may think you have to–if you're not buying off the rack, gowns can take 6 months or more to be made. Occasionally dresses can be rushed for an additional fee…but not always. You don't want to fall in love with a dress that you can't have, and you don't want to be stuck with something you don't love off the rack because you don't have time to find anything else.
10) Have fun!
If you aren't having fun, if you don't like your sales rep, if you feel pressured or hassled or ugly: you need to leave. Give yourself a break and try somewhere else, maybe with other people. Just because you spent an hour and a half on a dress appointment does not mean you owe the shop a sale. Buying your dress should be an enjoyable experience, and if it isn't, all you're going to be able to associate with your dress is how unhappy you felt in the shop.
How did you go about finding your dream dress? Any tips/tricks you're willing to share?
Editor's note: Be sure to check out Part I and Part II of Mellzah's dress shopping extravaganza!