---
Posts in the 'The Bride' Category
Here's what I have to say about our engagement photo shoot. It was hotttttt.
Unfortunately, I don't mean that we looked hot (even though we totally did). I mean that when you live in Atlanta, Ga., and you battle schedules and wind up with a shoot at 5 p.m .in the beginning of August … well … you best be prepared to sweat. And sweat we did.
Beforehand, Jersey and I looked all lovely and put together and even joked around in the living room while we awaited our photographer's arrival. I had treated myself to a DryBar blowout earlier that day and I told my stylist (direct quote): "Spray the S*** out of it with the strongest thing you have." So I calmly head home, hair perfectly coiffed, and spent a good amount of time on my makeup. Primer, tinted moisturizer, shadow, liner, mascara, blush and, what the hell, … even tried some false lashes, but that went over like a fart in the wind. So I nixed those bad boys, put on my gorgeous frock from Nordstrom and considered myself good to go! I felt pretty, but also I tried not to think about how oppressively humid it felt outside.
Our photographer arrived and we got started. Y'all … within 15 minutes, my face was beaded with sweat. It was beyond description, the level of humidity. Not to mention, at least 90 degrees. By the time we finished 5 minutes of a few posed shots, our photographer's shirt was soaked through. We took a few more near some flower pots, sitting on the ground. And I promptly received four mosquito bites for my efforts. And my makeup was now running down my face in rivers.
We moved over to an abandoned house, but not before I paused to take a handkerchief and wipe alllll of that moisturizer, primer, tint and powder off. Then I took a clip and swooped my long hair up off my neck into a semi-updo. Because, yep. I'd reached the point of giving up. And all we could do was laugh. Because, Hello: Georgia. August. All we needed now was the accompanying thunderstorm.
But our photographer assured me his shots so far looked great, but he could touch me up if it was very bad. We kept on and headed to the beltline, where we walked and shot, walked and sweat, walked and shot/sweat some more.  We must not have looked too bad, because we got a bunch of congratulations shouted at us, along with a "gorgeous couple!"  But by the time we arrived home to change for round two, all three of us were sweaty, smelly messes.
Luckily, the second half of our engagement shoot was indoors, so we took some time to change, cool off, maybe have a beer and get to know our photographer a little better. The rest of our shoot went fabulously, thank goodness. We only got a peek at one or two shots and were so tickled! Oh, and wouldn't you know it? Within 30 minutes of being inside, the heavens opened and the bottom fell out. We got so lucky that it held off for us!!  The shoot continued on, with our laughter mixing with the thunder and the camera flash dancing with the lightning.
It just goes to show that no matter how well you plan, something is always going to turn on its head. Perhaps this was a good test for me, to see how I'll handle curveballs on the big day. If so, I think I'll be just fine. Because it's way better to laugh about it than be upset. I have utter confidence in our photographer and in our goofy personalities that we'll have some amazing shots to show for it, despite the heat and humidity.
'Til next time,
Hey, hey BABs! Last Monday marked our 2 month countdown until the big day! TWO MONTHS YOU GUYS. Still not completely freaking out but minorly freaking out on the inside. As per usual for me! Let's check in on where we are, shall we?
My lovely and fantastic and fabulous bridal party threw me the most amazing shower last weekend. It was held (by my request, naturally) at this awesome wine bar with the most delicious brunch featuring bottomless mimosas.
We have about 5 plastic bins stored in our living room and small kitchen area. Four of those bins are full of beer bottles and the 5th is full of decor. Jmeoww has deemed it her new home, of course.
Invitations have been mailed! More details to come on those bad boys.
I have about one million and a half little decor projects. All laid out on a spreadsheet because my life is controlled by spreadsheets at this point. Simple things like a cake topper and ring bearer banner. Program designs are swirling around in my head. Seating charts and place cards. DOES IT EVER END?
In other news I cannot complete a thought or a sentence to save my life. Thank goodness my friends are polite because this bride brain is truly making me wacky and a little strange to be around.
Alterations begin [today!]. I don't require many, thanks to a corseted-back dress. Just some chesticle support and a bustle should do the job. Let's just all cross our fingers and light a candle that my thighs have reduced their size. I've been working semi-hard at that whole fitness thing. Meaning we both cut back our beer intake by about 90%. We tried really hard for 100% but Justin worked 15 days in a row and we both needed a few brews to get through that.
Marriage certificate, what? Yea, we should do something about that …
Oh, and I have a hair and makeup trial this week! I have a hairstyle in mind, but am not really set on makeup yet. To Pinterest I go!
And the list of things to purchase and accomplish goes on. And on. And even on some more. Do we really only have two months left, you guys?
Hey BABs! I'm pretty excited about this week's Can't Afford It? Get Over It! Reader Shannon wrote in about "Evie" by House of Mooshki.  Owned by Vicki McCarthy, House of Mooshki is a team of people in London who cater to the modern day bride but with a dash of vintage flair. I discovered them earlier this year and I've pretty much been OBSESSED ever since. Sadly, they don't have any stockists in the US but a little birdie told me that will probably change in the future! "Evie" is an elegant, tea-length gown with tiers of tulle & hand-dyed guipure lace. This dress reminds me of the way women used to dress. All you need is some lace gloves and a veil and it's perfection. I hope you like what I've found for you!
"Evie" by House Of Mooshki. $2,600
A-Line Silhouette With Layers Of Tulle & 3/4 Sleeves (Gilded Grace Dress) $140 at ModCloth
Tea Length Gown With Illusion Neckline (Style: 0117134) $280 at ForHerandForHim.com
Satin Tea Length Gown With V-Neck & Scalloped Lace (Style: 80464) $288 at SimplyBridal.com
Embroidered Lace Tea Length Dress With Jacket (Style: P9515) $298 at Unique Vintage
Tea Length Wedding Dress With Sweetheart Neckline & Tulle Skirt (Style: 6749) $394 at BestBridalPrices.com
Glimmering Lace Dress With Shear V-Neck (Style: 31882756) $420 at BHLDN
Tea Length Tulle & Satin Bridal Gown With Zipper Back (Style: 1550) $658 at BestBridalPrices.com
(Free Veil & Shoes!)
Mid-Century Inspired Tea Length Gown With Rho Lace (Style: Rho 6741E) $670 at BestBridalPrices.com
Cap Sleeve Wedding Dress With Illusion Neckline (Style: CMK513) $700 at David's Bridal
Sweetheart Neckline Floral Ivory Embellished Dress With Gold Sequin Detailing $700 by Amanda Archer
I would definitely look further into Etsy, too. There are so many bridal shops, just when I think I've found them all, I discover 50 more. There are so many styles to choose from for every budget. Let us know if you have anymore questions. Until next week, BABs …
Got a gown that you just can't get off your mind? We're happy to help you get over it! Just tell us in the comments below!
*As always, please do your own research before buying a gown online. Team Broke-Ass is here to provide you with inspiration and resources, but it is up to the consumer to know what they're purchasing.
BAB Throwback is a series that highlights some of our favorite posts from the days of yore, and some feature the Real Weddings you've read about in our book, "The Broke-Ass Bride's Wedding Guide." Because we're firm believers that photos help tell the story, we want to help you match the blog post to the Sample Budgets from Real Brides found in the book (p. 194-223).
The adorable Raechel and Joel are the perfect example of a couple who used their wit, creativity, and awesome friends to rock their budget-savvy sensibilities to the max, and have themselves a "cheap wedding" that was in no way cheap looking.
To start with, just look at their insanely creative save the date video.  (Caution: be prepared to fall in love)
Ok, so while you're wiping the drool off your keyboard, let me hit you with this mindboggler: these two cuties threw a wedding fully funded by themselves for only eight thousand dollars. $8,000, people!
Raechel works in visual sales at Anthropologie and worked her store discount for her hair piece and earrings, and she picked up her dress from J. Crew, which she ordered online at Christmas time to capitalize on the seasonal discounts… What a smarty pants! Her bridesmaids were asked to find dresses inspired by champagne colors, and they ended up ranging in budget from $30 to just under $150…. while the groomsmen and the groom all wore mixy-matchy vintage inspired suits.
Raechel and Joel knew that they wanted to splurge on their venue so they reserved a good chunk of their budget for the art gallery where the reception was held. Their evening reception featured drinks and desserts only, the couple saved a pretty penny on catering that way.
Now get this: They actually bought all of the desserts at Costco, which was a big money saver and thanks to Raechel's creative arranging skills, you can hardly tell they're store bought! Another one of crafty secrets? All of the wedding decor was from Raechel's favorite hunting spot, "Wanda's," an old grocery store which converted to a thrift store in the '80s. She scored loads of old crates, silver platters, wooden hat boxes, and milkglass vases for around $50 buckaroos. Talk about getting bang for your buck!
They went the friendor route by buying all of their flowers wholesale and enlisting the help of a buddy who loves doing floral arrangements. The bouquets were tied together and finished off with some vintage champagne lace that Raechel scored at a thrift store for super cheap, and they looked like the bomb diggity. Getting your florals wholesale is a very simple fix if you're a broke-ass DIY bride.
Our favorite part? Raechel's words hit deep in our hearts when explaining the day: their wedding was much more of a community event than a random mix of vendors. Every one of her friends were an essential part of something special by helping the wedding come together. Raechel and Joel sure know how to pick 'em!
So what have we learned from Raechel and Joel? Work at a cool clothing store simply for discounts, have friends who are photographers, culinary experts, and floral lovers, and live off of desserts and sweet treats only! Just kidding, but trusting in your own creativity and leaning on your loving and crafty friends is a lesson from which we can all benefit!
How are you using your friends and family to make your big day special? Are you decorating the space yourself? Are wholesale flowers calling your name? Let us know and send us some wedding porn of your own for us to drool over!
Hey, BAB's! Can you believe summer is almost over?! I don't want to so I'm just going to pretend I'm writing this from a beach somewhere with the kind of drink that has a tiny umbrella. This week I am helping Tina get over "Kerry" by Watters. It's her dream dress and I really want to help this lady out. With its chantilly lace and silk charmeuse, it's easy to see why she is swooning hard for this dress. Vatana Watters is the AMAZING lady behind these wonderful designs. About 26 years ago she started making gowns by hand for her close friends and family and not long after that had her own line, Watters, which is highly respected in the bridal industry today. She also designs bridesmaids dresses, flower girl dresses and she has a line called WTOO which offers beautiful gowns with a more BAB-friendly price tag. I have a feeling this won't be my last Watters request. Here goes!
Watters "Kerry" (Style: 4096B) $2,296 
Fit And Flare Wedding Gown With Lace Illusion Sleeves (Style: 12923) $679 at BestBridalPrices.com
Free Veil & Shoes!
3/4 Sleeve All Over Lace Trumpet Gown (Style: WG3684) $749 at David's Bridal
Chantilly Lace Gown With Sequin Floral Appliques On Tulle (Style: 4MW836) $1,049 at BestBridalPrices.com
V-Back Lace Wedding Gown With Built-In Corset $1,050 at Etsy
Trumpet Chantilly Lace Gown With Embroidered Lace Appliques (Style: MS251089) $1,150 at David's Bridal
I don't know how familiar you are with other Watters dresses but I would recommend checking out WTOO. Most of the dresses in that line are under $1,500 and very pretty. Otherwise, I hope I've given you some options to choose from. Let me know what you think, Tina! Until next week, BABs …
Got a gown that you just can't get off your mind? We're happy to help you get over it! Just tell us in the comments below!
*As always, please do your own research before buying a gown online. Team Broke-Ass is here to provide you with inspiration and resources, but it is up to the consumer to know what they're purchasing.
All of our furniture has been sold on Craigslist, 17 boxed have been shipped vis FedEx, and our 18 hour road trip with a car literally packed to the brim is over. We made it to North Carolina and immediately jumped into wedding mode. The night we got in, we went to the liquor superstore and put in our order for our alcohol. I've set up in-person meetings with our DJ, photographer and officiant.
It feels good to be "on location" and jumping into wedding prep. However, it's madness. At the moment, we are staying with Bryce's family, so there are 8 people and 3 dogs in one house. My family (5 people) arrive Tuesday night. Luckily, they are bringing no dogs.
It has been stressful, but really fun! Unfortunately, Bryce has not been quite as gung-ho about everything. With the stress of moving, wedding and now buying a new car, we've definitely had some little spats and tiffs. I am trying to be "gentle and kind," as our pre-marital counselor advised.
The end is very much in site — a week from today I will be married, living in Raleigh and starting my new job at Duke. There's so much change and madness, but I wouldn't have it any other way.
In just over one week, Jersey and I will be cheesing it up in front of our photographer for our engagement shoot. No need to remind us that it's only been … oh, NINE months since we got engaged and we are just now getting this done. Trust me, we know. Our schedules have been impossible to coordinate, but at this point I'll be happy if we can get a few prints in time to use for our thank you cards and our DIY guest book.  (More on those later!)
So here I am, all twitterpated about finally getting some amazing professional shots of the two of us, when it hits me: What the hell am I gonna wear???
Um. You guys? Am I the only gal out there who cannot dress herself? In fact, I have an entire Pinterest board titled just that. But thank the heavens for my amazing friend, Bertie. Not only is her style swoon-worthy on a daily basis, but I swear she can sniff out an Internet steal-of-a-deal sale equally as well as our BAB lovely Christen (oh, you know, just this Unicorn Wrangler)!
Within a few hours of my cry for help, she returned with a few links for me. Before I knew it, I was clicking the big fat PURCHASE button on this gorgeous number below. Full price was $148.00, marked down to $88.80! (Go check it out at Nordstrom on Ivy and Blu at Nordstrom. You won't be sorry.)
When it arrived a few days later, I was nervous putting it on … pleasepleaseplease fit over my booty … but was ecstatic to find that it was amazingly flattering and the size was true. With it on, I feel like this lovely frock is a cobalt blue version of Marilyn Monroe's iconic dress. Which is *exactly* how I want to feel for our shoot: glamorous, elegant, classic, with a hint of flirt.  For under $100, I'll take it, plus did I mention it is SO comfortable?!?  I can easily wear this again for our rehearsal and rehearsal dinner, plus special occasions after the wedding.  Paired with either some nude cork wedges or patent nude pumps, I'm all set!
Then over dinner last week with Bertie, I confessed something I've not told anyone. Ready? I secretly want to own a dress in a killer, knock-your-socks-off shade of RED. Bold, glorious, rich … red.
The next day, wouldn't you know it, Bertie shoots me a few more links. And then I'm buying this.
And with their 40% off sale going on, guess what? This darling was $28.00, marked down to $49.99, with an extra 40% off. Final price: just $29.99. YES, PLEASE!
The moral of the story, friends, is to be crafty. Seek the help of your style gurus who can find gems (and not just dresses — jewelry, paper goods and shoes too!) that will not hurt your BAB budget! Scour for sales. And be patient. Good quality finds are out there, if you are persistent … and don't be afraid to ask for help.
I'll be sure to share pictures after our shoot. I'm so excited!
Till next time,
Here's the thing with a lot of wedding dresses: They have labels and big ol' salons touting sweet 'n' simple dresses as wedding specific dresses … and that doesn't have to be the way. A wedding dress is any dress / pant suit / short & cardigan set / whatever you want it to be, as long as you're happy, comfortable and feel amazing in it. Because you do want to feel amazing — it's the day you marry the person you love and throw down some mad skrilla to have your friends and family there to witness. Damn right you're going to look and feel amazing! So when I was browsing through BAB partner Lulu's site and saw some rockin' dresses, most of which are under $100, and two barely breaching that, you best believe I'mma share it with y'all.
Stay Golden Strapless Light Beige Sequin Maxi Dress – $90.00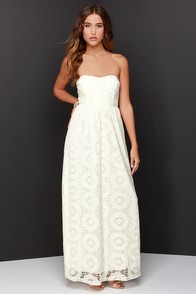 No Less Than Flawless Strapless Cream Lace Maxi Dress – $43.00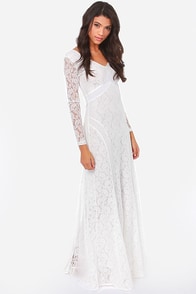 A Moment Like Bliss White Lace Dress- $75.00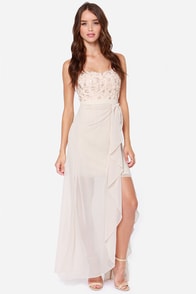 Whole Wide Whirl Beige Sequin Dress – $87.00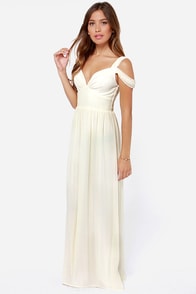 LULUS Exclusive Dreamed to Life Cream Maxi Dress – $81.00

Make My Daydream Cream Lace Maxi Dress – $105.00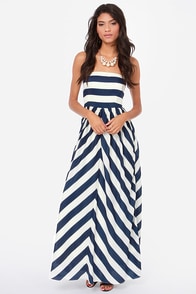 Dreamboat Come True Ivory and Navy Blue Striped Maxi Dress – $54.00
If someone gets married in this, please share it. Because: OMG.
Snowy Meadow Crocheted Ivory Maxi Dress – $107.00
Which one of these gorgeous numbers would you wear on your wedding day?
In speaking with a fellow bride this week (on Twitter message at close to midnight, natch), she stated, "I know you're like Zen Master Bride, but if you need someone to hear you say unproportionally angry things, I'm here."
Wait, what? Me? Zen Master Bride?
BWHAHAHA.
How sweet of her! But that simple message led me to ponder over why I'd be perceived as such, when it sure as hell feels like nothing I'm doing or feeling as a Bride is "Zen".  Here's my short and sweet advice.
1. Don't freak out.
I know. Seems impossible. But remaining calm and keeping a tight reign on my notorious temper has been key for me. I do whatever possible to alleviate stress in my off time, be it relaxing, reading or running and yoga. Because if the Bride ain't happy, nobody happy. As for emotionally, I try really, REALLY hard to not take questions or comments or jabs personally. It is so difficult to do, especially for a people-pleaser like me. But realizing that these thoughts are (mostly) coming from a place of love has been invaluable. Yes, there will be drama and disappointment and stress. Just trust me when I say that rolling with the punches is far easier than exhausting yourself with a meltdown or engaging in a bloodbath.
2.  Remember your Wedding Vision.
Stick with your vision, no matter what. Now, if your vision is to have a 3-day mandatory camping excursion with 150 people in tents out in the great beyond (no kidding, this has happened in real life), you may want to rethink your ideas. Your guests will thank you for not being required to hover-pee over poison oak in the forest. But in my case, even pre-engagement, my fiance and I dreamed of a simple, intimate garden wedding in front of our nearest and dearest followed by a rockin' meal and music. 10 months later? That's still the forefront of our wedding in October. And by NOT getting distracted by the pressure, the Pinterest temptations or the glitz and glam of the industry, we were able to stay focused throughout all the planning on *our* vision. Is it easy? Hardly. But it's worth it.
3. Pick your battles.
This, my friends. THIS. In the epic world of planning a wedding, there will be many battles. It is your choice entirely as to which ones you meet head-on.  If someone wants to mess with your dreamy garden wedding vision and insists that you have a destination wedding in Cabo or a cathedral church wedding, well, you have my permission to squash those ideas with a quickness. (Nicely, of course.) But when it comes to the smaller nuances, use your logical and deductive skills to decide whether or not to kick up a fuss or to roll with the curveball. Everyone is different and every wedding is different, but in the end, relinquishing *some* of your bridal control can actually be a good thing.
*And pro tip from me? If someone is insisting on adding something that will either 1. impact your budget or 2. cause you added stress and lost time or 3. both, you have every right to state that you'd be happy to think about it but that you cannot incur the costs of their idea and they will need to help with the execution.  The majority of the time, their tune will change most quickly. If not, and they are willing to pitch in AND you actually do like their idea, then let them run like the wind with it. Then you can keep doing you.
4. Let it out.
Please, please, please remember that you are human. Feelings of frustration, anger, sadness, stress are normal. If you keep it all inside, you'll not only be miserable … you'll also be dangerous to anyone within a 10-mile radius. This is when having trusted friends who know you, love you and can bear your pain are priceless. In private with them, let it out. ("In private" is critical. Do NOT go apeshit on your Aunt Milda.) Your friends should act as your Vault. With them, wail, scream, cry, whatever you have to do. Follow it up with a glass (or 2) of wine and a good night's sleep and you'll feel far better the next day.
So am I totally Zen? Hardly. But these lil' nuggets of wisdom have helped keep me relatively on an even keel. And I hope they can help you remain as Zen as any betrothed person can be.
'Til next time,