---
Posts in the 'Shopping' Category
Why, hello there, BAB's! This week we are featuring another fabulous Watters gown! R.J. wrote in about "Odette" and how she just can't get it off of her mind. Where do I begin? This dress is romantic, light and airy, ethereal, soft and unique. Did I forget anything?! Here's what she had to say:
"Hi ladies!
You provide such great alternatives!
I love the tiered skirt (without ruffles) and the detail in the bodice. What's a broke ass bride to do?!
Thanks!"
D'awww. Thanks, R.J.!!! It's always fun helping all you BABs out. Finding your dream dress can already be pretty friggin' stressful, especially when you do and it's wayyy out of your budget. You ladies know! Some of you have tried on dozens of dresses and are still longing for that moment when you just KNOW. I always tell my friends I don't know what I am going to do when I have to pick out my dress. I have trouble deciding what sammich to get at Jimmy John's so can you imagine? I've even joked about getting married in a T-shirt and jeans. (Don't worry, J/K!) Anyway, R.J., I might have thrown in some dresses you weren't expecting, but these prices are AMAZINNNG. Vera Wang for $350 … say what?!
Watters "Odette" (Style: 2073B) $2,940 
A-Line Strapless Court Train Tulle Wedding Dress (Style: 00168303) $119 at LightInTheBox.com
Gorgeous Sweetheart Tiered Chapel Wedding Dress (Style: 10526905) $234 at TBDress.com
Satin Sweetheart Neckline A-Line Wedding Dress (Style: WJLM-0057) $250 at Raining Blossoms
Organza Sweetheart A-Line Tiered Wedding Gown (Style: WT-017) $260 at Raining Blossoms
Gorgeous Strapless A-Line Tiered Gown (Style: 09685099) $267 at TBDress.com
Chiffon Strapless A-Line Gown With Tiered Diagonal Skirt (Style: WD-3294) $270 at Raining Blossoms
Satin Faced Organza Fit And Flare Gown (Style: VW351020) $350 at David's Bridal
( Vera Wang Gown was $1,200!!)
Beautiful Gown With Tiers Of Tulle & A Layered Skirt (Style: 31200777) $400 at BHLDN
(Badgley Mischka Gown — was $1,000!!!)
Pair with a sash like this one.
Strapless Organdy Dress With Draped Bodice (Style: 1044) $550 at Dessy
So, what do you think, R.J.? I know you have a little over a year before your wedding day so if you see something you like you should have enough time to try it on, even if you have to order it online. Have you gone to any of your local bridal boutiques yet, or are you just starting to look? I really hope I was able to help you out! Let us know what you think. Until next week, BABs …
Got a gown that you just can't get off your mind? We're happy to help you get over it! Just tell us in the comments below!
*As always, please do your own research before buying a gown online. Team Broke-Ass is here to provide you with inspiration and resources, but it is up to the consumer to know what they're purchasing.
I am a very lucky girl. Earlier this year my fiancé came top in the UK in a competition for Kinect Sports Rivals (an XBOX game that requires you to throw yourself around as if you were climbing, jet-skiing, bowling etc. ). This meant that we were given an all-expenses-paid trip to San Diego Comic Con, where he would be competing in the World final.
Mike and I with all the other KSRivals finalists! Credit- my iPhone!
What does this have to do with wedding planning?  Two words: David's Bridal. Once I knew we were going to San Diego, I became obsessed with the idea of bringing back an absolutely bargainous gown. One that would blow that Justin Alexander dress out of the water, that no other UK bride will have ever worn. I scoured their site, I saved my favourites and repeatedly checked the exchange rates whilst rubbing my grubby little broke-ass hands with glee.
To add to this, Microsoft kindly gave us a very decent whack of spending money, and Michael gladly (I think) earmarked some of it for the wedding dress. I was all set.
On the day we arrived, after traveling for roughly 16 hours, and jet lagged beyond all belief, I marched into my appointment at David's Bridal. I was alone but determined.
David's Bridal, San Diego. Credit – Mike's Go Pro
(Poor Michael was stranded outside the shop for about an hour and a half, with only a small beetle for company. Like I said, we were horrendously jet lagged and more than a little delirious).
The appointment went well, despite it being a bit odd that I had no one else with me — not even a beetle. Still, the sales assistants were very helpful, and after trying on pretty much everything in my price range we found a dress. Through my barely open eyes I looked at myself in the mirror and breathed a sigh of relief. I had found a gorgeous dress and it had cost just $350. Brilliant.
I rang the bell, which is apparently what you guys do over here, and handed over my cash. Job done.
Since it was a sample dress I took it home that night. It hung up in our hotel room for the rest of the trip, before being carefully squished into my suitcase for the long journey home.
Mission: Accomplished.
Am dram Bride – out.
What was your dress-finding story? Did you luck out at one spot, or did you have to go through a few different places to get to your winner?
While it's the raddest to now have the capabilities to "thumb" through hundreds of photos with a click of a button, rather than with your actual thumb which could wind up calloused and sore after such a thing, an unfortunate byproduct is that said photos — once shared on ALL the social media — then languish on your hard drive for the rest of time. Insert sad trombone here.
Here's the thing: You (presumably) plunked down a fair chunk of change for your wedding photographer, and you got your hair and makeup did, and wore your pretty ensemble that made you look and feel like a million bucks, and your partner looked their absolute spiffiest … and you're going to just let those gorgeous shots from your amazing wedding day just hang out in the darkness of computerland. Yeah … nope. Not on my watch, anyway.
PosterBlitz offers über high-quality paper as a canvas for your baller wedding shots. And since they use a Lambda Printer, which is like the awesomest of the awesome in photo printing world, the end result turns out super sharp. So we're definitely not talking posters like the kind adorned with JTT and ripped out of Tiger Beat that adorned your adolescent walls (c'mon, admit it. You totes know what I'm talking about). Plus, with a wide range of sizes and editing capabilities (check out the vid) We're talking about the good stuff, man. The stuff you'd be proud to hang on your walls and show off to the world.
But you know we wouldn't leave you hanging like that, BABs! PosterBlitz wants to give 2 of you darlings a free poster (up to size 24×36) of your own photo! So that unbelievably hawt smooch you and your love shared with the sun dipping down behind you? Get it up on your walls, girl!
As per usual, each task below is an entry. The more tasks you complete, the more entries you receive, the better your chances of winning.
BABs, I'm so excited about how rockin' the

DIY or DIE

projects have been lately, and today is certainly no exception. Nodlaigh, aka

Daydreaming Bride

, is in da hizzy to show us how to make super easy (and cheap!) personalized bunting. Guys, this could work for anything from your engagement party to wedding decor to a banner for a thank-you card photo to general home decoration. And since it won't cost you a pretty penny, you could easily make a few of 'em! And keep an eye out, because Nods is going to be joining us to give us some great wedding inspiration from time to time. And without further ado …
For those of you watching your pennies for the big day, today's post is one for you. I'm going to show you how to make personalised and colourful wedding bunting for next to nothing!
You can use whatever colours and fabric styles you wish to suit your theme — I've gone for an eclectic and vintage vibe using luxe velvet and cord fabrics mixed with colourful accent patterns.
What you'll need:
Even if you had to buy the fabric, Heat n' Bond and ribbon new, you'd still only be looking at just over £1.50 (~$2.51) per metre of bunting — cheap as chips!
And it couldn't be any simpler to put together, taking me less than an hour all in. For those sewing phobes out there, you could very easily make it a complete no-sew project by using iron-on adhesive for the ribbon instead of sewing it.
Cut your fabric to size and lay out to gauge which pieces are best to use.
Type out the text you require for your bunting. I went with "Mr + Mrs". It's crucial to make sure the text is oriented back to front so that it's the right way around for the finished product (You can do this in PowerPoint using the 3D rotation function under 'Format'). In terms of font, I'd advise to use one that's easy to cut out — some of the script fonts are lovely but not the easiest to work with. I used Aharoni.
Arrange the Heat n' Bond over the text, paper side up.
Trace around the letters onto the paper side using a pen or pencil.
Cut out your letters and place paper side up on the fabric you're using for the lettering.
Apply the iron to the paper side of the letters in order to bond them to the fabric. Use a medium heat, no steam and place the iron on the letters, as opposed to swiping it back and forth, to avoid moving the letters.
Cut out the letters with the fabric now adhered to the back.
Map out where you want the letters on the coloured fabric squares and peel back the paper.
Apply the iron to bond letters in place, once you're happy with the placement. Ensure the shiny side of the letters is facing up.
Arrange your fabric pieces for one final check to ensure you're happy with the final design.
Cut ribbon to size to allow enough room either side to affix the bunting.
Pin in place and sew the ribbon onto the fabric squares.
And you're done!
I told you — it's so easy!
Would you give this a try? What colours would you go for?!
Happy Friday, BABs! Whew, has it been a helluva week — I spent a v. rapid 48 hours networking my booty off in NYC (guys, we have some great partners joining the team and I'm super excited, because it means even more awesome discount possibilities) and collaborating with some peeps on future column ideas. But now it's the weekend, so it's time for me to sit back, relax and enjoy a little peace and quiet after all the catching up I've done. So, won't you join me in a little retail therapy with these amazing discounts? PS: Make sure you scroll all the way through, because the last one is a doozy!
1. Need some adorable, preppy, possibly monogrammed goods? C. Wonder is having a 30% off sale until 9/1.
2, Speaking of monogrammed: A Gift Personalized's 10% discount is still rockin', so get all your bridal party goods while the gettin's hot.
3. With fall coming up soon, is it time to revamp your 'do? Give Madison Reed's at-home hair color a whirl (I did, and I loved it) and save 50% on your first purchase when you use code LAZYDAYS at checkout.
4. Whiskey and shoes … what could be better? How about a Happy Hour Flash Sale at Heels.com, where you can knock 25% off all shoes and score free shipping when you enter code WHISKEY at checkout — but hurry! It ends tonight (8/15)!
5. As you start nesting for winter, you might realize it's time to spruce up your abode a bit. Swing over to Michael's and get 40% off your entire regular price purchase of paint, brushes, pencils, markers and pastels art supplies when you use code ART401 until 8/23.
6. Girl, you go on and save that date … and go ahead and knock 30% off at Wedding Paper Divas when you order them using code 30DATEAUG through 8/19.
7. Kiyonna is celebrating their birthday this month, and they're sharing the festivities with you by knocking 25% off all orders with code BDAYSTYLE.
8. Still debating on whether to jet off for a honeymoon? Let me help make that decision a little easier: Hilton Worldwide is having a summer sale, where you can save up to 33% on over 300 hotels across Europe, the Middle East and Africa.
9. Time to re-up on those office supplies? Get thee over to Memoji and save 10% off any purchase this entire month with code GET10.
10. Of course I saved the best for last. GUYS: KATE SPADE IS HAVING A SURPRISE SALE WITH UP TO 75% OFF, BUT IT ENDS TONIGHT. GET IT.
I want … nay, I need this clutch, y'all.
Happy Shopping, BABs!
Hey BABs! I'm pretty excited about this week's Can't Afford It? Get Over It! Reader Shannon wrote in about "Evie" by House of Mooshki.  Owned by Vicki McCarthy, House of Mooshki is a team of people in London who cater to the modern day bride but with a dash of vintage flair. I discovered them earlier this year and I've pretty much been OBSESSED ever since. Sadly, they don't have any stockists in the US but a little birdie told me that will probably change in the future! "Evie" is an elegant, tea-length gown with tiers of tulle & hand-dyed guipure lace. This dress reminds me of the way women used to dress. All you need is some lace gloves and a veil and it's perfection. I hope you like what I've found for you!
"Evie" by House Of Mooshki. $2,600
A-Line Silhouette With Layers Of Tulle & 3/4 Sleeves (Gilded Grace Dress) $140 at ModCloth
Tea Length Gown With Illusion Neckline (Style: 0117134) $280 at ForHerandForHim.com
Satin Tea Length Gown With V-Neck & Scalloped Lace (Style: 80464) $288 at SimplyBridal.com
Embroidered Lace Tea Length Dress With Jacket (Style: P9515) $298 at Unique Vintage
Tea Length Wedding Dress With Sweetheart Neckline & Tulle Skirt (Style: 6749) $394 at BestBridalPrices.com
Glimmering Lace Dress With Shear V-Neck (Style: 31882756) $420 at BHLDN
Tea Length Tulle & Satin Bridal Gown With Zipper Back (Style: 1550) $658 at BestBridalPrices.com
(Free Veil & Shoes!)
Mid-Century Inspired Tea Length Gown With Rho Lace (Style: Rho 6741E) $670 at BestBridalPrices.com
Cap Sleeve Wedding Dress With Illusion Neckline (Style: CMK513) $700 at David's Bridal
Sweetheart Neckline Floral Ivory Embellished Dress With Gold Sequin Detailing $700 by Amanda Archer
I would definitely look further into Etsy, too. There are so many bridal shops, just when I think I've found them all, I discover 50 more. There are so many styles to choose from for every budget. Let us know if you have anymore questions. Until next week, BABs …
Got a gown that you just can't get off your mind? We're happy to help you get over it! Just tell us in the comments below!
*As always, please do your own research before buying a gown online. Team Broke-Ass is here to provide you with inspiration and resources, but it is up to the consumer to know what they're purchasing.
Rustic weddings are gorgeous. Duh. There's a pretty whimsical feel to them that helps make your wedding day a little extra special and romantical. And they tend to be pretty DIY-heavy, which adds a great personalized touch.
Maggie Lord, the schamazing mastermind behind Rustic Wedding Chic is kinda sorta the guru of rustic weddings. Remember when she did this rockin' tutorial for us? Welp, that's just one of many many beautiful how-tos. In her book, "The Rustic Wedding Handbook," she shares even more how-to goodness, plus she gives some great tips and ideas on how to style your own rustic wedding.
And, of course, she wants to share with you, BABs! Get yourself in on the game by completing each task below to earn entries to win "The Rustic Wedding Handbook!"
All right, darlings, it's time for one helluva DIY or DIE sesh up in this bish. Put away the scissors and tape and glue, grab an apron and get your booty in the kitchen to make your own damn wedding cake. Yup, you read that right. We've got Lizzy Pancakes here getting elbow-deep into some confectionary awesomeness to show you how to rock your wedding dessert the broke-ass way: By taking it on yourself. It's no secret wedding cakes are pricey, and you can absolutely go the route of having a "display" cake to slice 'n' smash, with a variety of other desserts for actual consumption or having a big ol' sheet cake hiding in the back. But even those tiny l'il display cakes will cost you a pretty penny, where as these bad boys (if you have most of the basics on hand) should only run you around $27 for the ingredients. UM. HELLO, SAVINGS. Let's do it!
Hello, Broke-Ass Brides, my name is Lizzy and I'm the blogger in chief over at Lizzy Pancakes. I'm getting married in just a few weeks and have committed to make my own cakes. Yes cakes. To save money and to make things way more interesting, the cakes I'll be making are bride and groom cakes, and our main dessert is going to consist of doughnuts from Voodoo Doughnuts here in Denver. The cakes are for aesthetic and traditional purposes — you know, when I lure my fiance into a false sense of security and smush the cake in his face while our family and friends watch.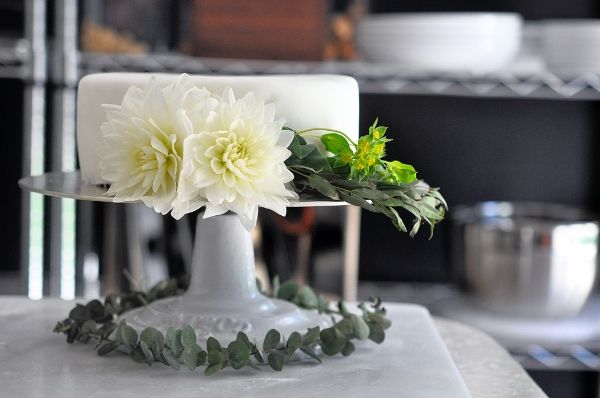 If you're having a small wedding, or if something like this would be a good fit for your party, making your own wedding cake is super easy. You know that smooth, beautiful layer of fondant? Not difficult. You'll breeze through it and spend the rest of the day absorbing compliments.
I made a traditional moist chocolate cake because I knew if it was kept airtight, it could be made up to two days in advance which is essential to maintaining a sane bride. If chocolate isn't your thing, I highly recommend Amanda's white cake recipe.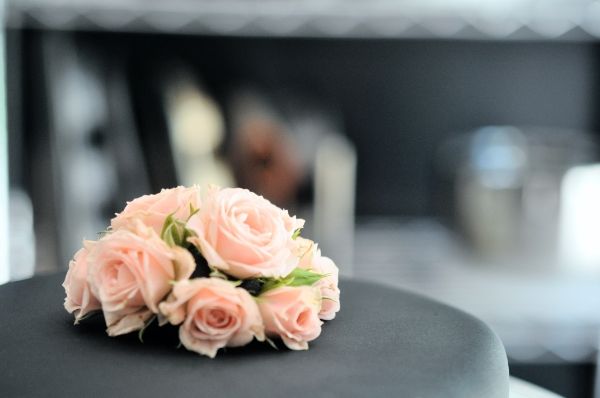 What you'll need:
For the cake
2 cups all-purpose flour
2 cups sugar
¾ cup unsweetened cocoa powder
2 teaspoons baking powder
1½ teaspoons baking soda
1 teaspoon salt
1 teaspoon espresso powder or instant coffee
1 cup milk
½ cup vegetable oil
2 eggs
2 teaspoons vanilla extract
1 cup boiling water
For the frosting
2 cups confectioner's sugar
2 tbsp butter, room temperature
2 tbsp milk
½ tsp vanilla
For the fondant
One 24 oz package of fondant in the color of your choice.
2 Wilton smoothing tools (you can get this at a craft store where you buy your fondant)
*Don't buy pre-rolled fondant. It is difficult to unroll, often cracks, and it's just lazy, you guys.
Preheat oven to 350º F. Prepare two 8-inch cake pans by spraying with baking spray or buttering and lightly flouring.
How you'll do it:
Prepare the cake:
Add flour, sugar, cocoa, baking powder, baking soda, salt and espresso powder to a large bowl or the bowl of a stand mixer. Whisk through to combine or, using your paddle attachment, stir through flour mixture until combined well.
Add milk, vegetable oil, eggs and vanilla to flour mixture and mix together on medium speed until well combined. Reduce speed and carefully add boiling water to the cake batter. Beat on high speed for about 1 minute to add air to the batter.
Distribute cake batter evenly between the two prepared cake pans. Bake for 30-35 minutes, until a toothpick or cake tester inserted in the center comes out clean.
Remove from the oven and allow to cool for about 10 minutes, remove from the pan and cool completely.
Prepare the frosting:
You really want the frosting to be room temperature. You should set it out before you start the cake to make sure. Don't try microwaving it, even on low. You risk making it too soft and messing with the consistency of your frosting.
Mix all of the ingredients together in a bowl and beat with an electric mixer until smooth. Easy peasy!
*If you really want to skip this step and buy frosting from the store (I'm not judging you), simply add ¾ cup confectioners sugar per container because cake decorating frosting should be a little bit stiffer.
Prepare the fondant: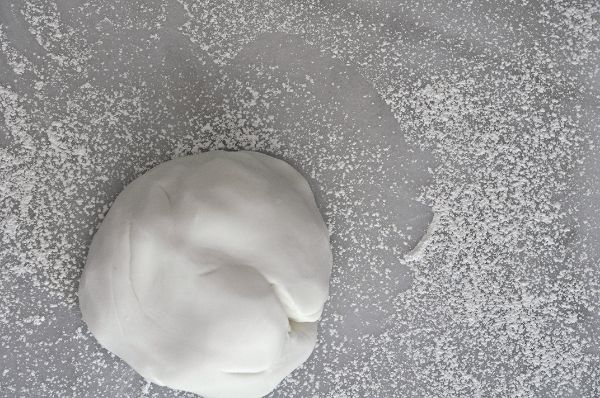 To find out how wide your fondant needs to rolled out to, take a ruler and measure the width of the cake (that's easy! It'll be 8 inches since we're using 8-inch cake pans) and the height after the layers are stacked. Add them together. Your fondant needs to be rolled out so that a circle at least that wide can be covered.
Lightly dust your work surface with confectioners sugar. If you're using using black fondant, pick up your fondant more often during the process because you can't use white confectioners sugar without messing with the color.
Take the fondant out of the box and wrapper. Knead it on the sugared surface until it is soft enough to roll with a rolling pin. This shouldn't take more than a minute or two.
Roll out the dough until it is wide enough and about a ¼ inch thick.
Assemble the cake:
After you have let the cake layers cool completely (I mean it — completely!) take a long serrated knife, place your hand flat on the top of the cake, and cut the natural dome off of the cakes, making them completely flat and even. If you move slowly, this shouldn't be too difficult!
Put a dab of frosting on a cake stand, preferably a rotating one, but it's not essential. Place the first layer smack in the middle of the stand. Take a big scoop of the frosting and plop it right in the middle. Using an offset spatula (you can grab it at the grocery store) spread the frosting at least a ¼ inch and up to ½ inch thick.
Place your second layer carefully directly on top of the first layer. You really only get one real shot at this, so look at it from above and center it before putting it down. Take the remainder of your frosting and spread it around the sides and top of the cake. Though you should try to spread it evenly, this doesn't need to be pretty — it will be covered by the fondant.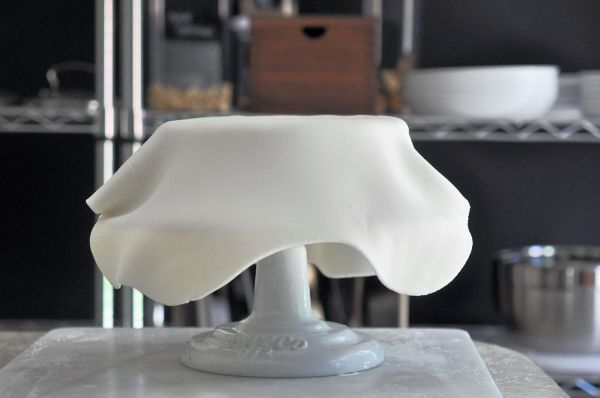 To place the fondant on the cake there are two methods. All of the YouTube videos will show you a draping technique, where you fold the rolled fondant in half over the rolling pin and use that to transfer it to the cake. I'll tell you what, though, I simply picked mine up and placed it carefully over the top. There is just a tiny bit of wiggle room to center the rolled fondant after you've put it on the cake, so don't panic if it's off-center.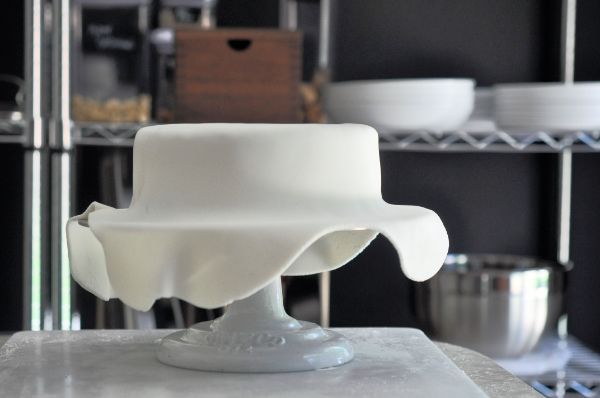 To smooth the fondant down and create sharp edges, use your hands to lightly press the fondant up against the sides of the cake. You may need to keep one hand on the excess fondant spilling over the sides so you can really mold the fondant to the shape of the cake without tearing or stretching it. Once you've used your smoothing tools to mold the fondant, run your pizza cutters around the bottom edge of the cake. Then use the side of the pizza cutter to lightly tuck the edges of fondant under the bottom to create a nice clean look.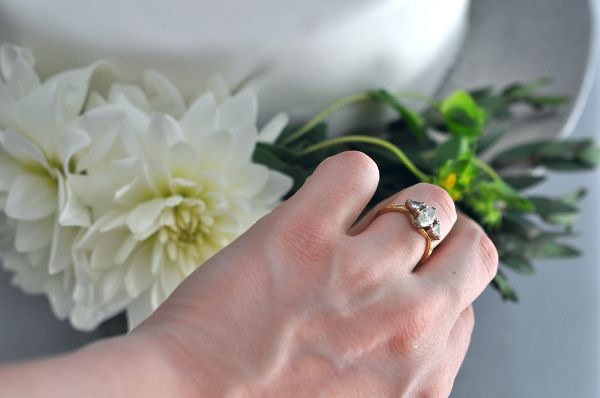 If you want to add flowers, this is really easy. To avoid sticking stems into the actual cake, take some extra fondant and roll it into a ball. Cut your flowers so that they have ¼ inch to ½ inch of stem and arrange them in the ball of fondant as you please. Use extra frosting to stick the ball to the cake in the position you'd like and voila! professional looking cake decorated with fresh flowers!
Storing the cake:
You should make your cake layers up to two days in advance. If at all possible, you should delay assembling the cake until the day before. I say this because once it's on the cake stand, there is no moving it to an airtight cake transporter. One way to avoid this is to use a cake stand with a glass dome on top. As long as it's airtight, you can assemble the entire cake up to two days out.
If you want to give your wedding a homemade feel, this is a great way to achieve that. It ends up being much less expensive than having a professional do it and you can brag ALL. NIGHT. LONG about making it yourself.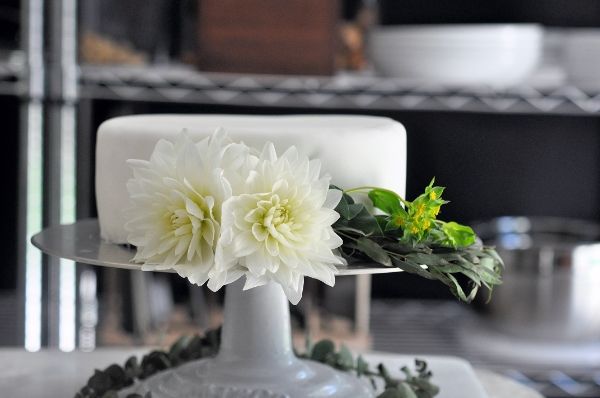 Good luck on your cakes! If you need help or pointers along the way, holler at me at www.lizzypancakes.com or tweet me @lizzypancakes.
LP
It's like the shoe gods are daring us not to shop this weekend, you guys. Seriously. There are so many sweet deals for killer kicks in this edition of Ten for the Weekend that you'll be well-heeled and rarin' to go without so much as a dent to your bank account. Also: Beach essentials to help you bid adieu to summer, #CraftOptions because … well … we won't get into it and hair removal (have you tried lasering? It's pricey, but WORTH IT.) deals to get through these dog days!
1. Shoe Deal # 1: Take 20% Off Your Next Order with code LEO through 8/31 at Heels.com!
2. Craftsy's 50% off sale is still rockin' and rollin'!  If you're aching to learn a new skill, now's the time to get in on it!
I'd be super into checking out this class. I always feel like my travel pics fall a bit flat, ya know?
3. Shoe Deal #2: Bluefly is having a 2 day womens shoe sale, where you can save up to an extra 50% off.
4. Winter is coming, but that doesn't mean you cant really get into the swing of the dog days of summer! Zappos is here to help with a sale on beach essentials!
5. Summer fun leaving you a little fuzzy? Groupon has a bevy of hair removal deals so you can spend less time primping and more time partying.

6. Shoe Deal #3: Save up to 70% off at Nine West. 
I would very much like these beauties on my feet right now plz.
7. If you're too impatient to see if you've won this week's giveaway, then I've got your back. Hourglass Angel is offering 10% off orders of $65 or more throughout the whole site with code 10Angel. Ends 8/13.
8. More #CraftOptions: Michael's is getting on the 10% off train. Use code Storage101 at checkout!
9. Friends and family sales are awesome, and Ann Taylor knows this. Knock 40% off your order until 8/13 with code FRIENDS40.
10. ShopBop and East Dane are throwing out a sale and it's a good one: Get 70% off at ShopBop (for her) or East Dane  (for him) and breathe a little life into your wardrobe(s).