---
Posts in the 'Shopping' Category
Upcycling and being a Broke-Ass go hand-in-hand. Add some hot color, fun designs, eco-friendliness and an Etsy seller? Looks like we've got a BAB match made in heaven with Topaz and Opal.
Kim, the mastermind behind Topaz and Opal, has a history of teaching, but a passion for making these super fun, bright baubles. Her decoupage skillz give bright new life to regular items (check out the jewelry trays) and add a fun pop to your bauble routine. Of her shop, Kim says this:
If Topaz and Opal is anything it's a lesson [many lessons] in how to use, reuse, re-imagine, and create new things using old or new, but not so spectacular things, and turning them into jewelry, art, and accessories.
Doesn't that sound like a page right out of the BAB Manual? I thought so, too. And those bangles would be a super fun, bright gift for your amazing bridesmaids, no? I'm glad we're on the same page.
And because it's Wednesday, lucky you! Kim is doling out one $150 gift certificate (including the price of shipping + handling) to Topaz and Opal.
As per usual, each option below is one entry method. The more tasks you complete, the more entries you get.
Here's the thing with a lot of wedding dresses: They have labels and big ol' salons touting sweet 'n' simple dresses as wedding specific dresses … and that doesn't have to be the way. A wedding dress is any dress / pant suit / short & cardigan set / whatever you want it to be, as long as you're happy, comfortable and feel amazing in it. Because you do want to feel amazing — it's the day you marry the person you love and throw down some mad skrilla to have your friends and family there to witness. Damn right you're going to look and feel amazing! So when I was browsing through BAB partner Lulu's site and saw some rockin' dresses, most of which are under $100, and two barely breaching that, you best believe I'mma share it with y'all.
Stay Golden Strapless Light Beige Sequin Maxi Dress – $90.00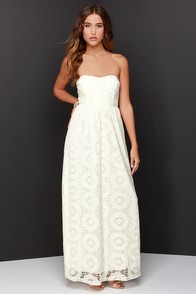 No Less Than Flawless Strapless Cream Lace Maxi Dress – $43.00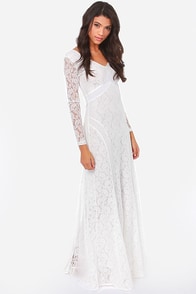 A Moment Like Bliss White Lace Dress- $75.00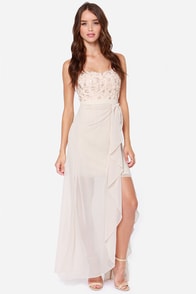 Whole Wide Whirl Beige Sequin Dress – $87.00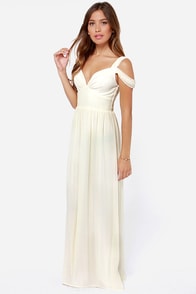 LULUS Exclusive Dreamed to Life Cream Maxi Dress – $81.00

Make My Daydream Cream Lace Maxi Dress – $105.00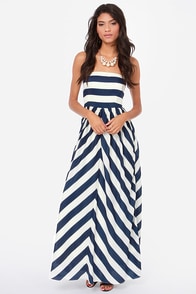 Dreamboat Come True Ivory and Navy Blue Striped Maxi Dress – $54.00
If someone gets married in this, please share it. Because: OMG.
Snowy Meadow Crocheted Ivory Maxi Dress – $107.00
Which one of these gorgeous numbers would you wear on your wedding day?
Hey, BABs! It's been a minute since we've had a good dose of inspiration around here. And these summer nights sitting under twinkly lights at the local watering hole, kicking back with my favorite people and basking in the love and friendship around me had me majorly inspired to dream up a pretty backyard wedding inspiration board. A beautiful, light gown paired with muted and understated earrings and a simple headband. Eclectic table accents include a sparkly runner and a lacy blue runner to highlight the varied tableware patterns and colorful glassware. A proper amount of gold and color to delight and luxuriate.
Broke-Ass Hacks:
Varied and gorgeous serveware and dishes can often be found for uber cheap at thrift or secondhand stores, and you can re-donate when you're done. The table runners and paper lanterns easily translate into gorgeous home decor items … or you can pass them on to a bride you know who would enjoy them for her wedding.
Chinese Lanterns, Luna Bazaar | "Aurelia" Hoop Earrings, Ruche | "Marvelous Maven" Heel in Mint, ModCloth | "Inside Out" Bowl, Anthropologie | Sequin Table Runner in Gold, Koyal Wholesale | "A Lace for Everyone" Table Runner, ModCloth | "Mira" Gown, BHLDN | Brass Flora Indie Headband, Ruche
What do you think of a pretty, intimate wedding under the stars with your nearest and dearest?
Happy Friday! There are some great deals all over the Internetz for you this weekend, but I found 10 awesome deals for this Ten for the Weekend. Check it!
1. I'm starting to think Ann Taylor has a thing for broke-asses, because their sales are the best. Until 7/27, get 60% off select full price styles.
This hot little number is normally $149, but plummets to $59.60 at checkout.
2. If you or your dude are looking for some more laid back kicks for your big day, look no further: 6PM has PUMA, Converse, Supra and more street sneaks for up to 70% off until 7/27.
3. Summer's still here! Paper Source is knocking 30% off select summer products while supplies last!
These are adorable and I would drink out of them in the dead of winter just to remind myself of summer. So there.
4. How about a little date night fun? Get an extra 10% off Local Culture Deals from Groupon with code FUN10 through 7/27. In the Dallas-Fort Worth area, this includes the Dr Pepper Museum, Ghost Tours and WINE. What does your area offer?
5. TODAY ONLY: Old Navy is gonna give your wardrobe a welcome (and cheap!) boost with 25% off regular-price styles + 15% off sale styles online only. Use code ONSAVENOW. 
6. Heeeyyy crafty ladies! Get all your DIY goodness set with Craftsy's Summer Supplies Clearance: Save up to 75% on yarn, fabric and project kits until 7/28.
7. Got designer taste but a broke-ass budget? Well you're here, so duh. Bluefly is having clearance sale of up to 75% off until 7/27.
8. In need of shapewear? Hourglass Angel is knocking 10% off AMIA shapewear until 7/31 with code AM10.
9. Feel the need to whisk away for a vaca? Expedia has daily deals up to 50% off.
10. And even more shoes! Nine West is knocking 30% off with savings up to 60% until 7/29.
Y'all, I love helping people out. That's part of the reason why I love working at BAB. So when my girl Becca sent out a Facebook plea for help in finding shoes to go with this dress in Ocean Blue that she's wearing as a bridesmaid for a wedding, I was all over it. Because: Duh. I could help her and I had a great mission for my Five for Friday! The Rules: Must be able to walk on both grass and pavement (though if needed, Solemates are the perfect accompaniment for heels in grass), under $40, open-toed and low-heeled. Challenge: Accepted!
Now these are veeery slightly out of budget, but considering the non-sale price, a great get. A classic shape and style, but with a slight twist and one that translates well for most outfits/occasions, so the ROI is awesome.
BONUS:
I just love these, and I can't keep it to myself:

Girl, I hope I helped. Regardless I wanna know what you picked, mmmkay?
Which would you choose, BABs?
Hello, BABs! This week we're going to be looking at SHOESIES again, and of course, Jimmy Choos because … duh. Liz wrote to us about these Jimmy Choo flats that are so fabulous you could wear them with some skinny jeans OR on your wedding day and they would just WORK. Liz is my kind of gal. I have never really been a heel wearing girl and I definitely can't imagine trying to run around on one of the most important days of my life with sore feet just for the sake of fashion. No way Jose!! I love these flats because the slight heel adds a bit of sophistication so it's not just your typical flat. So let's help Liz out!
Jimmy Choo Finlay Square-Toe Flat In Silver (Style: #86966077) $236 at Nieman Marcus
Blue Bridal Collection By Betsey Johnson (Style: #8347807) $24 at 6pm.com
Man-Made Reptile-Embossed Flats (Style: 8330462) $27.99 at 6pm.com
Dessert Dash Flat In Silver $30 at ModCloth
Silver Fish Print Point Toe Flats (Style: 10970842) $44 at TBDress.com
Silver Glitter Mila Flats (Style: P1411) $52 at Unique Vintage
Touch Up Shoes (Style: Tamara 415/416) $54 at BestBridalPrices.com
There come in gold, too!
Sexy Ballet Dance Flats (Style: 10543365) $61 at TBDress.com
 Silver Leather Metallic Finish Ballet Flats (Style: 323134402) $75 at BlueFly
So, whaddya think, Liz? I hope this helps you out. I know the right shoes can pull an entire look together. Let us know if you need help getting over any other awesome accessories for your special day. Until next week, BABs!
Got a gown that you just can't get off your mind? We're happy to help you get over it! Just tell us in the comments below! Please remember to include the budget you're working with so we can find you the best alternative for you.
*As always, please do your own research before buying a gown online. Team Broke-Ass is here to provide you with inspiration and resources, but it is up to the consumer to know what they're purchasing.
GUYS. This happens sometimes, but not very often. Our partners at Gloss Jewelry are trying to make way for new stuff and hollered at BAB to see if we wanted to give you guys an exclusive code.
I mean, DUH. Of COURSE we do.
So, today only, head on over to Gloss Jewelry and pick up something, anything, for 80% off. This is not a joke. 80-freaking-percent. That's like thisclose to being free!
I'm loving this multistrand pearl necklace for any wedding or wedding party.
And at $35 – 80% … guys, this is $7. SEVEN. DOLLARS.
So head on over to Gloss and see what you can snag with code JEWEL80!
Then come back and tell us what you got at an amazing deal!
One of the things I notice about wedding planning is the amazing accrual of stuff – from planners to printouts to swatches, you have stuff that you're toting around to various meetings, fittings and brunch with the ladies. It would certainly be nice to have a place designated just for wedding stuff, because everything should have a place, right?
Etsy seller Digital Printsess makes sturdy, tough (go on, put it in the wash) and super cute tote bags that can get the job done. And she designed one for a little show you might have heard of … "The Bachelorette." Digital Printsess' bags appeared in Ashley Herbert and JP Rosenbaum's wedding special.
What-what!
Aside from making these super awesome and customizable totes — I can totally see carrying this one while honeymooning on the beach — Digital Printsess also creates beautiful save the dates and invitations. Oh, and she's totally Broke-Ass friendly: the totes start at $20 (bridesmaid gift, anyone?) and her save the dates and invites start at $15 for the digital file.
And now to the good stuff: You can score a Digital Printsess tote of your own which can be customized with your own info!
As per usual, completing each task below earns you one entry — you must click on the green box saying "I completed." Open to US residents only (sorry darling!) Good luck!
As a wedding guest, the dress code has a tendency to be tricky. You want to read between the lines and give it your best go without having to consult a fellow nuptial-goer for fashion advice, but sometimes it can just be plain confusing. BAB tackled this issue way back in 2011 and while there seems to be a bit less rigidity these days (can guest wear white if the bride is wearing pink? Martha says yes.), many of the old tropes still apply. So here's a refresher from the Broke-Ass archives!
I'm switching gears a bit this week to discuss something that comes up over and over on wedding forums and blogs — what to wear as a wedding guest.
Nowadays, finding something to wear as a wedding guest is almost as stressful as finding your own wedding dress! There are so many etiquette rules, so many stipulations and so many vague dress codes ("festive casual?" "dressy resort?") that it seems that guests can never figure out which fashions are appropriate for someone else's wedding.
There are no hard and fast rules, but I've been to a lot of weddings and I've gotten a feel for these things. So, here is my advice for what a women should and should not wear as a wedding guest.
DON'T wear white or ivory. It wouldn't bother me personally, but it's frowned upon in general, and some brides get so upset that they actually ask women wearing white to leave the wedding. As ridiculous as that may sound, it's better to avoid the situation altogether. There are a ton of other colors out there — choose one of them!
DO dress for the venue. If the wedding is on a lawn or on the beach, those strappy jeweled stilettos might not be the best idea. You might want to consider flats, kitten heels or wedges instead. Or if the wedding is in a fancy hotel ballroom, you might not want to wear a casual sundress with flip flops.
DON'T wear the same exact color as the bridal party, at least not intentionally.
DO dress comfortably. I think that anyone who subscribes to the "fashion before function" philosophy is glutton for punishment! You're going to be wearing this outfit for several hours — why would you want to suffer in a dress that's too tight or shoes that pinch? Nowadays, it's easy to find clothes and shoes that are stylish and comfy!
DON'T wear anything that's too flashy and/or revealing. This is a wedding, not a nightclub. The bride's great-aunt has no desire to see your butt cleavage. Trust me.
DO keep in mind that some houses of worship have dress codes. For example, one is not supposed have bare shoulders in a Jewish synagogue. If you're unsure about ceremony dress codes, feel free to ask the bride, groom or their families. And you could always bring a wrap or pashmina with you just in case.
DON'T dress for the wrong time of day. A slinky LBD would be inappropriate for daytime, and a pastel floral sundress wouldn't quite work for evening.
DO remember that if you have to ask "Is this appropriate?" it probably isn't. But also remember that even if you make a screaming fashion faux pas as a guest, it's not the end of the world. All eyes will be on the bride, not you!
What rules do you follow when dressing for a wedding?
-Dana F.