---
Posts in the 'Tori' Category
Hey, BABs!  Did you miss me? I was off getting my MRS but it's good to be back!  My first order of business is to find Elise a Claire Pettibone look-a-like for a steal.  As we all know our dear Claire likes to hawk her dresses for a pretty penny.  But most of us gals are still  in a paycheck to paycheck , too much month at the end of the money budgetary situation.  Oh, we've graduated from Kool-aid and Cup-O-Noodles.  But spending several grand on a one-time-use dress is out of our realm of thought for a lot of us.
CAN'T AFFORD IT
Clair Pettibone @ Kleinfeldbridal.com ($4,000.00)
GET OVER IT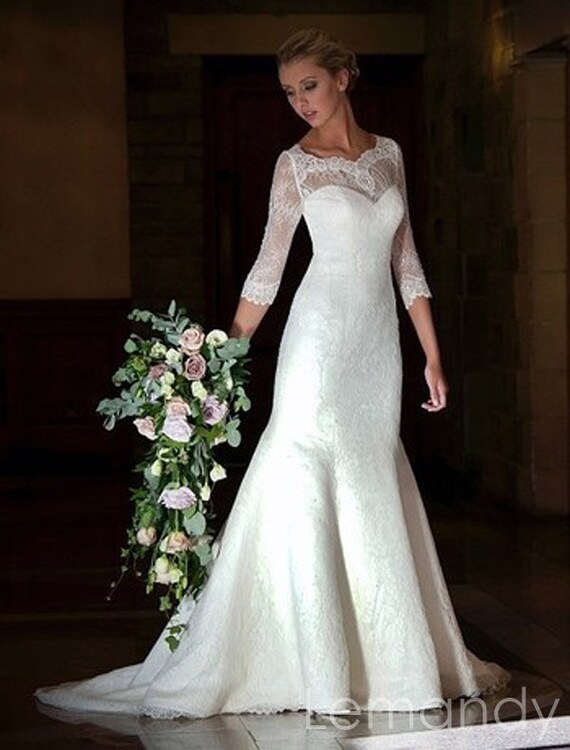 Lemandy Half Sleeve Mermaid Lace Wedding Dress ($285.00 at Etsy)
Watters Encore Wedding Dress Style Coriander 3218E ($396.00 at BestBridalPrices.com)
Lace dress inspired by Jim Hjelm JH8211
BridalBlissDesigns Lace Wedding Dress with Sleeves and Keyhole Back ($849.00 at Etsy)
Casablanca Wedding Dress Style 2119 ($1,550.00 at BestBridalPrices.com)
Birdy James "Lyrica" Vintage-inspired Poet Sleeve Chiffon Wedding Dress ($525.00 at Etsy)
Oleg Cassini Satin Wedding Gown with Beaded Pop Over Jacket ($950.00 at David's Bridal)
 Angelina Faccenda Wedding Dress Style 1260 ($1,757.00 at BestBridalPrices.com)
So, there you go, Elise – a plethora of sleeved beauties with a vintage feel.  From bateau necklines to sweetheart necklines, long sleeves, to 1/2 and 3/4 sleeves, plus lace galore!  I hope one of these gowns tickles your fancy and satisfies you Pettibone cravings.  What do you think, BABs?  Did I hit or miss for Ms. (soon to be Mrs.) Elise?
Our fab BAB contributor Tori had a simple goal: to have a lovely little, perfectly reasonably priced 10K wedding. But Tori is an only child – and her parents just weren't having it – despite the fact that she actually writes for a little blog called The Broke-Ass Bride. Tori's wedding ended up costing a little more than 10K – in fact, she's a little too embarrassed to tell you just how much it cost here. Sometimes the best laid plans…ya da ya da ya da. Never the less, Tori's big, slightly less than broke-ass day is absolutely worth sharing. There's plenty of gorgeous wedding inspiration and great advice to absorb here! Congrats, Tori and Trey! 
Your Names:
Victoria (Tori) Ward &
Wade (Trey) Traynham III
Your Occupations:
His-  Outside Machinist and Ship Builder New
Hers- Civil Servant in the Mental Health field by day & The BrokeAss Bride CAI/GOI Goddess by night.
Wedding Location:  Virginia Beach, Virginia
Wedding Date: Friday, September 21st, 2012
Wedding Budget:  I wanted to do the entire wedding for $10,000.00 or less but I'm an only child and my parents weren't having any of my budget wedding nonsense!  They wanted to throw me the wedding of my dreams and that was the sweetest thing!  So we compromised. I saved money on the details, my wedding dress, the bridesmaids'  &  flower girls' dresses, and where ever else I could and they splurged on the big stuff like venue, catering, photography, & florist.
Approximate Guest Count: 75 guests
How Would you describe your wedding?
My theme was an amalgamation of concepts.  I wanted a fall theme, I loved the color combination of orange and blue, shabby chic, and my honey is a hunter, so I wanted to include some of the things he loves too!  I ended up describing it to my vendors as a woodsy shabby chic.  Trey had a custom camo tie & pocket square. The cake had acorn cake toppers and one of my guests brought acorn shaped cake pops!
It was very family oriented and kid friendly. I encouraged my guests to bring their kids. I remember going to weddings as a kid and being bored out of my mind. So, I did everything I could to make sure the kids had a blast!  It was a relaxed, fun, family-oriented affair.
What was your favorite part of your wedding?
There are several. Trey and I are not religious people but we do have religious family members so we decided to have a ring warming ceremony.  Since the rings were warmed prior to the ceremony, I didn't get to see it while it was happening but I was truly touched to see the photos!  It was one of my absolute favorite things about the wedding even though I never saw it.
Trey is a big dude. His ring size is 16!  When we exchanged rings, my hands were so sweaty that his ring wouldn't go on! There was a ripple of laughter through the guests because they all knew that I'd been waiting 11 years for this and the ring wouldn't go!  We did get it on, but it was a moment of levity in the ceremony that I'll never forget.
During the reception, we had an open mic instead of scheduled speeches because the members of our wedding party were all very shy.  So I wanted to leave the option to say something open ended.  I made a speech and then, the Best Man spoke. We knew that took a lot for him so it really meant a lot.  But to my great surprise, my Flower Girl and Nephew took the mic!  They are my new husband's niece and nephew and I've known them all since birth.  They were adorable and they spoke about how happy they were that I was finally their Aunt and how much they loved me.  It was adorable.  Then my Ring Bearer took the mic.  He's my Cousin's 3 year old son and he wanted to say something like the big kids did but the second he spoke into the mic, he spooked and ran.  It was too cute.  I'll treasure those memories for the rest of my life.
What did you splurge on?
I splurged on my guest book. I found this amazing seller on Etsy (Lizziemade) who makes hand bound books!  I fell in love. The book was $80.00 but it was so worth it. Lizziemade and I collaborated on the creation of this book and it turned out to be a, one of a kind, truly special book that I will be displaying in my home for the rest of my life!  I also spent $100.00 on custom buttons and temporary tattoos from another Etsy seller Ali of Buttonhead.  And now I have a beautiful monogram to keep and use however I want forever!  My mom splurged on the photographer who I absolutely fell in love with when we met him & his wife at a wedding fair in Norfolk.  And my dad splurged on the venue and the catering that was worth every penny!
What did you save on?
We saved on the actual wedding date.  Did you know that a week day wedding is significantly less than a weekend wedding?  We saved about $2,000.00 by reserving the ceremony site and the reception hall for a Friday.  We also got grandfathered into a lower rate for the venue because we booked prior to their big renovations.  I also chose not to have a wedding coordinator which saved us about $1,000.00.  I also saved on my wedding gown. I bought it at a bridal consignment store in Hampton, VA for a fraction of it's retail value. I ordered my veil for $35.00 through an Etsy seller and I made my own aisle runner from canvas drop clothes that I found at Walmart.
One of my friends and I picked out the fabric for my bridesmaids' & flower girls' dresses and she made them for cost as a wedding gift.  My Aunt Jane bought the burlap and made all the table runners and the ring barer pillow as a wedding gift.  My Aunt Hilary paid for the marriage commissioner, and for the professional art design of our save the dates, and she helped my mom and I shop for the milk glass that held the flower arrangements.
Was there anything you would have done differently?
Looking back, yes. The venue I chose had a list of vendors that we could choose from.  I went off the pre-approved grid to find my baker, my photographer,  my make-up artist, & my hair dresser. I should have chosen a different florist.  While the florist was well known and recognized in the area, he did not listen to my vision and he chose to confront me about the flowers the day of my wedding!  While our flowers were beautiful, I simply didn't like the florist's attitude and his reluctance to communicate with me prior to the wedding day. If I had it to do over, I'd find my own florist.
What was your biggest challenge in planning?
There were 2 big issues. It took me forever to find a dress that I liked.  Dress shopping for me was not that one single "AHA!" moment. I tried dress after dress, after dress! It was depressing and exhausting.  Until I found my dress in a consignment shop!  Four months of searching and I found a pre-owned wedding dress that must have belonged to a very thin, very petite bride.  I had to have a corset back put in and had to have length added but the price was right and the dress was perfect.
The date was the was another problem in the planning.  We saved a bunch of dough by choosing to have our wedding on a Friday, but the date proved to be a problem with a lot of my family members who live out of state.  Thankfully at least some of my extended family were able to make the trip for our wedding. My Dad's family came down from Northern Virginia.  The whole brood came with spouses and significant others. My Aunt and her family traveled from Pennsylvania. My Grandmother (who's my only surviving grandparent) and my Uncle made the trip to Virginia from Maine.  My Grandmother had a fall and suffered a head injury a few months before and there was some question as to whether or not she'd be able to come. I burst into tears of joy and relief when I saw my "Nammy" after the ceremony.
What lessons did you learn from planning or from the wedding itself?
It is imperative that you have some sort of rehearsal so that every one knows where they are supposed to be and what their role is.  We skipped this step in order to save money.  Delegate responsibilities to those offering assistance.  And have a wedding aftermath plan.  After our wedding the venue staff swarmed me with questions about what to keep and what to toss. Our biggest mistake was staying until all our guests had left. We should have left an hour before the scheduled end of the party and left specific instructions with our family and wedding party as to what to collect and what to leave for the clean up crew.
Thirty minutes before the scheduled end of our reception, the venue staff started clearing the hall! I was completely overwhelmed by the inundation of questions. The bridal changing room was locked and we still had all of our bridal party belongings down there as they were shoeing us out the door!  Thinking back, I should have been more prepared and I should have prepared my friends and family better.
What were your top 5 favorite things?
1) Ring Warming & the big ring exchange snafoo!
2) The cohesion of my DJ, my photographer, my hairdresser, and my makeup artist.  They all got along incredibly well and seemed to have the same easy going professionalism.
3) Open mic speeches
4) The cake was beautiful and amazingly delicious!
5) The overwhelming support of my family and friends
Top 5 least favorite?
I do wish that more of my long distance family could have made it to the wedding, and I had envisioned the table arrangements differently, but in the grand scheme of things, none of that matters.  I married my best friend. we had a lovely ceremony  we were able to share our love and joy with the people who know and love us. In the end, that's all that matters!  And for that reason, it was perfect.
Best/worst wedding advice?
I really didn't get a lot of wedding advice.  But the best advice I've ever gotten in general is to pick your battles.  And I applied that advice to my wedding planning.  Being an only child, I knew I wouldn't win the budget wedding war.  My parents divorced when I was eleven but they both love me fiercely and I know that I am spoiled.  But I'm not ungrateful!  I chose to get my broke-ass bride fix in the details.
Budget Break Down:
Tori's folks footed the bill for the big ticket items like venue, cake,  florist, caterer, & photography. Tori has chosen to only indicate what she and Trey ended up paying for here.
Save the dates= $50.00
Invitations= $100.00
The dress including alterations= $1,000.00
Aisle Runner= $20.00 (hand made by me)
Table Runners= $0 (hand made gift from Aunt)
Hair- $60.00/ Makeup- $35.00
Milk Glass- $0 (gift from mom & aunt)
Guest book- $80.00
Pinata- $20.00
Paper Lanterns- $15.00
Buttons & Tattoos- $100.00
Pinata filler- $25.00
Flower Girl Leaves – $15.00
Flower Girl Baskets- $30.00
His Tux- $165.00
His Tie & Pocket Square- $65.00
Photo Booth- $1, 000.00
Marriage Commissioner- $0 (gift from aunt)
Cake Topper=$58.00
Rings- His =$500 Hers =$300
My total was about $4,000.00 after the veil, shoes, jewelry, and gifts for Bridesmaids.
Vendors
The Yacht Club at Marina Shores
Valerie Todesco – Professional Makeup Artist
Clay – Hair
Etsy Sellers
WeddingMonogramShop
LizzieMade – wedding guest book
Buttonhead – custom wedding favor buttons and temporary tattoos
Pearl Beach Treasures – groom's camo tie
Bejoyful Paper – wedding stationery
Indigotwin Weddings – acorn cake topper
Ellen Marie Designs – bridal headpiece/veil
Thanks so much for sharing your special day with us, you guys! And special thanks to Love Minus Zero for providing the wedding pics!
This week Ranyatta writes,
I really want the Allure 8961 dress but it runs about $1500 and I can't afford that. Please help me find something similar under $1000.  Please help!
Now there's a Broke-Ass Bride with a sense of purpose!  I can definitely help you find an alternative and equally alluring dress with the same silhouette.  I'm taking my cue from Ranyatta and gettin' on with the geting' on!
CAN'T AFFORD IT 
Style # 8961 ( Allure Bridal $1,500.00)
GET OVER IT
Carmen Marc Valvo "Chelsea" Taffeta Gown ( Nordstrom $1,012.90)
Theia Silk Gown ( Saks Fifth Avenue $597.00)
Celeste Gown Item # 80167 (SimplyBridal.com $341.99)
(BBB-accredited LA based company)
Panda & Shamrock "Yilia" (Etsy.com $399.00)
Finding that exact dress at a lower price point is going to be difficult.  That particular model is from the 2012 line.  It's not exactly brand spankin' new but it's new enough.  What I mean is that this particular gown probably hasn't made it to the consignment stores yet.  But you might be able to snag a sample off he rack if you are diligent in your search. Otherwise, the dress you've chosen is a trumpet silhouette or a demarcated trumpet with a v-neckline.
It looks like you like the lace and the ruffles but if what you really love is the shape, there are plenty of gowns out there that you'll love for less.  The ruffled skirt is also an easy order to fill these days. But combining the lace, the shape, and the ruffle skirt is a bit harder to accomplish.  If you don't mind sacrificing one of those details, I think you will certainly be ale to find the ultimate in V-necked, trumpeted taffeta & lace gorgeousness. I hope I helped.  Just to toss in an additional 2 cents, my favorite is the "Yilia" from Panda & Shamrock.
Uh oh, BABs, Karen's got a conundrum!
I am going to be a guest at an outdoor wedding in early October in Illinois. With this crazy weather who knows what it might be like, but I assume it will get a bit chilly going into the evening. I need help finding something to keep me warm! Obvious solutions would be shawl, wrap, and jacket, but I'm a bit fashion challenged.  I'd like to keep it simple and classic.  Any suggestions for a broke-ass wedding guest?
Thanks!
Karen, First things first.  You should ask the bride what the dress code is.  From the sound of it, I'm guessing that you'll be safe with Cocktail Attire.  And you definitely want to make sure you are covered, literally. It sounds like a sleeved dress or cocktail appropriate pant suit could be exactly what you are looking for. And for goodness sake, woman, layer it!  I tend to catch a chill easily, so I always carry a sweater or light weight jacket with me wherever I go and in all weather, all freakin' year round!
Since we don't have a specific item or dress you're trying to find for a steal, we'll just skip the Can't Afford It part and get right to the Get Over It part.  In order to help us get over it, I'm enlisting some help from across the pond.
Get Over It
Color Block Ponte ( $39.00 at London Times)
Kazumi Print Maxi Dress ( $94.05 at Phase Eight)
Tulip Print Maxi Dress ( $34.00 at London Times)
Filigree Lace Burnout Dress ($124.15 at Phase Eight)
Rhona Lace Dress ( $62.07 at Phase Eight)
Pair any of these beauties with some tights, cute shoes (may I suggest a bootie), a clutch purse, and a killer cardi or jacket (like the ones below) and you'll be ready for all possible weather conditions!
Stylin' Nine to Five Blazer ($69.99 at Mod Cloth)
Pair this berry colored blazer with the lace burnout dress and you'll be stylin' like nobody's business.
Kimberly Ovitz Rikard Draped Stretch -Bamboo Jacket ($61.25 at THE OUTNET)
Pair this jacket or any black blazer, cardigan, or evening coat with any of the first 3 dresses listed and you've hit a home run, Honey.  You could also rock a red layer with any of those dresses and be comfy, cozy, and down right cosmopolitan. If these options are too steep for your budget, check out your local thrift and consignment stores.  I found and bought a "like new" silk satin designer suit at my local thrift store for $12!
Lake Side Escape Cardigan ( $49.99 at Mod Cloth)
Pair this draped cardi with the Rhona Lace Dress and you've shown that you know how to pull off comfy and classy!
Karen, I hope I've helped you weather your clothing quandary.  You can totally do appropriate wedding guest attire that is budget friendly and forgiving of the elements.  You don't have to be up to speed with the latest fads and fashions. Just remember that classic and elegant never go out of style. Let us know how it goes in Illinois in October. And for Pete's sake, BABs, chime in if you find Karen some guest gear that will help her fight off the chills AND big credit card bills…(see what I did there?)
Got a CAI/GOI request for the gang? Email it to emily@brokeassbride.com, and she'll pass it on to Tori and Heather, our CAI/GOI mavens! 
This week Jessica is our resident Cinderella with a slipper scrape.  She's found her glass slippers but, alas, the flats are finished.  Here's how Jess put it:
I seriously need a "can'afford it get over it" response! I have been looking for a flat that is peep-toe for a month and I couldn't seem to find anything until I found the Vera Wang Lavender Lanie Glitter Open Toe Flat.  But then I discovered that they are a discontinued style that is nowhere to be found in my size (10). Should I just give up on finding my dream shoe or just buy a basic white flat?
Lost in a sea of shoes,
Jessica
Well, Jess-erelli, this little closet mouse has found you some awesome options.  So if you…
CAN'T AFFORD IT CAN'T ACQUIRE IT
Vera Wang Lavender "Lanie"  ($185-$275 at Neiman Marcus)
GET OVER IT
Arturo Chaing "Addie" Flats ( $59.99 at Dillard's)
Vigotti Artie Gold Metallic Leather ($39.60 at 6pm.com)
Peep Toe Satin Ballet Flats ( $22 on closeout at The Dessy Group)
Satin Peep Toe Bridal Ballet Flats in 5 colors ( $30 at The Dessy Group)
Design Your Own Shoes ( $70 at Etsy)
So here's the deal.  I wasn't able to find you a plethora of affordable Ready to Wear options.  But I do have a few affordable options and a DIY option for ya!  Find the peep-toe flat you want in any color leather, pleather, or fabric you desire.  The least expensive and most comfy, the better…and glitter your own shoes!
 Apparently it is fairly simple to do successfully.  I found a great tutorial at wearenotmartha.com and another on youtube.com.  These methods both suggest you mix modge podge  with glitter but there are other methods using spray adhesive  or Elmer's glue and sprinkling the shoes with the glitter.  Both methods use a clear coat sealant to protect the glitter and stop it from wearing off.  I suggest stuffing your shoe with tissue paper and taping the sole off.
Before you go DIY crazy with the glitter, I'd also check your local Kohl's store.  They carry Vera Wang's Simply Vera Wang line and they might have a flat that is similar to the Lavender line…
Simply Vera Wang Peep Toe Ballet Flats ( $21.97 at Kohl's)
* Wink, Wink, This one featured above is super close to what you're looking for but in a different hue. Well Jess, I hope we identified a suitable peep-toed alternative for your big day. If not, I hope you find your happy ending soon in a shoe aisle near you!
Hey, BABs!  How's your wedding planning going? I hope you're setting the style bar high and keeping the budget real.  This week, Tess sent me this request for a Le Spose di Gio gown:
I found a dress for your "can't afford it/get over it" blog feature. I'm in love with Le Spose's gown style #C11 22. I just love the light and billowy look of the dress, and that it cinches in at the waist. But I know that as a designer dress, it'll be like 20k. I'm not willing to spend more than $1,000.00.  But I can't find anything anywhere remotely like it. Can you help me?
Why, yes, Tess!  I'll be happy to help to the best of my ability.
CAN'T AFFORD IT
Le Spose di Gio Style # C11 22 ( $4,000.00 -$4,500.00)
This particular gown is unique in a lot of ways.  The side button closure, tulle or organza full wrap off the shoulder bateau neck line, the large pleats beginning at the waist, and the combination of what appears to be silk taffeta and tulle or organza would all make this dress difficult to duplicate.  However, what I can do is show you several options I've found that have the same simple elegance and romantic feel.  So, Tess, why don't you come with me while we…
GET OVER IT
Alfred Angelo "Belle" style # 206 ($1,199 at Alfred Angelo)
* The shoulder wrap on the Belle dress is removable! *
Casablanca Style #1684 ($673 at BestBridalPrices.com)
Davinci Wedding Dress Style # 8009 ($477 at BestBridalPrices.com)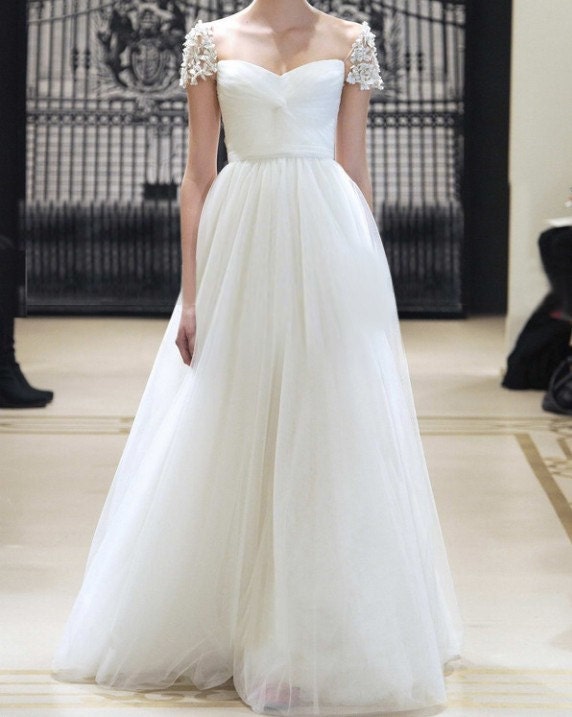 Custom White Off the Shoulder Lace Tulle Wedding Dress S166 ($285 on Etsy)
Taffeta Off the Shoulder Sweetheart Mermaid Sexy Wedding Dress ($319 at WhiteAzalea)
Mon Cheri- Style # 19229 "Charlotte" ($898 at HouseofBrides.com)
Thiea Strapless Organza Ball Gown ($1,095 at Bloomingdale's)
I know, Tess, I know – that last one is strapless. But if you add an organza wrap around the shoulders, a la the Le Spose dress or the Alfred Angelo, you would achieve the same look!  I hope this edition of CAI/GOI has helped you.  If I didn't list the Le Spose alternative of your dreams above, I hope I at least gave you a good jumping off point. Ladies, if you've got any suggestions for Tess, we always appreciate your assistance! Keep fighting the good fight against wedding market price hikes and gouging, BABs! We'll be here when you need us.
BAB reader Brenda has fallen for a pair of wedding shoes that are beyond her financial grasp.  I know exactly how this feels.  I get a twinge every time I pin a pair of Louboutins, Jimmy Choos, or Kate Spades.  I just can't seem to stop lusting after them. SIGH. Oh, well….Let's read about Brenda's wedding shoe dilemma.
I've got a problem. Reader's Digest of the story: my fiance and I were going to have a relatively small wedding but it kept getting too expensive so instead we're going to get married in Maui for less than what we would have spent on a banquet. Great huh?! Not so much for attire! The only shoes I've liked so far that fit my beachy wedding are way too expensive. Like $185 worth of too expensive!  I was hoping you could add this to the CAI/GOI. Please help me find a strikingly similar pair for under $75! PLEASE! Thanks so much in advance. I love this site and I know for sure you're the only one who can help me find these!  
Alright,  Brenda, I think I can help ease your mind and sooth your bank account. Just have a sit on your sofa and make yourself comfortable.
Can't Afford It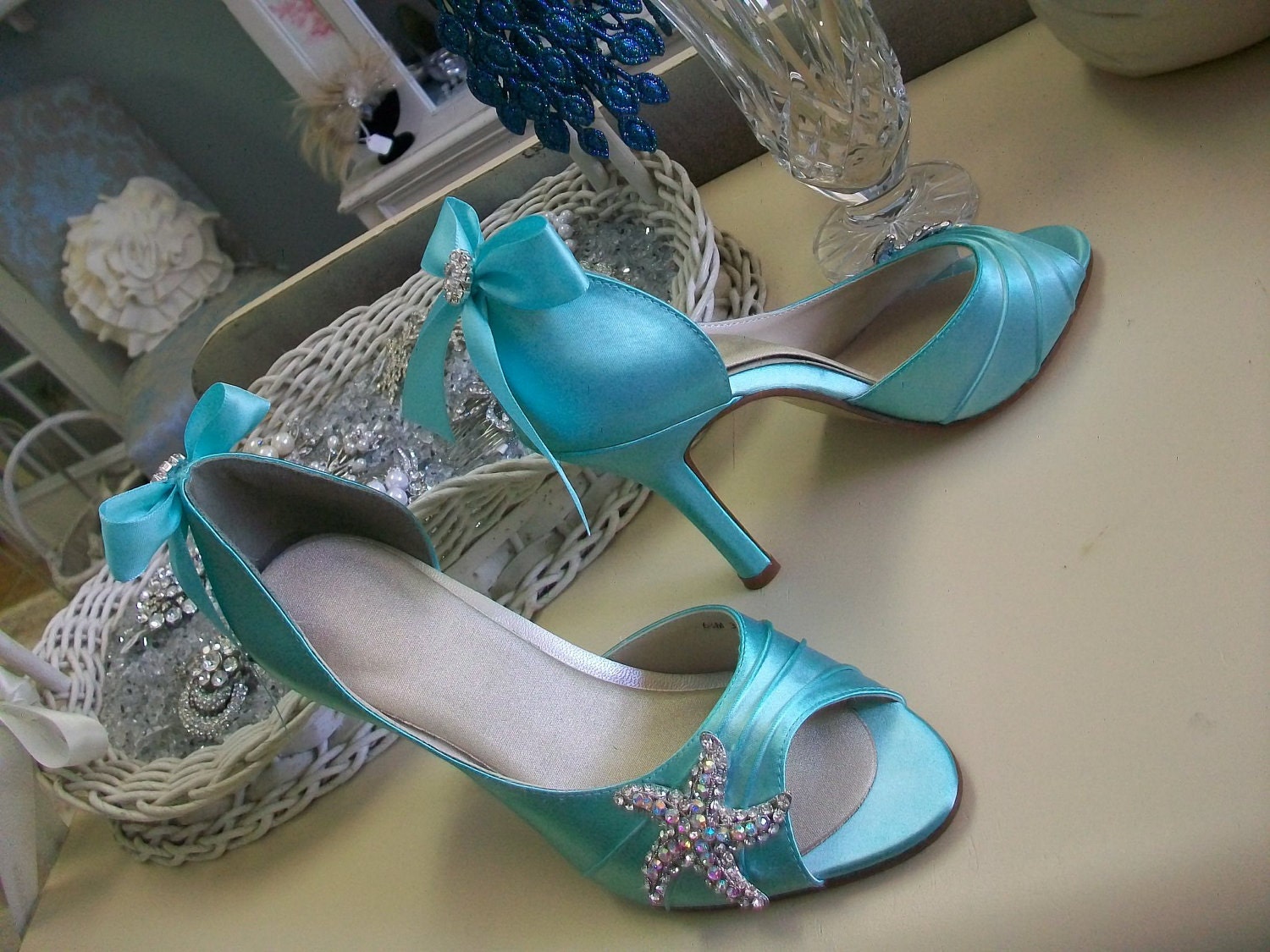 Blue Wedding Shoes Beach Wedding ($184.00)
Get Over It
Audrey Brooke Stacey Sandal ($69.95 at DSW)
rsvp Avril Turquoise ($67.99, down from $79, at Zappos.com)
rsvp Annabelle Turquoise ($59.99, down from $79, at 6pm.com)
rsvp Stormy Teal ($74.99, down from $99, at 6pm.com)
Coloriffics Luna Blue ($51.99, down from $169, at 6pm.com)
Caparros Ashton Aqua ($55.99, down from $79, at 6pm.com)
BRUNOMAGLI Alseno Mint ($69.99, down from $290, at 6pm.com)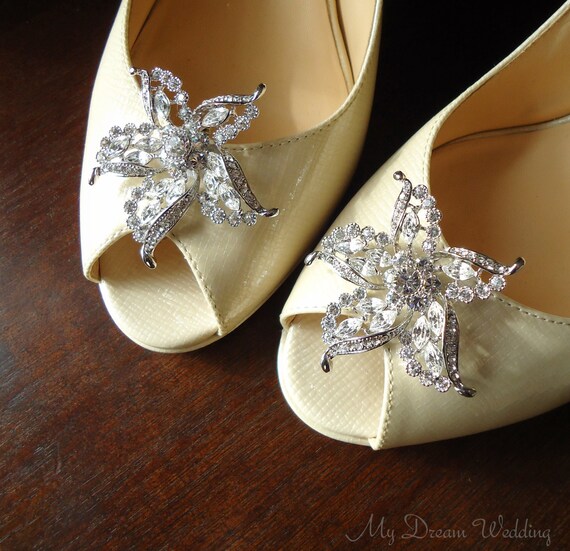 Starfish Shoe Clips ($59.99 on Etsy)
Brenda, I've given you a lot to think about here, but if you need even more direction, here are a few more helpful tips!
1) There is nothing cheaper or more beachy than going bare foot.
2) When I think beachy, I think sandals, wedges and flats. Heels sink into the sand and make it difficult to walk.
3) If you are set on pumps, find a style you like in white . If they don't have the shade of blue you need, you can always add a shoe clip with a pop of color.
4)  If you really want your shoes to be blue, take them to a bridal shop or shoe repair parlor.  They can show you swatches of the colors they are able to dye your shoes. Or you can color them yourself with fabric spray paint!
5) Look for pins, brooches, and clip on earrings. I recently purchased my wedding shoes but disliked the bling.  So, I took it off and replaced it with a vintage pair of clip on earrings that I found in a thrift store for $3.00!
Well, I feel as though our CAI/GOI session has been extremely productive.  It looks as though our time is up.  I'll see you next week.  But please do, let me know how you choose to solve your shoe scrape!
Cassie wants some jewelry that makes a statement. She's found the piece she loves but she hates the price.  Here's what Cassie's got to say:
I have a LOVE IT but can't afford it situation. I love the "Break-of- Day" necklace from BHLDN.  I love the twisted, off-white pearls… Plus the enamel brooch accent. It's not too much, but just enough. Unfortunately, it's $675!!!! That's almost as much as my dress cost. Insane in the membrane.  I haven't found a worthy substitute. Help!?
Why Certainly, Cassie! We'll help you out. I'm going to jump right in and give you the straight-up gospel truth about this particular trend.  Are you ready? I'm going to blow your mind here. Can you handle it?  Okay, here goes…..Faux pearls rock!  Every girl should have at least one strand of honest to goodness authentic pearls.  But those little beauties aren't cheap.  So do what any self respecting BAB would do and FAKE IT!
CAN'T AFFORD IT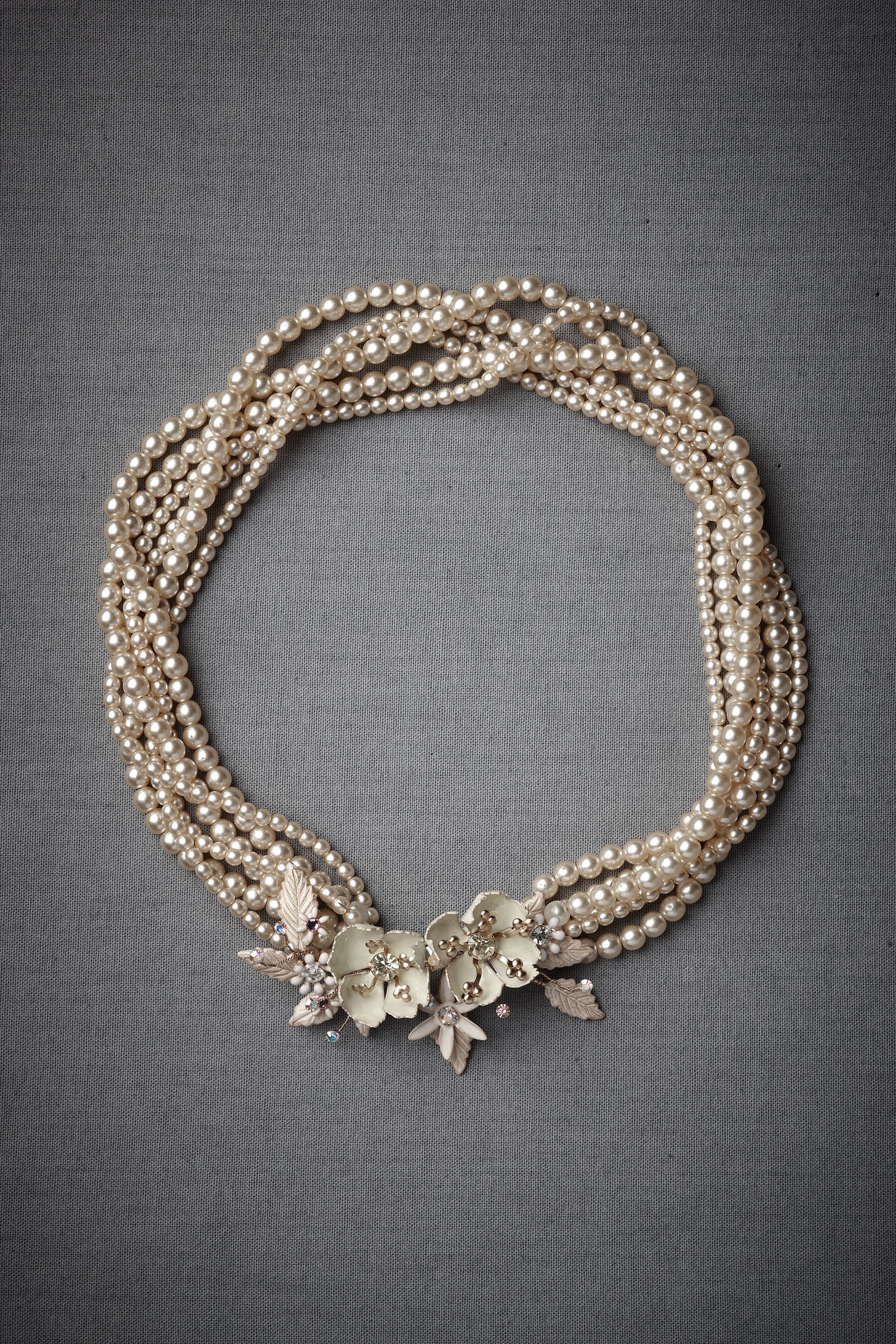 Break-of-Day Necklace ($675 at BHLDN)
GET OVER IT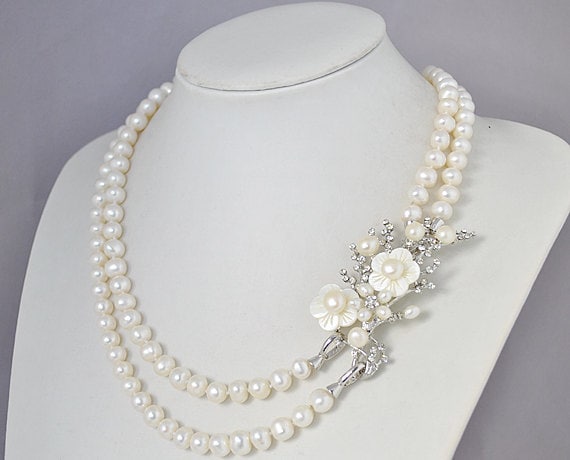 Two strand Pearl Necklace Whit Fresh Water Pearl Brooch ($27 at Etsy)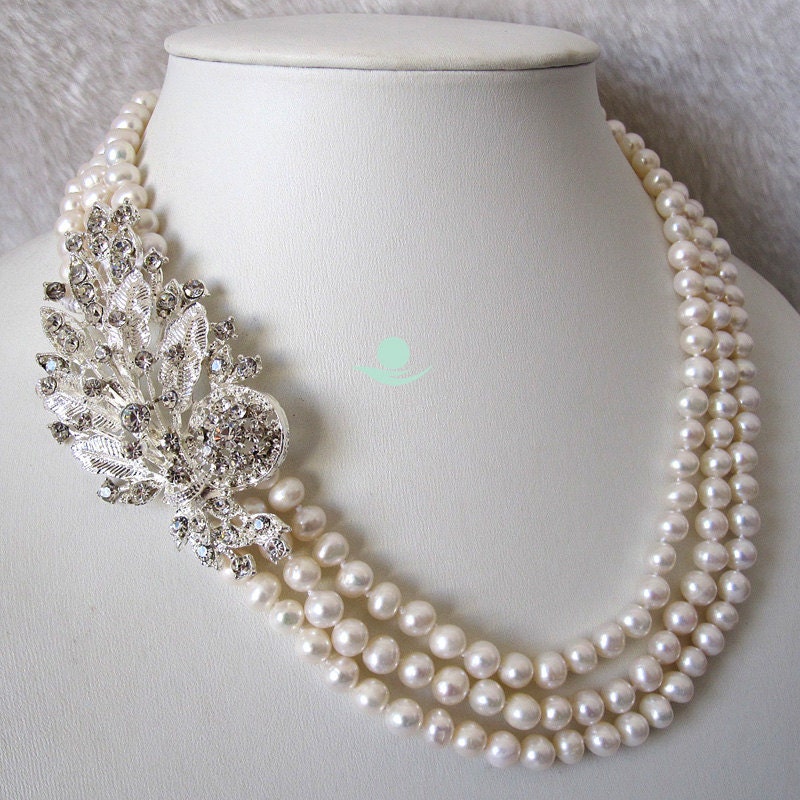 Pearl Necklace 18- 20 inch ($25 at Etsy)
Memory Wire Sakura Flower Pearl & Mother of Pearl Choker ($37.79 at Overstock.com)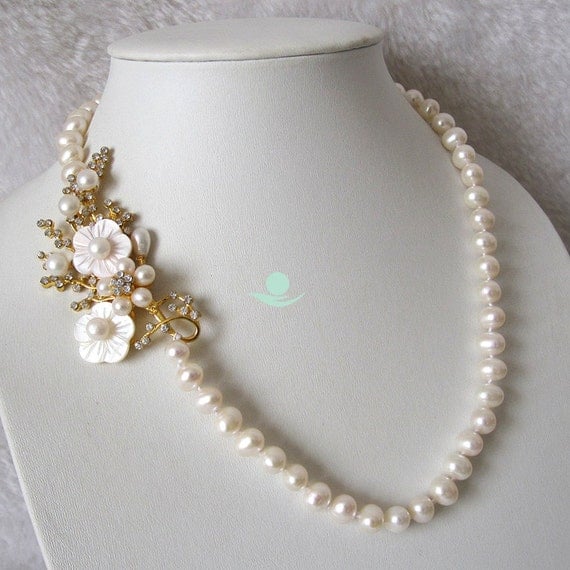 Pearl Necklace 20.5 inches single strand ($25 at Etsy)
Sakura Pearl Flower Necklace ($44.99 at Overstock.com)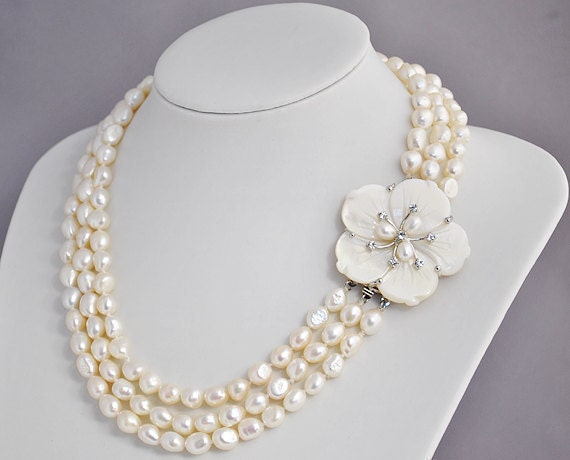 Flower Pearl Necklace ($24 at Etsy)
Tangled Pearls in Peril ($85 rental at Rent The Runway)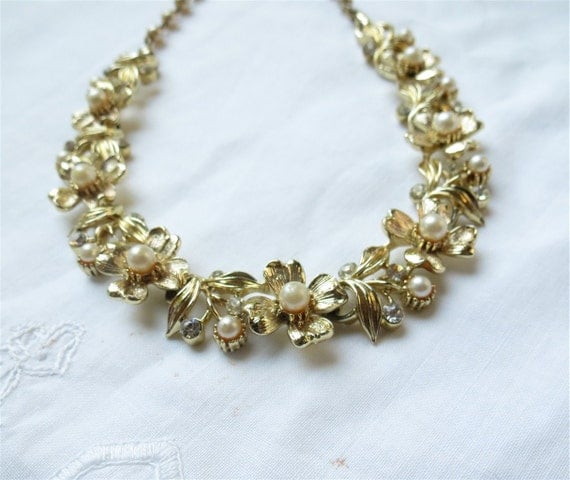 Vintage Lisner Flower and Pearl Necklace ($40 at Etsy)
Cassie, here are nine Get Over It options for you that most certainly won't break the bank.  Pearls are one of the easiest naturally occurring gems to fake.  And the best part about a fake pearl is that most folks can't tell the difference between faux and true pearls on sight.  So, you should opt for the glass or simulated pearl strand.  It will look just as lovely on your neck and in the photos as the real deal but you'll have the satisfaction of knowing that you saved a mini fortune.
I hope one of the options above caught your eye.  But, if not, here's one last option.  Buy one long strand of pearls with our without a clasp.  The value option here is up to you. I suggest something like the set below with the addition of a separate brooch of your choosing.
Charter Club 3 Strand 10 mm White Simulated Pearls ($48 at Macy's)
If you want real pearls, I don't suggest purchasing your strand from a jeweler.  Instead look for a local gem and jewelry show or buy from one of the gem-obsessed shopping networks.  I have bought many fine and high quality pieces of jewelry from these places and the price is unparalleled.   To create a multi-strand look, double or triple your strand (depending on the length) and use a brooch to fasten.  It is much easier to pin the brooch to the jump rings in a clasped necklace.  However, broached closure can be complete on any beaded necklace as long as the beads are a smaller diameter.  If the pearls or beads are too large your brooch clasp won't close or won't stay closed.  And that's just a pain in the butt!
I hope this edition of CAI/GOI has helped!  Good luck.  And remember, no matter what kind of jewelry you wear on your wedding day or any day, you already make a statement just by being your broke-ass self!  Can I get an AMEN?!
I hope you're ready for some serious bling because this week, Rachel B. wrote in with a challenge to find a CAI/GOI engagement ring! Check out what she had to say:
Hey, I'm not actually engaged yet, but my boyfriend and I are saving up for a wedding some time next year. I'm hoping you can help me with a "Can't Afford It/Get Over It" for the engagement ring I'd LOVE to have. I'm head over heels for the "Beloved" ring by Hearts on Fire, but it's way out of our price range.  I'd love something for just hundreds rather than thousands, and I specifically DON'T want real diamonds. (I won't be rockin' any blood diamonds on my finger!)  Can you help me find another ring I can fall in love with – without the $3,500 price tag?
Rachel, you came to the right place.  I actually make jewelry so I have a fair amount of knowledge about this subject.  You have all kinds of options.  So, lets dive right in to a sea of sparkles, shall we?
CAN"T AFFORD IT
"Beloved"  ($3,850, Hearts On Fire)
GET OVER IT
"Karina" ($1,149 CAD, Quorri)
*Lab-created diamonds*
"Magdalynn" ($1,399 CAD, Quorri)
*Lab-created diamonds*
"Adena" ($799 CAD, Quorri)
*Lab-created diamonds*
14K White Sapphire Halo Ring ($808, Rare Earth)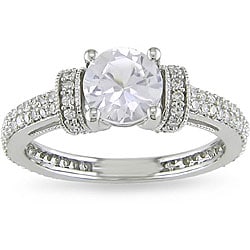 10K Gold Lab Created White Sapphire ($330.39, Overstock.com)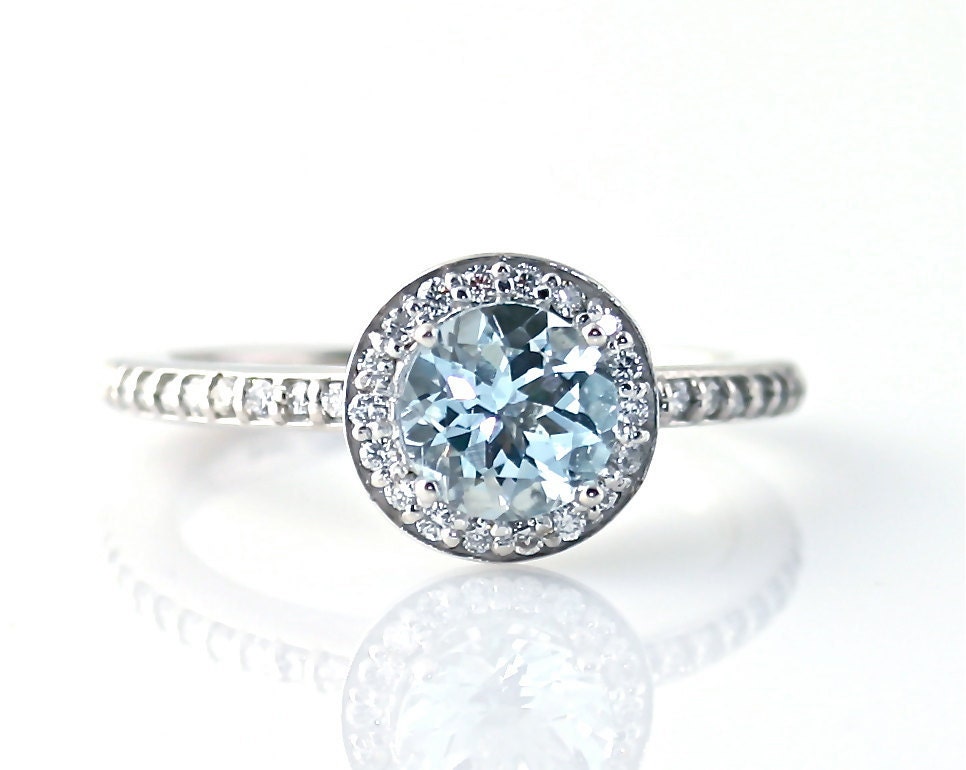 14K Aquamarine Diamond Halo Ring  ($887, Rare Earth)
*Conflict-free diamonds*
Rachel, you sent me a photo of a diamond, which leads me to believe that you enjoy the look of a diamond but you don't want any part of the stigma attached.  I get it.  Diamonds aren't as rare as the jewelry industry would have the consumer believe.  They are however a status symbol like a luxury car or a designer bag.  And we all know that there are plenty of ways around paying designer prices while achieving the designer look.
My best advice to you is to choose a less expensive metal.  Platinum & 18K gold will just boost your price point.  Besides, 18 K gold is softer than 14 Karat gold.  The closer you get to pure gold, the more malleable the jewelry will be. Gold is a soft metal.  The 18 K is better for pendants and earrings that won't endure daily punishment.  I would stick with 14k, or even silver.  You also have the option of choosing steel and titanium or one of the many alternative jewelry metals being used today.  If you decide to go with a natural gemstone like sapphire, morganite, aquamarine etc… you can get a much larger stone than you would be able to have if you were to use a diamond or even an engineered diamond.  The setting you like is a "halo" setting.  However, you might also like the "ballerina" and "skirted" settings. You have a multitude of options!
If I were you and nothing other than the "Beloved" would do,  I would take myself to all the local boutique jewelers in my area with a picture of the ring in hand and ask them to quote a price to recreate the ring with 14k white gold and white sapphires.  You might be pleasantly surprised with the results!  Best of luck and congratulations on your upcoming engagement!