---
Posts in the 'Christen' Category
Upcycling and being a Broke-Ass go hand-in-hand. Add some hot color, fun designs, eco-friendliness and an Etsy seller? Looks like we've got a BAB match made in heaven with Topaz and Opal.
Kim, the mastermind behind Topaz and Opal, has a history of teaching, but a passion for making these super fun, bright baubles. Her decoupage skillz give bright new life to regular items (check out the jewelry trays) and add a fun pop to your bauble routine. Of her shop, Kim says this:
If Topaz and Opal is anything it's a lesson [many lessons] in how to use, reuse, re-imagine, and create new things using old or new, but not so spectacular things, and turning them into jewelry, art, and accessories.
Doesn't that sound like a page right out of the BAB Manual? I thought so, too. And those bangles would be a super fun, bright gift for your amazing bridesmaids, no? I'm glad we're on the same page.
And because it's Wednesday, lucky you! Kim is doling out one $150 gift certificate (including the price of shipping + handling) to Topaz and Opal.
As per usual, each option below is one entry method. The more tasks you complete, the more entries you get.
Here's the thing with a lot of wedding dresses: They have labels and big ol' salons touting sweet 'n' simple dresses as wedding specific dresses … and that doesn't have to be the way. A wedding dress is any dress / pant suit / short & cardigan set / whatever you want it to be, as long as you're happy, comfortable and feel amazing in it. Because you do want to feel amazing — it's the day you marry the person you love and throw down some mad skrilla to have your friends and family there to witness. Damn right you're going to look and feel amazing! So when I was browsing through BAB partner Lulu's site and saw some rockin' dresses, most of which are under $100, and two barely breaching that, you best believe I'mma share it with y'all.
Stay Golden Strapless Light Beige Sequin Maxi Dress – $90.00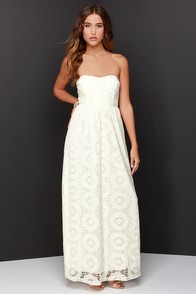 No Less Than Flawless Strapless Cream Lace Maxi Dress – $43.00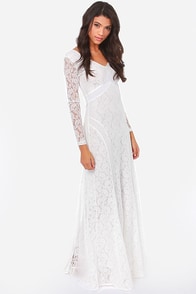 A Moment Like Bliss White Lace Dress- $75.00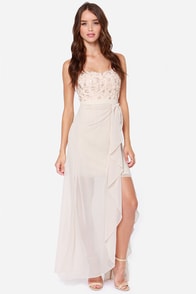 Whole Wide Whirl Beige Sequin Dress – $87.00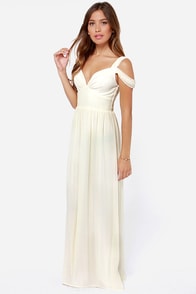 LULUS Exclusive Dreamed to Life Cream Maxi Dress – $81.00

Make My Daydream Cream Lace Maxi Dress – $105.00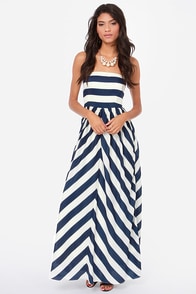 Dreamboat Come True Ivory and Navy Blue Striped Maxi Dress – $54.00
If someone gets married in this, please share it. Because: OMG.
Snowy Meadow Crocheted Ivory Maxi Dress – $107.00
Which one of these gorgeous numbers would you wear on your wedding day?
As an often-times (admittedly) snarky person, I'm not immune to flippantly "predicting" the outcome of others' affairs. I know it's not a good thing and it can breed negativity, but I also mind the company I keep when doing so, and I know with all certainty I'm not alone in my passive judgements. But what's more telling than an outsider's view on a couple's status is how the couple themselves talk about their pairing. In a similar vein to The Masters of Love post from a few weeks back, Our Love Affair with Predicting Divorce – published on The New York Times website — considers our interactions with one another over time as an indicator for how relationships fare.
Photo by Angie Chung via Flickr Creative Commons. Modified with PicMonkey.
One of the great love stories of our era is not a celebrity coupling or an on-screen romance but a series of psychological experiments. These experiments aim to predict which couples will divorce, based on how they act while married. And while some have questioned their findings, the idea that marital discord is predictable (and, perhaps, preventable) retains its hold on our hearts.
This week, Melissa Dahl and Abraham Riesman of The Science of Us riff on a 1992 study that looked at the way couples talked about their lives together — and that's now, as they note, "something of a social psychology classic." They write:
"The couples who told their stories in a more withdrawn, negative manner were more likely to have split three years later, while couples who told their stories in a more expressive, open way tended to stick it out. All couples face hard times, it's true, but the couples who were more likely to stay together spoke about those tough moments with more fondness and nostalgia than the couples who eventually parted ways."
By analyzing how the couples talked, the study authors — Kim T. Buehlman, John M. Gottman and Lynn F. Katz — were able to create a model that predicted with close to 94 percent accuracy which of them would be divorced within three years. They wrote, "We can suggest at this juncture that not only can we predict divorce and the process of marital dissolution with high accuracy but we may also understand what drives the process."
To continue reading Our Love Affair with Predicting Divorce, head over to The New York Times website.
Hey, BABs! It's been a minute since we've had a good dose of inspiration around here. And these summer nights sitting under twinkly lights at the local watering hole, kicking back with my favorite people and basking in the love and friendship around me had me majorly inspired to dream up a pretty backyard wedding inspiration board. A beautiful, light gown paired with muted and understated earrings and a simple headband. Eclectic table accents include a sparkly runner and a lacy blue runner to highlight the varied tableware patterns and colorful glassware. A proper amount of gold and color to delight and luxuriate.
Broke-Ass Hacks:
Varied and gorgeous serveware and dishes can often be found for uber cheap at thrift or secondhand stores, and you can re-donate when you're done. The table runners and paper lanterns easily translate into gorgeous home decor items … or you can pass them on to a bride you know who would enjoy them for her wedding.
Chinese Lanterns, Luna Bazaar | "Aurelia" Hoop Earrings, Ruche | "Marvelous Maven" Heel in Mint, ModCloth | "Inside Out" Bowl, Anthropologie | Sequin Table Runner in Gold, Koyal Wholesale | "A Lace for Everyone" Table Runner, ModCloth | "Mira" Gown, BHLDN | Brass Flora Indie Headband, Ruche
What do you think of a pretty, intimate wedding under the stars with your nearest and dearest?
I wrote this little ditty two years ago, but it's just as valid now as it was then (though my life has changed considerably). Weddings are expensive for everyone involved, and I feel like I've been hearing some extra griping across the Internetz about the inconvenience from a guest POV. So, let's sit back and get our week going with these tips on how to do wedding guesting, Broke-Ass style.
Not everyone can be a baller like Metro kitty.
We all know being a Broke-Ass Bride is about being wise with your green and making sure it's spent in the right places and with the right people. But what about when you're a guest at a broke-ass (or not) wedding and you're still a broke-ass? Unlike when planning your own wedding, being a guest isn't necessarily at the constant forefront of your mind, occupying all of your money- and sanity-related thoughts. Your life is no longer engulfed by the "OHEMGEEZ how are we going to afford to feed/inebriate/entertain everyone we know and love AND get my hurr did AND pay for alterations AND make sure our friends know how much we appreciate them with gifts AND … AND … AND … " Well, you know.
But being a broke-ass wedding guest can still have its panic-inducing, curl-up-in-a-ball kind of moments. I'm attending a wedding June 16 in Louisville, Ky. It is one of two I was invited to this summer, and the other I had to respectfully turn down because, well wouldn't ya know it, it was on the exact same day. It was really difficult for me to say no because the bride was one of the first roommates Husbandface and I had together when we began cohabitating. But the one I eagerly said ABSO-FREAKIN'-LUTELY to is one of my nearest and dearests. In fact, she was in our wedding and her mama has been like my own for many many moons.
But! Louisville is pretty far from my little neck of the woods. And since off-season hit Husbandface and I like a fastball right to the schnozz (sorry, it's also baseball season), things got pretty tight around here in a hurry. With him getting laid off until his new job starts in June and me working full-time, but for a newspaper — which, as an industry, tend to be notorious for mediocre wages — I knew I had to be uber wise about how I spent my cash, money, yo. But there was no way in a blazing inferno I would let my lack of flow hinder my only vacation this year and my chance to hang with my girls.
In December, I thought things would be peachy-keen. I bought a baller new dress (on sale, from ModCloth) and began browsing some swank digs to lay my head for the week. Then April hit and KABLOOEY! I still have the dress, but can no longer pony up for the luxe life.
As luck would have it, I'm traveling with the bride's mama. And she is super spending-savvy. First we camped out on Kayak.com, Orbitz.com, Priceline.com … you name it, to find the absolute cheapest airfare. Things were looking to bottom out around $500. Then, as if with a stroke of luck, the bride herself came through with the best news of all: She had vouchers from her and her fiance's chaos-riddled journey to get to my own wedding. So, with the vouchers and a 5-hour drive to get to the nearest big airport, the round-trip tickets for both of us only cost $120. WHEW.
Next up was the hotel issue. Obviously, we wanted to stay at the hotel closest to the venue, which is the one where the block had been booked *YOU GUYS. If you don't already know this, pay attention: Blocks often times cost money for the couple. But, if they can fill the block, they are not only saving you money (in some cases, like when we got married, HALF OFF), but sometimes they'll even get a room for a night out of it. So really, it behooves ALL THE PEOPLE to take advantage of the couple's legwork in setting these up.* However, it was a bit pricey to hole up there for the total of 10 days we were going to be there. So, we scoured the area for good deals. But Louisville is BIG. And we weren't renting a car, thus we'd be relying on the bus system. And *Ta Da*!!! The bride's Maid of Humor/Sisterface stepped in and offered up her crib AND her know-how of the city's public transport.  So, Sisterface and I are bunking down at the aforementioned hotel for two nights surrounding the wedding, and I get to play roommate with two of my fave ladies in the world for the rest of the week.
Now, I only have to scrimp and save for food, booze and other accouterments (have I mentioned it's baseball season? Because I'm TOTES checking out the Louisville Slugger factory).
Now, I know that not everyone will luck out quite in the way I did, but between my destination wedding and attending this wedding (the first one ever I've had to travel for without my parents), I think I've racked up some tips for you:
- Camp out on travel sites. Sign up for fare-alert emails, check back daily (if not twice!) and check out surrounding airports. The town I live in is generally at least an extra $200 to fly in/out of. One an hour and a half away knocks anywhere from $50 to $150 off that price. The one we're flying out of? It's a fairly big airport, so it's super cheap to fly into another major airport. The drive makes the savings worth it.
- Take advantage of hotel blocks. Even if it's just for a night or two around the wedding. After a fantastic event, it's so nice to go somewhere close, maybe a little more upscale than what you would normally book, and bask in the glow of what you just experienced. Chances are you're getting a killer deal, won't have to deal with too much in the way of transportation to and from and will most likely run into fellow revelers for nightcaps or morning coffee. You're also helping the newlyweds out.
- Take a chance and bunk up with a fellow single traveler. You could split the cost of the room and any taxis/shuttles you take during the week. And you could make a lifelong new friend. Also, by offering this, you could be alleviating any possible whining to the bride/groom/family that may be taking place. And everyone knows a happy couple means a rockin' event.
What are some ways you've found to make travel, especially traveling for weddings, a little less painful on the purse?
Happy Friday! There are some great deals all over the Internetz for you this weekend, but I found 10 awesome deals for this Ten for the Weekend. Check it!
1. I'm starting to think Ann Taylor has a thing for broke-asses, because their sales are the best. Until 7/27, get 60% off select full price styles.
This hot little number is normally $149, but plummets to $59.60 at checkout.
2. If you or your dude are looking for some more laid back kicks for your big day, look no further: 6PM has PUMA, Converse, Supra and more street sneaks for up to 70% off until 7/27.
3. Summer's still here! Paper Source is knocking 30% off select summer products while supplies last!
These are adorable and I would drink out of them in the dead of winter just to remind myself of summer. So there.
4. How about a little date night fun? Get an extra 10% off Local Culture Deals from Groupon with code FUN10 through 7/27. In the Dallas-Fort Worth area, this includes the Dr Pepper Museum, Ghost Tours and WINE. What does your area offer?
5. TODAY ONLY: Old Navy is gonna give your wardrobe a welcome (and cheap!) boost with 25% off regular-price styles + 15% off sale styles online only. Use code ONSAVENOW. 
6. Heeeyyy crafty ladies! Get all your DIY goodness set with Craftsy's Summer Supplies Clearance: Save up to 75% on yarn, fabric and project kits until 7/28.
7. Got designer taste but a broke-ass budget? Well you're here, so duh. Bluefly is having clearance sale of up to 75% off until 7/27.
8. In need of shapewear? Hourglass Angel is knocking 10% off AMIA shapewear until 7/31 with code AM10.
9. Feel the need to whisk away for a vaca? Expedia has daily deals up to 50% off.
10. And even more shoes! Nine West is knocking 30% off with savings up to 60% until 7/29.
Y'all, I love helping people out. That's part of the reason why I love working at BAB. So when my girl Becca sent out a Facebook plea for help in finding shoes to go with this dress in Ocean Blue that she's wearing as a bridesmaid for a wedding, I was all over it. Because: Duh. I could help her and I had a great mission for my Five for Friday! The Rules: Must be able to walk on both grass and pavement (though if needed, Solemates are the perfect accompaniment for heels in grass), under $40, open-toed and low-heeled. Challenge: Accepted!
Now these are veeery slightly out of budget, but considering the non-sale price, a great get. A classic shape and style, but with a slight twist and one that translates well for most outfits/occasions, so the ROI is awesome.
BONUS:
I just love these, and I can't keep it to myself:

Girl, I hope I helped. Regardless I wanna know what you picked, mmmkay?
Which would you choose, BABs?
GUYS. This happens sometimes, but not very often. Our partners at Gloss Jewelry are trying to make way for new stuff and hollered at BAB to see if we wanted to give you guys an exclusive code.
I mean, DUH. Of COURSE we do.
So, today only, head on over to Gloss Jewelry and pick up something, anything, for 80% off. This is not a joke. 80-freaking-percent. That's like thisclose to being free!
I'm loving this multistrand pearl necklace for any wedding or wedding party.
And at $35 – 80% … guys, this is $7. SEVEN. DOLLARS.
So head on over to Gloss and see what you can snag with code JEWEL80!
Then come back and tell us what you got at an amazing deal!
One of the things I notice about wedding planning is the amazing accrual of stuff – from planners to printouts to swatches, you have stuff that you're toting around to various meetings, fittings and brunch with the ladies. It would certainly be nice to have a place designated just for wedding stuff, because everything should have a place, right?
Etsy seller Digital Printsess makes sturdy, tough (go on, put it in the wash) and super cute tote bags that can get the job done. And she designed one for a little show you might have heard of … "The Bachelorette." Digital Printsess' bags appeared in Ashley Herbert and JP Rosenbaum's wedding special.
What-what!
Aside from making these super awesome and customizable totes — I can totally see carrying this one while honeymooning on the beach — Digital Printsess also creates beautiful save the dates and invitations. Oh, and she's totally Broke-Ass friendly: the totes start at $20 (bridesmaid gift, anyone?) and her save the dates and invites start at $15 for the digital file.
And now to the good stuff: You can score a Digital Printsess tote of your own which can be customized with your own info!
As per usual, completing each task below earns you one entry — you must click on the green box saying "I completed." Open to US residents only (sorry darling!) Good luck!