---
Posts in the 'Contributors' Category

Hey, BABs! Y'all nice and stuffed from the turkey overload? As promised, I've compiled all the best Black Friday deals I could find. There are two exclusive deals just for Broke-Ass Brides, and some amazing discounts from your favorite stores. Planning on having twinkly lights at your wedding? Be sure to check out the Target and Home Depot links below. Love BHLDN's dresses? It may have gotten marked down. You guys, there's a ridiculous amount of awesome in here! Happy shopping!

BAB Exclusives
Dessy is offering BABs 20% off SITEWIDE, y'all.
Silver Charm Events: Resident #RealTalk guru and L.A. wedding planner Liz Coopersmith has the hookup — including a great deal on her e-book.
DiamondStuds4Less: 1/2 carat genuine diamond earrings in 14K white gold $189 with code GETMETHESE – GUYS, these are normally $481
Wedding-y
House of Brides: 20%-80% off retail with an extra 5% off with free shipping. Use code BLACKFRIDAY2014
BHLDN: Their biggest gown sale yet!
Ann Taylor: 50% Off Entire Purchase with code THANKS
LunaBazaar: 8% off Christmas Ornaments at Luna Bazaar! Enter code ORNAMENTS8 at checkout 
Beau-Coup.com: 25% off sitewide and Free Shipping with orders of $50+
A Gift Personalized: 15% off sitewide and Free Shipping with $35.00 order. Use code AGPFREESHIP11
Bloominous: Get 10% off with CLUBBLOOM10 at checkout
ModCloth: 50% off new arrivals
Stationery
Tiny Prints:  Save 30% + an EXTRA 10% with code BLACKFRIDAY
Minted: Enjoy 20% off your holiday card order of $150+ or 15% off your holiday card order of $100+
VistaPrint: Up to 60% off sitewide. Enter code BESTDEALS 
 Zazzle: Up to 60% off with code ZAZCYBERWEEK
Wedding Paper Divas: 30% off sitewide with code BLCKFRI25

Jewelry
Stella & Dot:  25% off sale items
Kendra Scott: 15% off + free ground shipping with code BFCM2014

Her Fashion-y
Athleta:  20% off. Use code FIT20.  Restrictions apply.
Bluefly: Women's Apparel Now Up To 80% Off
Nordstrom: Huge markdowns across all departments.
SheInside: ]Take an additional 10% off Black Friday prices with code BLACKFRIDAY
Express: 50% off online purchases
Free People: Save up to 50% off select items
BCBG: Spend $200 save $50, spend $300 save $100, spend $400 save $150
Urban Outfitters: Take an additional 25% all sale online all day 
Forever21: Deals from $4! Extra 30% Off Sale Items! Free shipping on All Orders!
Piperlime:  25% off. Use code THANKFUL25. Restrictions apply. 
Old Navy: Up to 50% off everything online. Restrictions apply. 
Kiyonna: Select dresses $40
Rent the Runway: 20% off orders of $75+
J.Crew:  30% off select full-price, 40% off sale with code HOLIDAY
Hourglass Angel:  20% off orders $79 or more + free shipping sitewide 
Saturday by Kate Spade: 30% off sitewide with code y DEALME
Asos: 30% off with code TGIBF
Banana Republic: 50% off 1 full priced item + 40% off your purchase. 50% off; use code BRFIFTY. 40% off; use code BRFORTY. Restrictions apply.

His Fashion-y
BlueFly: Men's apparel, accessories and shoes up to 80% off
Bonobos: Receive 25% off a purchase of $150 or 30% off a purchase of $250 with code BLACKFRIDAY

Foodie / Kitchen-y
WineoftheMonthClub.com: 15% off gift assortments. Choose from 2 Bottle, 6 Bottle or 12 Bottle wine assortments.
World Market: 50% on many products with code SAVEBIG10
Flirty Aprons: 50% off + free shipping with code BLACKFLIRTY50
Sur la Table: Savings sitewide
Artsy
AllPosters.com: Save 40% on all orders with coupon code VFF722 
Magic Murals: Take 10% off orders $57 to $200; 15% off orders $200 to $400; 20% off orders $400 and above
 Miscellany
Target: Sitewide sales
Craftsy: All classes $19.99 or less
Home Depot: Deals sitewide — BRIDES: Keep an eye out for deals on string lights!
Harry and David: Up to 50% off select items

Groupon: Deals on goods, services and more!
Fanatics.com: 25% off plus free shipping on orders over $50 with code TURKEY
ThinkGeek: Up to 60% off 100+ items and take up to 30% off sitewide with code ELFINSALE
Anthropologie: 25% off all items with code HOLIDAY  e
Fab.com: 30% off clearance
Poppin: 20% off $60+ and Free Shipping w/ code BFPOP2014. Excludes Furniture, Lighting, Wall Art, + Gift Cards
Amazon: Huge savings on pretty much everything
 With BAB taking the holiday off, save for an EPIC Ten for the Weekend full of Black Friday deals and other goodies — GUYS: Pay attention, because you will find out where to get rad deals on twinkle lights, OK? — it seemed like a good time to take a trip back. This classic Liz post takes on etiquette in regards to bridal shower guest lists and gives the super basic rundown of how to even begin to tackle this whole wedding planning thing.

Dear Liz,
My brother is getting married in May and his bride-to-be has asked for my help with planning the wedding. We will have to travel about four hours to where it is taking place. There will more than likely be 50 (or less) guests in attendance, which is what they want. She doesn't feel terrible about leaving a lot of people out on her special day especially since she knows a lot of them wouldn't want to make the trip. I was just wondering is it acceptable to invite uninvited guests to a huge bridal shower in her honor??
Signed,
Shower Struggle
Dear Struggle,
Yeah … no. You really can't invite people to the shower who haven't been invited to the wedding. Showers = gifts and money. So basically you're telling them that even though they weren't important enough to watch her get married, they can still travel X amount of hours to give her a blender. Plus, you'll be positioning your future sister-in-law – publicly — as "the woman that didn't invite them to her wedding." At some point, to someone, she will have to explain why, and probably have to do so over and over again.  Trust me, someone will mention it or ask for details. Awkward. Awkward, awkward.  If you are worried about a low turnout, invite the guys, too.
Dear Liz,
I just got engaged! Is there some type of simple check list, for starting to plan a wedding? Like…
1- Budget
2 – Guest list
3 – Dress??
I'm so overwhelmed by the whole process!
Signed,
In the Deep End
Dear Deep,
Welcome to Wedding World! First of all, bonus points for putting your dress third. That sort of practical thinking will get you far around here. Start with your guest list — his list, your list, and your parents' lists. And, yeah, if your budget is a consideration, figure that out while you're getting your guests together. You should reserve half of your budget for your ceremony and reception site, and your catering. A little perspective – a comparable wedding dinner at Olive Garden for 100 guests would be around $5,000. Those are also the first three things you need to pay for. Once you got that done, I give you permission to start shopping for your dress. You should probably book a photographer first, but there's no reason to be a saint. Have fun!
Who did you invite to your bridal shower? How long did you resist shopping for your dress? Just engaged, and got questions? Let me know below! And, you can find out more about me and my slice of Wedding World at silvercharmevents.com.
Got a question for Liz? Go to the Contact page and let us know what's up!
See you at the end of the aisle,

While I'm always going to be the biggest advocate of black white and gold glitter, I have a lot of love for bright colors. Cobalt blue has been one of my favorites for as long as I can remember — my mother used to collect cobalt glass — and I love the way it pops next to a bright, rich berry color. Add in some pink-tinged rose gold for a little accent and you've got a gorgeous color palette perfect for any time of year. All of these finds clock in at under $150, and some of them are even on deep sale right now.

Top Row, from left: BHLDN Multi-Colored Wheels,  $22.00 $12.00 || Dashington Flat Cobalt Blue Marbles from Amazon $9.95 for 250-300 marbles || LunaBazaar Tall Fuchsia Pink Capiz Candle Holder $12.80
Middle Row, from left: Lulu's Sweepstakes Winner Royal Blue Skater Dress $95 || BHLDN Rosalie Dress $200.00 $120.00 || Ann Taylor Jacquard Strapless Wedding Dress $795 || BHLDN Candence Gown $1,950.00, $1,200.00 || Express Pleated Keyhole Fit and Flare Dress $79.90 $39.95 || ModCloth Sapphire and Ice Dress $129.99 $90.99 || ModCloth Bright Where It Belongs Dress$79.99
Bottom Row: BaubleBar Starlight Ear Set $34 || BaubleBar Violet Flounce Collar $44 || ModCloth Never Too Elated Heel in Garnet $59.99 || Zappos Madden Girl KopyKat $49.50 || Angara Solitaire Bezel Round Blue Sapphire Promise Ring $599 $359
What are your wedding colors? Do you have any Get Inspired color requests?
When we first got engaged, my parents asked my fiancé and I what our "must haves" were for our wedding. His criteria included good food, great wine and an outdoor ceremony. But, knowing those were givens, my priorities were (in no particular order):
All of the twinkle lights
Gorgeous, ethereal photographs that left everyone in awe for years to come
With the knowledge that I could buy twinkle lights in all shapes and sizes for a few bucks a box when the holidays rolled around, I was confident that dream was within reach. But the other … I wasn't so sure. I heard time and time again how much of a blur your wedding day is, so I knew that photography is pretty essential to the whole thing. Plus, you know, the Wedding Industrial Complex handbook that requires you to be the Most Beautiful You Will Ever Look in Your Life on your wedding day, the only proof of which must be a soft-focus backlit portrait in a field.
I can definitely call BS on most WIC requirements, but I couldn't let go of this one. I decided that I wanted to allot a decent percentage of my budget to really great photography, but once I started researching packages, I decided right off the bat that I would try and negotiate any included engagement photos out of the price. They seemed superfluous; I felt that "e-sessions" are products of WIC, and thought of them like extended warranties that they try to sell you at Best Buy. As much as I vainly loved the idea of more softly-lit photos of myself in a field, I felt good about this solution for a number of practical reasons. First, I had found a way to get what I wanted within my budget. Second, my friends who hadn't done engagement photos had engagements that continued on normally and happily with no regrets. Third, I always make the same stupid face in photos, so the less time I needed to be front of the camera, the better. I also assumed that because I will be The Most Beautiful I Will Ever Look in My Life on my wedding day that I'd have no problem posing like a pro with my beloved.
When we finally found our awesome photographer, he strongly encouraged that we still do an engagement session, generously offering to work with us on price. He reasoned that it's important for us to get to know each other so the wedding day flows smoothly, and for us to get comfortable with the idea of cameras in our faces for a few hours. We agreed and I spent the next few weeks trying to figure out what outfits were both a perfect blend of casual and fancy, complemented my skin tone and were field-at-sunset-appropriate. (Pro tip: lighter colors against your face, offset by a darker jacket or bold accessory.) And I am now SO GLAD we listened to the photographer and scheduled that session, but not for the reason I expected.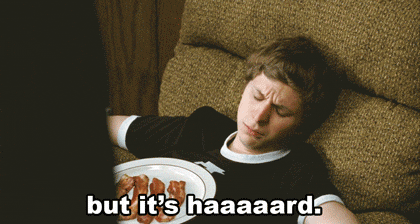 Even if you have to walk around a park for a few hours with your friend who takes really good Instagram photos, DO IT. Seriously. Turns out that even though I had done my makeup up just right, I was still waaaay out of my comfort zone. Get used to PDA, if you're not a PDA person. Chances are the poses you do with your friends on the weekend are not the same ones you want in your wedding photos, so this is a great time to practice! Find out what angles look good on camera, and the ways in which you really don't want your upper arm to be memorialized for all time. This is NOT the big day, these are NOT the photos everyone will ask to see, so use the session as a time to learn how to look natural, but on purpose.
And an added bonus? It's a great time to reconnect with your partner. Wedding planning is stressful, and there may have been times over the last few months that you've fought over some stupid detail. But going to a fun and/or beautiful location, looking into your partner's eyes as they pull you close, and collapsing into laughter at how ridiculous it feels to hold a half-kiss for over two minutes turns out to be a great way to remember why you're getting married.
A few days after the session we got a teaser shot back. My first instinct was to look straight at the hair I'd worked so hard to style – it was windblown and my curls were kinked, and for a minute I dreaded seeing the rest of the photos. But the longer I looked at it, the more I saw the real Most Beautiful thing. No one else was looking at my hair, they were looking at the love that radiated out of the shot. I want my wedding photos to capture feeling, softly back-lit, perfectly coiffed or not. In the end, not only were my engagement photos great practice for the Big Day, they helped me learn how to get over myself. I realize now that weddings aren't about celebrating how you look — they're about celebrating how you love.

Did you take engagement photos? Do you think they helped prepare you for your wedding day, in terms of feeling more relaxed in front of the camera or reconnecting with your person? Tell us in the comments!

We all have that person in our lives — I, personally, AM that person — who just puts their all into work. She works well past the 5 o'clock cutoff time, and is often busted answering work emails while ordering the next round for happy hour. She loves her job, and it's a good thing, because she spends so. much. freaking. time. doing it. As her super supportive homie, you ply her with booze in her downtime, listen to the latest office dramz and cheer her on when she gets rewarded for a job well done. And you know that fun, sweet office supplies can liven up even the most dreary day on the clock. And all these are under $50, so BOOM. Here's The Broke-Ass Bride's 2014 Gift Guide for the Workaholic in Your Life:
1. Sometimes, it's all about the write stuff: A fun pencil will help make the most mundane note-taking even better. Stationery of the Art Pencils from ModCloth, $8.99 for set of 8 || 2. Pretty notebooks have a way of making writing stuff down even more enticing. Metallic Gold + Silver Thin Notebooks from Poppin, $6 for set of 3|| 3. Nothing says fancy quite like a gorgeous Kate Spade pencil case. Kate Spade Gold Dot Pencil Pouch from Paper Source, $29.95 || 4. Help her keep her shizz organized and adorbz with this letter organizer. Dachsund, Sealed and Delivered Letter Organizer from ModCloth, $12.99 || 5.  Obv., a T-rex would be a great work companion — and is perfect for anthropomorphizing on those bad days. Memo-saurus Desk Organizer from ModCloth, $12.99 || 6. Help her send a subtle message with this iPad Mini sleeve (created by our homegirl, The Bloggess). "Be Nice or I Will Stab You" case from Zazzle, $49.95  || 7. A purrfectly cute paper clip holder is a great desk accessory. Meow You're Organized Paper Clip Holder from ModCloth, $14.99 || 8. A dry-erase notebook would solve many of this blogger's to-do list issues, and it's an eco-friendly way to make those lists. Oban NuBoard Dry Erase Notebook from Memoji, $30|| 9. Don't we all need a mini ninja to help us tackle work issues? Cubebot Ninjabot from Memoji, $15 || 10. Get it together, fancy-style! White + Gold Stapler from Poppin, $18|| 11. A request to do those financials might be music to her ears if she can use this musical number for her math stuff. Piano Calculator from Paper Source, $12.95
Hey everyone! I may be a Mrs. now, but that doesn't mean I can't look back and help guide y'all on your bride-to-be journeys. And one major component of any wedding is … the music!
When Jersey and I began looking for an Atlanta DJ, we were a bit befuddled at first: A) there are SO MANY; B) each one comes with a price tag that may or may not have you quivering in your garter. Because, whoa, the price tags can be steep. So what I'd like to do is break down what we did and the end result.
Bottom line: Our chosen DJ was the amazing Atlanta-based Lethal Rhythms. 
How did we find them? Brides and Grooms out there, do your research. Go to trusted wedding websites that offer reviews and rankings for your area. Read the testimonials and take them to heart. If you find one that has both a great ranking AND glowing reviews, chances are you've got a winner. We reached out to Lethal Rhythms and were nothing but pleased with their interactions with us and willingness to be flexible with our needs.
What do you do once you've picked them? MEET with them, in person if at all possible. You need to know that your DJ is a good fit, personality-wise and that they are willing to listen to your desires and stick with them! Our DJ hailed from Jersey, so hello! we knew it would be a great fit for our musical style – Fun-Pop-Dance-meets-Latin-hip-hop. Why be normal?  But we were also impressed that their CEO, Joel Rabe, attended the first meeting as well. It showed true investment in us and it went a long way to making us feel good about our choice.
Why are DJs so expensive? As we planned our wedding, it became very clear that DJs have their work cut out for them! Think about it. All the equipment: speakers, sound boards, lighting, cables, microphones. That's a lot. Not to mention talent – DJing is an art form and a DJ worth their weight will know exactly how to play to the crowd and keep the party rocking. Not only with the music, but the emcee duties! They must know how to guide the crowd every step of the way and make sure there are no awkward pauses or confusion about what's going on. Our DJ, Robb Batts, did an amazing job across the board in keeping the party flowing smoothly.  Lastly, if you want music in your ceremony and it's at the same location, the DJ has to do double-duty! Extra speakers, wireless mics for the officiant, logistics if the ceremony is in a different location than the reception and more songs to handle. I give them mad respect and it makes sense that DJs/music are often one of the biggest costs in a wedding.
Can you negotiate price? Hi. We wouldn't be Broke-Ass Brides if we didn't at least try! If Jersey and I learned anything while planning a wedding, it's that YES, everything is negotiable. Even if you don't score a big markdown, you may wind up getting extra bells and whistles added to the existing price for free. Or, another option is to ask for a percentage discount for paying in full, up front. The bottom line is that any great business person will know that the happier you are, the better for them. And these guys were no exception. We were able to get additional uplighting and a very respectable overall price, just by asking the questions. As a result, we were very, very happy with the outcome. It's a win-win!
How do you pick your songs? Sit down with your soon-to-be-spouse and make a list of must-haves and must-NOT-haves. Think about all the pieces of the day: pre-ceremony, ceremony, cocktail hour, dinner, reception, exit music … it's a lot, but just tackle it one at a time. We also included on our RSVP cards a line that said, "I'm most likely to dance if you play ________." That resulted in some hilarious entries (like "Baby Got Back"), but also songs we'd missed!  As for relaying your choices to the DJ? Most likely your DJ has their own database or listing of the songs they can provide. Lethal Rhythms has a HUGE database of songs to choose from and it provided about 98% of the songs we wanted. And for those we couldn't find in their database, all we had to do was upload them to Dropbox and share the folder with them. Easy-peasy.
So how did our big day go? Couldn't be happier. They arrived exactly on time and everything went off without a hitch! We received tons of compliments from our guests about the music execution. Everything flowed, the songs that we chose for the ceremony and reception were great and fit our style. And at the reception, if there were requests, DJ Robb accommodated them. Don't tell anyone, but I did The Wobble at my own wedding. Hey, if the crowd wants it, a bride's gotta do what a bride's gotta do!  Our DJ Robb and Lethal Rhythms knocked it out of the wedding park. If you're in the Atlanta area and are looking for a rockin' DJ, my highest recommendation goes to Lethal Rhythms.
Lethal Rhythms, Atlanta DJ
What tips would YOU offer in picking a DJ? Do tell.
Till next time,

Happy Friday, BABs! As we're rolling into Thanksgiving Week, the deals are getting really good. Dessy is offering a great discount off their entire site, ModCloth is skimming a bit off the top of their selection of new arrivals and Fanatics has a great sale on autographed memorabilia. Oh, and next week? The post-Turkey Day Ten for the Weekend won't be limited to just ten: I'm going to find all of the best deals to make your holiday shopping the most amazing ever. Cool?
1. Tiny Prints is having a killer 30% off sitewide sale until 11/23 when you use code 30SWSALE.
True story: This is my own personal stationery. And I get compliments on it like WHOA.
2. Get your favorite sports fan a great gift and save some money: Knock $30 off $100 purchases of autographed memorabilia + free shipping at Fanatics.com until 11/23 with code SIGNED.
3. SheInside is having a ridiculously huge sale until 11/25.
4. Need a low-maintenance gift for the boozehound in your life? Get a Wine of the Month Club  membership for 10% off. 
5. If holiday cards just don't cut it, head to Shutterfly and get 40% off anything on the site — personalized calendars, mugs or other gifts with code SHAREIT until 11/24 .
6. BRIDES: Dessy is taking 20% off everything on the site. Have you seen their gorgeous wedding dresses, all under $1000? Use code HOLIDAY until Dec. 1.
7. Your one-stop shop for all things fun and awesome, Fab.com, is taking an extra 20% off clearance.
If you feel so inclined to get your favorite BAB editor a holiday gift, this would totally do.
8. TBDress is having a whopping Thanksgiving presale with items on sale up to 85% off. and $5 off orders $69+ with code PreBF until 11/24.
9. If your closet needs a little sprucing up before the holiday party, get over to ModCloth where you can score 50% off brand new styles until 11/26.
10. Need a killer engagement party outfit? White House Black Market has a huge selection of hot little white dresses and they're taking 25% off your entire purchase until 11/30.
Happy Shopping, darlings!

As of next week, the holidays are officially here. And you know what goes great with the holidays? Bubbly! (#duh) I love, love, love bubbles. Gimme a mimosa bar or even just a cheap bottle of Andre and I'll be stoked. I live for it. So when my girl Davon over at the soon-to-be-launched TheBubbleista.com and I started chatting about holiday drink options, she jumped right in with an offer to share her top five budget-friendly bottles of sparkling wine and Champagne, which obv. makes the perfect pre-holiday Five for Friday. Or, if you're dead-set on a Champagne toast at your wedding, but you're working on a PBR budget, these bottles could be the answer to your issues. Because even broke-asses need a nice bottle of bubbly, amirite?
Just because a girl is watching her pennies doesn't mean she should have to deny herself the pleasures of sipping a little bubbly. The problem is, though, that it's hard to find a sparkler that's in the Broke-Ass Bride's budget range that also tastes good. So what's a girl to do?
Don't worry, The Bubbleista has got you covered. As a self-proclaimed Champagne and sparkling wine lover and aficionada, it is my duty to drink as much sparkling wine and Champagne as humanly possible, so that I can provide suggestions for you, the bubbly lover, to enjoy. I am so selfless.
But I digress! Without further ado, here are my picks for 5 great sparkling wines for $10 and under. Yep, you read that right. Ten. Dollars. And. Under. Read on!
This is my go-to for making bubbly cocktails like mimosa and kir royales. It a dry, lemony sparkler which makes it perfect for mixing.
2.) Chateau Ste. Michelle ($10):
An apple-y, citrus-y slightly sweet fizzer that works well with fried appetizers.
This sparkling wine has a wonderful, fruity aroma—think pears and apples and peaches.  This is a dry wine but it's a really easy-drinking one. A versatile option, you can serve this from appetizers right through dinner.
This is a Spanish sparkler made in the French champagne style, so this has great creaminess and bubbles. This one is great for sipping solo as well as pairing with a variety of foods.
Drink pink! This beautifully colored cava is full of cherry-berry aromas, strawberry flavors, and a touch of sweetness—perfect for lightly sweet dessert, fresh fruit, and even appetizers.
 There you have it! Even babes on a budget can bust open a bottle of bubbly. If any of these sparklers aren't available at your local liquor store, or you just don't have time to swing by, have no fear: all of these wines can be found at Wine.com. Cheers, and happy sipping!
There is one wedding-related recurring nightmare that I hear about over and over and over. Yes, more than the one where you look awful, despite hours of hair and make-up. Yes, more often than your groom/bride not showing up. Or the one the one where you can't show up because you've locked your keys in your car. Somewhere in Siberia, which is  even worse because you're afraid of bears … like the one staring at you over the hood of your locked car.  Okay, fine, that was just one bride.
Nope.
The most often recurring wedding nightmare I hear about is where none of your guests are having a good time. Over and over and over. They're going to hate the food, they're not going to dance, they're not going to talk, they're going to ignore the candy buffett/photo booth/chocolate fountain, and stand around and stare at each other, and at you, with deep regret and condemnation.  You wake up in a cold sweat (again) at 4:00 a.m. One thought goes through your head: It's going to be the worst wedding ever.  All the hard work, all your vision, for naught. YOU. WILL. FAIL.
Instead of anticipating the day, you're stuck future-tripping over, dreading all the horrible things that could occur.
This is 10 years of wedding planning experience talking to you right now: Things might go entirely according to plan, or just go wrong, this is true. But all of your guests having a bad time at your wedding? With the one or two exceptions that you can name — because you know how they are —  It's not going to happen.
(yes, it will, you're thinking at me)
No, it won't. Why? Because you have gathered your favorite people, some of whom you haven't seen for years, in one room. As much as you're looking forward to seeing them, they are looking forward to seeing you, and seeing each other. And that's what they are going to do.
(they won't like anything, you mumble in your head)
Not true, but your guests will follow your lead. If you're having fun, they're going to have fun. So, open the photo booth by dragging a couple of bridesmaids into it. Grab your brother and attack the candy buffet. Go up to the bar and order a signature cocktail. Be the first one on the dance floor. Tell everyone you talk to how glad you are that they came. You created this wonderful day, you're marrying the love of your life, while surrounded by everyone you both love. Look forward to it. And when you when you get there, enjoy it, all of it, and your guests will, too. I promise. Repeat this as often as you need to: "I'm going to have fun, so everyone else will have fun."
Seriously, who doesn't turn into a giddy 3-year old at the sight of a candy buffet?
So, what's your other recurring wedding nightmare? Let me know in the comments and I'll share mine with you from my wedding 500 years ago.
See you at the end of the aisle,