---
Posts in the 'Broke-Ass Brilliance' Category
Got a question for our wedding planning guru Heather? Go to the Contact page and let us know what's up!
Dear Liz,
I really like the idea of asking a friend to be a stage manager for the wedding, or possibly hiring a professional as a day-of coordinator. The venue where we're getting married has their person, who is the one managing both the catering and the venue logistics.  She said she wouldn't recommend bringing a planner in, since they tend to be grumpy,  and she's got it covered. Should I just trust that she'll do what we want?  We have a meeting well ahead of the rehearsal to discuss exact timing for the ceremony, for example, and her staff will even set up all the centerpieces and escort cards if we leave them there. Or, should I risk stepping on her toes and bring in someone who's just focused on us? Am I worrying too much, or should I just appreciate the level of service the venue is offering?
Signed, 
Day-of Dilemma
Dear Dilemma,
I've worked a few weddings where after a couple of meetings I kind of think, "Okay, well, why am I here?" And the answer is "insurance."  Having someone there who, as you say, is just there for you, and be your advocate in case the things you're really worried about (whatever those are) go wonky. You don't want to worry about anything, you want to enjoy the day, and you feel that having her there will make that happen. From your venue manager's perspective, however, that's great as long as they aren't going to question her at every turn or try and fix a system that's not broken.  This is probably what she meant by the word "grumpy"! So, be very clear with your friend – if you do decide to "hire" her – as to what her responsibilities should be. I'd focus on three things: Vendor management on the day of, bridal and wedding party wrangling, and break-down – what needs to get tossed, sent back to whatever company it came from, or carried away by friends and family. That's always a scramble at the end of the night, especially if you have a deadline to get out of the space. But, most of all, make sure she asks the venue coordinator how she can facilitate what is already being done. How can she help them help you?  That's the way that everyone wins.
Dear Liz,
How do you manage inviting groups of people like colleagues, sports groups, etc, when some are close friends but you don't really care about inviting some other members (and much less their partners who you've only met once and were incredibly rude)? How do you compromise between keeping an intimate atmosphere at your wedding and not ruining your life at work afterward?
Signed, 
Picking Teams
Dear Teams,
If you really, truly do not want someone at your wedding, do not invite them. It's your wedding, you don't have to make any excuses before or after, and you may be worried about expectations that they don't even have. "If I invite one member of the soccer team, I have to invite them all." No, you really don't. For the most part, people know where they stand with you. But, if you feel that in your particular circumstance, it's going to cause problems for you that you just don't want to deal with, then you have to change the way you look at it: You invited them because you "had" to, but you don't have to hang out with them all night. Like relatives you haven't seen since you were 12, you can stick them in the corner, go by and say Hi at some point, and enjoy the rest of your wedding. But seriously, if you are going to resent that they are there at all, and that's going to color how you feel about them on either side of your wedding day, DO NOT INVITE THEM. Now is the time to be honest with yourself.
Dear Liz,
My in-laws expect a very traditional wedding and with our current financial situation, we are in no place to pay for it. I've had to cut corners here and there to stay respectful, and also to keep up proper etiquette. Do you have any words of wisdom for dealing with pushy in-laws who refuse to offer any help or monetary contributions, just endless criticism?
Signed, 
A Pain in the MIL
Dear Pain,
Own your wedding: "I love what we have planned, this is the wedding that I want." "But you need to have a four-tiered wedding cake! "No, I want cupcakes instead, and I love the ones from this bakery. This is exactly what I want." And then, change the subject to something non-wedding related, or get away from them. You love your wedding, you love everything you have planned. "How could you like this?" "This is what I like." Smile while you're saying it. If they get belligerent, "I understand how you feel about it, but I don't want that, this is what we're doing, and I love it."  Do NOT apologize, do not let the words "I'm sorry" cross your lips.  It makes you sound guilty, and you have nothing to feel guilty about. Do not say, "Well, it's all we can afford," because that could put them on defense and then you'll never get rid of them ! Affirm what you're doing, that you're doing what you want, and then get the hell out of dodge.
How did you decide who to invite from your office? Are the parental units giving you a hard time about your wedding choices? Let us know (and feel free to vent your own wedding woes) in the comments below! And, if you'd like to find out a little more about me and my part of wedding world, go to www.silvercharmevents.com.
See you at the end of the aisle,
Hey there, BABs! This week we're helping Cassie get over a very pretty, very romantic gown inspired by the style of Audrey Hepburn. The designer is Naomi Neoh from London. She debuted she first bridal collection in 2008 and has been wowing us ever since.  She likes to use only the very best fabrics available. "Fleur" is actually one of the most popular designs from her collection, with its pale blush corset and removable French lace long sleeved jacket. Both jacket and sash can be removed to switch up the look. Here is what Cassie had to say:
"Hello,
I'm trying to find a look alike dress for the Naomi Neoh "Fleur" style. My budget is around 1500, and I'm IN LOVE with this dress, but they won't ship to the U.S. :(. Do you have any suggestions?
Thanks so much,
Cassie"
I got this, Cassie!
Naomi Neoh's "Fleur" from her 2014 Secret Garden Collection. Her gowns range from $3,382 – $5,073.
Ball Gown With Scalloped Illusion Neckline & Lace Sleeves (Style: 80723) at $306 at Simply Bridal.
Organza Ball Gown With Long Lace Sleeves (Style: 002015462) $317 at JJsHouse.com
Illusion Back Lace Wedding Dress (Style: W40403) $400 at Etsy (Flower belt not included)
A-Line Lace Wedding Gown With Removable Beading Sash $438 at Etsy
Illusion Beaded Bodice With Lace Appliques & 3/4 Illusion Sleeves (Style: AT4576) $586 at BestBridalPrices.com
(This dress comes with free shoes & a free veil!)
Fitted Lace Gown With Lace Sleeves $727 at Etsy
Lace & Silk Chiffon Wedding Gown $1,305 at Etsy
Ivory & Cream Silk Gown With See-Through Back $1,055 at Etsy
You'll have to let me know what you think, Cassie. If you can't find the right dress for you there are also cover ups like this one at BHLDN. It actually resembles Fleur very closely. There area also a TON of flower sash/belts available, too, in whatever color & style you could ever want. Check out Etsy for literally thousands of options. I hope this helps. It really is a VERY beautiful gown. Let us know if we can help with anything else! Until next week, BABs …
Got a gown that you just can't get off your mind? We're happy to help you get over it! Just tell us in the comments below! Please remember to include the budget you're working with so we can find you the best alternative for you.
*As always, please do your own research before buying a gown online. Team Broke-Ass is here to provide you with inspiration and resources, but it is up to the consumer to know what they're purchasing.
Music has been a mainstay in our relationship. Our first hangout was to see Justin's friend's band, and our first real date a local radio station's Christmas Festival (and featured Florence and the Machines and my life has never been the same). And on those nights when we weren't supposed to be seeing each other but we couldn't resist, we would sit around listening to music as I endlessly shamed him for his collection of late '90s hits (#soundgardenforlife).
Needless to say, the first thing I did when we became "official" was hop on Spotify and make him a playlist to change his life. And bring him up-to-date by about 20 years. Now that he enjoys music from this century, we enjoy a lot of it together. And I will be the first to admit that I am a total music snob. Not hipster, per say. Maybe a little. But DEFINITELY a snob. Let's just say I occasionally peruse Pitchfork for new music selections and I also believe that Ariana Grande was put on this planet to harm our ears. But I am also known to get down with some 2 Chainz. So there you have it.
When it came to our wedding music, I insisted on creating a playlist for pre-ceremony and cocktail/dinner time. I am certain that I will not hear it and will not be paying attention, but it was vital that I controlled those song choices. Because I am a grown-up and rational adult woman. I also publicly shamed my sister on Instagram because of her poor and awfully dated suggestions for the bridal party entrance song.
"That song" referenced with my father happens to be by John Tesh …
We met our DJ earlier this week (he came with the venue) and he was an absolute delight. We bonded over two of my favorite things: Bar Rescue and The Wobble. He was completely accepting of my controlling playlists and did not even flinch at my "NO SONGS BY THIS ARTIST AT ALL EVER" that was listed by several artists including but not limited to Colbie Calliat and Taylor Swift. He gets me. I approve. We have all of our song selections down except for a cake-cutting song, which what the heck. I don't think that Rihanna's "Cake" will work here, but I'm still throwing it in the pot of suggestions.
A few months ago I clicked on one of those clicky-bait "Top 10 wedding songs of 2014″ and our first dance choice was on there, I mourned. I actually mourned the loss of the uniqueness of that song for a good 32 minutes. We have since chosen another song that I refuse to mention because god forbid someone else steal it and then I will have to choose another one. THE STRUGGLE, YOU GUYS. I am sure it will be used in many a wedding this year and in the years to come and that is fine as long as I don't have to hear about it.
In honor of our secret first dance selection, I bring to you our first dance rejects. I realize how that sounds, but really these are some truly lovely songs. They just weren't "our" songs.
Upcycling and being a Broke-Ass go hand-in-hand. Add some hot color, fun designs, eco-friendliness and an Etsy seller? Looks like we've got a BAB match made in heaven with Topaz and Opal.
Kim, the mastermind behind Topaz and Opal, has a history of teaching, but a passion for making these super fun, bright baubles. Her decoupage skillz give bright new life to regular items (check out the jewelry trays) and add a fun pop to your bauble routine. Of her shop, Kim says this:
If Topaz and Opal is anything it's a lesson [many lessons] in how to use, reuse, re-imagine, and create new things using old or new, but not so spectacular things, and turning them into jewelry, art, and accessories.
Doesn't that sound like a page right out of the BAB Manual? I thought so, too. And those bangles would be a super fun, bright gift for your amazing bridesmaids, no? I'm glad we're on the same page.
And because it's Wednesday, lucky you! Kim is doling out one $150 gift certificate (including the price of shipping + handling) to Topaz and Opal.
As per usual, each option below is one entry method. The more tasks you complete, the more entries you get.
Here's the thing with a lot of wedding dresses: They have labels and big ol' salons touting sweet 'n' simple dresses as wedding specific dresses … and that doesn't have to be the way. A wedding dress is any dress / pant suit / short & cardigan set / whatever you want it to be, as long as you're happy, comfortable and feel amazing in it. Because you do want to feel amazing — it's the day you marry the person you love and throw down some mad skrilla to have your friends and family there to witness. Damn right you're going to look and feel amazing! So when I was browsing through BAB partner Lulu's site and saw some rockin' dresses, most of which are under $100, and two barely breaching that, you best believe I'mma share it with y'all.
Stay Golden Strapless Light Beige Sequin Maxi Dress – $90.00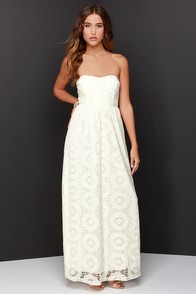 No Less Than Flawless Strapless Cream Lace Maxi Dress – $43.00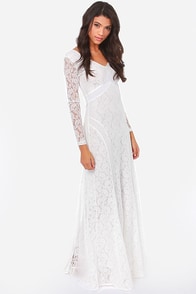 A Moment Like Bliss White Lace Dress- $75.00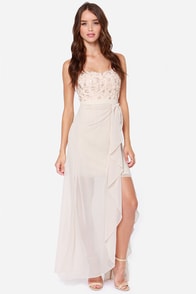 Whole Wide Whirl Beige Sequin Dress – $87.00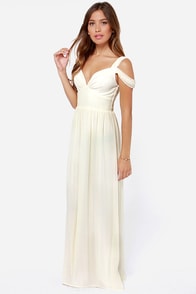 LULUS Exclusive Dreamed to Life Cream Maxi Dress – $81.00

Make My Daydream Cream Lace Maxi Dress – $105.00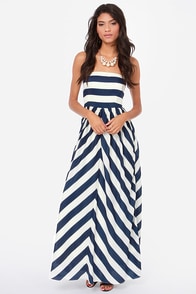 Dreamboat Come True Ivory and Navy Blue Striped Maxi Dress – $54.00
If someone gets married in this, please share it. Because: OMG.
Snowy Meadow Crocheted Ivory Maxi Dress – $107.00
Which one of these gorgeous numbers would you wear on your wedding day?
As an often-times (admittedly) snarky person, I'm not immune to flippantly "predicting" the outcome of others' affairs. I know it's not a good thing and it can breed negativity, but I also mind the company I keep when doing so, and I know with all certainty I'm not alone in my passive judgements. But what's more telling than an outsider's view on a couple's status is how the couple themselves talk about their pairing. In a similar vein to The Masters of Love post from a few weeks back, Our Love Affair with Predicting Divorce – published on The New York Times website — considers our interactions with one another over time as an indicator for how relationships fare.
Photo by Angie Chung via Flickr Creative Commons. Modified with PicMonkey.
One of the great love stories of our era is not a celebrity coupling or an on-screen romance but a series of psychological experiments. These experiments aim to predict which couples will divorce, based on how they act while married. And while some have questioned their findings, the idea that marital discord is predictable (and, perhaps, preventable) retains its hold on our hearts.
This week, Melissa Dahl and Abraham Riesman of The Science of Us riff on a 1992 study that looked at the way couples talked about their lives together — and that's now, as they note, "something of a social psychology classic." They write:
"The couples who told their stories in a more withdrawn, negative manner were more likely to have split three years later, while couples who told their stories in a more expressive, open way tended to stick it out. All couples face hard times, it's true, but the couples who were more likely to stay together spoke about those tough moments with more fondness and nostalgia than the couples who eventually parted ways."
By analyzing how the couples talked, the study authors — Kim T. Buehlman, John M. Gottman and Lynn F. Katz — were able to create a model that predicted with close to 94 percent accuracy which of them would be divorced within three years. They wrote, "We can suggest at this juncture that not only can we predict divorce and the process of marital dissolution with high accuracy but we may also understand what drives the process."
To continue reading Our Love Affair with Predicting Divorce, head over to The New York Times website.
Hey, BABs! It's been a minute since we've had a good dose of inspiration around here. And these summer nights sitting under twinkly lights at the local watering hole, kicking back with my favorite people and basking in the love and friendship around me had me majorly inspired to dream up a pretty backyard wedding inspiration board. A beautiful, light gown paired with muted and understated earrings and a simple headband. Eclectic table accents include a sparkly runner and a lacy blue runner to highlight the varied tableware patterns and colorful glassware. A proper amount of gold and color to delight and luxuriate.
Broke-Ass Hacks:
Varied and gorgeous serveware and dishes can often be found for uber cheap at thrift or secondhand stores, and you can re-donate when you're done. The table runners and paper lanterns easily translate into gorgeous home decor items … or you can pass them on to a bride you know who would enjoy them for her wedding.
Chinese Lanterns, Luna Bazaar | "Aurelia" Hoop Earrings, Ruche | "Marvelous Maven" Heel in Mint, ModCloth | "Inside Out" Bowl, Anthropologie | Sequin Table Runner in Gold, Koyal Wholesale | "A Lace for Everyone" Table Runner, ModCloth | "Mira" Gown, BHLDN | Brass Flora Indie Headband, Ruche
What do you think of a pretty, intimate wedding under the stars with your nearest and dearest?
I wrote this little ditty two years ago, but it's just as valid now as it was then (though my life has changed considerably). Weddings are expensive for everyone involved, and I feel like I've been hearing some extra griping across the Internetz about the inconvenience from a guest POV. So, let's sit back and get our week going with these tips on how to do wedding guesting, Broke-Ass style.
Not everyone can be a baller like Metro kitty.
We all know being a Broke-Ass Bride is about being wise with your green and making sure it's spent in the right places and with the right people. But what about when you're a guest at a broke-ass (or not) wedding and you're still a broke-ass? Unlike when planning your own wedding, being a guest isn't necessarily at the constant forefront of your mind, occupying all of your money- and sanity-related thoughts. Your life is no longer engulfed by the "OHEMGEEZ how are we going to afford to feed/inebriate/entertain everyone we know and love AND get my hurr did AND pay for alterations AND make sure our friends know how much we appreciate them with gifts AND … AND … AND … " Well, you know.
But being a broke-ass wedding guest can still have its panic-inducing, curl-up-in-a-ball kind of moments. I'm attending a wedding June 16 in Louisville, Ky. It is one of two I was invited to this summer, and the other I had to respectfully turn down because, well wouldn't ya know it, it was on the exact same day. It was really difficult for me to say no because the bride was one of the first roommates Husbandface and I had together when we began cohabitating. But the one I eagerly said ABSO-FREAKIN'-LUTELY to is one of my nearest and dearests. In fact, she was in our wedding and her mama has been like my own for many many moons.
But! Louisville is pretty far from my little neck of the woods. And since off-season hit Husbandface and I like a fastball right to the schnozz (sorry, it's also baseball season), things got pretty tight around here in a hurry. With him getting laid off until his new job starts in June and me working full-time, but for a newspaper — which, as an industry, tend to be notorious for mediocre wages — I knew I had to be uber wise about how I spent my cash, money, yo. But there was no way in a blazing inferno I would let my lack of flow hinder my only vacation this year and my chance to hang with my girls.
In December, I thought things would be peachy-keen. I bought a baller new dress (on sale, from ModCloth) and began browsing some swank digs to lay my head for the week. Then April hit and KABLOOEY! I still have the dress, but can no longer pony up for the luxe life.
As luck would have it, I'm traveling with the bride's mama. And she is super spending-savvy. First we camped out on Kayak.com, Orbitz.com, Priceline.com … you name it, to find the absolute cheapest airfare. Things were looking to bottom out around $500. Then, as if with a stroke of luck, the bride herself came through with the best news of all: She had vouchers from her and her fiance's chaos-riddled journey to get to my own wedding. So, with the vouchers and a 5-hour drive to get to the nearest big airport, the round-trip tickets for both of us only cost $120. WHEW.
Next up was the hotel issue. Obviously, we wanted to stay at the hotel closest to the venue, which is the one where the block had been booked *YOU GUYS. If you don't already know this, pay attention: Blocks often times cost money for the couple. But, if they can fill the block, they are not only saving you money (in some cases, like when we got married, HALF OFF), but sometimes they'll even get a room for a night out of it. So really, it behooves ALL THE PEOPLE to take advantage of the couple's legwork in setting these up.* However, it was a bit pricey to hole up there for the total of 10 days we were going to be there. So, we scoured the area for good deals. But Louisville is BIG. And we weren't renting a car, thus we'd be relying on the bus system. And *Ta Da*!!! The bride's Maid of Humor/Sisterface stepped in and offered up her crib AND her know-how of the city's public transport.  So, Sisterface and I are bunking down at the aforementioned hotel for two nights surrounding the wedding, and I get to play roommate with two of my fave ladies in the world for the rest of the week.
Now, I only have to scrimp and save for food, booze and other accouterments (have I mentioned it's baseball season? Because I'm TOTES checking out the Louisville Slugger factory).
Now, I know that not everyone will luck out quite in the way I did, but between my destination wedding and attending this wedding (the first one ever I've had to travel for without my parents), I think I've racked up some tips for you:
- Camp out on travel sites. Sign up for fare-alert emails, check back daily (if not twice!) and check out surrounding airports. The town I live in is generally at least an extra $200 to fly in/out of. One an hour and a half away knocks anywhere from $50 to $150 off that price. The one we're flying out of? It's a fairly big airport, so it's super cheap to fly into another major airport. The drive makes the savings worth it.
- Take advantage of hotel blocks. Even if it's just for a night or two around the wedding. After a fantastic event, it's so nice to go somewhere close, maybe a little more upscale than what you would normally book, and bask in the glow of what you just experienced. Chances are you're getting a killer deal, won't have to deal with too much in the way of transportation to and from and will most likely run into fellow revelers for nightcaps or morning coffee. You're also helping the newlyweds out.
- Take a chance and bunk up with a fellow single traveler. You could split the cost of the room and any taxis/shuttles you take during the week. And you could make a lifelong new friend. Also, by offering this, you could be alleviating any possible whining to the bride/groom/family that may be taking place. And everyone knows a happy couple means a rockin' event.
What are some ways you've found to make travel, especially traveling for weddings, a little less painful on the purse?
In speaking with a fellow bride this week (on Twitter message at close to midnight, natch), she stated, "I know you're like Zen Master Bride, but if you need someone to hear you say unproportionally angry things, I'm here."
Wait, what? Me? Zen Master Bride?
BWHAHAHA.
How sweet of her! But that simple message led me to ponder over why I'd be perceived as such, when it sure as hell feels like nothing I'm doing or feeling as a Bride is "Zen".  Here's my short and sweet advice.
1. Don't freak out.
I know. Seems impossible. But remaining calm and keeping a tight reign on my notorious temper has been key for me. I do whatever possible to alleviate stress in my off time, be it relaxing, reading or running and yoga. Because if the Bride ain't happy, nobody happy. As for emotionally, I try really, REALLY hard to not take questions or comments or jabs personally. It is so difficult to do, especially for a people-pleaser like me. But realizing that these thoughts are (mostly) coming from a place of love has been invaluable. Yes, there will be drama and disappointment and stress. Just trust me when I say that rolling with the punches is far easier than exhausting yourself with a meltdown or engaging in a bloodbath.
2.  Remember your Wedding Vision.
Stick with your vision, no matter what. Now, if your vision is to have a 3-day mandatory camping excursion with 150 people in tents out in the great beyond (no kidding, this has happened in real life), you may want to rethink your ideas. Your guests will thank you for not being required to hover-pee over poison oak in the forest. But in my case, even pre-engagement, my fiance and I dreamed of a simple, intimate garden wedding in front of our nearest and dearest followed by a rockin' meal and music. 10 months later? That's still the forefront of our wedding in October. And by NOT getting distracted by the pressure, the Pinterest temptations or the glitz and glam of the industry, we were able to stay focused throughout all the planning on *our* vision. Is it easy? Hardly. But it's worth it.
3. Pick your battles.
This, my friends. THIS. In the epic world of planning a wedding, there will be many battles. It is your choice entirely as to which ones you meet head-on.  If someone wants to mess with your dreamy garden wedding vision and insists that you have a destination wedding in Cabo or a cathedral church wedding, well, you have my permission to squash those ideas with a quickness. (Nicely, of course.) But when it comes to the smaller nuances, use your logical and deductive skills to decide whether or not to kick up a fuss or to roll with the curveball. Everyone is different and every wedding is different, but in the end, relinquishing *some* of your bridal control can actually be a good thing.
*And pro tip from me? If someone is insisting on adding something that will either 1. impact your budget or 2. cause you added stress and lost time or 3. both, you have every right to state that you'd be happy to think about it but that you cannot incur the costs of their idea and they will need to help with the execution.  The majority of the time, their tune will change most quickly. If not, and they are willing to pitch in AND you actually do like their idea, then let them run like the wind with it. Then you can keep doing you.
4. Let it out.
Please, please, please remember that you are human. Feelings of frustration, anger, sadness, stress are normal. If you keep it all inside, you'll not only be miserable … you'll also be dangerous to anyone within a 10-mile radius. This is when having trusted friends who know you, love you and can bear your pain are priceless. In private with them, let it out. ("In private" is critical. Do NOT go apeshit on your Aunt Milda.) Your friends should act as your Vault. With them, wail, scream, cry, whatever you have to do. Follow it up with a glass (or 2) of wine and a good night's sleep and you'll feel far better the next day.
So am I totally Zen? Hardly. But these lil' nuggets of wisdom have helped keep me relatively on an even keel. And I hope they can help you remain as Zen as any betrothed person can be.
'Til next time,