---
Posts in the 'Broke-Ass Brilliance' Category
Ahhh, Friday afternoons. I've looked forward to seeing what's on sale at the end of the week, a) so I can share 'em with you and b) so I can drop some major hints for my upcoming birthday. And guys, this weekend? It's some srsly great shit. From shoes to stationery to awesome grilling tools to one of our absolute faves, this Ten for the Weekend pretty much has it all. Get to it!
1. There are few things I love more than retiring a pair of beat-up Chucks only to replace 'em with a shiny new pair that're ripe for the scuffing. 6pm.com is kicking up to 60% off Converse until 9/14.
2. The cooler weather has arrived (at least momentarily … ) and that's prime soup and stew season! Right in the nick of time, Sur la Table is having a sale on its 7 qt. red round oven — $64.96 (normally $115) until 9/15. Get yo cook on!
3. PaperSource, the definitive, well … source of pretty paper is knocking 20% off personalized stationery. Take 20% Off Personalized Stationary For a Limited Time at PaperSource.com!
4. If you're in the market for anything customized / personalized and just straight you, then you should probz head over to Zazzle where you'll get 15% off all orders when you use code BOUNDLESSFUN.
5. It's football season, which is pretty much synonymous with burgers and steaks and wings. And there's a tool for that! Quirky is knocking 25% off its Tailgating collection through 9/16.
I love multitools, and this one's for grilling. It's like, all of the winning!
6. Yo, braves ones! Thinking of doing your own wedding cake? Craftsy can help, and the icing on the cake (haaaaa!) is the 50% off sale on Food and Decorating classes they're having until 9/14.
7. The change in seasons can wreak havoc on your skin. Do damage control and go ahead and knock 15% off plus score free shipping on orders of $50 or more at PaulasChoice.com until 10/7.
8. Need some new wardrobe essentials? Head over to boohoo where you can get 20% off with code GET20 until 9/14.
9. Lucky you, fall brides! Those last-minute wedding goods — think clutches, flip-flops, even a couple ties! — are on sale over at Dessy where they're having a killer blowout sale with stuff as low as $5.
10. And finally, the piece de resistance: Kate Spade 20 % off fall styles with code FALLWD14.
This bag needs to be in my life like, yesterday.
Happy shopping, darlings!
One of my favorite parts of the morning of the wedding is having a great get-together over food, bubbles and beauty with friends. When my girl T got married, I jumped at the chance to stick my grubby little paws in the details of the morning-of bridal brunch. Of course, not all brides are into this event, but if you want a good way to ensure you have fun prior to having more fun, get to spend some time with your gals (and/or guys), get some food in you (VERY IMPORTANT) and start the celebratory feel a little early, then I highly recommend scheduling it in before you get ready for the main event. Here are five fun extras to kick off the festive vibe:

Gilt Gold Paper Straws – 25 Pack – $3.95
Guys, drinking out of straws is just fun, mmay?
Voga Italia mini sparkling wines
I'm totally in love with the sleek packaging on these bottles. They'd be great to use for guest bathroom toiletries … you know, after all the bubbly is gone!
Vined Advice Coasters – set of 20 for $12
 Have your crew write their advice on these coasters, then take some time to yourself before getting ready to read through them. The endearing sentiments will make their presence by your side that much more meaningful.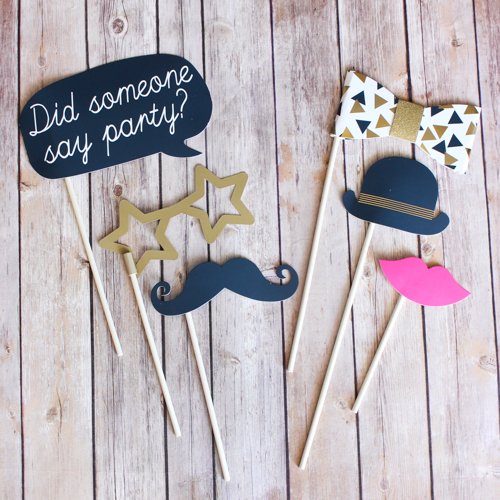 Pop! Photo Props – $14.95
Because, selfies. #duh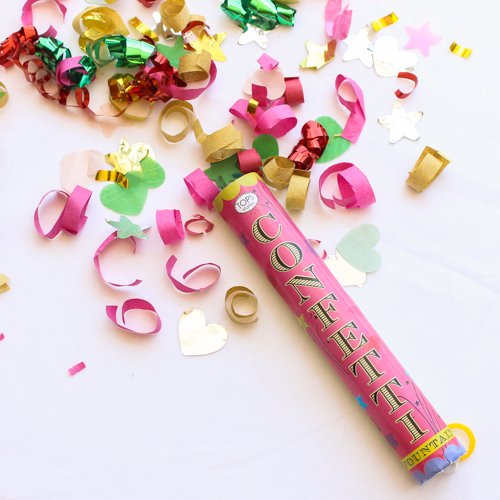 Confetti Fountain – set of 3, $41.85
I know I don't need to tell you that confetti makes everything better. Brunch is no exception.
Are you planning anything fun and special for your crew on the morning of your wedding? Tell us in the comments below!
Image courtesy of Photo Pink
Dear Heather,
I have no idea where to start for my bridesmaids' dress shopping. Help!
Apanda
Dear Apanda,
I have a confession to make: I hate shopping for clothing. Therefore, I am probably not the best person to be answering this. Hopefully, though, some of our readers will chime in and leave some comments!
I'm not sure if you're struggling with something like choosing a color or style, or where to actually purchase a dress. If you're having trouble with the former issues, I'd suggest starting with your bridesmaids' skin tones and figuring out what will or will not be flattering. For instance, in general, it takes a special someone to pull off yellow. So, if your wedding colors are yellow and grey, I'd go for grey for the dresses. If you're deliberating over what style, check out some actual weddings and see if you are drawn to any looks. For more casual affairs, I'd avoid full-length gowns. And if any of your bridesmaids have concerns about certain styles (some folks really don't like strapless dresses), take that into consideration.
When it comes to shopping for dresses, there are several options. The first option, and the one I chose, is to simply say something to the effect of, "Buy a [color] dress that's [this material] and [this length]." You can even leave out some of those descriptors. If you're a bit more particular, feel free to send fabric swatches, or ask that your bridesmaids send you a picture of them in the dress before purchasing it (or make sure the return policy is reasonable). To see what this could potentially end up looking like, just check out the picture at the top of the post. Those are my bridesmaids (and bridesman, who was told "Get a grey suit. We'll provide your tie.") The only instructions they received were to purchase a knee-length cool-toned (blue rather than red undertones) purple dress. Bam.
The second option is to simply choose a store and go for it! This can be a David's Bridal, Alfred Angelo, Macy's, Ann Taylor, Gap, Old Navy, or anywhere you shop on a regular basis. If you already shop there, odds are you like what they offer. There's no reason why a bridesmaid dress has to be purchased at an official bridesmaid dress retailer (whatever that means). If not all of your bridesmaids are local to you, obviously make sure there's a store available near them, or that the store you choose has an online presence and a good return policy.
Which leads me into my last option – online. There are some retailers who offer bridesmaid dresses online but not in stores. Target is one such store. J. Crew is another. I'm positive there are more out there, but those are the ones that spring immediately to mind. If you have a favorite store, it's probably worth looking into whether they fit this bill. I'm also a fan of Dessy and ModCloth for dress needs. You could also simply search for "[color] [length] bridesmaid dress" and see what pops up. (Also, check out BAB's Resources page and look through the banners on our sidebar for more places to find great bridesmaids dresses. – Eds.)
Readers, how about you? What did your bridesmaid selection process look like? Where did you end up getting your dresses? Let us know in the comments below!
Hey BABs! This week we're helping a lovely lady get over "Tease" by Jenny Packham. She is one of my absolute FAVORITE designers. Not only does she make some of the most stunning wedding gowns you'll ever see, she also designs amazing ready-to-wear clothing. You'll see all of Hollywood royalty from Angelina Jolie to Kate Winslet wearing her gowns and even Princess Kate who is, ya know, ACTUAL royalty. Jenny Packham is British herself and has been making these stunning creations since 1988. I become more and more obsessed with all things British each day so it's no surprise I adore her. So, the gal we're helping has her eye on two Jenny gowns but I'm going to save the other one for next week so you'll have to wait … but I promise it'll be worth it! Here is what she had to say:
"Could you help me get over these two Jenny Packham dresses? Budget 2000 or less, but prefer to be 1500 or less. They are both unique and I haven't seen anything else like them. Your help would be amazing!"
Well, lady, there is a reason you haven't seen anything else quite like them … because WOW. The neckline makes it truly unique. I am in love with all the vintage flair it has. Probably why Dita Von Teese (fashion ICON) herself rocked this gown. 
Jenny Packham's "Tease" $6,400
A-Line Chiffon Gown With Beaded Bateau Neckline (Style: 80356) $306 at Simply Bridal
Chiffon Gown With Sparkling Crystal Beading (Style: 6773) $650 at BestBridalPrices.com
Dress With Swarovski Crystal Beading Draped Neckline (Style: 4MS840) $1189 at BestBridalPrices.com
Romantic Sheath Dress With Swarovski Crystals (Style: 4SW044) $1,198 at BestBridalPrices.com
Dress With Beaded, Embroidered, Sheer Neckline (Style: 11219) $1,348 at BestBridalPrices.com
Satin Wedding Gown With Beading At Illusion Neckline (Style: 10182) $1,490 at BestBridalPrices.com
Silk Gown From Ranna Gill (Style: 33060351) $1,800 at BHLDN
The back of this gown is insanely gorgeous and this dress, also by Ranna Gill, is very similar and on sale!
I hope I was able to give you some ideas. I will help you get over Jenny Packham dress #2 next week so STAY TUNED. Until then, BABs!
Got a gown that you just can't get off your mind? We're happy to help you get over it! Just tell us in the comments below! Please remember to include the budget you're working with so we can find you the best alternative for you.
*As always, please do your own research before buying a gown online. Team Broke-Ass is here to provide you with inspiration and resources, but it is up to the consumer to know what they're purchasing.
There comes a time in a woman's relationship when others begin to question her desire to reproduce. For some, this comes with the ring. For others, much before that. I don't remember when my questioning began. All I know is that is pisses me right off.
In my 20s I was in the "supposed to" relationship. The one that I was supposed to be in after graduating college. The one where I moved in with him (and his mom — don't even get me started on that poor decision) because I was supposed to. And I pressured him to propose to me because he was supposed to. The entire time not realizing how incompatible we were and how unhappy I was. Because I was doing all of these things as society dictated. Back then, I answered "yes" to the children question because … why wouldn't I? I never considered the alternative. I didn't realize I had such a choice.
For some women, having children is their dream and priority and that is fine. For them. When I get asked if we are going to have children, I usually respond quickly and firmly or just giggle it off like I don't know any better. LOLZ yes we are just having cats! Which would also be an acceptable choice. My real answers would offend people, which to me is offensive in return.
No, we are not going to have children. Not right away at least. We may change our minds, we may not. Either way, why does that have to be the natural progression? We would rather take these years to enjoy each other, and the relationship we have worked so hard to build. We want to work on ourselves and our careers and building a comfortable life. Because if you don't take the time to build a strong foundation, why would you keep building up? And then maaaaybe possibly we will one day consider bringing another human into our world. MAYBE POSSIBLY. In the words of one of my dearest friends, "CAN I LIVE?!?"
So rather than asking your newly engaged friend or newlywed couple about their reproductive goals, a better question might be, "What's next?" I bet they might have a better answer for you anyways.
We know that invitations are one of the first elements of your wedding that convey the look and feel guests can expect on the big day. We also know that wedding invitations can be super pricey. And holy bananas, are there options! Foil, letterpress, embossed, pocket, flat, square, shapes, laser cut … where do you even begin to begin?
Well, you can start with Elegant Wedding Invites, which strives to provide both classic and contemporary designs at totally BAB-friendly prices, and throws in things like RSVP cards, envelopes, free shipping over $40 and easy customization. Borne from the concept of injecting humor into wedding stationery, Elegant Wedding Invites has grown to recognize the need for classic style at affordable prices.
But just because you're on a budget doesn't mean you can't get the gorgeous details that are filling up your Pinterest — Elegant Wedding Invites has stationery featuring lace, burlap, chevron … and yes, ones with a confetti-like motif. So, you know, they covered the bases. And it doesn't stop with stationery — Elegant Wedding Invites also has favors and toppers to make sure you're fully good to go on your wedding day.
And of course, since it's Winning Wednesday, they're going to shower you with some extra love: One lucky BAB will score $200 in credit to spend at Elegant Wedding Invites on anything from your full invitation suite to those little wedding extras.
As usual, each task earns you an entry. The more tasks you complete, the more entries you get, the better your chances of winning. Ya dig?
This is for all the best homies out there (and could easily apply to you maids of awesome or anyone else in a posish of honor / being handed the mic at a wedding). Because giving speeches isn't always easy, especially if you're not really sure how to do the whole "Knock 'em dead because that's what the Best Man does" deal. But remember: Be yourself, because yourself is who the bride / groom chose for this awesome job on their wedding day, so your speech should echo that. Hope this helps!
What about you, BABs? Do you have a foolproof way to prepare and get through a speech? Tell us in the comments below!
Summer may be coming to an end, but that doesn't stop the wedding fun! I know some of you may have gotten engaged this summer, and if you're at least 6 months away from your wedding day and have a way with words, then we want you to come play with Team Broke-Ass and blog about your planning process!
So if you dig the wedding blogging world and want to dive on in, c'mon! The water's great! We're looking for a few good newbies to join the fun and be a Real Bride contributor for The Broke-Ass Bride! Blog about your family dramz, dress twirlz, DIYz and all the other fun stuff, and share it with our schamazing readers. Share how you're making your broke-ass budget work so that you can rock a badass wedding!
The right candidate will:
Know your way around WordPress
Be able to commit to a pretty regular posting schedule (but we can work with you on this!)
Have some writing experience — or are such a word nerd that you just know
Know the deadline … respect the deadline
Share your shizz with sass, smarts and sweetness
Know that e-hugs and e-high fives are the best kind of payment, since this is an unpaying gig. However, there is a possibility to earn some skrilla down the road, and we're always happy to dole out love, ridiculously good recommendations and even the occasional freebie (plus, you get an endless amount of resources right at your fingertips)
Please send a writing sample and a letter of intro (please include information about your wedding — specifically budget and wedding date) to
info@brokeassbride.com

! We'll be accepting applications until Oct. 1!

Before I get into our final preparation/countdown phase and begin to lose the rest of my mind, I have a funny little story to tell y'all.

LONG STORY SHORT: Two of my bridesmaids are knocked up! One was planning to do so and the other temporarily forgot what causes pregnancy and well, SURPRISE! So I will be twice aunted again and I am thrilled, thrilled, thrilled beyond thrilled. They will both have mini-barely noticeable baby bumps which I think is awesome because that means those spawns will also be in our wedding photos with the rest of their grown spawns!
My sister, of the surprise pregnancy kind, waited far too long to tell me because she thought I would be mad at her. I said, "as long as you aren't actually giving birth at my wedding I will not be mad." And because she waited so long to tell me, she went ahead and ordered a replacement bridesmaid dress for herself from … wait for it … China. Which means that the measurements were way off and it would cost her $90 to ship it back and if she would have notified me of this plan of hers I would have given her a stern warning about ordering things from overseas. Although the dress is absolutely gorgeous, it will take some alterations to fit my developing new nephew (I'm guessing) in it.
My cousin, of the planned pregnancy kind, was waiting to purchase a dress until the absolute last minute. Luckily for both of us, ASOS has amazing and well-priced maternity dress options. Done and DONE.
So while I will be down two drinking partners for the upcoming bachelorette, I am up two designated drivers and two delightful little ones in our family. And also the attention will be off my uterus for at least a year or so. Which I am most especially grateful for!