7/26
Cassie wants some jewelry that makes a statement. She's found the piece she loves but she hates the price.  Here's what Cassie's got to say:
I have a LOVE IT but can't afford it situation. I love the "Break-of- Day" necklace from BHLDN.  I love the twisted, off-white pearls… Plus the enamel brooch accent. It's not too much, but just enough. Unfortunately, it's $675!!!! That's almost as much as my dress cost. Insane in the membrane.  I haven't found a worthy substitute. Help!?
Why Certainly, Cassie! We'll help you out. I'm going to jump right in and give you the straight-up gospel truth about this particular trend.  Are you ready? I'm going to blow your mind here. Can you handle it?  Okay, here goes…..Faux pearls rock!  Every girl should have at least one strand of honest to goodness authentic pearls.  But those little beauties aren't cheap.  So do what any self respecting BAB would do and FAKE IT!
CAN'T AFFORD IT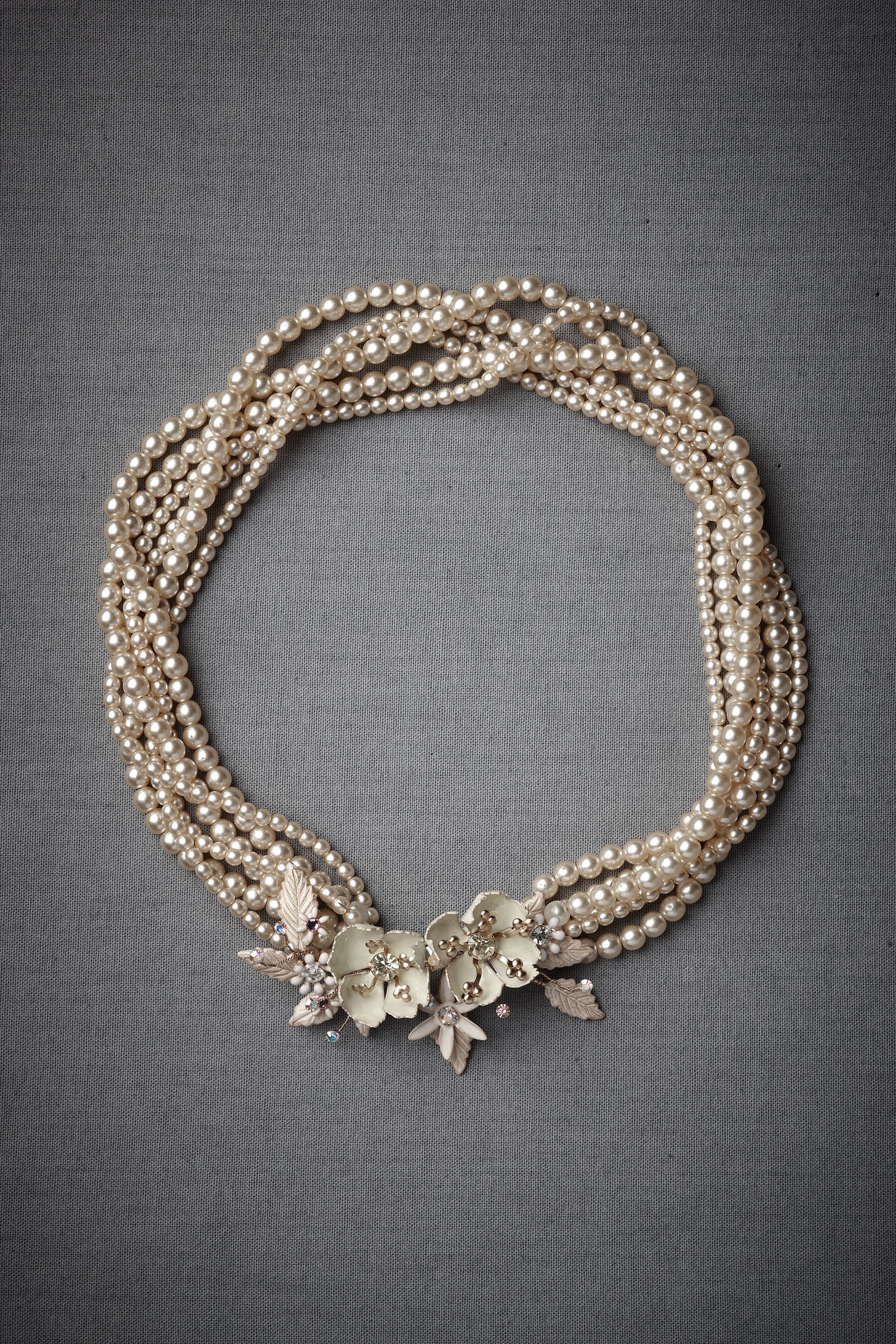 Break-of-Day Necklace ($675 at BHLDN)
GET OVER IT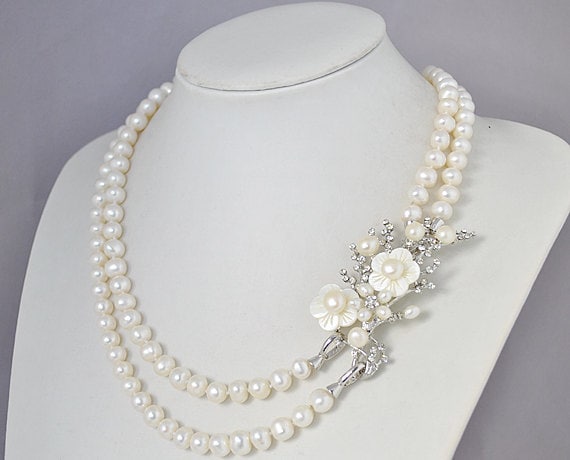 Two strand Pearl Necklace Whit Fresh Water Pearl Brooch ($27 at Etsy)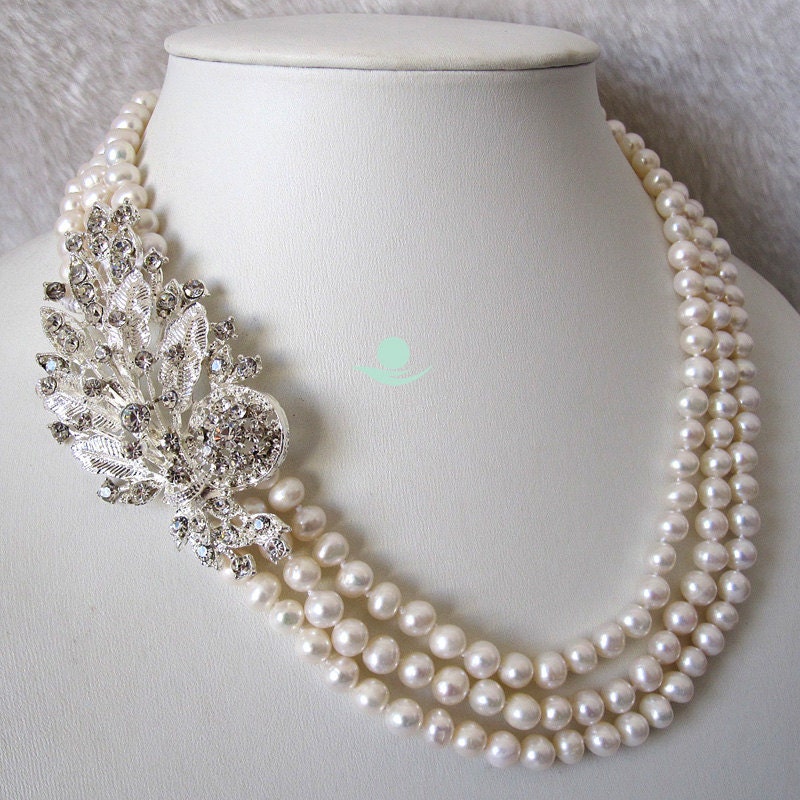 Pearl Necklace 18- 20 inch ($25 at Etsy)
Memory Wire Sakura Flower Pearl & Mother of Pearl Choker ($37.79 at Overstock.com)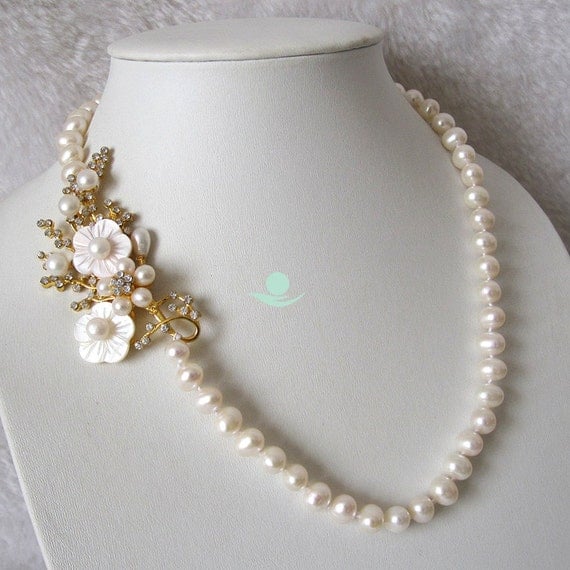 Pearl Necklace 20.5 inches single strand ($25 at Etsy)
Sakura Pearl Flower Necklace ($44.99 at Overstock.com)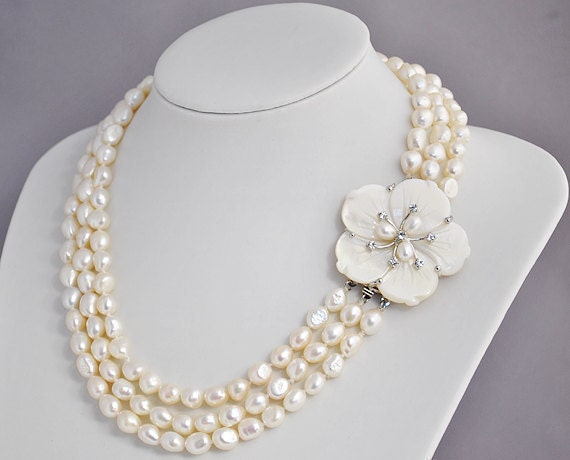 Flower Pearl Necklace ($24 at Etsy)
Tangled Pearls in Peril ($85 rental at Rent The Runway)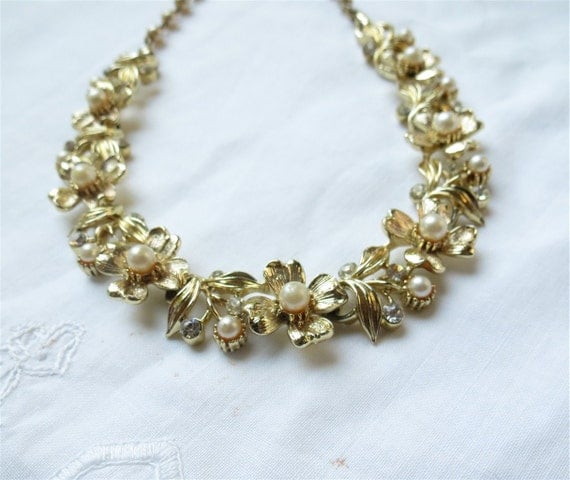 Vintage Lisner Flower and Pearl Necklace ($40 at Etsy)
Cassie, here are nine Get Over It options for you that most certainly won't break the bank.  Pearls are one of the easiest naturally occurring gems to fake.  And the best part about a fake pearl is that most folks can't tell the difference between faux and true pearls on sight.  So, you should opt for the glass or simulated pearl strand.  It will look just as lovely on your neck and in the photos as the real deal but you'll have the satisfaction of knowing that you saved a mini fortune.
I hope one of the options above caught your eye.  But, if not, here's one last option.  Buy one long strand of pearls with our without a clasp.  The value option here is up to you. I suggest something like the set below with the addition of a separate brooch of your choosing.
Charter Club 3 Strand 10 mm White Simulated Pearls ($48 at Macy's)
If you want real pearls, I don't suggest purchasing your strand from a jeweler.  Instead look for a local gem and jewelry show or buy from one of the gem-obsessed shopping networks.  I have bought many fine and high quality pieces of jewelry from these places and the price is unparalleled.   To create a multi-strand look, double or triple your strand (depending on the length) and use a brooch to fasten.  It is much easier to pin the brooch to the jump rings in a clasped necklace.  However, broached closure can be complete on any beaded necklace as long as the beads are a smaller diameter.  If the pearls or beads are too large your brooch clasp won't close or won't stay closed.  And that's just a pain in the butt!
I hope this edition of CAI/GOI has helped!  Good luck.  And remember, no matter what kind of jewelry you wear on your wedding day or any day, you already make a statement just by being your broke-ass self!  Can I get an AMEN?!
July 26th, 2012 by tori